I really love how soft this pumpkin milk bread loaf is using poolish. This preferment method is truly one of the keys in baking a great loaf of soft milk bread.


This is a yeasted pumpkin bread that is so light and fluffy. I've been baking lots of bread and buns using tangzhong method for years. Lately, I tried this poolish and biga method for making bread and I am truly blown away by how soft the bread/buns that these two methods can also produce. It's an extra little step, but not difficult at all and it's so worth it!
And….my apology for throwing out all these pumpkin-related recipes! I'm sure some of you won't mind! I still have LOTS of pumpkin recipes I've tried that I haven't had a chance to share here LOL!
What is poolish ?
At first I thought it was some kind of misspelled word ha.ha..! (silly me! what do I know really!). Remember the pandan coconut babka I made not too long ago using biga ? Poolish is very similar to biga. Poolish comes from the Polish word for yeasted preferment, where as biga is the Italian version. Poolish is made by mixing equal amount of flour and water (100% hydration) with small amount of commercial yeast. Biga is usually not 100% hydration.  The mixture is then fermented for 8-10 hours or can sit in the fridge for up to 5 days. This slow and long fermentation will give your end product a nice flavor, stable structure, yet soft and longer shelf life.  To me, it is a great way to sort of getting the benefits of baking with sourdough starter without the complexity. The sourdough starter requires more maintenance. Poolish and biga are only for one-time use.

How to make soft pumpkin milk bread/ pumpkin toast with poolish
1. Prepare poolish. Mix all ingredients for poolish and let it sit for 8-10 hours. You can even put this in the fridge until the next day when you are ready to use them. They can be kept in the fridge for up to 5 days. Simply let it comes to room temperature for an hour or so before using
2. Prepare the filling. Put pumpkin and sugar in a saucepan and cook until the sugar melts over medium-low heat. Let the liquid evaporates


3. Then add butter and continue to stir until the mixture comes together and dry and leaves side of the pan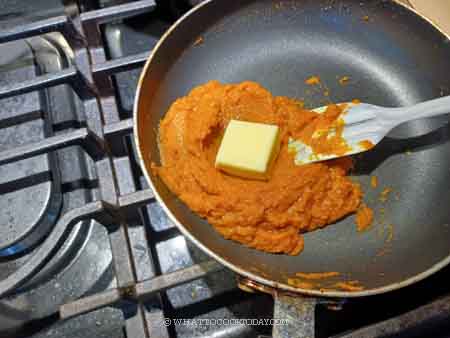 4. Transfer to a bowl and cover, touching the pumpkin so a layer of skin won't form. Chill in the fridge for at least 30 minutes


5. Put all ingredients for the dough and the poolish in a mixing bowl of a stand mixer fitter with dough hook attachment, except for the butter and for the egg, only use 1/3 and reserve the rest to see if you need more or not. This depends on how moist the pumpkin you use


6. Start the mixer on low ("stir" on KA) and knead for about 2 minutes. It should comes to a rough dough. If it's too dry, you can add a bit more of the egg.


7. Once you get a rough dough that is slightly sticky, increase speed to 2 and knead for 7-8 minutes, the dough should be smoother and a bit stretchy at this point, but the dough will tear if you pull it. Add the softened butter and continue knead for another 5-6 minutes until you pass the window pane test. When you stretch the dough thinly, it won't break. You can stop kneading at this point


8. Oil the bowl and cover and let the dough rise at temperature about 77-86 F (25-30 C)


9. The dough will double in size. This may take 1 hour or longer depending on the temperature. If it's really warm where you are, it may not take that long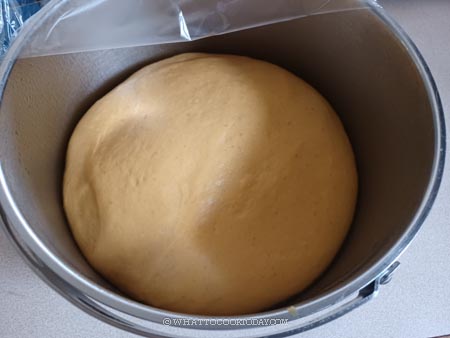 10. When you poke the dough with your finger, the indentation stays, the dough is done with first proofing


11. Lightly oil your working surface and your palms. I use non-stick cooking spray and deflate the dough, pushing out all the air and round it up into a nice round ball again. Cover and let it rests for 15 minutes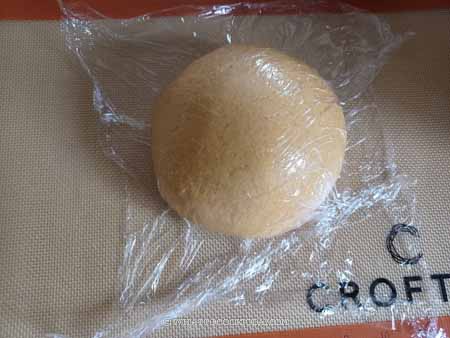 12. After that, oil your rolling pin and the working surface again and roll it out into a rectangle. As you roll, you will be able to feel there are some air bubbles being popped at the same time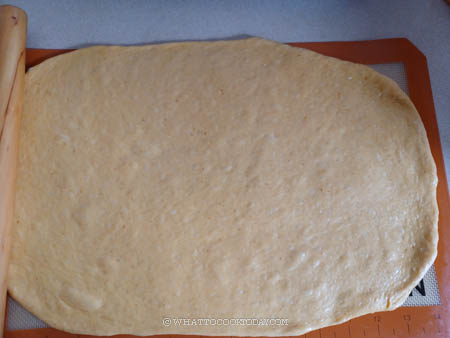 13. Fold 1/3 of right into the middle and the 1/3 left into the middle


14. Rotate 90 degrees and roll it out into rectangle again, the long side near you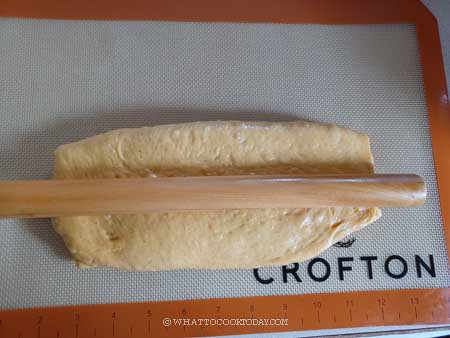 15. The length of the dough should be about the same as the width of your baking pan.

16. Spread the pumpkin filling on half of the rectangle, leaving about 1/2 inch on the side


17. Fold the other half over and pinch to seal the three edges


18. Cut 8 strips, roughly about the same size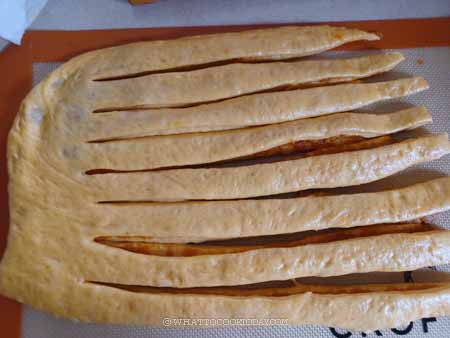 19. Twist each strip about 3 times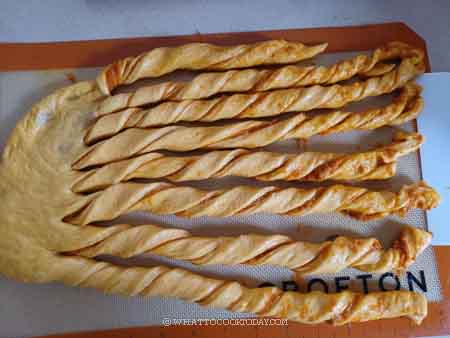 20. Then roll from the left to right with the seam side down. It could be a bit messy. So just bear with it


21. Transfer the shaped dough into the pan. Cover and let the dough proof again at a warm place until it doubles in size, about another hour

22. At the end of proofing, it will fill up about 90% of the pan (Mine is like beyond the pan LOL!) 10 minutes before the end of proofing, preheat your oven at 350 F (180 C) for conventional bottom heat only oven. For convection top and bottom heat, lower the temperature by 15-20 degrees


23. Use the leftover egg to brush on the surface of the bread. Sprinkle with some pepita seeds


24. Place the pan at the middle rack and bake for 10 minutes and then tent the top with a foil (shiny side up) and continue baking for another 30 minutes. The bread should sound hollow when you tap the bottom


25. Once out of the oven, immediately remove from the pan on a cooling rack. Optional: If you want a softer shinier crust, you can brush with melted butter immediately while the bread is still warm. Let the bread cools down completely on the rack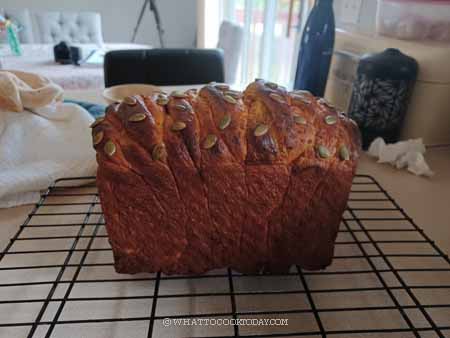 What to expect
Making bread using poolish or any yeast pre-ferment does take time, but I can tell you, it worth the passive waiting time. You can keep the poolish in the fridge for few days even, if you are not ready to use it yet. The bread loaf has a beautiful hue of orange thanks to the pumpkin. It has faint aroma of milk and a distinguished sweet aroma of pumpkin, which I like and the bread is soft and remains soft for a day or two when you wrap it well after cooling down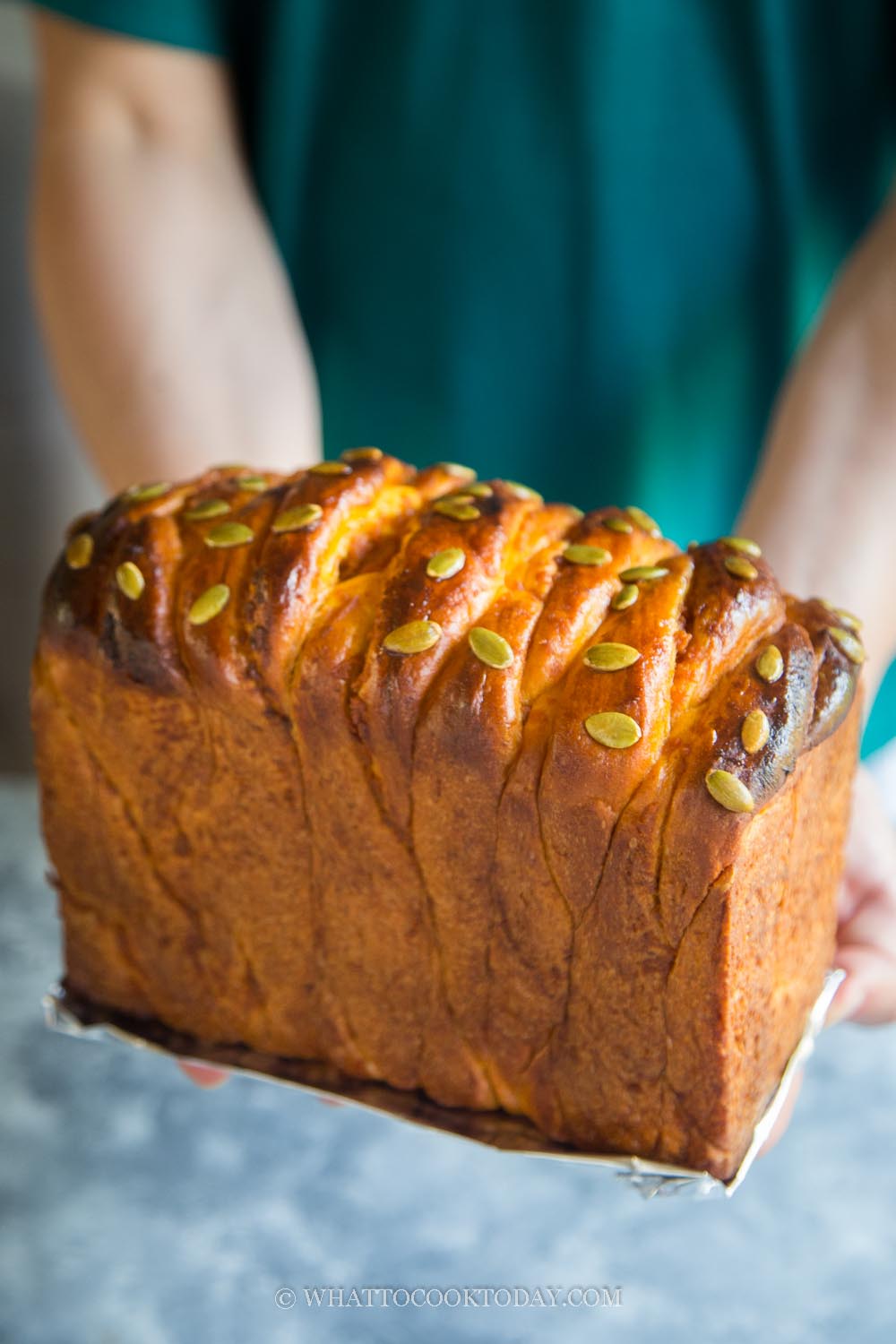 Did you make this super soft pumpkin milk bread loaf using poolish recipe?
I love it when you guys snap a photo and tag to show me what you've made 🙂 Simply tag me @WhatToCookToday #WhatToCookToday on Instagram and I'll be sure to stop by and take a peek for real!

Super Soft Pumpkin Milk Bread Loaf/ Pumpkin Toast (Poolish Method)
Ingredients
Garnish:
Pepita seeds/ pumpkin seeds
Instructions
Prepare poolish:
Mix all ingredients for poolish and let it sit for 8-10 hours. You can even put this in the fridge until the next day when you are ready to use them. They can be kept in the fridge for up to 5 days. Simply let it comes to room temperature for an hour or so before using
Prepare the dough:
Put all ingredients for the dough and the poolish in a mixing bowl of a stand mixer fitter with dough hook attachment, except for the butter and for the egg, only use 1/3 and reserve the rest to see if you need more or not. This depends on how moist the pumpkin you use

Start the mixer on low ("stir" on KA) and knead for about 2 minutes. It should come to a rough dough. If it's too dry, you can add a bit more of the egg. Once you get a rough dough that is slightly sticky, increase speed to 2 and knead for 7-8 minutes, the dough should be smoother and a bit stretchy at this point, but the dough will tear if you pull it. Add the softened butter and continue to knead for another 5-6 minutes until you pass the windowpane test. When you stretch the dough thinly, it won't break. You can stop kneading at this point
First proofing:
Oil the bowl and cover and let the dough rise at temperature about 77-86 F (25-30 C) until they are double in size. This may take 1 hour or longer depending on the temperature. If it's really warm where you are, it may not take that long
Prepare the filling (can be prepared few days before):
Put pumpkin and sugar in a saucepan and cook until the sugar melts over medium-low heat. Let the liquid evaporates and then add butter and continue to stir until the mixture comes together and dry and leaves side of the pan. Transfer to a bowl and cover, touching the pumpkin so a layer of skin won't form. Chill in the fridge for at least 30 minutes
Filling and shaping:
Line your baking pan with parchment paper on all sides. Or you can grease the pan well or use cooking spray. When you poke the dough with your lightly oiled finger, the indentation stays. This means the proofing is done and the dough has doubled in size

Lightly oil your working surface and your palms. I use non-stick cooking spray and deflate the dough, pushing out all the air and round it up into a nice round ball again. Cover and let it rests for 15 minutes

After that, oil your rolling pin and the working surface again and roll it out into a rectangle. As you roll, you will be able to feel there are some air bubbles being popped at the same time. Fold 1/3 of right into the middle and the 1/3 left into the middle. Rotate 90 degrees and roll it out into rectangle again, the long side near you. The length of the dough should be about the same as the width of your baking pan

Spread the pumpkin filling on half of the rectangle, leaving about 1/2 inch on the side. Fold the other half over and pinch to seal the three edges

Cut 8 strips, roughly about the same size. Twist each strip about 3 times. Then roll from the left to right with the seam side down
Second proofing:
Transfer the shaped dough into the pan. Cover and let the dough proof again at a warm place until it doubles in size, about another hour. At the end of proofing, it will fill up about 90% of the pan. 10 minutes before the end of proofing, preheat your oven at 350 F (180 C) for conventional bottom heat only oven. For convection top and bottom heat, lower the temperature by 15-20 degrees
Baking:
Use the leftover egg to brush on the surface of the bread. Sprinkle with some pepita seeds

Place the pan at the middle rack and bake for 10 minutes and then tent the top with a foil and continue baking for another 30 minutes. The bread should sound hollow when you tap the bottom

Tips: If you use a darker color pan , it absorbs heat and your bread will cook faster. So you may want to start checking for doneness 10 minutes earlier. Unless you pan is really like black in color or very close to black, you may even need to lower the oven temperature by about 20 degrees, otherwise, keep the same temperature and just check a bit earlier for doneness
Cooling:
Once out of the oven, immediately remove from the pan on a cooling rack. Optional: If you want a softer shinier crust, you can brush with melted butter immediately while the bread is still warm. Let the bread cools down completely on the rack
Storing:
Once it has cooled down, you can put in an air-tight container and can be kept at room temperature for 2-3 days
Nutrition
Serving:
1
slice
|
Calories:
145
kcal
|
Carbohydrates:
22
g
|
Protein:
5
g
|
Fat:
4
g
|
Saturated Fat:
2
g
|
Polyunsaturated Fat:
1
g
|
Monounsaturated Fat:
1
g
|
Trans Fat:
1
g
|
Cholesterol:
24
mg
|
Sodium:
137
mg
|
Potassium:
101
mg
|
Fiber:
1
g
|
Sugar:
5
g
|
Vitamin A:
2457
IU
|
Vitamin C:
1
mg
|
Calcium:
27
mg
|
Iron:
1
mg