Chinese flour vermicelli noodles (mee suah) are cooked with meat, veggies, and then packed into a pan and steamed. The result is a savory cake that you can slice up and serve as is with some savory topping, coated with bread crumbs to make crispy mee suah kueh, or pan fry without crumbs. They are simple to make and can be a complete meal, snacks, or appetizers.

What is mee suah kueh?
The term "kueh/kuih/kue", which loosely mean "cake" in English can refer to both savory or sweet in Asia. This mee sua kueh reminds me of Lo Bak Koh/chai tow kway (radish/turnip cake),Wu Tau Koh(steamed yam cake), and Savory steamed pumpkin kueh. The ingredients are pretty much almost the same, it's just the "base" that is different. Instead of using turnip/radish, or yam, or pumpkin, this savory kueh uses mee suah noodles (面线). Mee suah is cooked with meat, veggies, seasonings, broth and then transferred to a cake pan and steamed further to let the mee suah turns into a cake that you can cut up into slices and top with some toppings to serve.
What is mee suah ?
Don't mistaken mee suah with mung bean thread noodle or rice vermicelli noodle. Mee suah is made with wheat flour, mung bean thread noodles is made with mung bean starch, and rice vermicelli noodle is made with well, rice. Mee suah is definitely not gluten free because it's made with wheat flour. Don't let the term "vermicelli" confuses you. It simply means that the strands are thinner, almost hair-like. Any thin noodles will usually call as vermicelli.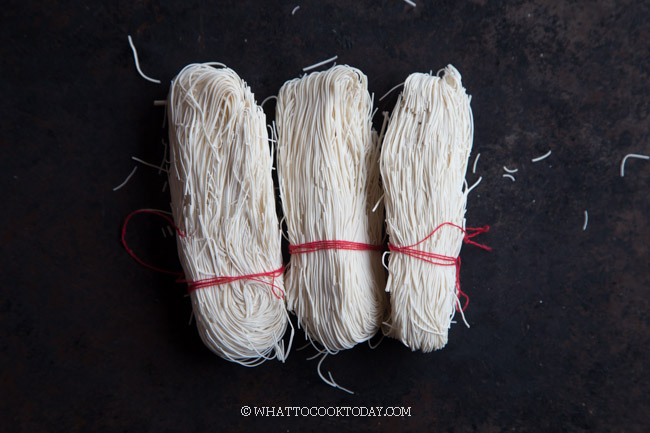 Substitute for mee suah
Before I managed to find mee suah, I have always use the Japanese somen noodles. It works so well. In fact, somen noodles are easier to work with compared to mee suah and they are more widely available.
How to make mee sua kueh
1. Marinate the chicken and set it aside while you prepare other things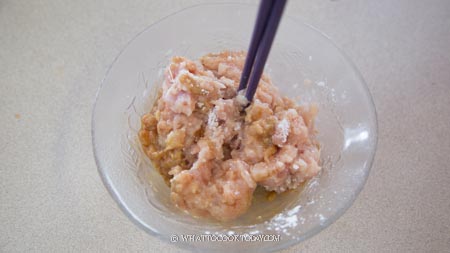 2. Preheat a large wok or skillet. Add oil and saute the garlic and shallots until fragrant, about 2 minutes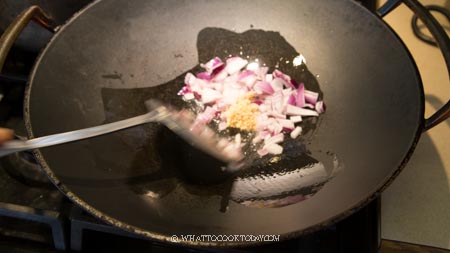 3. Add the marinated minced chicken and stir fry until it turns opaque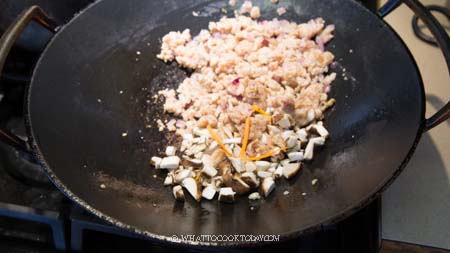 4. Add the mushrooms, pumpkin, and carrot and stir fry for about 1-2 minutes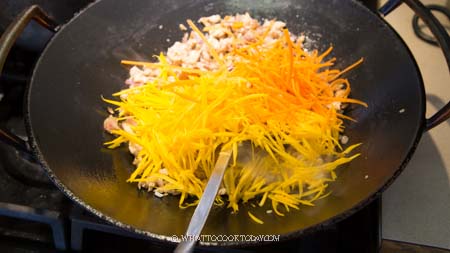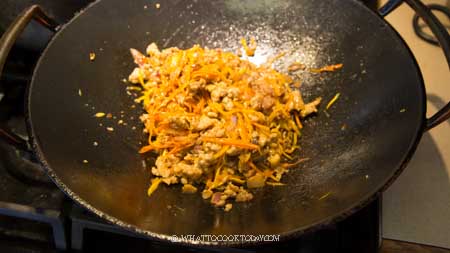 5. Pour the chicken broth in followed by the seasonings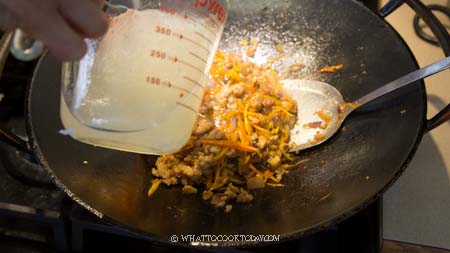 6. Bring it to a simmer.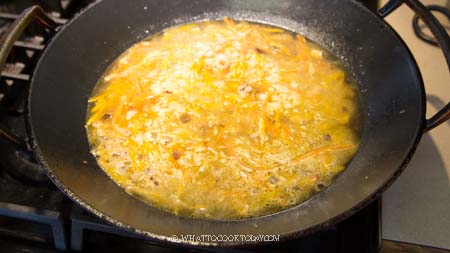 7. Break mee suah noodles into smaller pieces and add them in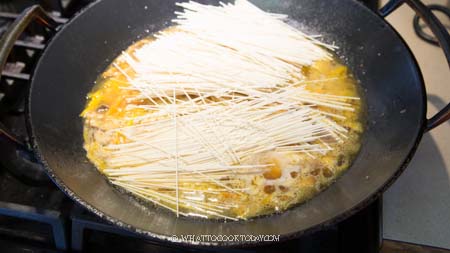 8. Stir to combine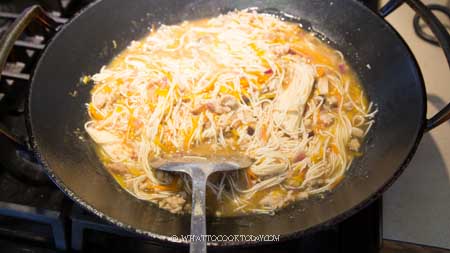 9. Let it continues to simmer until the broth is absorbed by the mee suah. If you feel like the mixture is a bit dry, you can add a bit more chicken broth. The mee suah should be soft and moist but not mushy and soupy. Turn off the heat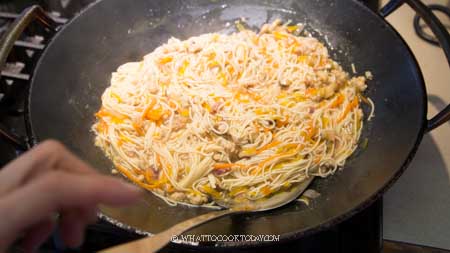 10. Bring water in the steamer to a boil. Oil 8 x 8-inch square pan. Line the bottom with parchment paper for easy removal. Transfer the mee sua into the pan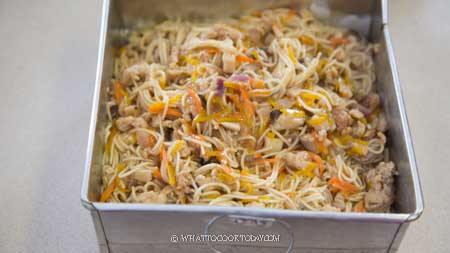 11. Spread the mixture out and pack it down and make it flat and even as much as you can


12. Lower the heat to medium and steam over medium heat for 30-40 minutes

13. Remove from the steamer and let it cools down completely in the pan for about an hour or so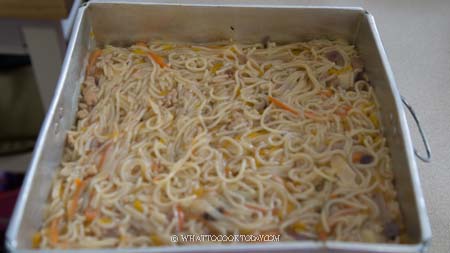 14. You can serve this with topping. Instead of adding the topping on top of the cake before slicing, which you will end up with toppings falling off here and there, I suggest slicing the cake into the size you want first, and then adding the topping on an individual slice

Crispy mee suah kueh
You can also make it crispy by coating them with flour, eggs, and panko bread crumb. My kids love this version a lot too. Who doesn't like crispy stuff 😉

Tips for success
1. Make sure you break the mee suah into smaller pieces so they can release the starch during cooking to make an evenly dense kueh
2. After transferring to the pan, you want to spread it out as evenly as possible and push it down gently to pack it down so your cake won't fall apart when you cut it later
Variations
Vegetarian/meatless: you can omit the chicken and use small pieces of diced extra-firm tofu or use seitan
Use other meat: you can use ground pork or Chinese sausage
Seafood: you can use diced shrimp
Did you make this recipe?
I love it when you guys snap a photo and tag to show me what you've made 🙂 Simply tag me @WhatToCookToday #WhatToCookToday on Instagram and I'll be sure to stop by and take a peek for real!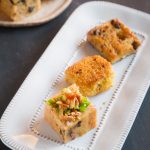 Mee Suah Kueh (面线糕 / Savory Flour Vermicelli Cake) - 3 ways
Ingredients
Aromatics:
3

cloves

garlic

minced

3

shallots

dice
Toppings:
Red chilis

seeded, and minced

green onion

finely chopped
For crispy mee suah kueh:
To pan fry mee suah kueh:
Instructions
Do I need to blanch mee suah?
This depends on the brand you have. The one I bought wasn't excessively salty versus other brand I have tried before. So I did not blanch mine and I also didn't include any salt or soy sauce in the seasonings. If you feel like the mee suah you have is very salty, you can blanch the mee suah in boiling water for about 30 seconds and then discard the water and refresh mee suah with fresh water to stop the cooking process
Marinate the chicken:
Marinate the chicken and set it aside while you prepare other things

200 gr boneless skinless chicken breast
Prepare other things:
Soak mushrooms in warm water until soften and then thinly sliced or you can dice them too

4 large dried shiitake mushrooms

Mix all ingredients for seasonings in a bowl and set aside

1 Tbsp sesame oil,

1/2 tsp ground white pepper,

soy sauce,

1/2 tsp sugar
Start cooking:
Preheat a large wok or skillet. Add oil and saute the garlic and shallots until fragrant, about 2 minutes. Add the marinated minced chicken and stir fry until it turns opaque. Add the mushrooms, pumpkin, and carrot and stir fry for about 1-2 minutes

200 gr boneless skinless chicken breast,

4 large dried shiitake mushrooms,

100 gr pumpkin,

3 Tbsp cooking oil,

3 cloves garlic,

3 shallots,

100 gr carrot

Pour the chicken broth in followed by the seasonings. Bring it to a simmer. Break mee suah noodles into smaller pieces and add them in. Stir to combine and let it continue to simmer until the broth is absorbed by the mee suah. If you feel like the mixture is a bit dry, you can add a bit more chicken broth. The mee suah should be soft and moist but not soupy. Have a taste and adjust as necessary as you won't be able to do so anymore later. Turn off the heat

200 ml chicken broth,

300 gr mee suah
Steaming:
Bring water in the steamer to a boil. Oil 8 x 8 inch square pan. Line the bottom with a parchment paper for easy removal. Transfer the mee sua into the pan. Spread the mixture out and pack it down and make it flat and even as much as you can

Lower the heat to medium and steam over medium heat for 30-40 minutes. Remove from the steamer and let it cools down completely in the pan for about an hour or so. The cake may still appear to be soft but will firm up once it cools down completely
To serve with topping:
You can serve this with topping. Instead of adding the topping on top of the cake before slicing, which you will end up with toppings falling off here and there, I suggest slicing the cake into the size you want first, and then add the topping on individual slice

Red chilis,

green onion,

Fried shallots

You can also pan fry this with a bit of oil until it has a slightly crispy crust on the outside too
For crispy mee suah kueh:
Preheat the oil in a pan. When you put a skewer or chopstick inside the oil, there should be bubbles around it. The oil is ready

Coat the mee suah kueh in flour and then shake off any excess. Coat with beaten egg and then roll in panko bread crumb

1 large egg,

1/2 cup all-purpose flour,

1 cup panko bread crumb

Fry over medium heat until golden brown in small batches. Watch the heat so the bread crumb won't get burnt. Remove from the heat and put on absorbent paper towel. Fry the next batch until you are done
To pan fry mee suah:
Heat about 3 Tbsp of oil on a pan over medium heat. Pan fry the mee suah kueh until lightly golden brown on both sides and serve
Notes
If you substitute mee suah with somen noodles, you may need a bit more broth. You will have to observe and add as needed
Recommended products:
Nutrition
Serving:
1
piece (plain without frying)
|
Calories:
127
kcal
|
Carbohydrates:
18
g
|
Protein:
4
g
|
Fat:
4
g
|
Saturated Fat:
1
g
|
Polyunsaturated Fat:
1
g
|
Monounsaturated Fat:
2
g
|
Trans Fat:
1
g
|
Cholesterol:
8
mg
|
Sodium:
121
mg
|
Potassium:
126
mg
|
Fiber:
1
g
|
Sugar:
1
g
|
Vitamin A:
1580
IU
|
Vitamin C:
3
mg
|
Calcium:
11
mg
|
Iron:
1
mg