Learn how to make this traditional Malay lemang the easy way using a rice cooker, Instant Pot pressure cooker, or on the stove. You don't need bamboo tubes to cook lemang.

What is lemang?
Lemang is a rice dish made with sticky rice/glutinous rice, coconut milk, and salt and cooked in hollow bamboo tubes lined with banana leaves and grilled slowly over open fire for 4-5 hours. The bamboo tubes are then cut open to retrieve the rice that is wrapped in banana leaves. The lemang is then sliced with the bamboo leaves unpeeled. Cooking with bamboo tubes are pretty common in Southeast Asia, especially among the Malay and the native Indonesians. Lemang is a popular dish often seen during Hari Raya celebration. Street vendors sell lemang almost everywhere.
Ingredients
1. Glutinous rice
Glutinous rice is also known as sticky rice or sweet rice. This is not the same with sushi rice. Sushi rice maybe sticky, but glutinous rice is even stickier. This can be found in Asian grocery store. Please do not substitute with other type of rice as it won't be lemang anymore
2. Coconut milk
I usually use canned unsweetened coconut milk
3. Salt and sugar
Please do not omit these two as they are necessary to bring out the flavor of lemang
4. Pandan leaves
Pandan leaves are often used when cooking rice. You can find frozen or fresh pandan leaves at Asian store. If you can't get any, you can skip
4. Banana leaves
I highly recommend using banana leaves as they impart great flavor to the lemang. If you really can't find any, you can just use aluminum foil. I can usually find frozen banana leaves in Asian grocery store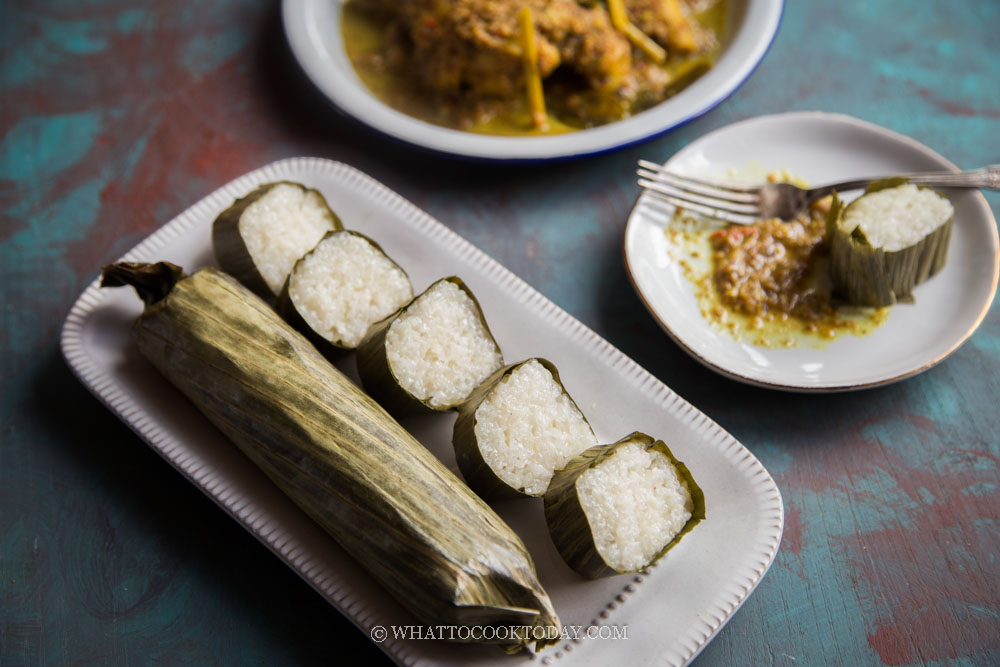 How to cook lemang in Instant Pot pressure cooker
1. When you use a pressure cooker, you don't need to soak the glutinous rice. Simply rinse with water and then strain off all the water. Fill up the inner pot of Instant Pot with 1 cup of water. Put a trivet in there. Oil a round tray (6-inch fits perfectly into 6-quart IP) on the bottom and sides to prevent sticking. Place glutinous rice in a large tray, pour the coconut milk, add salt, and sugar and stir to combine. Put knotted pandan leaves on top (I actually forgot) and slightly push it into the rice


2. Secure the lid. Turn the steam release valve to sealing. Press "pressure cooker" and set the timer to 30 minutes and then natural release. Carefully unlock the lid, remove the pandan leaves and fluff the rice. Let the rice cools down completely before wrapping

How to wrap lemang
1. Let the rice cools down completely
2. Thaw the banana leaves if they are frozen. Wipe them clean. If the leaves are too rigid, you can soften them on the stove over the fire. Cut the leaves into about 20 x 20 cm square


3. Scoop about 200-250 grams (roughly about 1 cup) of rice on the leaves, make sure the veins/lines of the leaves are parallel to you


4. Put a piece of parchment paper on top of the rice to help you shape the rice by pressing to really "compact" the rice into a nice and tight, thick roll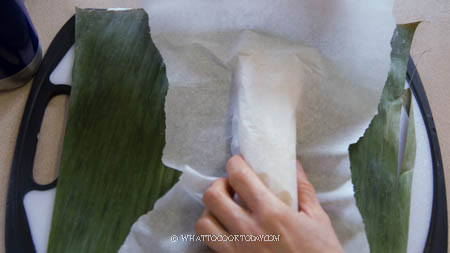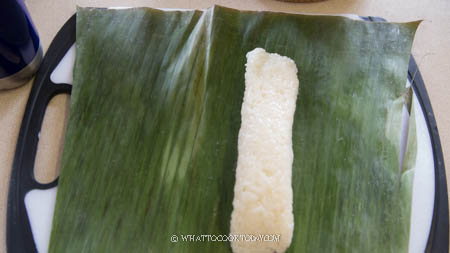 5. Once you get a nice roll, roll the banana leaves up and secure both ends with toothpicks. Continue with the rest of the banana leaves and rice

What to serve with lemang?
In Indonesia, lemang is often eaten with dishes such as rendang ayam or rendang sapi and serundeng or known as kerisik in Malaysia and Singapore. You can serve it with different types of curry or gulai as well, though not traditional, but they go pretty well with lemang. The Minang people like to eat lemang with tape/tapai (fermented cassava).

How to store lemang
In the refrigerator: Leftover can be stored in an air-tight container in the fridge for one week. Simply reheat in the microwave for few seconds or until heated through or reheat in the oven at 350 F for 10 minutes or until heated through
In the freezer: Lemang also freezes well. Simply wrap each roll with a plastic wrap and then put inside a freezer-friendly container or bag . They can be kept frozen for one month. Simply thaw in the fridge overnight and reheat in the microwave for few seconds until heated through or wrap in a foil and reheat in oven at 350 F for about 15 minutes or until heated through
Did you make this lemang without bamboo recipe?
I love it when you guys snap a photo and tag to show me what you've made 🙂 Simply tag me @WhatToCookToday #WhatToCookToday on Instagram and I'll be sure to stop by and take a peek for real!

How To Cook Lemang without Bamboo
Ingredients
500

gr

glutinous rice

500

ml

coconut milk

if cooking on the stove and rice cooker

625

ml

coconut milk

if cooking with Instant Pot

1 ½

tsp

salt

2

tsp

sugar

2

blades

pandan leaves

Banana leaves for wrapping
Instructions
If cooking on the stove:
Soak glutinous rice in water for at least 4 hours or overnight

Drain off the water after that. Oil a large tray on the bottom and sides to prevent sticking. Bring the water in the steamer to a boil. Place glutinous rice in a large tray, pour the coconut milk, add salt, and sugar and stir to combine. Put knotted pandan leaves on top and slightly push it into the rice

Put the tray in the steamer and steam over high heat for 30 minutes. Check on the water level and refill as necessary and steam until the rice is soft

Then fluff the rice with a fork and let the rice cools down completely before wrapping
If cooking with rice cooker:
Soak glutinous rice in water for at least 4 hours or overnight

If cooking with a rice cooker, place glutinous rice in the inner pot of the rice cooker, pour the coconut milk, add salt, and sugar and stir to combine. Put knotted pandan leaves on top and slightly push it into the rice

If your rice cooker has a "sticky rice/sweet rice/glutinous rice" function, press that button, otherwise, just press cook and depending on your rice cooker, you may need two cycles for the glutinous rice to be cooked through. Wait for 10 minutes and then fluff the rice with a fork and let the rice cools down completely before wrapping
If cooking with Instant Pot pressure cooker:
You don't need to soak the rice. Simply rinse the rice in water and then drain off water

Fill up the inner pot of Instant Pot with 1 cup of water. Put a trivet in there. Oil a round tray (6-inch fits perfectly into 6-quart IP) on the bottom and sides to prevent sticking. Place glutinous rice in a large tray, pour the coconut milk, add salt, and sugar and stir to combine. Put knotted pandan leaves on top and slightly push it into the rice

Secure the lid. Turn the steam release valve to sealing. Press "pressure cooker" and make sure it's on high pressure, and set the timer to 30 minutes and then natural release. Carefully unlock the lid, remove the pandan leaves and fluff the rice. Let the rice cools down completely before wrapping
Wrapping:
Thaw the banana leaves if they are frozen. Wipe them clean. If the leaves are too rigid, you can soften them on the stove over the fire. Cut the leaves into about 20 x 20 cm square.

Scoop about 200-250 grams (roughly about 1 cup) of rice on the leaves, make sure the veins/lines of the leaves are parallel to you. Put a piece of parchment paper on top of the rice to help you shape the rice by pressing to really "compact" the rice into a nice and tight, thick roll

You can also use a sushi mat to help you shape and tighten the roll if you have experience with rolling sushi

Once you get a nice roll, roll the banana leaves up and secure both ends with toothpicks. Continue with the rest of the banana leaves and rice
Bake in the oven or grill on the pan:
If using oven, preheat oven to 375 F (190 C). Arrange lemang on a baking sheet lined with aluminum foil. Bake for about 15 minutes, just enough to bring the fragrance of banana leaves

If grilling on the pan, preheat the pan over high heat and arrange lemang pieces on the pan and grill until lightly charred, for about 3-5 minutes each side
To serve:
Let lemang cools down completely before slicing. Simply remove the wrap and then slice into about 1-inch thick slices and serve with your favorite rendang or curry dish
Recommended products: