Savory steamed yam/taro cake is topped with dried shrimp, green onions, fried shallots and chili is one of popular snacks or kueh in Southeast Asia.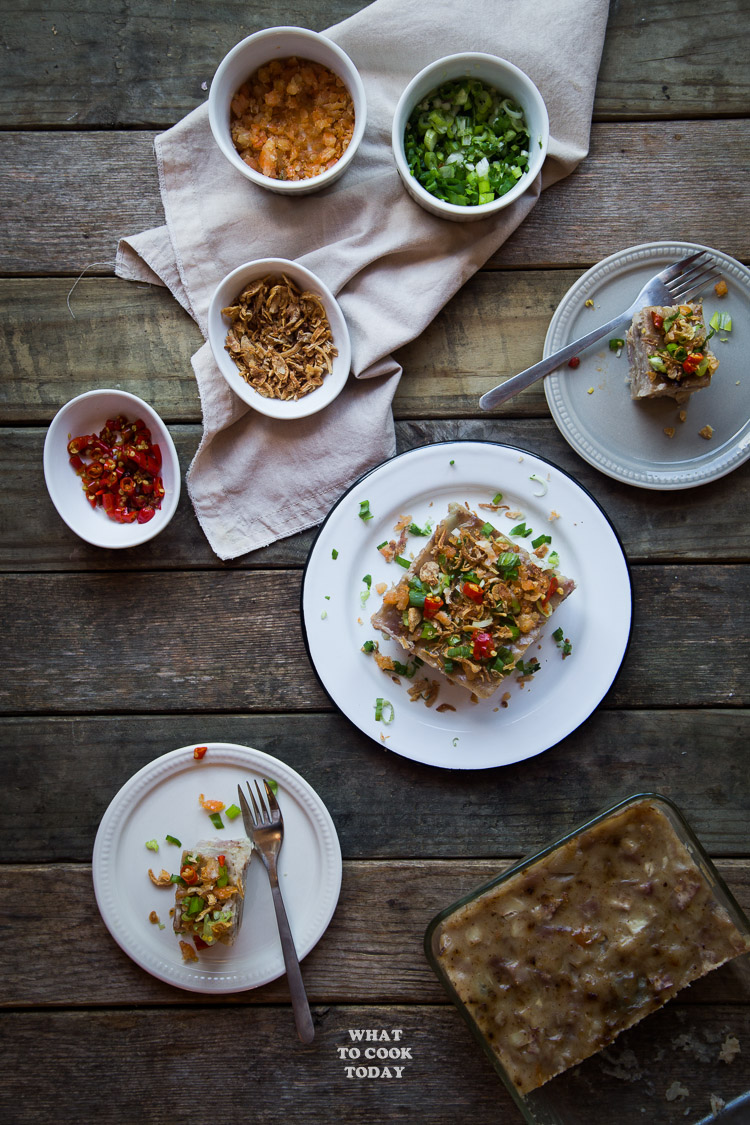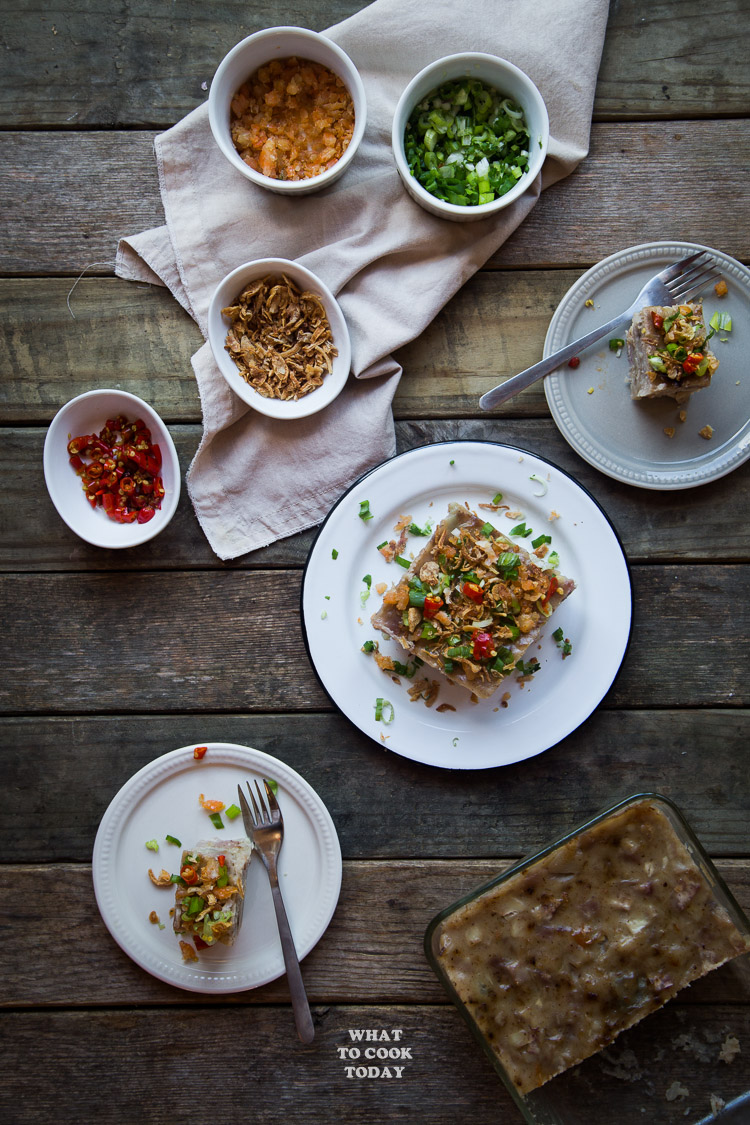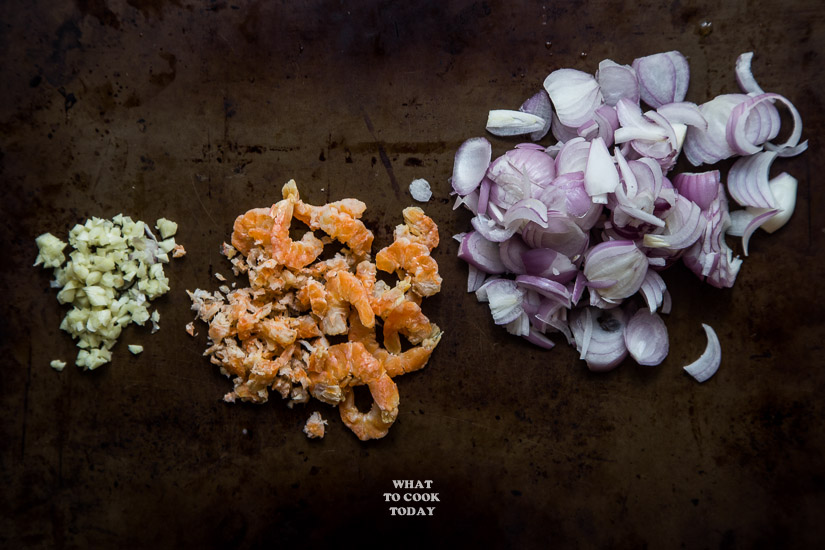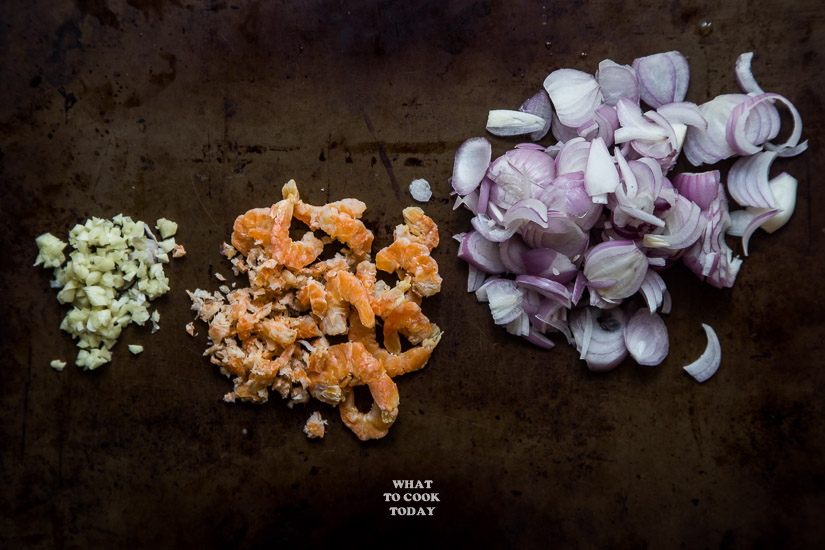 Fall weather is working its way in you guys! One of my favorite season besides summer. It's been raining a lot these past couple weeks though. This morning the thick cloud finally moved somewhere and we got some decent sun shine with some cool breeze. I brought the kids to the outdoor park, boy were they excited. They collected so many acorns. My daughter told me she saw one red leaf falling off the tree. Seriously? I mean I love fall, but half of me is not ready to bid farewell to summer. Halloween costumes are at Costco already! Geezzz!! It's not even September yet. I feel like retailers are wayyy ahead of the season these days or am I the one who are behind?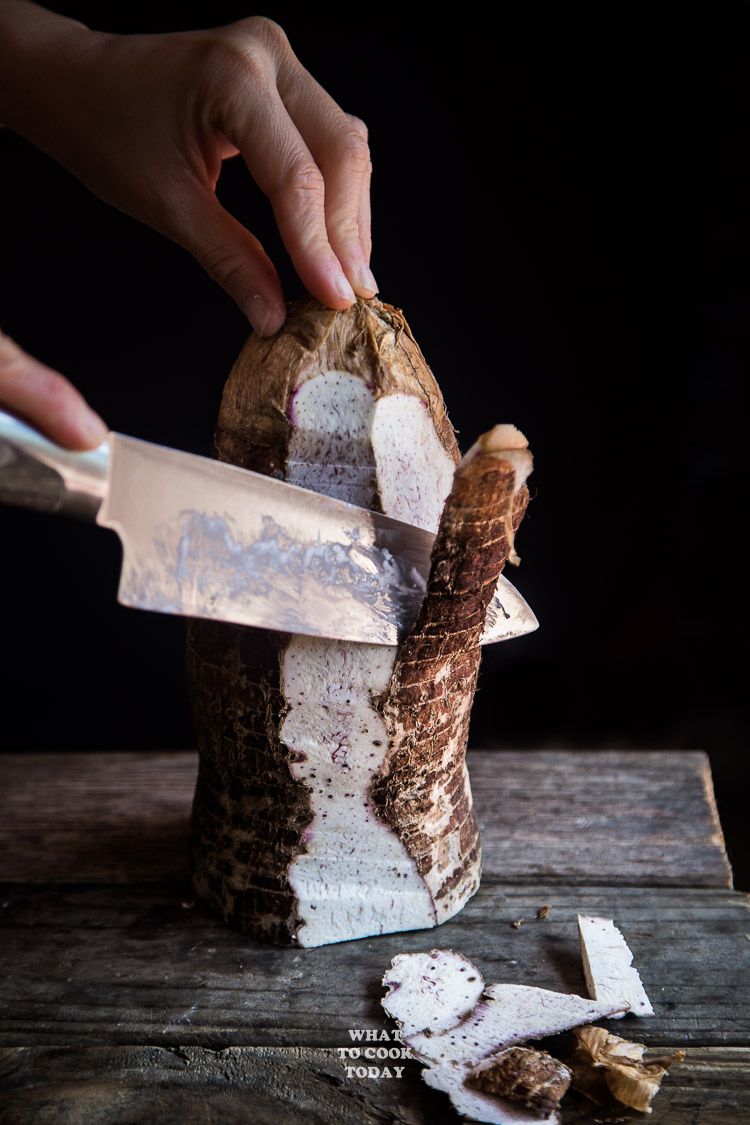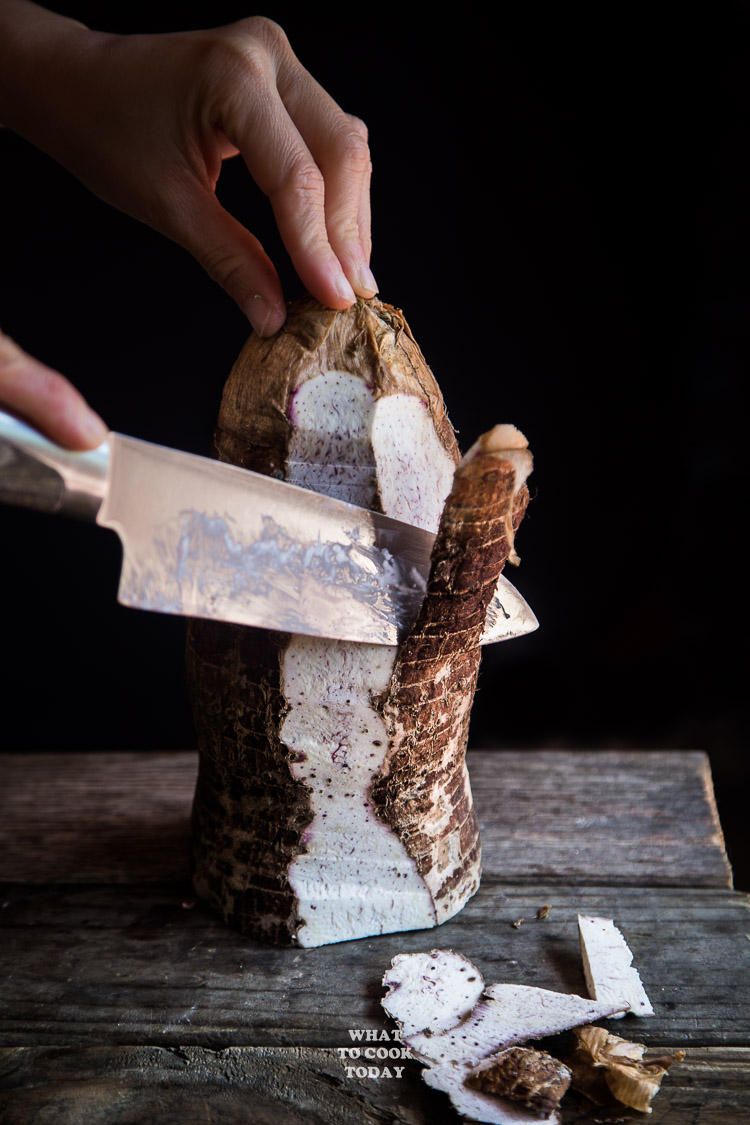 I'm sharing another one of my all-time favorite cake, steamed yam/taro cake. We call this kue keladi in Indonesia. It is also known as orh kueh in Hokkien or wu tau koh in Cantonese. My mom is the only person in the family that has an absolute zero sweet tooth! ZERO! In fact she despises sweets and desserts! (Don't ask me why!). This orh kueh is her all-time favorite. She loves this A LOT!
Steamed cakes (both sweet and savory) are very common in Asia because the oven was not common kitchen equipment back in the days. I remember I was in awe seeing my grandma baking some chiffon cake in her giant portable "oven", which was light in weight and have to be put on the stovetop to heat up the oven.
If you ever wonder WHAT THE HECK IS TARO ? It is a root. Roots that are very commonly used in Asian kitchen and I believe in Africa, Hawaii, and other parts of the world. But not that common in the U.S.(except for Hawaii) however. Most people have no clue what taro is here. They are being used a lot in both sweet and savory dishes throughout asia. In desserts, stir-fry, stews, and many more.It is usually recommended to wear gloves when handling taro as it may irritate the skin. I found that as long as my hands are not wet, it doesn't irritate the skin. So, I wear gloves when I wash the taro root.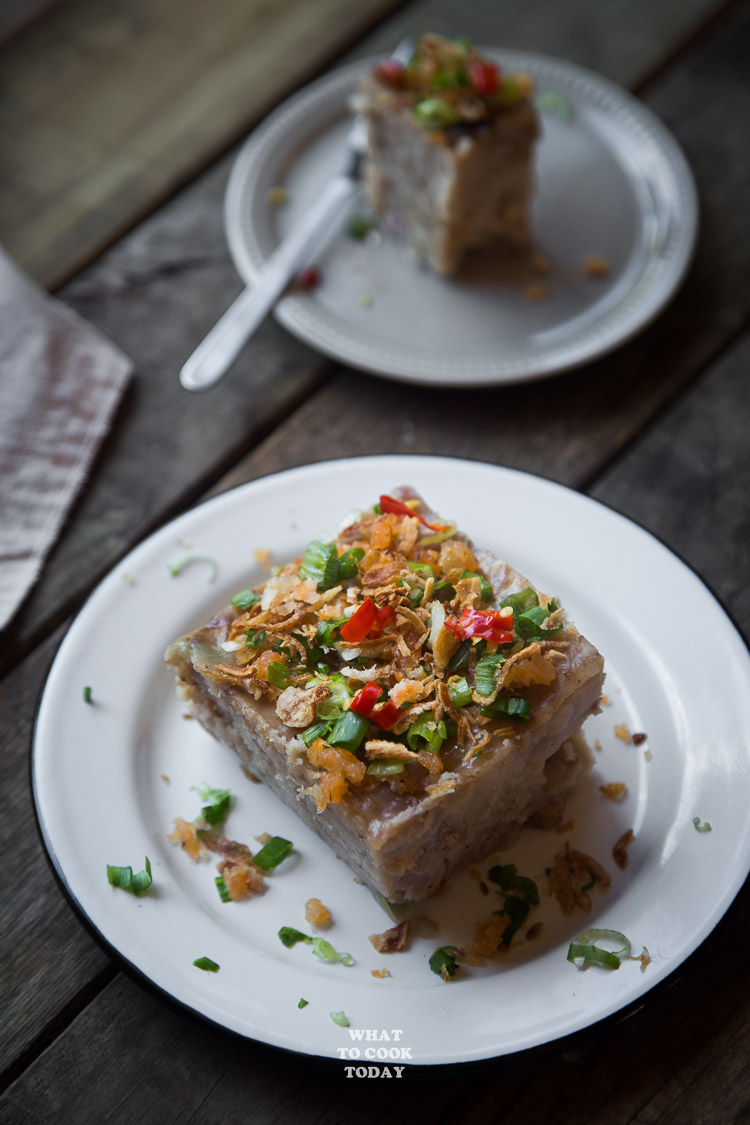 I like how you bite into the taro cubes in the cake, the umami dried shrimp, lightly spicy from the chili and that crunch from the fried-shallots crisp and green onion….it's a party inside the mouth!
This orh kue turned out to be so perfect. It's not too dense or too soft. Just perfect. I'm very happy with the result. Thanks Mom!!!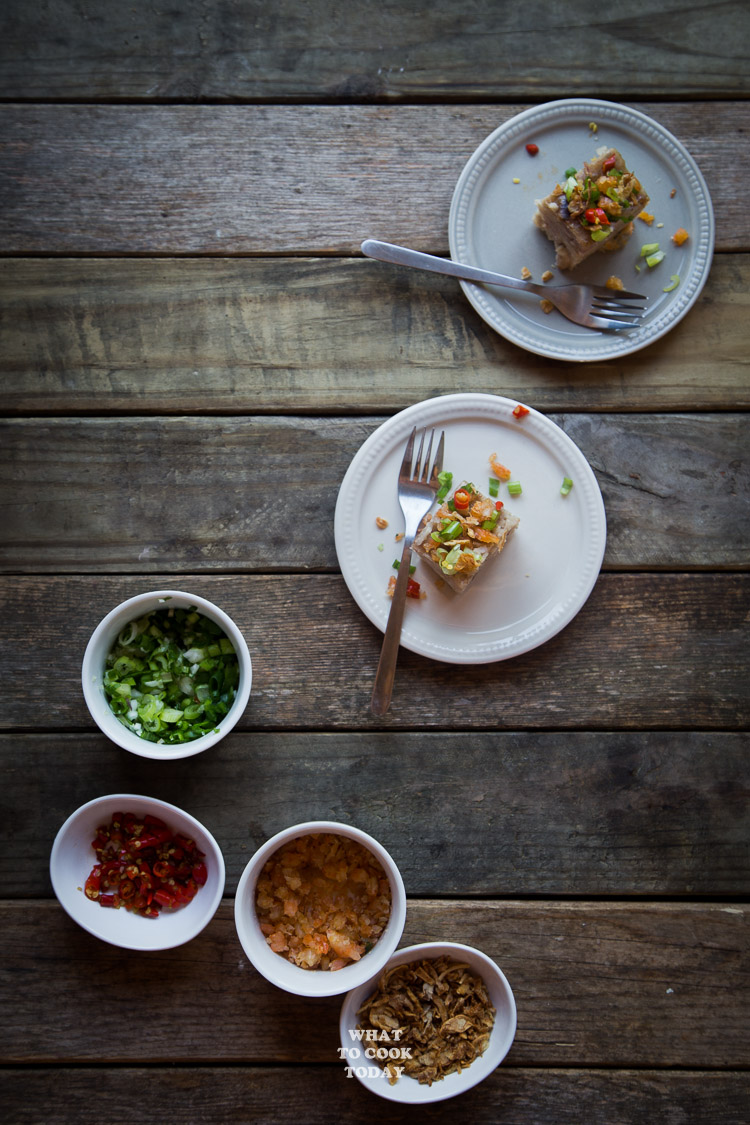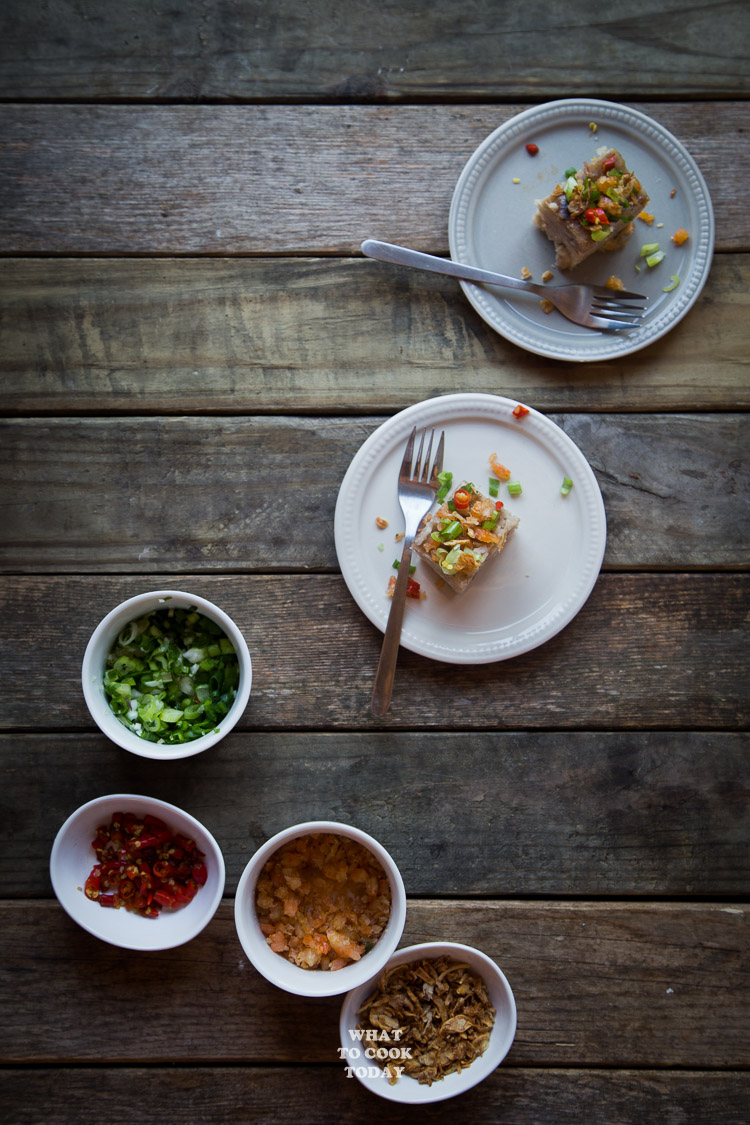 Steamed Yam/Taro Cake (Orh Kueh/Wu Tau Koh)
Ingredients
Taro cake:
170

gr

rice flour

675

ml

water

½

tsp

salt

¼

tsp

five-spice powder

500

gr

Taro root

peeled and cut into small cubes

1

Tbsp

cooking oil

4

large shallots

peeled and thinly sliced

3

cloves

garlic

peeled and very finely minced, or use grater to grate the garlic

30

gr

dried shrimp

soaked until soft and roughly chopped
Dried shrimp toppings:
50

gr

dried shrimps or more if you like more

soaked in water until soft and finely chopped

1

tsp

cooking oil

4-5

red chili

stemmed, slit into half and seeded and finely chopped. Wear gloves when you work with the red chili

3

stalks of green onion

finely chopped

About 1 cup of fried shallots

you can make your own or use a store-bought
Instructions
Grease the pan or glass dish with some oil on all four sides. Place the parchment paper on the bottom if you want to, but not necessary. Prepare your steamer by bringing water to a boil.

Place the rice flour,water, five-spice powder, and salt in a large mixing bowl. Whisk until it's blended. Set aside. Preheat 1 Tbsp of oil in a large skillet or wok. Add shallots and garlic and saute until fragrant and soft, about 4 minutes. Add the dried shrimp and saute for another 1 minute. Add the taro pieces and cook for another 2 minutes. Give the rice flour mixture a stir and then pour it into the skillet/wok. Reduce the heat to medium or low. It will start to thicken. Keep stirring until until it coats the spatula, medium-thick consistency. If it's too thick, your kueh will be tougher after steaming. Remove from the heat.  

Pour the batter into the pan or glass dish. Use the back of the spoon or spatula to press it down so the cake will be pretty compact and won't have "holes" and smooth the surface as much as you can. Place this into the steamer and steam for 1 hour or until the taro cake is cooked through and set. It may still appear a bit soft at the end of cooking time, but that's ok, let it cool off completely before removing it. It will "firm up " further
While waiting for the taro cake to steam, prepare the topping:
In a medium size skillet, preheat some oil. Saute the dried shrimp until really fragrant, about 1 minute. Remove from the heat and set aside
When ready to serve:
You may remove the cake from the dish if you want to. You can leave the cake in the dish and sprinkle the dried shrimps on top of the cake. Sprinkle the green onion, chili and fried shallots crisp on top and serve by cutting with a wet knife into desired sizes. You can also cut the taro cake to the desired size and then only put topping on the ones you will eat on the same day and the untopped taro cake can be refrigerated up to 3 days and then you can reheat and place toppings on top