Juicy and tender pork wrapped in Napa cabbage leaves and shaped into rolls and served with umami sauce is healthy, satisfying, and naturally low in carbs.
What is a Chinese stuffed cabbage roll?
Chinese cabbage rolls are a popular dish in Chinese cuisine. They are made by taking large, whole cabbage leaves, blanching them, and then wrapping them around a filling of seasoned ground meat, vegetables, and sometimes rice or noodles. The filling for Chinese cabbage rolls typically consists of minced pork or beef mixed with diced vegetables such as carrots, mushrooms, and bamboo shoots, as well as seasonings like soy sauce, garlic, ginger, and sesame oil. The rolls are then steamed until the cabbage leaves are tender and the filling is cooked through. The rolls are served with delicious sauce made with the juice from steaming the rolls and other umami seasonings.
It's great for Chinese New Year celebration too
The Chinese like to prepare this dish for Chinese New Year too because the word Napa cabbage or bai cai (白菜) in Mandarin is homophone with hundred fortunes. So it carries good meaning. Offering this dish during Chinese New Year will bring great fortunes 😉
A great alternative to the traditional meat dumplings
Traditional dumplings are wrapped with wrappers made with flour and water. If you are looking for low-carb dumplings, this is a great one! They are tasty and satisfying.
How to cook Chinese steamed stuffed cabbage rolls
1. Combine all the ingredients for filling.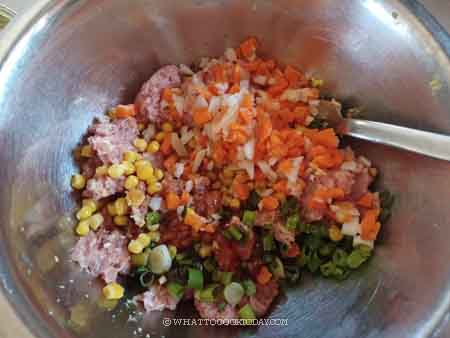 2. Stir in one direction until it forms a paste-like consistency. If the mixture is too dry, add more chicken broth, one teaspoon at a time until you can form a paste. Let it marinate while you prepare other things. You can also let it marinate overnight in the fridge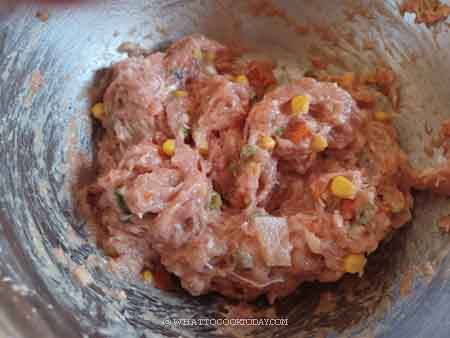 3. Choose 12 pieces of large cabbage leaves, preferably about the same size and has nice green leaves on top. Use a knife to remove the tougher stem at the bottom. It will make it easier to roll later. Don't throw away those stems, they can be saved and included in your next veggie stir-fry or soup.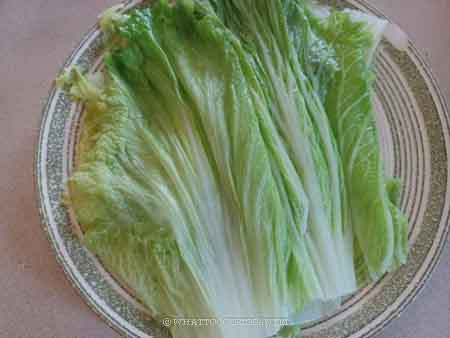 4. Bring about 6 cups of water to a boil. Add about 1/4 tsp of salt and 1/2 tsp of oil to help preserve the color of the cabbage. Cook the cabbage for about 30-40 seconds or until they are soft but not mushy. They have to hold the shape for rolling later. Remove from the pot and put in ice cold water to stop the cooking process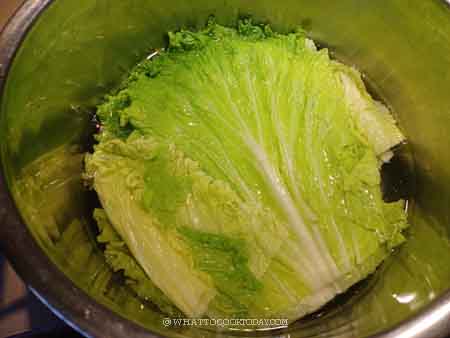 5. Divide the filling into 12 equal portions. Take one cabbage leaf. Place one portion of the filling and place it on the lower third of the leaf.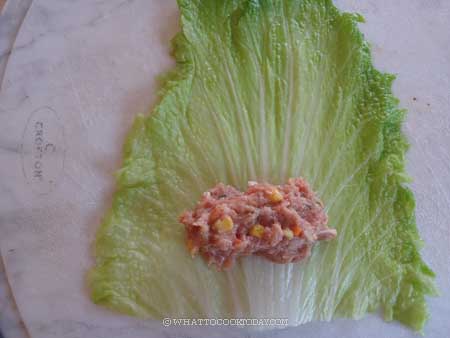 6. Fold the leaf over and continue rolling up until you form a log.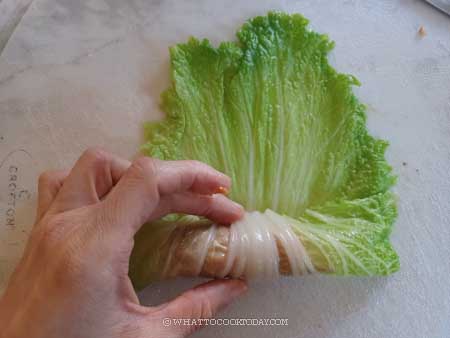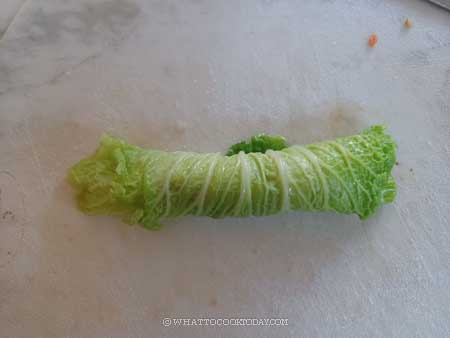 7. Fold the extra leaves on the side to the bottom. Continue with the rest of the filling and leaves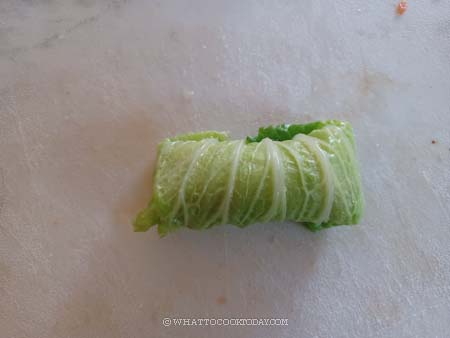 8. Bring the water in the steamer to a boil. Arrange the cabbage rolls on a heat-proof plate that is a bit deeper as there will be some juice ooze out during steaming and you want to collect those steaming juice to make the sauce later.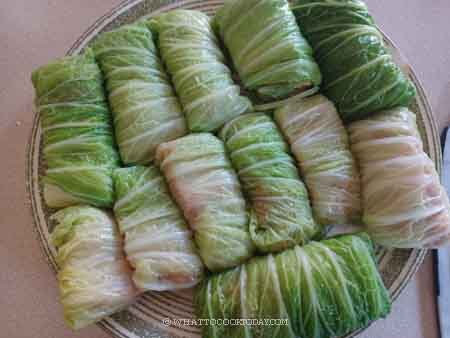 9. Steam over medium heat for 15 minutes. When it's done, remove the plate from the steamer


10. Pour the juice from the plate into a saucepan.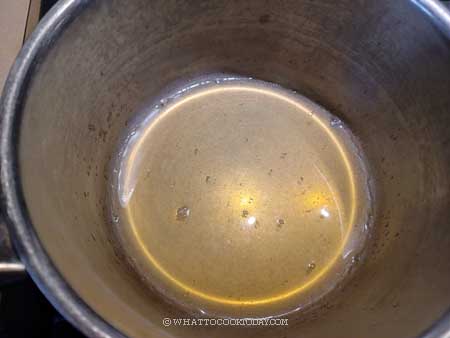 11. Add the seasonings. Add the goji berries last. The amount in the recipe is a guide for you to start with. You may need more or less depending on your taste preference. When you are happy with the taste, combine the cornstarch with water and pour into the sauce and stir until the sauce thickens. Add goji berries. The residual heat will soften the berries. Don't overcook the berries because they turn sour. If the sauce is not thick enough for you, you can always add more cornstarch solution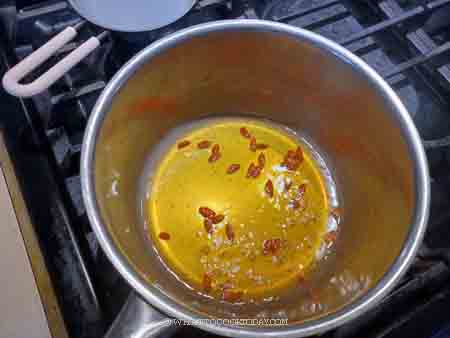 12. Pour the thickened sauce over the cabbage rolls and serve immediately as part of a multi-course meal. We usually serve it with plain steamed rice
Did you make these Chinese steamed stuffed cabbage rolls recipe?
I love it when you guys snap a photo and tag it to show me what you've made. Simply tag me @WhatToCookToday #WhatToCookToday on Instagram and I'll be sure to stop by and take a peek for real!
Chinese Steamed Stuffed Cabbage Rolls
Ingredients
For the sauce: (the amount is up to you to suit your taste buds)
Instructions
It is best to use pork with mixture of fat about 80% lean so the meat won't be tough after cooking
Marinate the filling:
Combine all the ingredients for filling. Use a chopstick to stir in one direction until it forms a paste-like consistency. If the mixture is too dry, add more chicken broth, one teaspoon at a time until you can form a paste. Let it marinate while you prepare other things. You can also let it marinate overnight in the fridge
Prepare and blanch the cabbage:
Choose 12 pieces of large cabbage leaves, preferably about the same size and has nice green leaves on top. Use a knife to remove the tougher stem at the bottom. It will make it easier to roll later. Don't throw away those stems, they can be saved and included in your next veggie stir-fry or soup

Prepare a large bowl of ice-cold water

Bring about 6 cups of water to a boil. Add about 1/4 tsp of salt and 1/2 tsp of oil to help preserve the color of the cabbage. Cook the cabbage for about 30-40 seconds or until they are soft but not mushy. They have to hold the shape for rolling later

Remove from the pot and put in ice cold water to stop the cooking process
Assembling:
Divide the filling into 12 equal portions. Take one cabbage leaf. Place one portion of the filling and place on a lower third of the leaf. Fold the leaf over and continue rolling up until you form a log. Fold the extra leaves on the side to the bottom. Continue with the rest of the filling and leaves
Steaming:
Bring the water in the steamer to a boil. Arrange the cabbage rolls on a heat-proof plate that is a bit deeper as there will be some juice ooze out during steaming and you want to collect those steaming juice to make the sauce later.

Steam over medium heat for 15 minutes. When it's done, remove the plate from the steamer
Prepare the sauce:
Pour the juice from the plate into a saucepan. Add the seasonings. Add the goji berries last. The amount in the recipe is a guide for you to start with. You may need more or less depending on your taste preference. When you are happy with the taste, combine the cornstarch with water and pour into the sauce and stir until the sauce thickens. Add goji berries. The residual heat will soften the berries. Don't overcook the berries because they turn sour. If the sauce is not thick enough for you, you can always add more cornstarch solution

Pour the thickened sauce over the cabbage rolls and serve immediately as part of a multi-course meal. We usually serve it with plain steamed rice
Recommended products: