Thai Seared Scallop Choo Chee Curry – Seared succulent scallops are smothered in spicy, creamy and rich Thai choo chee curry sauce.
DIFFERENCES BETWEEN THAI CHOO CHEE CURRY AND RED CURRY
Okay curry fans! Here's another one of my favorite Thai curry calls choo chee curry or kaeng choo chee. Choo chee curry is very similar to the famous Thai basic red curry paste. From my understanding from High Heel Gourmet, Choo chee curry is one of the Thai red curry varieties. It is prepared with basic red Thai curry paste (Kaeng Kua) that has no spices such as cumin, coriander seed, nutmeg, mace, cinnamon, cloves, cardamom, bay leaves and star anise. Choo chee curry paste has roasted coconut added and so it has more distinct coconut aroma.
Choo chee curry is typically also used for seafood like fish, shrimp, and in this case scallops. It is more of a gravy-like sauce. Thicker compared to regular Thai red curry dishes that is coconut milk based in most cases.
This blog post contains affiliate links. I earn a small commission when you made purchase at no extra cost to you. Learn more.
IF YOU CANNOT FIND STORE-BOUGHT CHOO CHEE CURRY PASTE
I did not make mine from scratch. I used the basic
red curry paste
that has no spices in it (look at the ingredient list). Usually it only has garlic, shallots, lemongrass, galangal, chili, dried shrimp (optional), kaffir lime leaves, cilantro roots. Then I added roasted grated coconut for extra coconut aroma.
HOW TO MAKE THE REAL DEAL CHOO CHEE CURRY
1. Cook the coconut cream
Contrary to my regular recommendation while making some Indonesian dishes for not boiling the coconut milk or cream because they will separate, in this choo chee curry, you want to cook the coconut cream until the oil separates from the cream. You can see the progression from coconut cream to when the coconut and the oils separates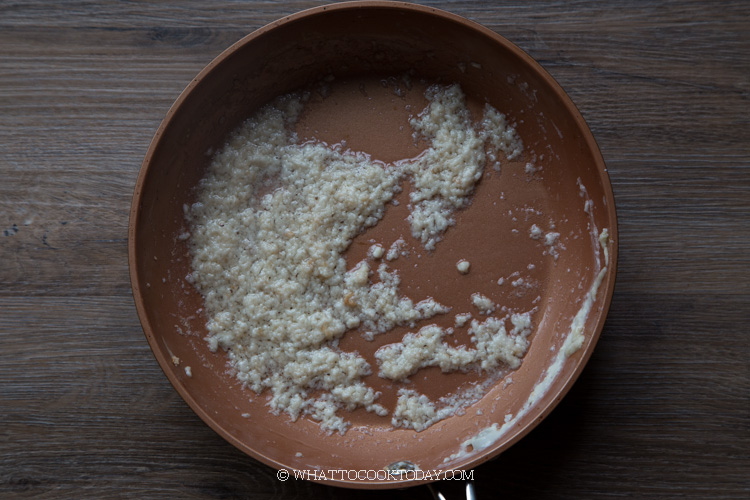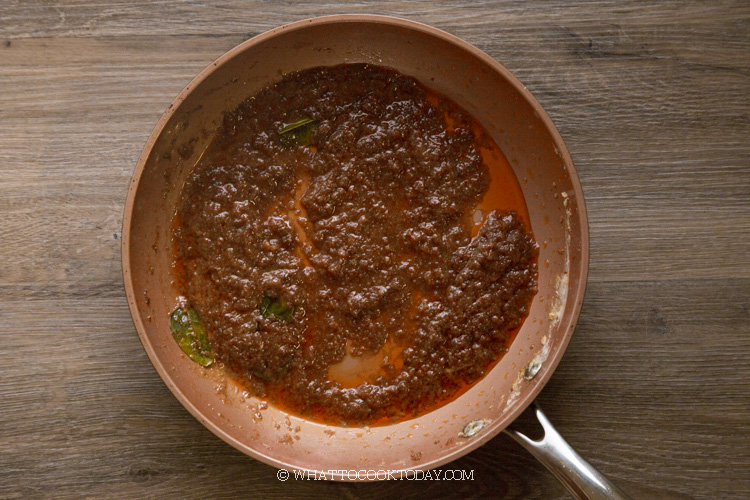 2. Add roasted grated coconut
If you are using regular red curry paste, you want to add roasted grated coconut for that extra coconut flavor, which is another characteristic of choo chee curry


3. Cook your seafood separately
The seafood is usually cooked on its own. You can sear, steam, boil, grill the seafood of your choice and then pour the creamy choo chee gravy over
The finished dish would look something like this…with some red orangey looking oil in the dish

I can tell you that the choo chee curry sauce alone is enough for me to eat with plain white rice. I made some fried rice for my husband with the choo chee curry sauce and it was super delish! It wasn't intended for a fried rice, but boy..that sauce sure is good! The aroma of the coconut is so intense and we love it a lot!

This blog post contains affiliate links. I earn a small commission when you made purchase at no extra cost to you. Learn more.
Recipe is adapted from
High Heel Gourmet's Choo Chee Curry
Recipe was originally published in 2013 and now the recipe and photos have been updated.
Thai Seared Scallop Choo Chee Curry
Ingredients
2

lbs

jumbo sea scallops

(pat dry with paper towel)

1

Tbsp

cooking oil
Red curry sauce:
1 ½

Tbsp

choo chee curry paste

or use regular Thai red curry paste to sub

2

Tbsp

roasted grated coconut

if using regular red curry paste

1 ½

cup

canned coconut cream

divided
Instructions
Roasting the grated coconut:
Place the grated coconut on a dry skillet and roast it over medium heat until golden brown and dry, about 12 minutes. Set aside
Prepare choo chee curry sauce:
Coconut cream usually floats on top and the bottom is usually liquid. Scoop the cream out to make up to 1 1/2 cups. Pour 1 cup of this in a wok or skillet. Bring it to a boil. The coconut cream will bubble, frothy and separate, you will see a layer of oil on top and the coconut cream turns into curds like

Add choo chee curry paste or red curry paste, kaffir lime leaves, and stir-fry for about 1 minute. Add coconut sugar,fish sauce, toasted coconut (if using red curry paste), and the rest 1/2 cup of the coconut cream and bring to a gentle simmer. You can add more coconut cream if you don't want the sauce to be as thick. Lower the heat to let it gently simmer for about 1 minute. Have a taste and add more brown sugar and/or fish sauce if necessary. Stir to mix everything
When ready to serve:
Preheat a frying pan with 1 Tbsp of oil. When the oil is really hot, gently place the scallops in the pan (try not to overcrowd the pan and cook in batches if necessary) and let it cook for 1 minute on each side undisturbed. They should have nice brown sear on each side. Use tongs to remove the scallops and place on serving platter. Repeat with the remaining scallops. Ladle the curry sauce over the scallops and serve immediately
Notes
Coconut sugar makes the sauce darker. You can use Thai palm sugar or regular brown sugar. Level of sweetness will be slightly different, so adjust to your taste.