I keep on going back to Jamie Oliver's cookbooks because I really like how he combines ingredients from different parts of the world in one dish and they always turn out delish. Combining doesn't mean the taste will be overwhelming, instead they all just work together to enhance each other. He's a genius.
I categorized this under fusion because it's not exactly how a traditional dan dan mian/ dan dan noodles is prepared. He uses very simple ingredients like honey, soy sauce , chili oil, lemon and lime to flavor up the noodles and it works amazingly well. The rib-eye steak is flavored with ginger, Chinese five-spice powder, garlic, lime and coriander. The Chinese five-spice powder covers 5 different flavors: salty, sweet, bitter, sour and aromatic. If you can't get a hold of five-spice powder, you can substitute with ingredients I put at the note section below, just know that it's not 100% the same, however, should be quite close.
You can prepare the noodles, the steak and some greens all in 30 minutes. Another winner from Jamie's 30 minute meals. Thank you!!!!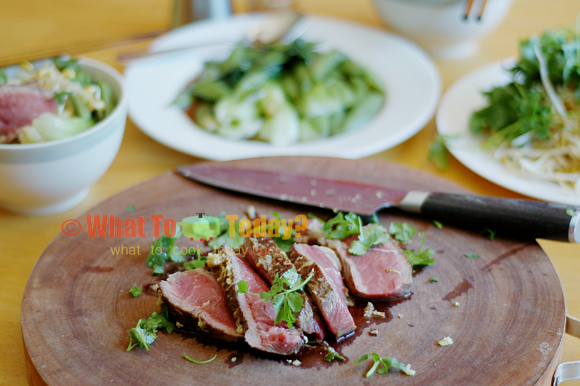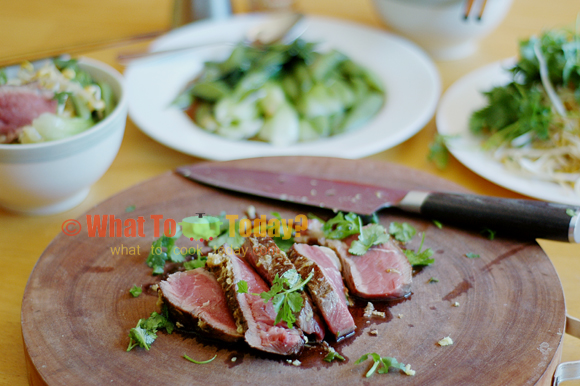 30-MINUTE MEAL: RIB-EYE STEAK WITH DAN DAN NOODLES AND GREENS
Ingredients
Steaks:
2

x 9-10 oz

(250 g) best-quality rib-eye steaks (make sure it's the freshest it can be if you going to cook it rare to medium-rare)

1

heaped tsp Szechuan pepper

½

a red chili

(optional)

1

clove

garlic

1

lime

A few sprigs of fresh coriander
Greens:
5

oz

(150 g) sugar snap peas

2

bok choy

7

oz

(200 g) broccoli

1

heaped Tbsp black bean sauce

1

lemon or lime
Instructions
Get all your ingredients and equipment ready. Fill and boil the kettle (you can use a medium-large pot fill with water if you don't have a kettle). Put a griddle pan of a hig heat and a large saucepan on a low heat. Get out 4 serving bowls

STEAKS: put the meat on a wooden board and sprinkle salt and pepper from a height over the meat and board. Pound the Szechuan pepper using a pestle and mortar. Put a tiny pinch in each serving bowl, then sprinkle the rest over the meat along with a really good pinch of five-spice. Drizzle a little olive oil over the meat and board, then rub the meat all over the board so it picks up the flavors really well

DAN DAN NOODLES: pour boiling water into the large saucepan. Turn the heat up to high and cover with a lid. Fill and reboil the kettle/pot. pout 1 1/2 to 2 Tbsp of chili oil and 1 Tbsp of soy sauce into each serving bowl. Crush 1 unpeeled clove of garlic and divied the pulped flesh between bowls

STEAKS: Put the steaks on the hot griddle pan to cook for 2 minutes on each side for medium rare, or until cooked to your liking. Use tongs to turn them while you get on with other jobs

DAN DAN NOODLES: get the garnishes ready. Put the beansprouts in a serving bowl with the coriander and take to the table

GREENS: Season the boiling water with a pinch of salt and add the sugar snap peas. Flip over the board you dressed the meat on, then halve the bok choy. Trim the ends off the broccoli lengthways, then add to the pan with the bok choy and sugar snap peas. Put the lid on

DAN DAN NOODLES: trim and finely slice the spring onions and divide them between the serving bowls. Check on the steaks- they should be perfect now

STEAKS: get a clean board, drizzle it with olive oil and lay your steaks on top. Take the griddle pan off the heat. Peel the ginger then finely grate it, with the chili and garlic, over the steaks, just to flavor and perfume. Squeeze over the lime juice

GREENS: spoon 1 heaped tablespoon of black bean sauce into the middle of a platter and spread around with the spoon. Squeeze over the lemon or lime juice and drizzle over a lug of olive oil. Use tongs and slotted spoon to fish out all the peas and greens, holding them up for a minute to let some of the excess water drip away, then pile on top of the black bean sauce. Drizzle over a little extra virgin olive oil and take to the table to toss and dress at the last minute

DAN DAN NOODLES: add the nests of noodles to the water you used for the greens, with 1 stock cube. Squeeze a few drips of lemon juice and a thimble amount of honey into each serving bowl

STEAKS: slice the steaks at an angle into thin strips, then toss so they mop up all the flavorful juices on the board. Tear over the coriander and take to the table

DAN DAN NOODLES: use tongs to divide the noodles between the bowls. Ladle over a little broth and take to the table. Get everyone to toss their noodles, then assemble their own bowl by pimping it with garnishes and adding a pinch of beansprouts, some coriander leaves, some greens, a few strips of steak and a squeeze or two of lime juice
Notes
You may substitute the Chinese five-spice powder with: 2 teaspoons of Szechuan peppercorns, roasted & ground, 8 star anise, ground ,½ teaspoon ground cloves, 1 tablespoon ground cinnamon, 1 tablespoon ground fennel seeds