These ultra crispy rempeyek are made with eggless batter loaded with aromatic herbs, spices, peanuts, anchovies and then deep-fried. These rempeyek stay crispy for a long time too. I'm also showing you how to fry rempeyek with or without a mould.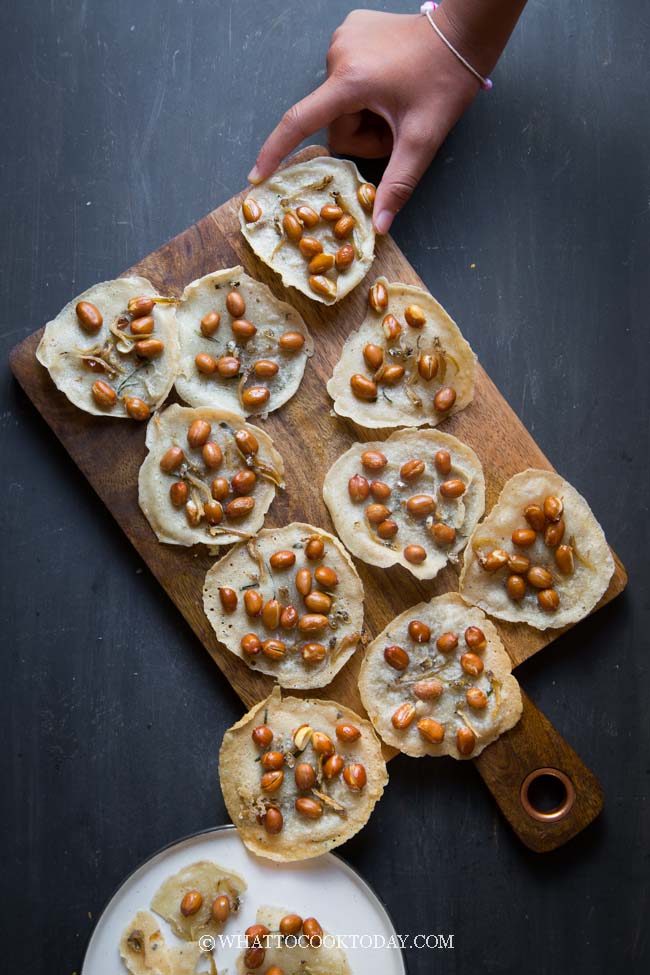 Rempeyek is a very popular snack in Southeast Asia especially in Indonesia, Malaysia, and Singapore. In Indonesia, we call them "peyek" in short. My mom said it got its name from the sound when you bite into the crunchy crispy crackers.
I love to eat them on their own or with pecel. I grew up with pecel and rempeyek together 🙂
TWO DIFFERENT WAYS OF FRYING REMPEYEK
The recipe works whether you fry the rempeyek with or without a mould:
1. Frying rempeyek without a mould
In Indonesia, rempeyek is fried by ladling the thin batter onto the side of the wok/pan. So you get really large irregular shape pieces of rempeyek when you fry this way. It's actually much quicker to fry this way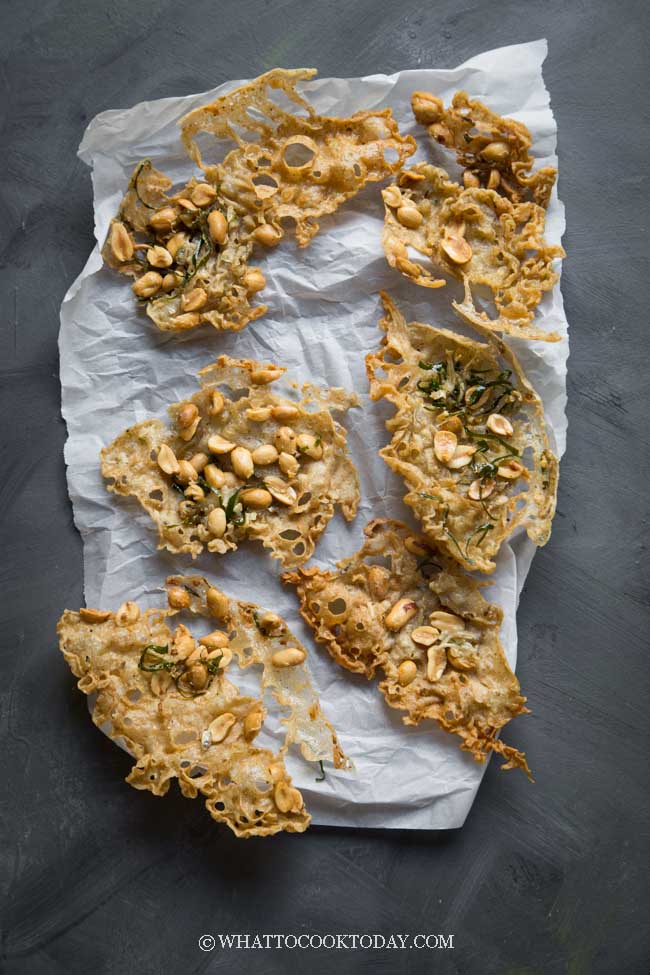 2. Frying rempeyek with a mould
You don't need to purchase any special mould however. As long as you have a metal turner, you can do this. A special mould is also available and usually, you can fry two at a time. By using a mould, the rempeyek are all almost equal size and they are in smaller roundish pieces.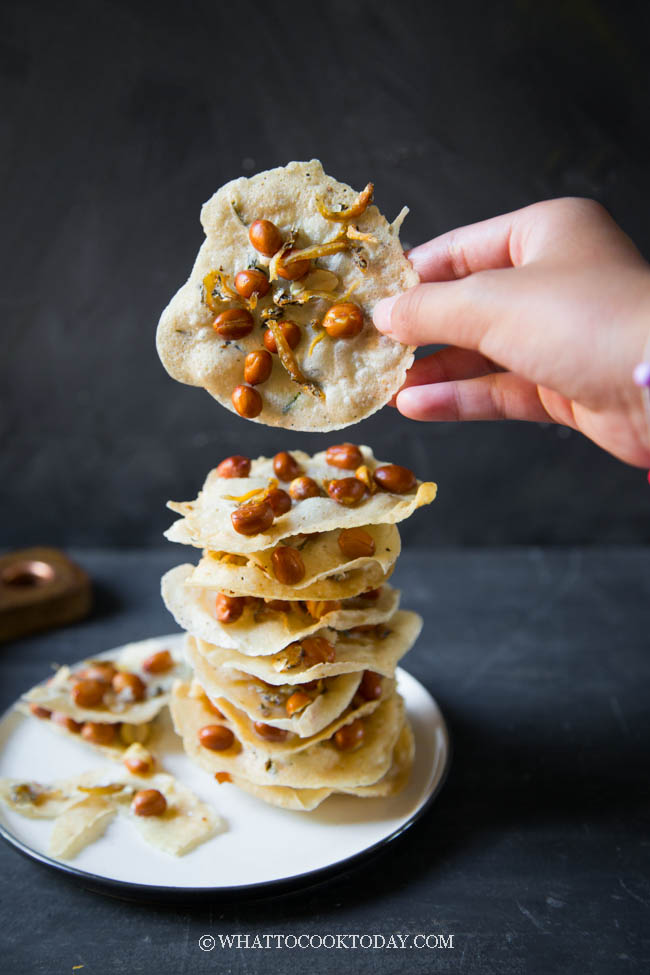 I PREFER EGGLESS BATTER
I've tried several different combinations of starches and also with/without eggs:
1. Rice flour + cornstarch + egg : the rempeyek is greasy and doesn't stay crispy
2. Rice flour + cornstarch : the rempeyek is crispier compared to no. 1, but it's a bit chewier the next day
3. Rice flour + tapioca starch : the rempeyek stays crispy the whole day, but also becomes a bit chewier the next day
4. Rice flour + egg : the rempeyek doesn't stay crispy for long
5. Rice flour (no egg and other flour/starch) : the rempeyek feels lighter and stays crispy for few days at least. This is my favorite among the bunch I've tried so far
HOW TO MAKE REALLY CRISPY REMPEYEK THAT STAYS CRISPY
1. Prepare the peanuts,anchovies, and kaffir lime leaves
You can use peanuts with skin-on or skinless. Traditionally, the skin-on peanuts are use. Roast them in the oven at 300 F (150 C) for 15 minutes. Rinse the anchovies in water and then pat them dry


Cut lime leaves into thin strips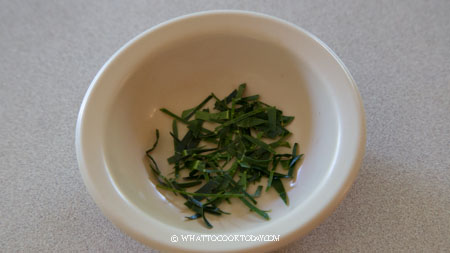 2. Prepare the batter
Mix all ingredients for batter in a large mixing bowl. The batter is runny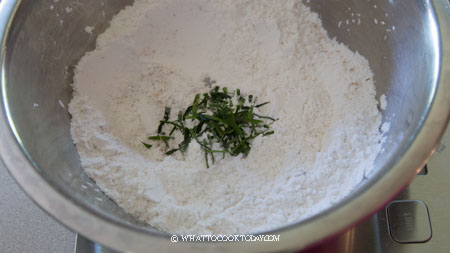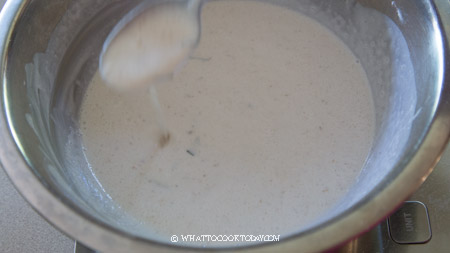 3. Frying with a mould
Preheat about 2 inches of oil in a pan. When you dip a chopstick or a skewer into the oil, there should be bubbles around it. The oil is ready. Dip the mould, in my case, I use the metal turner as my "mould", into the oil to heat it up for about 10-15 seconds.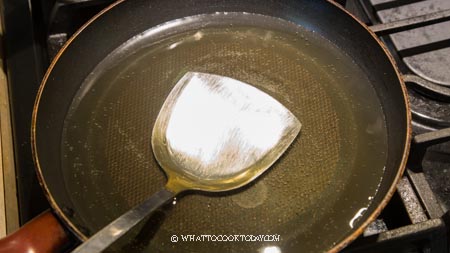 Give the batter a stir each time as the starch tends to sink to the bottom after a while. Spoon a thin layer of the batter onto the hot mould


Top with 5-8 pieces of peanuts and some anchovies. It's up to you how much you want to put, but don't try to load too much


Lower the heat to medium and dip the mould into the hot oil and let it fry until it detaches itself from the mould


Fry until golden brown. Remember to control the heat.


If the oil gets too hot, the edge of the rempeyek will get dark when the middle is still not cooked crispy. Fry over medium heat until lightly golden brown and crispy. Every stove is different, so you need to adjust the heat accordingly. The first few rempeyek you fry will give you some ideas about the heat. Try to fry two at a time until you get used to it
4. Frying without a mould
Mix peanuts and anchovies inside the batter. Stir to mix


Preheat about 2 inches of oil in a pan. When you dip a chopstick or a skewer into the oil, there should be bubbles around it. The oil is ready. Ladle one scoop of batter (as shown in the video) and carefully and slowly drizzle it on the side of the pan not covered by oil. We fry it this way so the batter can "cling" on to the pan and doesn't disperse into small tiny pieces. Fry over medium-high heat.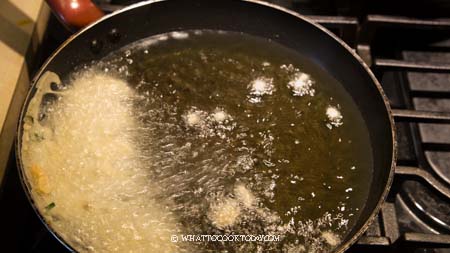 The batter will detach itself from the side of the pan/wok


There is no need to turn the rempeyek around to fry. Simply fry until they are golden brown and crispy. Repeat with the rest of the batter and remember to stir the batter each time before frying

VARIATIONS OF REMPEYEK
The most common rempeyek is the one made with peanuts. There are several other topping you can try too:
1. Rempeyek ebi (with dried shrimp)
2. Rempeyek kacang hijau/ijo (with green lentil)
3. Rempeyek teri (with dried anchovies) – which is kinda what I did here, combining peanuts and anchovies
USEFUL TIPS
1. Make sure you stir the batter each time before you use it
2. Remember to preheat the mould for 10-15 seconds each time before you put the batter on it
3. Control the heat. Once the oil is hot, lower it to medium for frying
4. I recommend frying no more than 2 at a time until you get the hang of it. I still fry 2 at a time for the best result. It doesn't take long to fry them anyway
HOW TO STORE REMPEYEK
1. Let rempeyek cools down completely
2. Store them in an air-tight container/jar or sealed bag. They should stay crispy for a few days
HOW TO CRISP UP REMPEYEK
Even though it stays crispy for a few days, the longer you store, of course, they will gradually lose the crispiness. Simply pop them in an air fryer/oven/toaster oven at 350 F and reheat for 3-5 minutes until crispy. They will be as good as new again

The rempeyek is so moreish that my kids couldn't stop eating them LOL! It's hard to stop at one or two or three! My kiddos just asked me again when I will be making rempeyek again 🙂 In Indonesia, we don't usually put anchovies/ikan teri/ikan bilis in rempeyek, but my kids who are obsessed with dried anchovies really love them in rempeyek. So there you go, rempeyek with peanuts and anchovies 🙂
DID YOU MAKE THIS CRISPY REMPEYEK RECIPE?
I love it when you guys snap a photo and tag to show me what you've made 🙂 Simply tag me @WhatToCookToday #WhatToCookToday on Instagram and I'll be sure to stop by and take a peek for real!


*The recipe was last published in 2016 and has been updated with a better version and new photos and a video*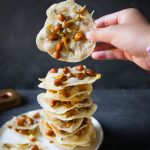 Rempeyek Kacang/Peyek (Crispy Peanut Crackers)
Ingredients
250

gr

skin-on peanuts

roasted, you can also use skinless roasted peanuts

60

gr

anchovies

(ikan bilis) - use small size
Instructions
Prepare the peanuts and anchovies:
You can use peanuts with skin-on or skinless. Traditionally, the skin-on peanuts are use. Roast them in the oven at 300 F (150 C) for 15 minutes

Rinse the anchovies in water and then pat them dry
Prepare batter:
Mix all ingredients for batter in a large mixing bowl. The batter is runny
If frying with a mould:
Get the batter, the peanuts, and anchovies all next to your cooking station.

Preheat about 2 inches of oil in a pan. When you dip a chopstick or a skewer into the oil, there should be bubbles around it. The oil is ready. Dip the mould, in my case, I use the metal turner as my "mould", into the oil to heat it up for about 10-15 seconds.

Give the batter a stir each time as the starch tends to sink to the bottom after a while. Spoon a thin layer of the batter onto the hot mould. Top with 5-8 pieces of peanuts and some anchovies. It's up to you how much you want to put, but don't try to load too much

Lower the heat to medium and dip the mould into the hot oil and let it fry until it detaches itself from the mould. Sometimes it may get stuck a bit and you can use a spoon to help it dislodge, but it shouldn't get stuck to the point where you can't get it off. If that happens, that means your mould isn't hot enough

Fry until golden brown. Remember to control the heat. If the oil gets too hot, the edge of the rempeyek will get dark when the middle is still not cooked crispy. Fry over medium heat until lightly golden brown and crispy. Every stove is different, so you need to adjust the heat accordingly. The first few rempeyek you fry will give you some ideas about the heat. Try to fry two at a time until you get used to it
If frying without a mould:
Mix peanuts and anchovies inside the batter. Stir to mix

Preheat about 2 inches of oil in a pan. When you dip a chopstick or a skewer into the oil, there should be bubbles around it. The oil is ready

Ladle one scoop of batter (as shown in the video) and carefully and slowly drizzle it on the side of the pan not covered by oil. We fry it this way so the batter can "cling" on to the pan and doesn't disperse into small tiny pieces. Fry over medium-high heat. The batter will detach itself from the side of the pan/wok

There is no need to turn the rempeyek around to fry. Simply fry until they are golden brown and crispy. Repeat with the rest of the batter and remember to stir the batter each time before frying
Storing:
Let the fried rempeyek cools down completely. Store in an air-tight container or zipper bag. It stays really crispy the first whole day. The next day they will still be crispy, but I feel like they will taste even better after crisping them in the air fryer/oven/toaster oven at 350 F for 3-5 minutes
Recommended products: