This shop has been compensated by Collective Bias, Inc. and its advertiser. All opinions are mine alone. #YesYouCan #CollectiveBias
I've been cooking for this family for more than 6 years now and still there were many days I asked "What should I cook today (or tomorrow)? My daughter asks the same question to me EVERY.DAY!! "What are you cooking today?" After having kids, I feel that it's even more important that I cook and provide varieties. I love to cook and try different recipes of all kinds. From easy, intermediate, all the way to more complicated. It doesn't mean I'm a good cook, but I like to experiment. Even with that said, on most days, I am all for easy recipes. Who doesn't ? Not everyone is Iron Chef. I believe that home-cooked meals don't mean you'll be stuck at the kitchen cooking for the longest time and smelling like food (okay, there's a chance you might smell like one). Many times, I'm blown away by my family's responses when I prepared something easy and simple and they raved about them.
In our house if we have eggs, we have meals. I can be running out of everything else and I'm still able to fix us meals if I have eggs 🙂 When I saw RO*TEL Original Tomatoes and Green Chilies at Walmart, I thought it couldn't be more perfect to whip up this eggs in tomatoes and green chilies dish.
This dish was inspired by the Middle Eastern eggs poached in tomato sauce or known as Shakshouka. It is a much more simplified version without the spices, but still very delicious. It is such an easy semi-homemade meal everyone can prepare in no time ! It's a very fool-proof and straightforward recipe, yet it is so satisfying in this chilly weather (still chilly here in Minnesota). Don't forget to grab a loaf of crusty bread with you too. Trust me, you will love scooping up that sauce with the bread !!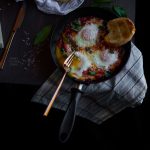 Eggs in tomatoes and green chilies (4-6 servings)
Ingredients
2

Tbsp

cooking oil

4

cloves

garlic

peeled and finely chopped- see kitchen hacks below

2

bay leaves

optional

2

cans of 10 oz RO*TEL Original Diced Tomatoes & Green Chilies

don't drain the liquid

6

large eggs

Salt to taste
To serve with:
Crusty bread

Freshly grated Parmesan cheese

or your favorite cheese
Instructions
Stove-top method:
Preheat a large skillet with cooking oil. When it's hot enough, add in the garlic and saute for about 30 seconds or so, take care not to burn the garlic. Add in the bay leaves (if using) and saute for another 30 seconds or so. Pour in RO*TEL and bring it to a gentle boil and then lower the heat to let it simmer for about 10 minutes to let it thicken slightly. Add some salt to your taste

Crack in 6 eggs over the sauce, try to spread out the position of the eggs so they are across the surface of the sauce. Cover with a lid and let it cook for about 5 minutes or until the whites of the eggs are set but the yolks are still runny (cook longer if you want it more done). Grate some Parmesan cheese over it and remove from the heat and serve immediately and sprinkle some extra cheese on top of it if you want and don't forget the bread
Oven method:
Preheat oven to 325 F. Make sure you use oven-proof cookware.The steps are the same as above until you crack in the eggs. After you crack in the eggs, pop the whole skillet into the oven and bake for about 10-12 minutes (depending how done you want the yolks to be)

Remove from oven and grate some Parmesan cheese over as soon as they are out of the oven. Serve immediately with lots of crusty bread to scoop that sauce
It was still snowing out there as I was taking this photo. I was just so grateful I was inside and about to eat this eggs in tomatoes and green chilies
Here are two kitchen hacks that I would love to share with you in case you aren't aware of them already.
HOW TO EASILY PEEL GARLIC:
I cooked with garlic pretty often and peeling them individually is not my favorite thing to do, especially when I need a lot of them. Few years ago my mom showed me how she easily peeled garlic and I was blown away when I tried it. You may have heard of this method before, but in case you haven't, put it to work !!
1 and 2 : I smashed the bulb of garlic with a heavy object to help separate the garlic. You don't have to do this if you don't want, you can separate them manually by hand. It's up to you, but I find it easier by doing this. Some of the papery skins come off too when you do that
3. Get rid of the extra papery skins
4. Place them into a container and secure the lid. Try not to put too much at one time for better results. One bulb of garlic works great in this large jar. I prefer glass over plastic because it is less noise. My mom used a plastic container and OMG! I think my neighbor could hear it. But not with the glass jar. Get a large one if you have
5. Give them a shake. A REAL hard shake for 20 seconds
6. Most of the papery skins have come off. There may be few really stubborn ones that are still intact. I just put them back into the jar with a lid and another shake of 10 to 20 seconds will get the skin off. Store the peeled garlic in the refrigerator for up to a week. I usually peel max 2 bulbs to use weekly. Anything more than that, your garlic may start to grow roots unless you freeze them
HOW TO FINELY CHOP/MINCE GARLIC
I love flavoring food with garlic, but biting into chunks of garlic in the food is definitely not everyone's favorite. I believe almost everyone has a grater at home and you can use your grater to get that finely chopped/minced garlic that is called for in a recipe. Not to mention it saves you time instead of manually chop them up and you don't get that even size (of course unless you are very well-trained cook or a chef, not me!)
[metaslider id=20896]
The next time you are at Walmart, don't forget to check out RO*TEL at the canned food aisle and also their fresh bakery section to help you whip up this delicious eggs in tomatoes and green chilies.
I often tell people If I can do it, you can do it too. So, YES YOU CAN definitely enjoy a delicious meal with this incredibly simple and scrumptious recipe !
You can get more inspiration for easy delicious recipe at Yes You Can Recipes
PIN IT!