This easy eggless sugee/suji/semolina/rava cake is inspired by the traditional Eurasian rich, dense, and moist sugee cake. This cake has a moist and fluffy texture and it's nut-free. It is perfect for Christmas or any celebrations.

I have a thing for food with texture. I love them. This eggless sugee cake is one of my favorite cakes. Semolina is grainy and gives you that nutty flavor and nice "bite". Traditional Eurasian sugee cake is very rich, dense (there's a not-so-dense version too I heard), and moist. They are made with lots of butter and eggs. It is a very rich cake for sure. I cannot claim that this eggless sugee cake is an authentic Eurasian sugee cake, but it is a very good semolina cake that I seriously don't mind eating. Unlike typical eggless cake, you may think it is lifeless and dense, this cake is fluffy and no one will know that it's eggless, not to mention it's easier on your waist line too 😉
The recipe rundown
1. Taste: It has a flavorful taste like a butter cake almost but I love the nutty flavor of semolina at the same time.
2. Texture: The cake has a grainy texture because of the semolina but it is soft. It is one of the characteristics of semolina cakes. I love that "bite" from the semolina flour
3. Ease: Easy
4. Pros: The cake tastes great but much lighter in terms of calories because no eggs are used
5. Cons: One may say "Hey..this is not an authentic Eurasian sugee cake". Well, it's not but I can tell you it's still a very good eggless semolina cake
Fine or coarse semolina flour
There is no right or wrong answer here. I use finely ground semolina flour. Some people like to use coarse semolina flour because they like the extra bite and nuttiness.
Is it necessary to soak the semolina flour?
Yes, you don't want to skip this step. Soaking the semolina is to moisten the grains so it won't be crunchy and dry but still give you that nice "bite" in the cake.
How to make eggless sugee/suji cake
1. Soak the finely ground semolina flour in milk for 1 hour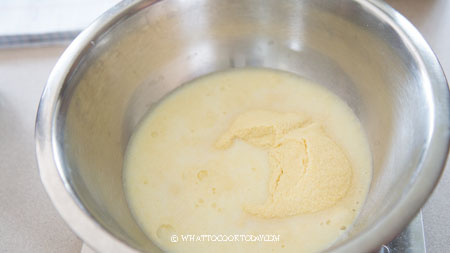 2. Preheat oven at 350 F (180 C). Mix all the dry ingredients and whisk to combine. Set aside


3. Cream the softened butter and sugar until creamy and pale. I use a stand mixer with a paddle attachment


4. Add vanilla extract and soaked semolina flour and mix until combined


5. Fold in the dry ingredients in 2-3 batches and mix over low speed. Avoid overmixing.


6. Pour the batter into the prepared pan. Smooth with a spatula


7. Sprinkle with some thinly sliced almonds on top (optional)


8. Bake in a preheated oven, middle rack. Mine is a conventional oven with bottom heat. Bake for 40 minutes or until a cake tester comes out clean


9. Let the cake cools in the pan for about 5 minutes and then lift it out from the cake pan by grabbing on the parchment paper. Place on a cooling rack and peel off the parchment paper from the sides and let it cools down completely on a cooling rack. The cake will shrink slightly as it cools down
If you can wait until the next day before slicing the cake, it actually tastes even better. I find this true to most cake recipes.

How to store
Freshly baked sugee cake can be kept at room temperature for about 3 days in an air-tight container. After that wrap it with a cling wrap and place it in an air-tight container and keep in the fridge for no more than one week. The longer you keep in the fridge, the drier it gets.
I have also kept the cake in a freezer before and it did well. I wrap it up in a cling wrap then another layer of aluminum foil and put in a resealable bag, push all the air out before sealing. Keep it frozen for no more than one month for the best result. When ready to serve, simply thaw overnight in the fridge or thaw at the countertop until they are soft
Did you make this eggless sugee cake recipe?
I love it when you guys snap a photo and tag to show me what you've made 🙂 Simply tag me @WhatToCookToday #WhatToCookToday on Instagram and I'll be sure to stop by and take a peek for real!


This recipe is adapted from Gracious Treatz with some modifications.
Easy Eggless Semolina Sugee/Suji Cake (Lighter Version)
Instructions
Line the loaf pan with parchment paper, overlapping so they come up to the sides, easier for you to lift the cake out later for cooling
Prepare the semolina flour:
Soak the finely ground semolina flour in milk for 1 hour
Prepare cake batter:
Preheat oven at 350 F (180 C). Mix all the dry ingredients and whisk to combine. Set aside

Cream the softened butter and sugar until creamy and pale. I use a stand mixer with a paddle attachment. Add vanilla extract and soaked semolina flour and mix until combine

Fold in the dry ingredients in 2-3 batches and mix over low speed. Avoid overmixing. Pour the batter into the prepared pan. Smooth with a spatula. Sprinkle with some thinly sliced almonds on top (optional)
Bake the cake:
Bake in a preheated oven, middle rack. Mine is a conventional oven with bottom heat. Bake for 40 minutes or until a cake tester comes out clean

Let the cake cools in the pan for about 5 minutes and then lift it out from the cake pan by grabbing on the parchment paper. Place on a cooling rack and peel off the parchment paper from the sides and let it cools down completely on a cooling rack. The cake will shrink slightly as it cools down