This post is to share with you how to easily make homemade loh shi fun (silver pin noodles) from scratch without any tools and no chemicals. The noodles are also known as mee tai mak or lort cha. The noodles are naturally gluten free too.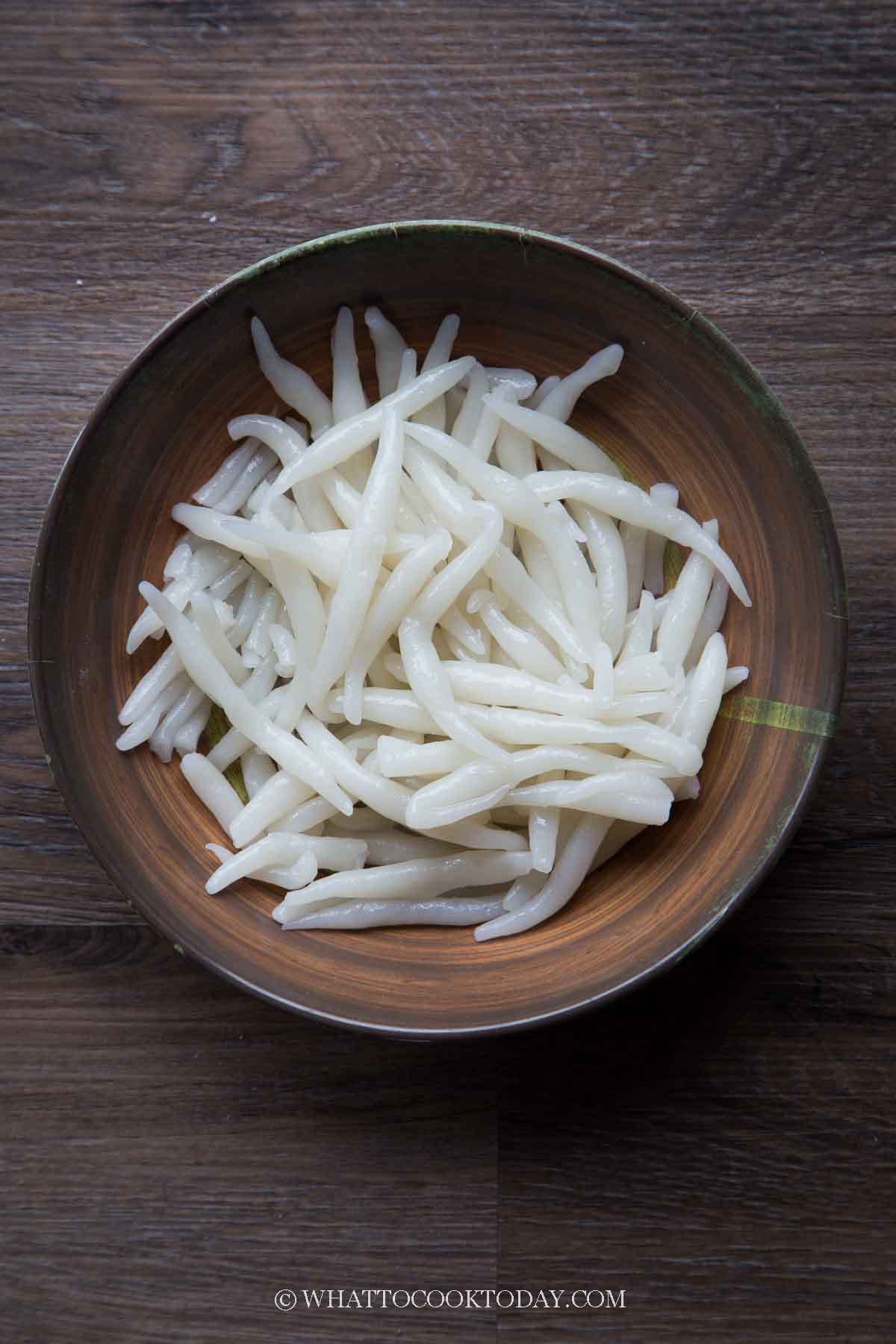 Loh shi fun noodles or often called silver needle noodles, silver pin noodles in Hong Kong and rice pin noodles, or rat tail's noodles in Malaysia and Singapore, mee tai mak or bee tai bak in Hakka, because of the shape, is fun to make and doesn't require any special tool. The noodles are made with gluten-free flour/starch such as rice flour, cornstarch, and tapioca starch. The flour is partially cooked with hot boiling water and then shaped by hand-rolling each strand into the shape you see.
The recipe rundown
Taste: They have a taste similar to plain kway teow/fun noodles.
Texture: They are soft and have the right amount of chewiness. I don't like it too chewy, it's a personal preference though.
Ease: Medium.
Pros: No tools necessary and can be hand rolled. No wheat starch (which is difficult to find) needed.
Cons: Don't make a large batch unless you have someone to help you roll them, especially if it's your first time making them. I found that making 100-200 grams is pretty manageable on my own without any help. It took me about 40 minutes to make 300 grams from start to finish. So, I guess not too bad.
Starches/Flours used
1. Rice flour
I use Thai rice flour (purely rice flour). Please do not substitute with glutinous rice flour/mochiko flour, it is a totally different type of flour. There is no substitute for rice flour
2. Cornstarch
In Hong Kong, loh shi fun is made with wheat starch (tung mein fun/teng mian), which is not the regular wheat flour we are talking about. I have wheat starch and they are not easy to find. So I decided to use cornstarch. Cornstarch is widely available anywhere. In this recipe, the wheat starch and cornstarch can be substitute 1:1. Wheat starch will give you more transparent noodles. The loh shi fun I grew up eating is more on the white side. There is no right or wrong here. It's more of a personal preference
3. Tapioca starch
The tapioca starch is only used in small amount in this recipe and it contributes to some chewiness
Ratio of flours
While testing the recipes, I played with the ratio between the rice flour and cornstarch, and keep the tapioca the same minimum amount and the liquid amount the same, yet I still want that chewiness but not overly so.
1. Rice flour : corn starch = 1:1
I found this produces very chewy noodles. My family didn't like it. I personally don't like it either, but you may like it
2. Rice flour : corn starch = 7:3
The noodles are softer compared to no.1 but still have that chewiness but not too much
3. Rice flour : corn starch = 9:1
This produces much softer noodles compared to no.2 with some chewiness
Can I use potato ricer or cendol maker to make loh shi fun ?
Not with this recipe. The flour/starch and water combination used is formulated for hand-rolling. The dough consistency if you want to use a tool to press the noodle out is totally different. The dough is wet and fluid enough yet not watery to pass through the presser. This recipe is not suitable for that.
How to make loh shi fun by hand rolling
1. Prepare the dough
Mix all ingredients in a heat-proof mixing bowl. Whisk to combine


Bring 1 cup of water to a rolling boil. The water has to boil vigorously with large bubbles. This is very important or the dough won't turn out right. When water has comes to a boil, don't turn off the heat yet, let it boil for another minute


Then pour 120 ml out into a heatproof measuring glass and pour over the flour mixture immediately


Stir with a spatula to get chunks of dough. This will partially "cook" the dough


Let it cools off a little bit, then when it's cool enough to handle, use your hands to knead into a dough. The dough may appear a bit wet a first but don't be tempted to add any more flour. Give it a knead and the water will continue to get absorbs by the dough and eventually becomes smooth and stretchy

Divide the dough in half. Work with one at a time and keep the other covered. You can roll the dough out into a long rod and then cut into 1/2-inch piece. I just pinch off about 2-3 grams of the dough and roll it in between my palms to form a silver pin. Thick in the middle and pointy at both ends.


If the dough gets slightly sticky, simply dust your palm with a bit of rice flour. Dust a plate with a bit of rice flour and put the hand-rolled noodles on the plate and dust with a small amount of rice flour to prevent sticking to each other


2. Boiling the noodles
Bring a large pot of water to a boil. Lightly dust your hands with a bit of rice flour. Gently add the shaped noodles a bit by a bit to prevent sticking to each other instead of dumping everything all at once into the boiling water. Stir lightly and noodles will float to the top. The noodles cook quickly, about 1 minute or less.


Put the cooked noodles immediately in a pot of fresh water, don't need to be ice water. This will stop the cooking and prevent sticking to each other. Then drain off water and transfer to a bowl and toss lightly with a bit of oil if you are not using them immediately

How to store homemade loh shi fun noodles
I do not recommend storing the uncooked noodles as the dough gets drier and drier the longer you keep them and they will break into pieces when you cook them. I also do not recommend freezing as this will change the texture of the noodles.
Leftover cooked noodles can be kept in the fridge for about 4-5 days, probably even a week. They usually harden after refrigeration and it's normal. Simply reheat in the microwave to warm it up or scald with hot boiling water for few seconds to separate the strands of noodles and to soften them and they are ready to be used in cooking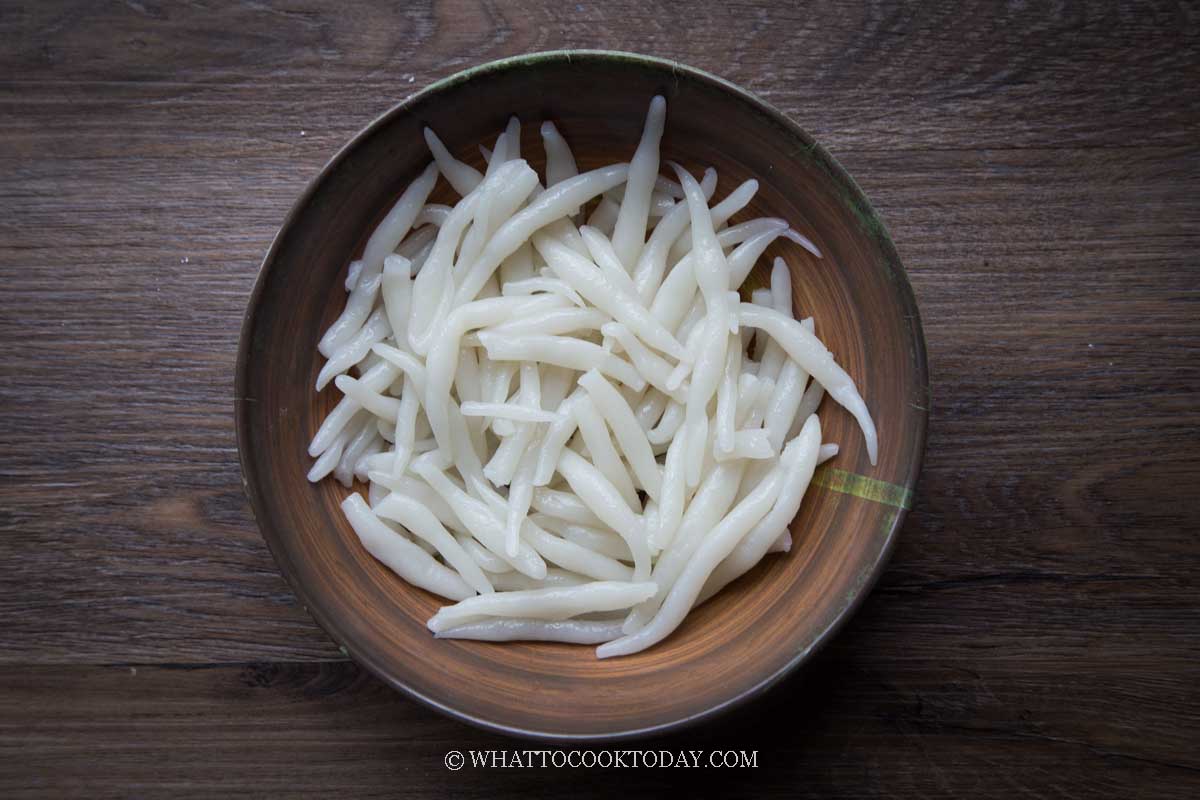 Recipe ideas using loh shi fun noodles
Loh shi fun noodles can be used for stir-fry, noodle soup, or tossed with a sauce of your choice, just like pretty much any noodles. Here are some ideas:
Did you make this loh shi fun noodles recipe?
I love it when you guys snap a photo and tag to show me what you've made 🙂 Simply tag me @WhatToCookToday #WhatToCookToday on Instagram and I'll be sure to stop by and take a peek for real!
How To Make Loh Shi Fun Noodles From Scratch (Silver Pin Noodles)
Instructions
Prepare the dough:
Mix all ingredients in a heat-proof mixing bowl. Whisk to combine

Bring 1 cup of water to a rolling boil. The water has to boil vigorously with large bubbles. This is very important or the dough won't turn out right. When water has comes to a boil, don't turn off the heat yet, let it boil for another minute and then pour 120 ml out into a heat proof measuring glass and pour over the flour mixture immediately and stir with a spatula to get chunks of dough. This will partially "cook" the dough

Let it cools off a little bit, then when it's cool enough to handle, use your hands to knead into a dough. The dough may appear a bit wet a first but don't be tempted to add any more flour. Give it a knead and the water will continue to get absorbs by the dough and eventually becomes smooth and stretchy

Divide the dough in half. Work with one at a time. You can roll the dough out into a long rod and then cut into 1/2-inch piece. I just pinch off about 2-3 grams of the dough and roll it in between my palms to form a silver pin. Thick in the middle and pointy at both ends. If the dough gets slightly sticky, simply dust your palm with a bit of rice flour. Dust a plate with a bit of rice flour and put the hand-rolled noodles on the plate and dust with small amount of rice flour to prevent sticking to each other

Continue rolling with the rest of the dough
Boiling the noodles:
Prepare a large pot of fresh room temperature water to submerge cooked noodles later. Bring another large pot of water to a boil. Lightly dust your hands with a bit of rice flour. Gently add the shaped noodles a bit by a bit to prevent sticking to each other instead of dumping everything all at once into the boiling water. Stir lightly and noodles will float to the top. The noodles cook quickly, about 1 minute or less. Put the cooked noodles immediately in a pot of fresh room temperature water, don't need to be ice water. This will stop the cooking and prevent sticking to each other. Then transfer to a bowl and toss lightly with a bit of oil
How to store:
Leftover cooked noodles can be kept in the fridge for about 4-5 days. They usually harden after refrigeration. Simply reheat in the microwave to warm it up or scald with hot boiling water for few seconds to separate the strands of noodles and to soften them and they are ready to be used in cooking