Grapefruit tossed with umami-laden dried shrimp, fish sauce and roasted peanuts that gives you incredible contrast of texture and flavors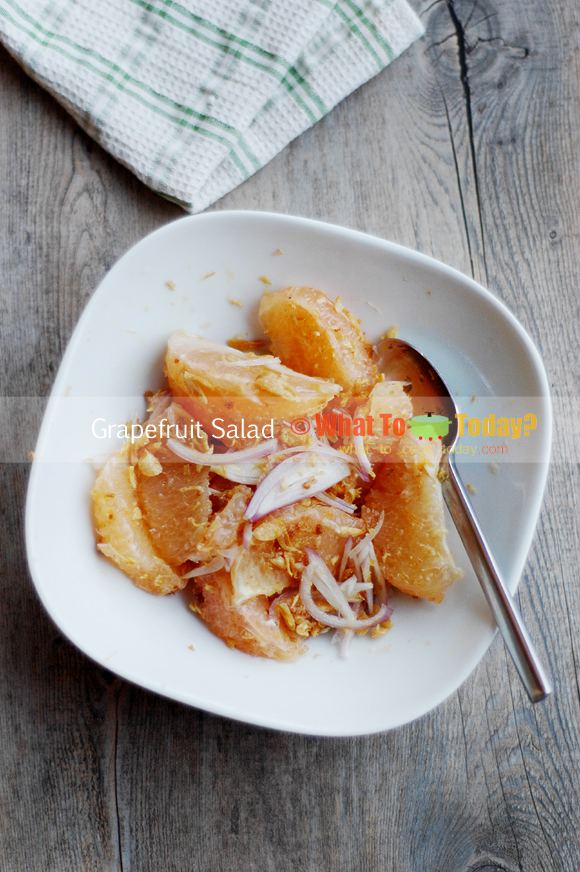 If you think dressing the grapefruit with some fish sauce, dried shrimps, and shallots are going to taste like SUPER WEIRD!! well, I can tell you, it's not! I'm not lying! I have to admit that I have been putting fish sauce, dried shrimps, shallots, and peanuts sometimes on salad dishes lately (if you haven't noticed already) 🙂 But these ingredients really perk up the dish I put them into.
I made this grapefruit salad when grapefruit was in season. It was juicy, sweet, and slightly sour and bitter too. The savory part of the fish sauce, dried shrimp, shallots, and peanuts really make this grapefruit salad really special and so very refreshing. My only advice is to cut the grapefruit section into another half, more of the bite-size pieces. I didn't do that the first time while taking these photos. Bite-size is even better 😉
SOUTHEAST ASIAN GRAPEFRUIT SALAD
Ingredients
2

large grapefruits

4

shallots

thinly sliced

1

tsp

fish sauce

3

Tbsp

fried shallots crisp

½

cup

peanuts

½

cup

of good-quality medium-size dried shrimps
Instructions
Prepare the peanuts and dried shrimps:
Soak the dried shrimps in warm water for about 5 minutes. Rinse off water and pat dry with paper towel. Preheat a small skillet on high heat without any oil. Add in the dried shrimp and saute until fragrant and dried up further, about 5 minutes. Let them cool down. Place into a food processor and process into fine shreds. Set aside

Rinse the skillet with clean water. Preheat on fire again. Add in the peanuts and stir to roast the peanuts, but don't burn them, about 3-4 minutes. Let them cool and chop coarsely on the food processor. Set aside
To segment the grapefruits:
Use a very sharp small knife to peel off the skin down to the white pith. Slide the knife into each segment and continue to do so until you all segments are on your plate. Cut each segments into half if you find whole segment is too large to bite. Pour off any juices on the plate as you don't want the salad to be "soupy"
To dress the salad:
Add in the shallots, fish sauce, 1 Tbsp of the chopped peanuts, 1 Tbsp of dried shrimps powder you prepared above. Toss to mix and have a taste and adjust seasonings if needed. Add in the fried shallots crisp and ready to be served immediately