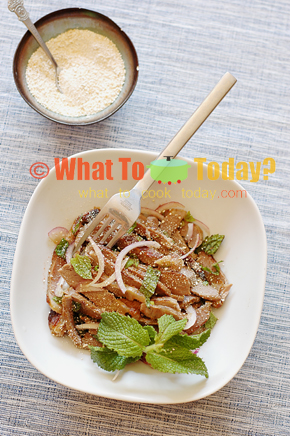 This grilled beef salad from Isan is highly delicious. Isan is a Northeastern region in Thailand, which the word Isan itself means Northeast. From what I read, the area is mainly populated by people from Laos. The dish Naam tok literally means waterfall. You are wondering why waterfall. The meat juice that forms on top of the meat as it grills is what they are referring to as waterfall.
Namm tok nuea is very simple to make without much fuss. Really. Straightforward grilling and dress with the sauce. The dish is also topped with a toasted sticky rice powder. This combined with the grilled beef simply makes it irresistible.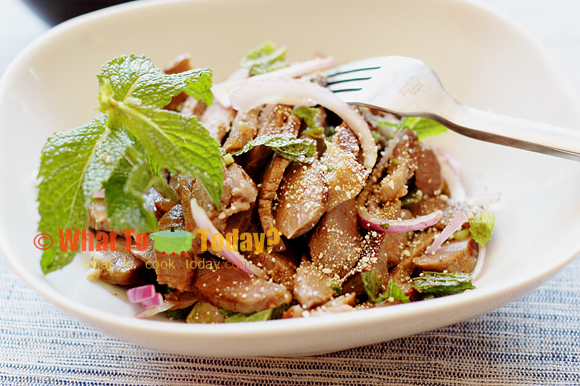 For baking/ kueh making: I highly encourage to weigh ingredients with a digital kitchen scale instead of using measuring cups as they are not very accurate especially when it comes to recipe that requires precision.
GRAMS TO CUPS CONVERSION (UNSIFTED)
INGREDIENTS
3

Tbsp

lime juice

3

Tbsp

fish sauce

1

pinch of sugar

1

tsp

chili powder

5

oz

(150 g) beef tenderloin

2

shallots

-

, sliced finely lengthwise

1

spring onion

-

, sliced finely in rings

1

stalk of lemongrass

-

, hard bottom end cut off, outer leaves removed, white part sliced very finely in rings (optional)

1

handful of mint leaves

Toasted sticky rice/sweet rice/glutinous rice
INSTRUCTIONS
Preheat a small to medium skillet on high heat without any oil. Once hot, put in one handful of sticky rice and use a wooden spoon to move it around and let it toast until golden brown. You can even smell the nuttiness. Set aside to let it cool down a little bit. Put the toasted rice into a food processor and process into fine powder and let it cool and store in an air-tight container. You can do this a night before if you prefer

Mix the lime juice with fish sauce, sugar and chili powder. Balance well; this dressing should taste spicy, sour and salty

Grill the meat, preferably on a wood charcoal grill for that authentic flavor if you can. If not, don't sweat it just grill it they way you normally would using outdoor grill or using grill pan. Grill it to the doneness you like

Once you finish grilling, cover with aluminum foil and let the beef rest for a while before you slice it. Slice the beef into bite-size. Don't waste the meat juice, save as much as you can. Combine beef and juice with shallot, spring onion, lemongrass when using, and fresh herbs. Finish with dressing and toasted rice powder