This tutorial is to show you how to make latik the easy way using canned coconut milk.
What is latik?
Latik is made with only one ingredient, coconut milk. The coconut milk is heated in a pan or wok over low heat, stirring continuously to prevent burning. As the coconut milk simmers, the water content evaporates, and the coconut solids begin to separate from the oil. The solids gradually turn brown and become crispy and toasted, while the oil takes on a golden color and separates from the solids. Once the solids are browned to the desired degree, they are strained from the oil, and the oil is reserved for cooking and the solid is used as a topping.
Latik adds a rich, nutty flavor and texture to Filipino desserts, making them more indulgent and satisfying. It is a versatile ingredient that can be used in a variety of ways, from topping rice cakes to adding flavor to stews and curries. It is a beloved ingredient in Filipino cuisine, and its distinct flavor and aroma are an essential part of many traditional dishes.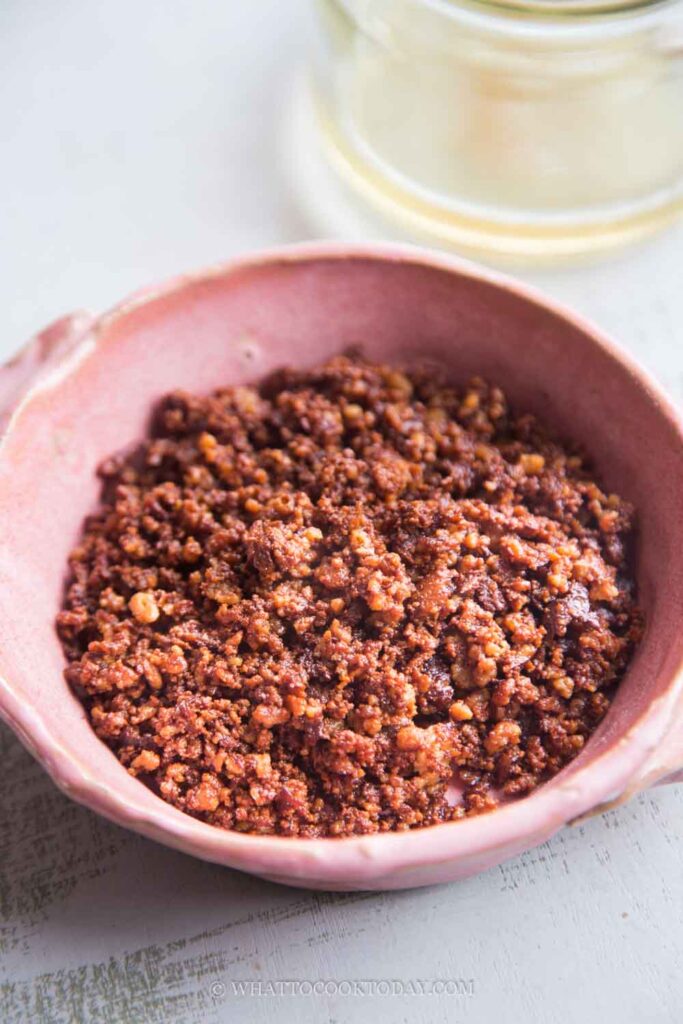 Do I have to use freshly squeezed coconut milk to make latik?
No, you don't need to use freshly squeezed coconut milk. Traditional latik is made by squeezing milk from grated coconut meat that has been soaked in water. I imagined back in the old days, there's no such thing as canned coconut milk or coconut cream. But in this modern day, we can of course use a bit of shortcut and still end up with a great result.
Can I use coconut milk instead of coconut cream?
I suggest using coconut cream because it has less water and hence it takes less time to evaporate the water. You will get more of the roasted coconut curds and the coconut oil

How to make latik using canned coconut cream
1. Put the coconut cream in a non-stick pan or saucepan. Heat it over low-medium heat. The water will slowly evaporates and the oil and the coconut milk solid will separate. This takes about 1 t o 1 1/2 hours


2. Give it a stir every now and then to prevent anything from catching at the bottom of the pan


3. There may be some splattering going on throughout the process as the water evaporates and the oil starts to separate. Water and oil don't mix together. So I just give it a bit of cover to minimize the splattering all over the stove


4. You can see the process of the oil and the solid gradually separates as it cooks down


5. The whole process can take 1 to 1 1/2 hours depending on how much water is in the coconut cream. Just be patient and watch the heat and remember to give it a stir every now and then.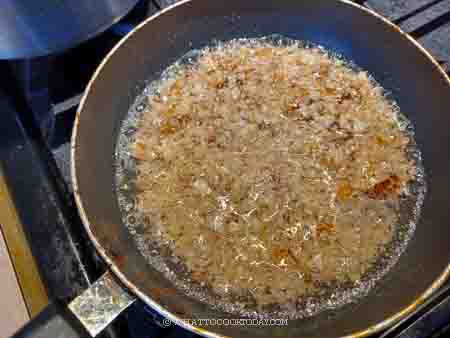 6. Once they separate, watch the heat. The oil will now start toasting the solids and turn them golden brown.


7. Don't cook them too dark. Once it reaches golden brown, remove from the heat source. The residual heat will continue to "cook" the milk solid


8. Let it cool down completely. I get roughly about 65 grams of latik and 170 ml of coconut oil.

How to use latik
Latik is commonly used as a topping for rice cakes like biko, suman, and kakanin, and it is also used as a filling for various desserts like turon and hopia. It adds a unique flavor and texture to desserts, and it is a beloved ingredient in Filipino cuisine. It is also sometimes used in savory dishes like curries, stews, and adobo to add richness and nuttiness to their flavors.
How to store latik
The oil can be stored at room temperature. Use the oil for whatever you need. Latik can be stored in the fridge for about one week. For longer storage, you can freeze them for 3 months. Simply thaw before use or reheat in the microwave for a few seconds
Did you make this easy latik using canned coconut milk recipe?
I love it when you guys snap a photo and tag it to show me what you've made. Simply tag me @WhatToCookToday #WhatToCookToday on Instagram and I'll be sure to stop by and take a peek for real!
How to Make Latik with Canned Coconut Milk
Ingredients
560

ml

canned coconut cream
Instructions
Put the coconut cream in a non-stick pan or saucepan. Heat it over low-medium heat. The water will slowly evaporates and the oil and the coconut milk solid will separate. This takes about 1 t o 1 1/2 hours

Give it a stir every now and then to prevent anything from catching at the bottom of the pan

There may be some splattering going on throughout the process as the water evaporates and the oil starts to separate. Water and oil don't mix together. So I just give it a bit of cover to minimize the splattering all over the stove

The whole process can take 1 to 1 1/2 hours depending on how much water is in the coconut cream. Just be patient and watch the heat and remember to give it a stir every now and then.

Once they separate, watch the heat. The oil will now start toasting the solids and turn it golden brown. Don't cook them too dark. Once it reaches golden brown, remove from the heat source. The residual heat will continue to "cook" the milk solid
How to store:
Let it cool down completely. I get roughly about 65 grams of latik and 170 ml of coconut oil. I stored them separately. The oil can be stored at room temperature. Use the oil for whatever you need

Latik can be stored in the fridge for about one week. For longer storage, you can freeze them for 3 months. Simply thaw before use or reheat in the microwave in few seconds