What is ube kalamay?
Kalamay is a popular Filipino steamed glutinous rice cake made with glutinous rice flour, coconut milk, and brown sugar. Latik is uually added for topping as well. It is a sweet and sticky dessert that is usually served in small bite-sized pieces. Ube kalamay is flavored with mashed ube and some ube extract added to enhance the flavor. Hence the vibrant purple color instead of the traditional brown color. If you ask me, it is very similar to the Chinese nian gao in terms of texture and preparations.
How to make ube kalamay
1. I use frozen grated ube sold in Asian grocery store. I thaw it and discard any excess water after thawing.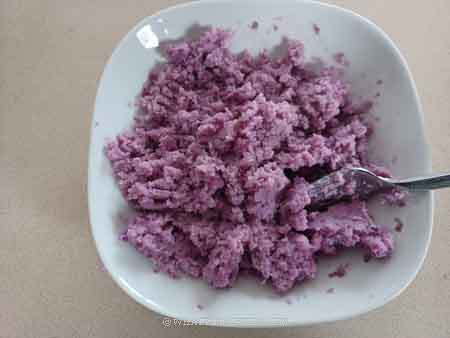 2. Steam it for 15 minutes until they are easily mashed. Put in a food processor and blend until smooth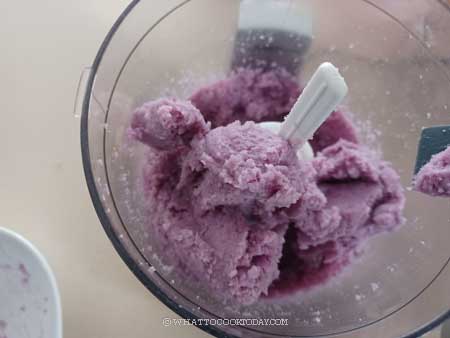 3. Line an 8 x 8 square pan or 9-inch round pan (for full recipe) or 8 x 4 loaf pan (for half recipe) with banana leaves. Brush the leaves with oil to prevent sticking. If you don't have banana leaves, you can use parchment paper


4. Prepare a steamer by bring the water to a boil and then lower it to medium to let it simmer while you are preparing the batter. Combine the mashed ube with coconut milk, and sugar. Whisk to combine. Add the glutinous rice flour and whisk again to combine.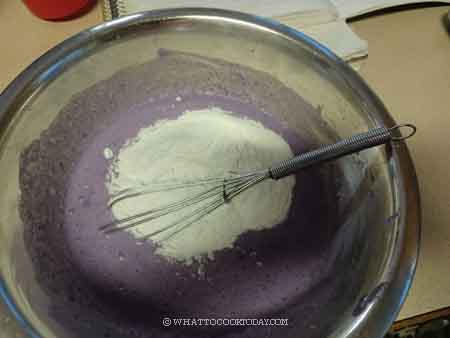 5. Strain the batter if necessary to get rid of the lumps or if you don't mind a bit of tiny pieces from the ube, you can leave them as is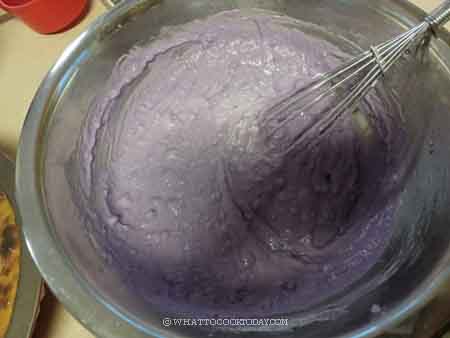 6. Pour the batter into the prepared pan.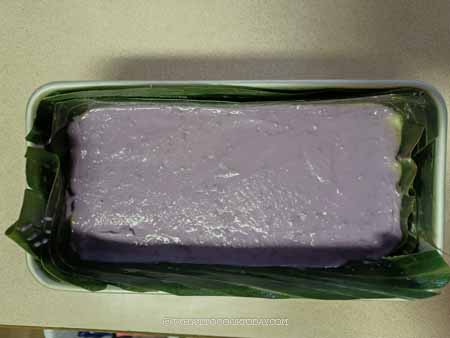 7. Put this into the steamer. Wrap the lid of the steamer with a cloth to prevent water condensation from dripping on the cake surface. Steam over medium-high heat for 55-60 minutes or until a toothpick inserted comes out clean with few sticky crumbs is ok as long as it's no longer wet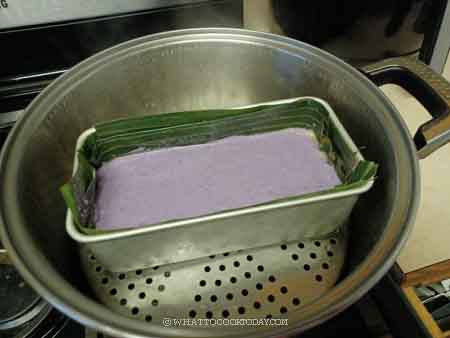 8. Let the cake cool down completely at room temperature.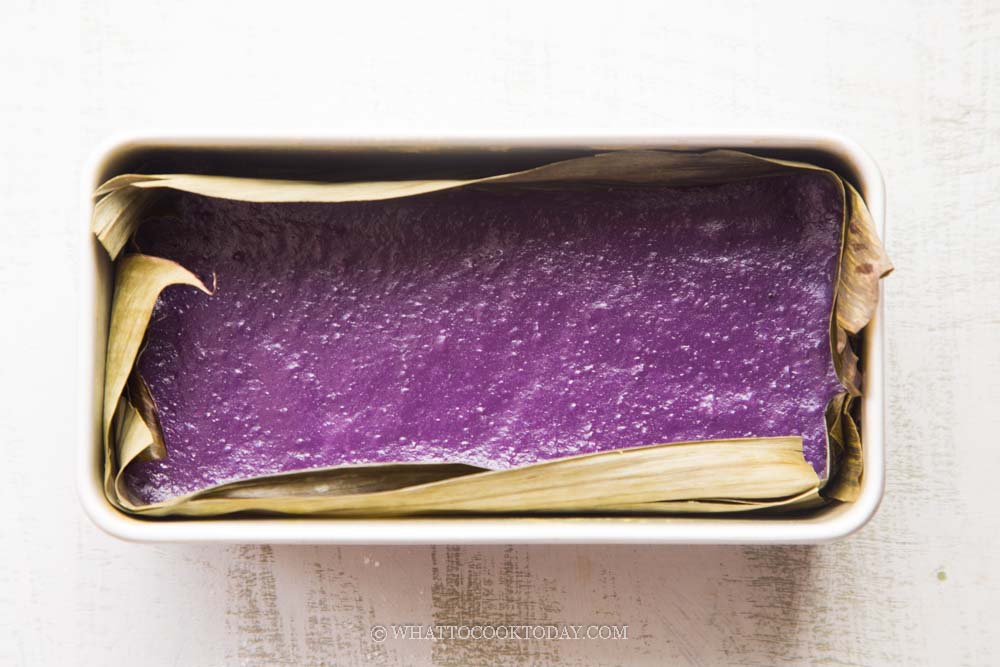 9. Cut into small serving size using a plastic knife to prevent sticking. Top each piece with latik and serve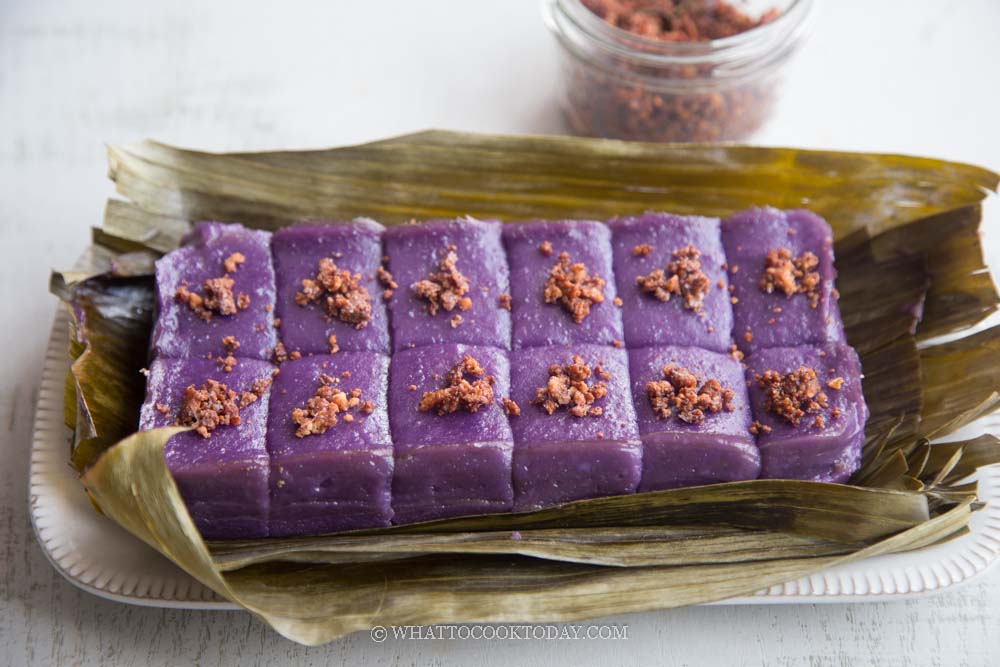 How to store ube kalamay
If you live in a humid place, let ube kalamay cool completely and then keep in an air-tight container and keep it in the fridge for up to one week. They will harden when refrigerated and that's normal. Simply reheat it for a few seconds in a microwave to soften it again. You can also use a steamer to reheat it just until it warms again. It's as good as new.
Can I freeze ube kalamay?
Ube kalamay freezes well. Simply let them cool completely but don't top them with latik just yet. I like to portion them out wrap them in plastic wrap and then store in a freezer bag, push all the air out and seal the bag. Simply thaw the portion you want to serve overnight in the fridge or at room temperature and then reheat in the microwave until they are soft. You can also use a steamer to reheat them until they are warm. Top with latik and serve
Did you make this ube kalamay recipe?
I love it when you guys snap a photo and tag it to show me what you've made. Simply tag me @WhatToCookToday #WhatToCookToday on Instagram and I'll be sure to stop by and take a peek for real!
Ube Kalamay (Filipino Steamed Ube Sticky Rice Cake)
Instructions
Prepare the mashed ube:
I use frozen grated ube sold in Asian grocery store. I thaw it and discard any excess water after thawing. Steam it for 15 minutes until they are easily mashed. Put in a food processor and blend until smooth
Prepare the batter:
Line an 8 x 8 square pan or 9-inch round pan (for full recipe) or 8 x 4 loaf pan (for half recipe) with banana leaves. Brush the leaves with oil to prevent sticking. If you don't have banana leaves, you can use parchment paper

Prepare a steamer by bring the water to a boil and then lower it to medium to let it simmer while you are preparing the batter

Combine the mashed ube with coconut milk, and sugar. Whisk to combine. Add the glutinous rice flour and whisk again to combine. Strain the batter if necessary to get rid of the lumps or if you don't mind a bit of tiny pieces from the ube, you can leave them as is
Steaming:
Pour the batter into the prepared pan. Wrap the lid of the steamer with a cloth to prevent water condensation from dripping on the cake surface. Put this into the steamer and steam over medium-high heat for 55-60 minutes or until toothpick inserted comes out clean with few sticky crumbs is ok as long as it's no longer wet
Cool down:
Let the cake cool down completely at room temperature. Cut into small serving size. Top each piece with latik and serve
Recommended products:
Nutrition
Serving:
1
serving
|
Calories:
123
kcal
|
Carbohydrates:
20
g
|
Protein:
1
g
|
Fat:
4
g
|
Saturated Fat:
4
g
|
Polyunsaturated Fat:
0.1
g
|
Monounsaturated Fat:
0.2
g
|
Sodium:
4
mg
|
Potassium:
155
mg
|
Fiber:
1
g
|
Sugar:
6
g
|
Vitamin A:
17
IU
|
Vitamin C:
2
mg
|
Calcium:
7
mg
|
Iron:
1
mg