This is a fantastic sourdough bread that requires no kneading with a wonderfully soft and moist open crumb. The bread tastes and smells wonderful with the addition of butter-toasted oats and chia seeds.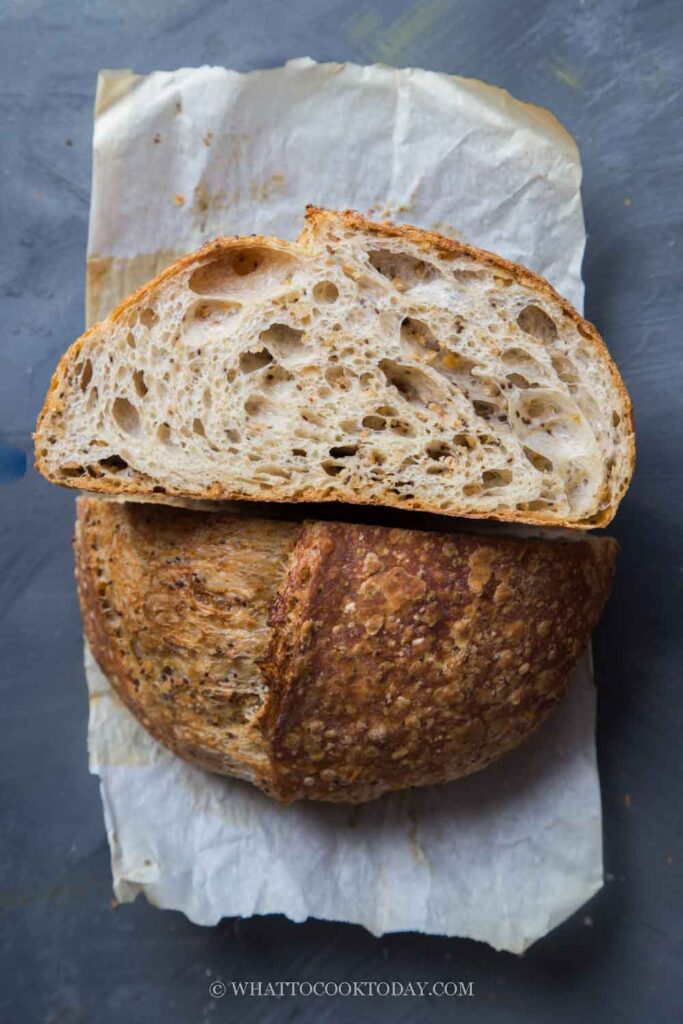 This butter oats chia seeds sourdough bread is one of my favorite sourdough loaves! The oats and chia seeds are toasted in butter making them oh..so extra flavorful and amazing!! I highly recommend this loaf. If you don't want to use butter, you can use coconut oil or regular cooking oil and it will still turn out amazing!
My process of making sourdough artisan bread is pretty much using the same techniques:
1. Fermentolyse
Instead of Autolyse, which only mixing flour with water and let it rest before adding salt and sourdough starter and then rest again before adding the salt in. I add everything (except for the soakers in this recipe) and let it rest for 1 hour and it has been working well for me
2. Stretch and fold
The I usually will do 3 sets of stretch and fold in the mixing bowl, about 15 minutes apart. Sometimes I may add more set if the dough needs it. So you really need to pay attention to the dough, NOT the clock
3. Lamination
I usually use lamination to add soakers or toppings I want to add to the dough
4. Coil fold
After lamination, I usually move the dough to a bulking container/pan. I perform a much gentler coil folding, about 2-3 sets (or as needed) to continue adding strength to the dough (to develop gluten), every 30-45 minutes or everytime the dough relaxes and appears slack
5. Continue to bulk ferment
Bulk ferment starts when you add the sourdough starter into the dough, which in my case, from the very beginning of fermentolyse. After the last coil fold, I let the dough continue fermenting at temperature around 75-78 F and the total time uually range from 5 1/2 – 6 hours at that temperature and the dough usually about 50-60% puffier
6. Shaping
I usually don't do preshaping and go straight to shaping and then put in the banettone
7. Cold retard
After the dough goes in the banettone, I wrap it up in the plastic wrap and put it in the fridge right away and let it cold retard for 15-18 hours before I bake
8. Score and bake
I preheated my Dutch oven combo cooker (the pot and the lid separated) in the oven at 485 F (250 C) for 30 minutes. When the oven is ready, I get the dough out from the fridge and score the bread, load it on the Dutch oven and bake at 450 F (230 C) for 35 minutes and then remove the lid and continue baking at 425 F (220 C) for 10 minutes or until nicely golden brown.
9. Cure the bread
Then I turn off the oven and open the oven door and let the bread sit in there for 20 minutes. This helps to make sure the bread is not undercooked on the inside (wet and gummy)
10. Cool down completely
Then remove from the oven completely and put on a cooling rack to let it cool down completely before slicing, about 2-3 hours later. Don't try to slice into a hot bread
How to store sourdough bread
1. Once the bread has cooled down completely, you can store it in a bread box if you plan to consume it in the next few days. You can also put it inside a paper bag
2. If you have sliced the bread, put the cut-side down on a cutting board, protecting the crumb from drying out
3. For longer storage, you can wrap the whole loaf or sliced bread in plastic wrap and then put inside a freezer bag. Push all the air out and seal. It can be kept frozen for 1-2 months. Simply thaw at room temperature before serving and then reheat them in toaster or air-fryer. Most toasters these days can toast frozen sliced bread. So you may not even need to thaw it completely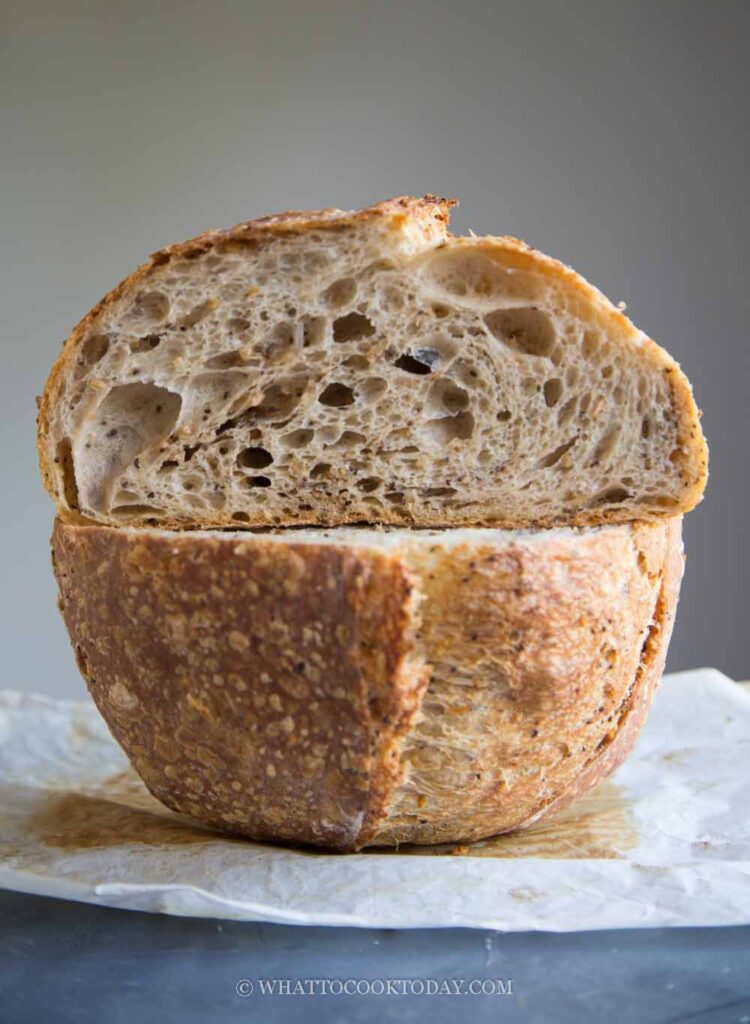 Did you make this butter oats chia seeds sourdough bread recipe?
I love it when you guys snap a photo and tag it to show me what you've made. Simply tag me @WhatToCookToday #WhatToCookToday on Instagram and I'll be sure to stop by and take a peek for real!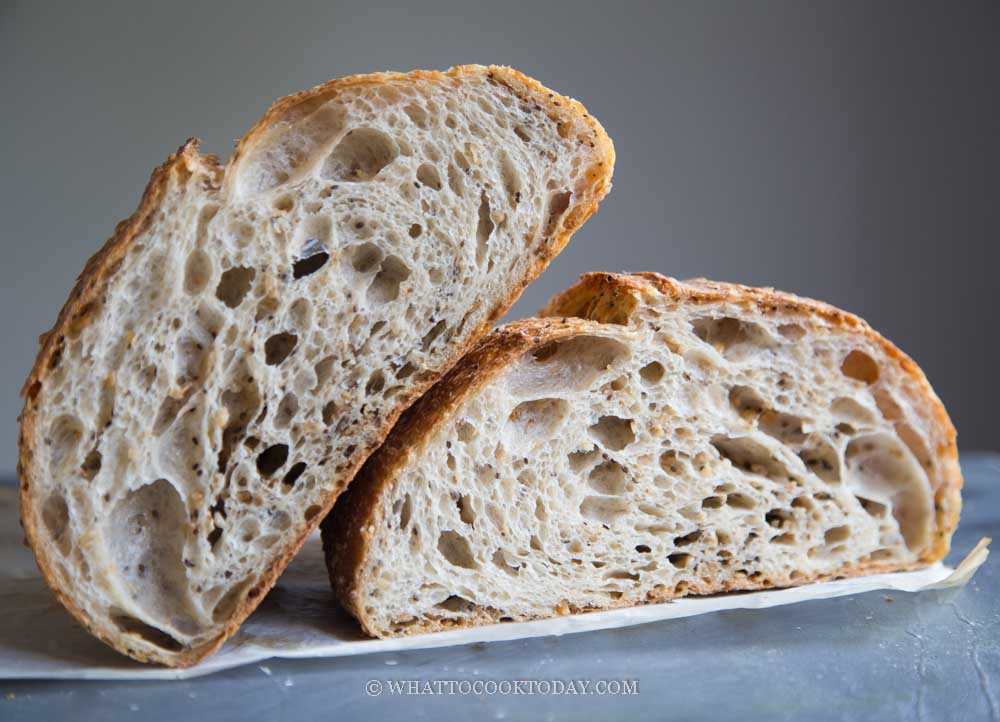 This recipe is adapted from here.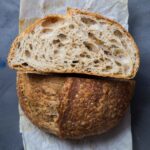 Butter Oats Chia Seeds Sourdough Bread (No-Knead, Open Crumb)
Ingredients
Soaker:
45

gr

old-fashion oats

15

gr

chia seeds

24

gr

salted butter

unsalted works too

60

gr

water
Instructions
Prepare soaker (preferably the night before):
Put the oats and chia seeds on a pan over medium-low heat. Toast for about 5 minutes or so or until you smell a wonderful toasted smell. Pay attention to the heat so you won't burn them. Then add butter and continue to toast until the oats and chia seeds absorb all the butter. Remove from the heat and pour in 6- grams of water. It will sizzle. Stir to make sure everything is soaked. Let it soak for at least 1 hour or leave it overnight. If leaving it overnight, cover with a cling wrap
Prepare levain (the night before):
I strongly encourage you to have an active starter that is at least one month old before you attempt to bake this recipe. You can try using your young starter that is at least 2-week old, but the result may not be as satisfactory

Since I know I will be baking the next day, I will prepare more starter the night before. I will feed at 1:7:7 ratio so it will last me until the next morning, about 10 hours to double or triple at 75-77 F (24-25C). This also depends on the strength of your starter and the room temperature the starter is at. It may be faster or longer

I use 5 grams starter + 35 grams flour + 35 grams water. I usually prepare a bit more as some may get stuck to the glass jar, spatula, etc.

Remember that you want to use your starter at its peak, meaning it has doubled or tripled when you are ready to use it
Fermentolyse (around 8:00 am):
Weigh 60 grams of starter into a mixing bowl. Feed the starter as per your normal routine. Combine starter, water, and salt and stir to combine. Add bread flour and whole wheat flour to a mixing bowl. If you have a dough whisk, you can use that, otherwise, a sturdy spatula or your hand would work too. Stir to combine into a rough wet dough. The whole process probably take about 3-5 minutes. It is important that there shouldn't be any visible dry bits. All flour needs to be fully hydrated. Cover and let it sit for 1 hour. Maintain dough temperature at 70-72 F (21-22 C) at this stage if possible

If it's really warm where you are, you may want to put it in a cooler bag with a pack of ice. Because the starter is already added at this point, we don't want it to start fermenting way too early before we have a chance to strengthen the dough during bulk fermentation

Bulk fermentation begins when you innoculate starter (adding starter) into the dough. In this case, it starts at this fermentolyse step
Stretch and fold #1 (around 9:00 am):
From this point on, I maintain the temperature a bit warmer, at 75-78 F (24-26C). Please watch the video to see the step-by-step tutorial there. Wet your fingers lightly. Pick up the dough from one of the edges, kinda wiggle it and stretch it up and fold it over. Repeat this throughout the edge of the dough. You may end up with 5-6 stretches

Only stretch as far as the dough allows you too, don't force it. Cover and rest for 15 minutes
Stretch and fold #2 (around 9:15 am):
Do the same stretch and fold again with your slightly wet fingers. You may notice the dough is a bit tighter this round as gluten has developed a bit more. Cover and rest for 15 minutes
Stretch and fold #3 (around 9:30 am):
Do the same stretch and fold again with your slightly wet fingers. You may notice the dough is a bit tighter this round as gluten has developed a bit more. You may only need a few stretches at this point. Don't pull beyond what the dough allows you to. Cover and rest for 30 minutes after that
Lamination (around 10 am):
Lamination is another great technique I like that helps to strengthen the dough during early stage of bulk fermentation. We also need to include the soaker that we've prepared and the best way to do that is via lamination. If you add any "inclusion/addition" such as seeds then it is usually added via lamination

Mist the counter top lightly with some water. Transfer the dough to the counter top and gently but firmly stretch the dough by pulling from the center towards the edge. We try to stretch it thin all around,, but not too thin that you tear the dough. The goal is to stretch it as it allows you to and as evenly as possible. In the end you kinda end up with a thin large rectangle. Pay attention to make sure the edges are not thick

Spread the pesto paste evenly and gently all over the surface. Try not to get too much of the oil. Then fold the upper 1/3 to the middle and the lower 1/3 to the middle. Then fold 1/2 or 1/3 from the left and fold again to get a nice package

Transfer the laminated dough to a baking dish or pan, about 9 x 9 inch and spray the container with non-stick spray. You can also use a straight-sided 2-quart container so I can see how much the dough has grown during bulk fermentation

I recommend using a see-through container or bowl to help you gauge how much the dough has risen so you know when to call an end to bulk fermentation. I also mark the container with a marker to see where the level of the dough is. This helps me to roughly gauge how much it has grown. Let the dough rest for 1 hour or until the dough has spread again
Coil fold # 1 (around 11:00 am):
If after 1 hour the dough still seems pretty strong and hasn't spread much, wait another 15 minutes to let it relax and spread more then do a coil fold. Lightly wet your fingers again and tuck your fingers underneath the dough on the side. Lift the dough up gently. Allow the dough to coil and fold over itself

Rotate the container 90 degrees and do the same on the opposite side. After that rotate 45 degrees and do another coil fold and then rotate the container to coil fold the opposite side. So a total of 4 coil folds (one on each side). If the dough seems strong, you can coil fold just 2 sides. You really need to read the dough to see what it tells you and take necessary action. Let the dough rest for 45 minutes
Coil fold #2 (around 11:45 am):
If you dough stretch out before 45 minutes, then you can go ahead and coil fold. You don't have to follow the time rigidly. Pay attention to the dough and act accordingly.

Do a coil fold on all 4 sides or if the dough is not very slack, you can coil fold just 2 sides. If the dough hasn't spread much, wait another 15 minutes and then do the coil fold. Cover and rest for 1 hour
Coil fold #3 (around 12: 45 pm):
You may or may not need the 3rd coil fold. This depends on how extensible the dough is at this point. If the dough still seems slack and does not have much strength, then definitely do coil fold #3. If the dough seems strong and doesn't spread much, you may skip coil fold, or you can just do 2 coil folds instead of 4. Cover and let it continue to bulk ferment

Remember that you need to observe your dough (read the dough not the clock) and do necessary action only if it is needed. This is one of the keys to successful sourdough baking
Let it continue to bulk ferment:
After about 2 hours since the last coil fold, check and see how much the dough has grown. You can also just visually observe how much the dough has grown in size. It should look about 50% puffier than before. Total bulking time from the time the starter is added to this end of bulk fermentation is about 5 1/2-6 hours at 75-78 F (24-26 C). Again, you need to observe the dough, not the clock. It may take longer or faster depending on the temperature
Shape into batard (around 3:00 pm):
I don't do pre-shaping since I only bake one small loaf and the dough usually seems pretty strong after all those stretch and folds and coil folds. I also try not to handle the dough too much near the end of bulk fermentation, to avoid degasing the dough too much

Lightly flour the surface of the dough in the containerTip the container upside down to let the dough gently slide down upside down. Dust the surrounding of the dough with flour. Since I use a square container, the dough will be sort of "squarish". If you use a round container, the dough will be "roundish"

Just use a bench knife to help you stretch the dough out a bit to make it more "squarish". It doesn't have to be a picture-perfect squareUse a bench knife to tuck in the flour underneath the four edges of the dough

Gently fold half of the dough over towards you to the center. Repeat with the opposite half, overlapping the first half. Then roll the dough over from one end to the other. You can feel that the dough is jiggly and full of air

Tuck a bench knife under one side of the dough and push gently to tighten the dough a bit. Seal both ends
Transfer to an oval banneton:
I use an 8-inch oval banneton lined with a cloth. 9-inch banneton would work too. Lightly dust the cloth with rice flour on the bottom and the side of the cloth. Lightly dust the top of the shaped dough. Dust off some excess. Very gently, using the help of the bench scraper to flip the dough onto your palm. So the seam side is facing you now. Gently put the dough into the prepared banneton. The seam side is up. I like to tighten and seal the seam by pulling a bit of the dough from both sides
Cold retard the dough:
Place the dough inside a produce plastic bag and twist the bag and secure with a clip. Any large ziploc bag would work too. Put this inside the coldest part of your fridge. Make sure the fridge is cold enough at 37-38 F (3-4 C). This is important so the dough won't continue to ferment and you end up with an over-proofed dough. Let the dough cold retard for 15-18 hours
Preheating oven:
I bake using a cast-iron dutch oven. 45 minutes before you plan to bake, position one oven rack at the lowest level and then another one rack above it. Place the dutch oven and its lid at the 2nd rack. I keep the pot and the lid separated during preheating. Preheat the oven together with the dutch oven to 485 F (250 C) for 30 minutes

Cut a parchment paper about 2 inches bigger than the size of your banneton. I have a combo cooker Dutch oven, which is nice because I can load the dough with less risk of getting burnt on my arms. If you have a regular Dutch oven pot, you want to cut parchment paper so that it has a "handle" so you can lift the handle and lower the dough into the pot without getting burnt.
Scoring the dough:
When the oven has preheated for 45 minutes, get the dough out from the refrigerator. There is no need to let it come to room temperature.

Place the parchment paper covering the top of the banneton and turn it over so the dough is now sitting on top of the parchment paper

Use a bread lame and make a slash, about 1/2-inch deep at 45 degree angles on the dough, kinda off-center a bit. Mist the dough with water. This creates nice crackling all around the crust later
Baking:
Wear a mitten and carefully get the Dutch oven pot and its lid out from the oven and place one baking sheet on the lowest rack and quickly but carefully close the oven's door back to prevent too much heat loss. This helps to prevent the bottom crust of your bread from being too thick and tough

Carefully load the dough by lifting the parchment paper and lower it into the pot or the combo cooker. Close the lid. Open the oven door again and carefully transfer the pot into the oven again and close the oven door. Lower the temperature to 450 F (230 C) and bake for 35 minutes. I added 5 minutes extra since this loaf has soakers added

After 35 minutes remove the Dutch oven from the oven. Transfer the half-baked bread to a regular baking sheet and put this back inside the oven. Again, this is to help create a nice thin crust all around

Lower the oven temperature to 425 F (220 C) and bake for 10 minutes. Rotate the bread halfway during this second portion of baking

After 10 minutes, turn off the oven and open the oven door slightly to let the hot air out and let the bread sit in the oven for 20 minutes. This helps to "cure" the bread without overcooking it, so the inside won't be wet and gummy
Cooling down:
After that, get the bread out of the oven and transfer it to a cooling rack immediately and now comes the hardest part! You need to wait for at least 3-4 hours or longer before you slice it. If you slice into warm bread, you will end up with gummy crumbs
Store:
Once the bread has cooled down completely, you can store it in a bread box if you plan to consume it in the next few days. You can also put it inside a paper bag

For longer storage, you can wrap the whole loaf or sliced bread in plastic wrap and then put inside a freezer bag. Push all the air out and seal. It can be kept frozen for 1-2 months. Simply thaw at room temperature before serving and then reheat them in toaster or air-fryer. Most toasters these days can toast frozen sliced bread. So you may not even need to thaw it completely
Nutrition
Serving:
1
slice
|
Calories:
171
kcal
|
Carbohydrates:
30
g
|
Protein:
5
g
|
Fat:
3
g
|
Saturated Fat:
1
g
|
Polyunsaturated Fat:
1
g
|
Monounsaturated Fat:
1
g
|
Trans Fat:
0.1
g
|
Cholesterol:
5
mg
|
Sodium:
212
mg
|
Potassium:
67
mg
|
Fiber:
2
g
|
Sugar:
0.2
g
|
Vitamin A:
62
IU
|
Vitamin C:
0.02
mg
|
Calcium:
19
mg
|
Iron:
1
mg