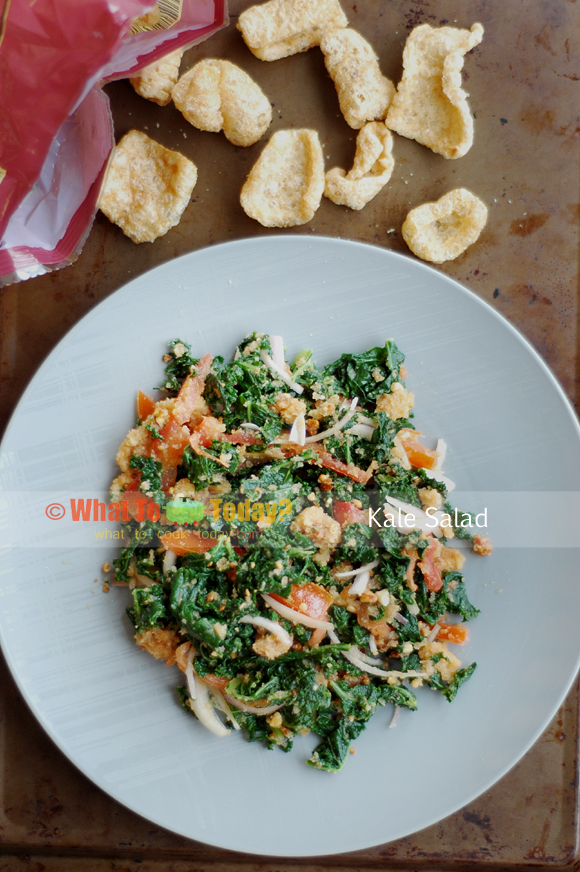 Kale is one of our favorite vegetables. It is slightly bitter, but surprisingly my daughter loves it and we like it too. Stir-fry it, bake it into chips, or as salad, we love it. This Kale salad is delicious with tomato, shallots, peanuts, fish sauce, garlic, AND….some pork skin!! yes, I know…you read it right..pork skin!! I don't normally use pork skin in cooking even though I love those devil a lot because they are just so flavorful and crispy. Adding it to the salad really gives it a nice crunch and not to mention, taste, of course! I don't make my own pork skin. They are available at most grocery store in a package. I think it's okay to add some to the dish every now and then, but I definitely didn't get a big bag of it because I know those would end up in my tummy and I don't need that much for the recipe.
If you can't find kale where you live, you can absolutely use Chinese Kale, or known as Gai Lan, or even broccoli rabe to substitute. You'll love this salad for sure!!
**The recipe is written in Metric and sometimes I include U.S. Measurements**
Please weigh ingredients with a digital kitchen scale instead of using measuring cups as they are not very accurate especially when it comes to recipe that requires precision.
INGREDIENTS
1

lb

Kale or Chinese Kale/ Gai Lan

About 2 cups of store-bought pork skin/ Chicarrones

5

cloves

of garlic

-

peeled and finely minced

5

shallots

-

peeled and finely sliced

3

Roma tomatoes

-

cut into thin wedges

1/2

cup

chopped roasted peanuts

1

tsp

cayenne pepper

1

Tbsp

of grape seeds oil or oil of your choice

Salt to taste
INSTRUCTIONS
If you use kale, pick the leaves off the stem and discard the stem. If you use Chinese kale/Gai Lan, you can include the stems in if you want. Bring a big pot of water to a boil. Add in the vegetables and blanch for about 2 minutes. The vegetables should be still freshly green and slightly crunchy and not mushy. Drain off the cooking water. When cool enough to handle, roughly chop the vegetable into bite size and chop the stems (if included) into smaller pieces

Preheat a large skillet or wok. Add in the oil. Tip in the garlic and saute until really fragrant over medium heat. Don't burn the garlic as it will turn bitter. Control the heat by let it slowly browned. Remove from the heat and set aside

In a large salad bowl. Add in the vegetable, shallots, tomatoes, cayenne pepper, pinch of salt, garlic and its oil. Toss everything together to make sure it mix well. Have a taste, and if it needs more salt, you might want to wait because once you crumble in the pork skin, that will add some saltiness too. Just before serving, crumble in the pork skin with your hand over the salad. Toss lightly with to mix. Have a final taste and add more salt at this point if needed. Serve immediately