Easy and Quick Asian Ginger Fish Soup-Learn how to make a delicious quick and flavorful fish soup that will quickly become your weekly staple. Loaded with flavors.
SIMPLE FISH SOUP RECIPE
Easy and quick Asian fish soup is exactly as it sounds. I just named it Asian fish soup, because it's not particularly specific to any country, but the recipe does call for common Southeast Asian ingredient such as fish sauce. It is one of our family favorites. My daughter loves sole fish fillet because they are so tender and melt in your mouth when you eat them. The base of this soup is incredibly easy to build as well. If you have fish stocks, great, you can use that to make this soup. I didn't and I just use water and it still turns out so delicious.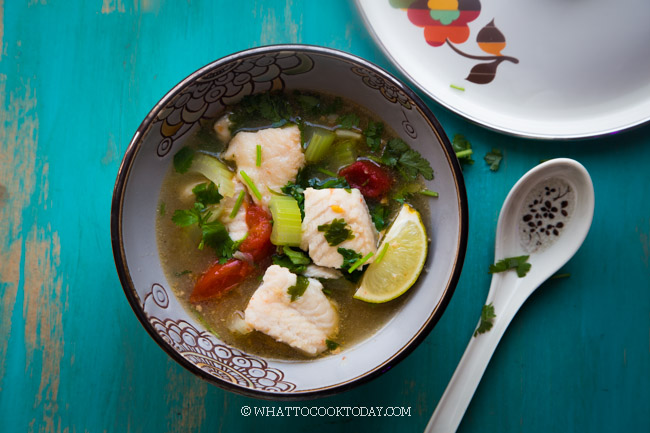 WHAT KIND OF FISH CAN I USE IN THIS RECIPE?
Any white fish fillet would be suitable for this recipe. I have used sole and swai fillet before. You can use fish like cod, cat fish, tilapia, just to name a few.
WHY YOU'LL LIKE THIS FISH SOUP
First of all, it's really easy and it feeds the whole family. This soup is highly addicting. We love it!!! so much! It looks red because of the tomatoes not because it is deadly spicy 😉 This soup has just the right balance of savory, hint of sweetness and slightly tart (from the lime juice). When you taste it, it reminds you of typical Southeast Asian food: sweet, salty, sour. It can be made spicy too by adding some bird's eye chili when you process the aromatics in food processor.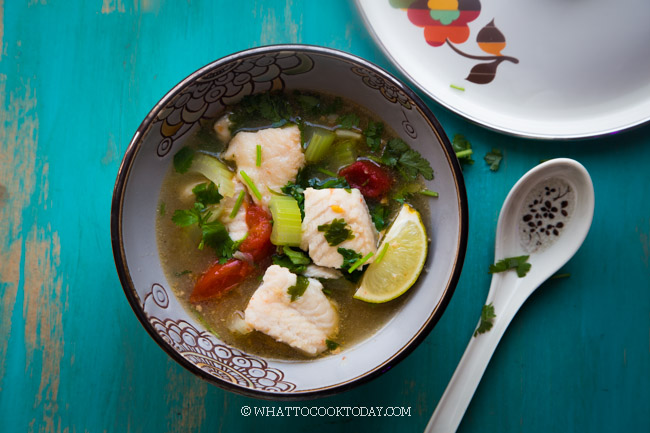 HOW TO MAKE THIS SUPER EASY FLAVORFUL ASIAN FISH SOUP
1. Cut the fish into large chunks (about 3-inch chunks)
Don't cut any smaller than that or they will break apart in the soup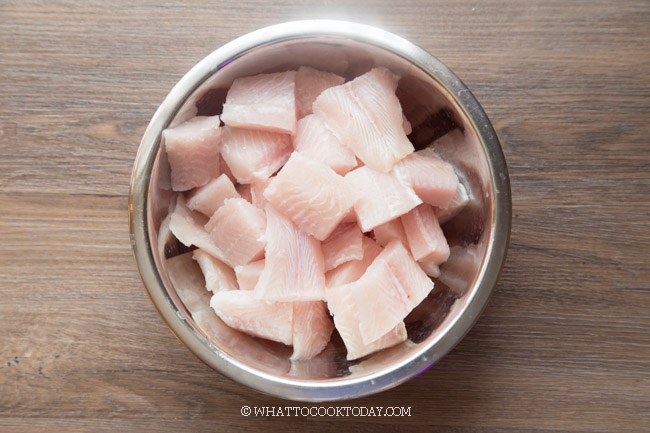 2. Marinate the fish slices
Marinate with some cornstarch and fish sauce for 15 minutes. Some of you have asked do I need the cornstarch? My mom likes to do this with meat and fish because the cornstarch helps to give that smooth texture and helps to tenderize the flesh a bit. You can skip the cornstarch if you don't want to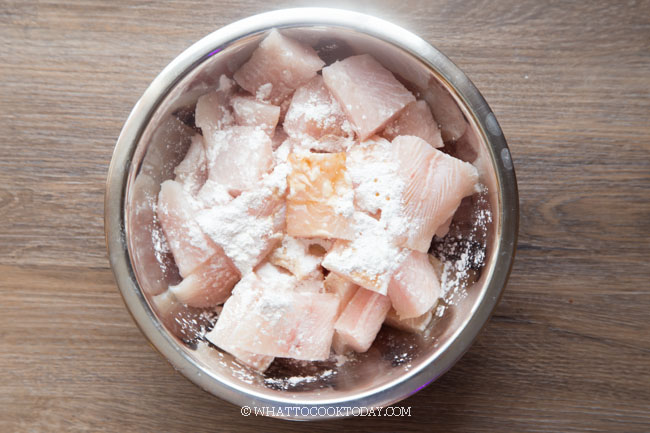 3. Place aromatics in food processor to finely chop them or you can do it by hands too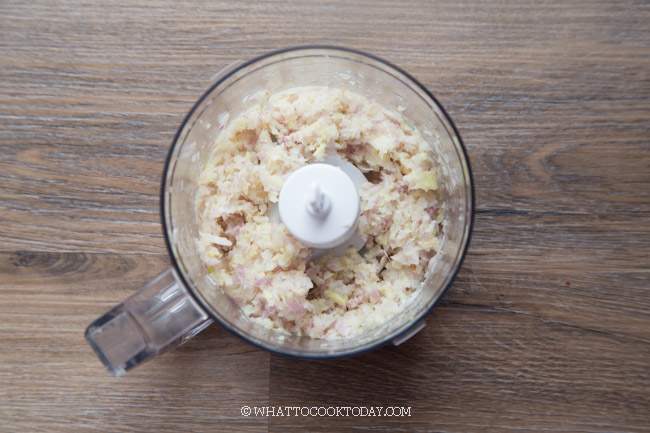 4. Preheat a large heavy-bottom pot. Add cooking oil. Saute the aromatics over medium heat until aromatics, about 5 minutes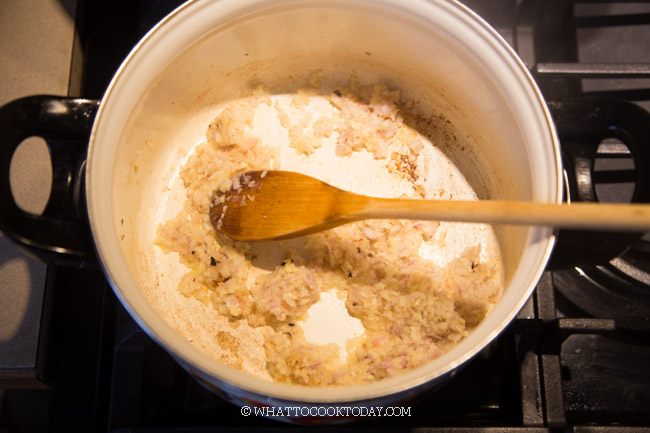 5. Pour in chicken stock and bring to a boil. Scrape the bottom of the pot to loosen any bits that got stuck earlier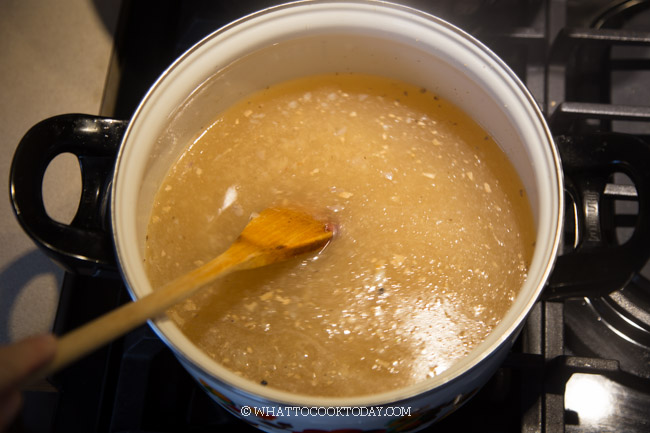 6. Add celery (if using) and tomatoes and cook for about 10 minutes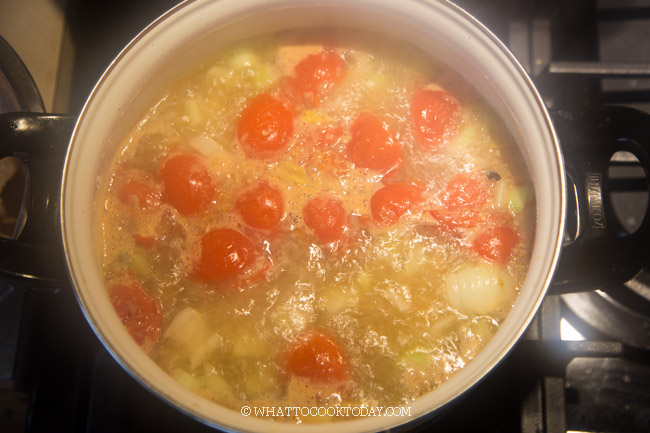 7. Add the fish slices and lime juice and cook until the fish slices are cooked through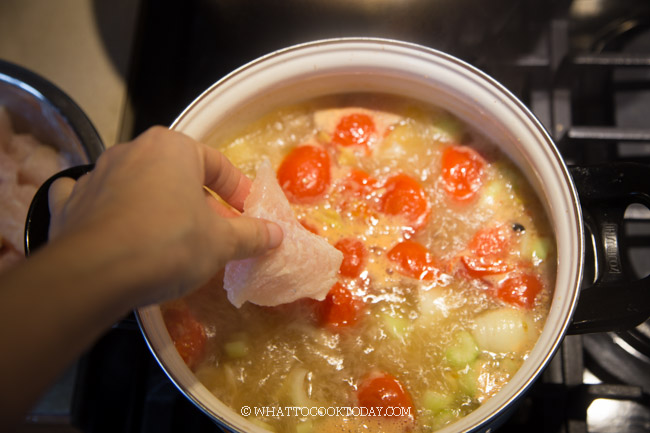 8. Have a final taste and add more fish sauce to your taste if needed. Remove from the heat. Garnish with fresh chopped cilantro leaves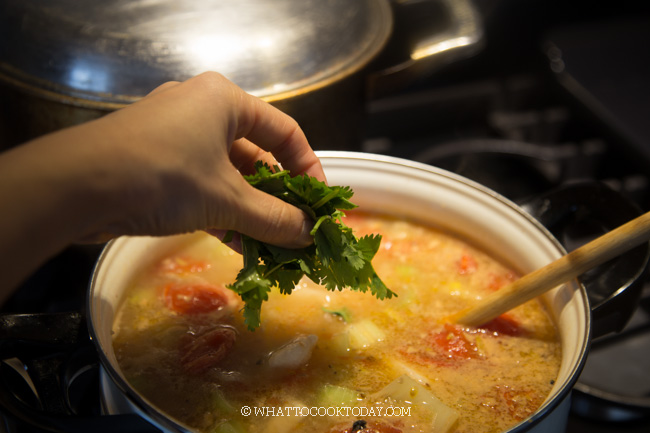 Final product will look like this.

WHAT TO SERVE WITH THIS FISH SOUP
You can serve this with a bowl of plain white rice/brown rice, cooked quinoa. This is perfect to serve with rice noodles, bean thread noodles too. Just cook the noodles separately and then ladle the soup and fish slices over the noodles. There you have it, Asian Fish Soup with Noodles. My kids love it with bean thread noodles.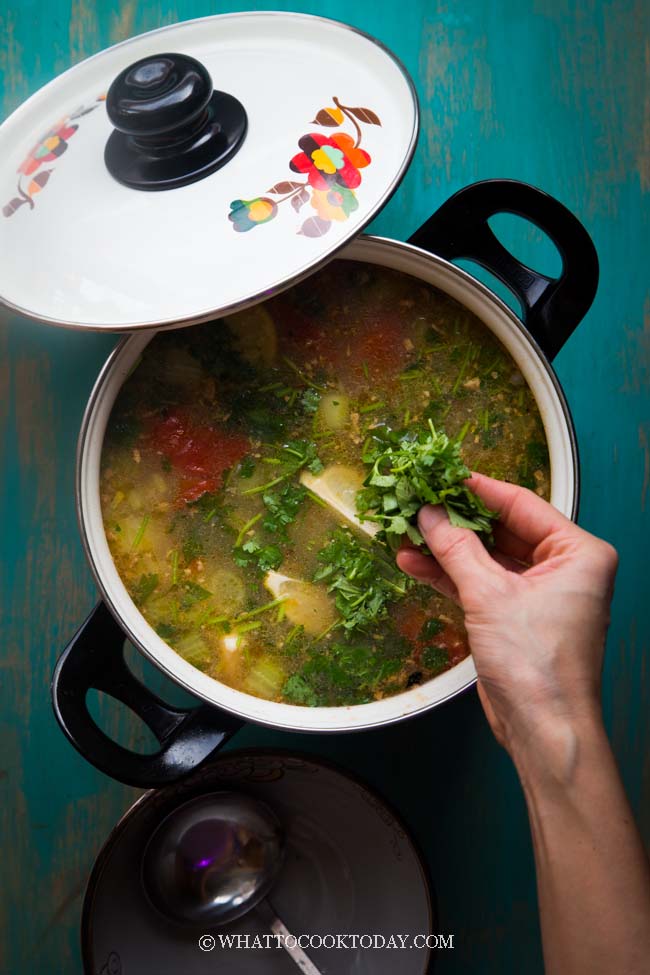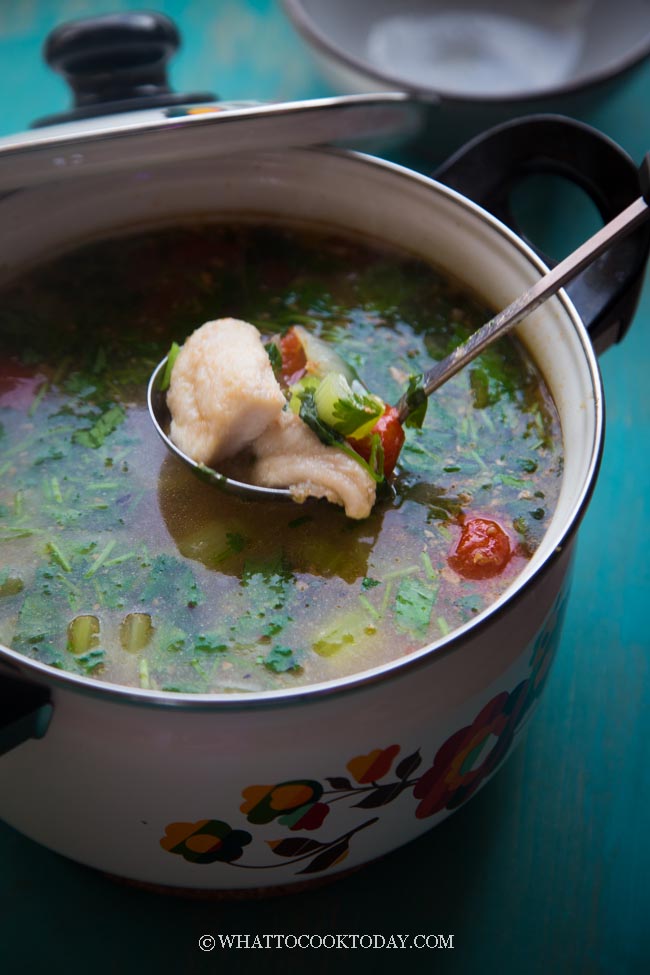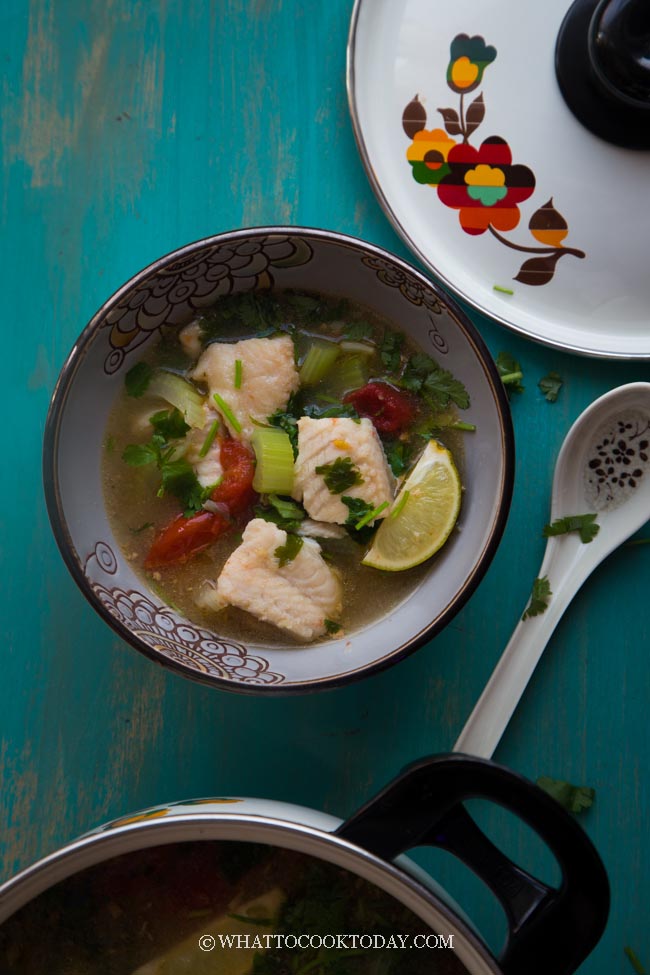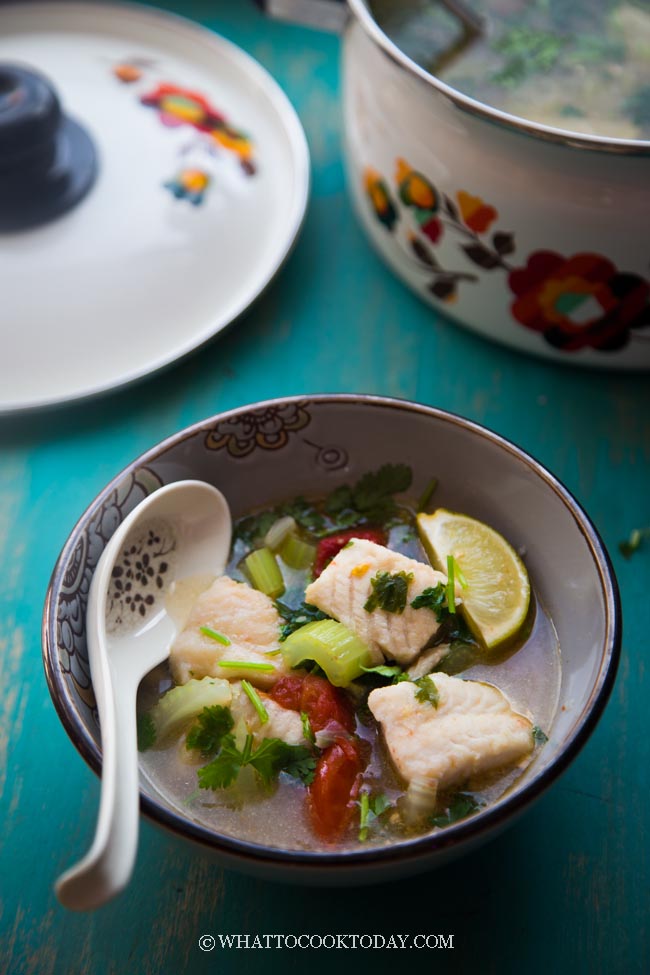 Easy and Quick Asian Ginger Fish Soup
Ingredients
2

lbs

Swai fillet or sole fillet

cut into large chunks

1

Tbsp

cooking oil

6

cups

chicken stock

4

Roma tomatoes

seeded and diced

2

cups

chopped celery

optional
Aromatics:
5

shallots

finely chopped

2

inch

piece of ginger

grated

2

cloves

garlic

finely chopped
Just before serving the soup:
1

stalk

green onion

finely chopped

Cilantro leaves

2

fresh limes

optional
Instructions
Place the fish fillet in a large mixing bowl. Add cornstarch and fish sauce and use a clean hand to toss the fish to let the cornstarch and fish sauce coat the fillet pieces. Set aside while you prepare the other things
Cooking:
Preheat a large heavy-bottom pot with some oil. Add the chopped ginger, garlic, shallots and saute over medium heat for about 2-3 minutes. Add chicken stock and bring to a boil. Add celery if using (I didn't use in the video).Then lower the heat and let it simmer for about 15 minutes until the celery are soft. You can prepare ahead up to this point

When ready to serve the fish soup, bring the soup back to a gentle simmer and add the tomatoes, and the fish fillet. The fish is easily flaked if it's cooked through, if not, let it cook a bit longer. Do not overcook the fish. Have a taste and add more fish sauce to your taste if needed. Remove from the heat

Ladle soup into serving bowl (family style) or individual serving bowl, and garnish with cilantro and green onion just before serving and a squeeze of lime juice if you like