You will absolutely love this soft, fluffy, and cottony chiffon cake with a lemon scent and dressed with a quick and simple lemon glaze. All the tips you need to make this successfully at home.


Baking chiffon cake has become a real hobby of mine ever since I started with my very first chiffon cake, which is the soft and fluffy pandan chiffon cake a few years ago. The soft, fluffy, and cottony texture of chiffon cake is certainly something I simply can't get tired of. My family has eaten LOTS and LOTS of chiffon cakes since then. I seriously can bake chiffon cake every day if I could LOL. It's a kind of cake that when I eat, I don't feel like it's going to weigh me down because it's so light, fluffy, lightly sweetened.
I love the refreshing lemon scent in lemon chiffon cake. If you can get a hold of Meyer's lemon, you should definitely use that. I just use a regular lemon, but it's good too.
READ THIS: ACIDITY IN CHIFFON CAKE
Since this recipe calls for lemon juice, which is more acidic compared to other chiffon cakes I have baked and posted on this blog, it may affect the height of the cake. This is not so much of an issue when I baked the orange chiffon cake as orange is only 1% acidity compared to lemon, which is about 5-7% acidity. Usually, more acidic batter interferes with the ability of the cake to rise and brown. You can see that the lemon chiffon cake didn't brown as much, which is okay in our case, we don't necessarily want the cake to be browned anyway. I recently learned about that from here. It's not necessarily how much acid we add, but how we add the acid. It is important to have the cake flour mixed in with other cake batter ingredients before adding the lemon juice. The acid weakens the structure of the cake, making it shorter. I wish I knew this earlier, but better late than never 🙂
HOW TO MAKE SOFT AND FLUFFY LEMON CHIFFON CAKE
1. SEPARATE EGGS
Take the eggs out from the fridge to let them come to room temperature. Separate the yolks from the whites. Make sure there is no trace of egg yolks or oil in the egg whites


2. PREPARE CAKE BATTER
Preheat oven to 330 F (165 C). Put egg yolks, sugar, oil and water and stir to combine


Sift in the flour and baking powder and stir to combine


Add the lemon zest and lemon juice and stir to combine. I added the acid last, so it won't interfere with the cake ability to rise later during baking. You may see some lumps, but that's okay because of the lemon zest


3. PREPARE THE MERINGUE
Beat the egg whites with a stand mixer or a hand mixer until foamy. Add lemon juice or cream of tartar. Beat for another minute and then add the sugar in 3 batches and beat until you get a stiff peak, meaning, when you lift up the meringue, it will hold its shape for a long time and won't drip. Don't overbeat once you reach the stiff peak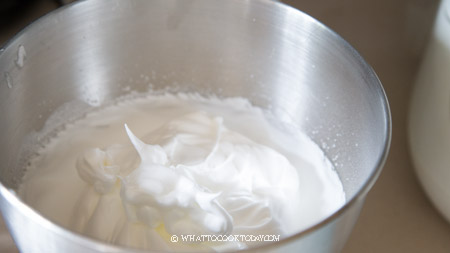 4. FOLD MERINGUE INTO THE BATTER
Fold in 1/3 of the meringue into the cake batter and use a rubber spatula to swipe down and fold over motion (as shown in the video). Continue until you finish folding in the rest of the meringue


5. BAKE THE CAKE
Pour the cake batter into the ungreased chiffon tube pan. Make sure your chiffon cake is a non-stick pan or the cake will not rise. It needs to cling to the pan to help it climbs and rises high. Use a rubber spatula to smooth the top if necessary. Lift up the cake pan, about 5-6 inches high and then bang on the counter several times to pop up any large bubbles inside the cake batter. The bubbles will create holes inside your cake later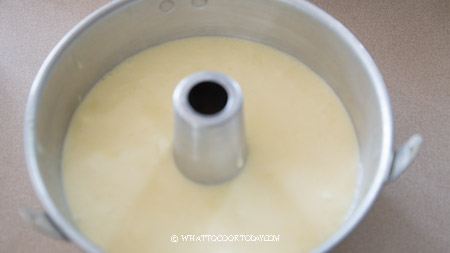 Bake for 50 minutes and then lower temperature to 300 F and bake for another 15 minutes. The cake should be dry to touch and no longer jiggle. You can insert a toothpick into the middle of the cake and it should come out clean
6. COOLING
Immediately invert the tube pan over a wine bottle or use a glass jar or bowl or whatever to prop the middle of the tube pan and let it cools down this way


Once it cools down invert it back


Use a knife to loosen the side and the middle. Cover the pan with a serving plate and flip it over. Gently push the base of the pan down, it should come out. Use a knife to gently release the base from the top of the cake


7. PREPARE LEMON GLAZE
Once the cake has cooled down and ready to be served, you can quickly make the lemon glaze. Combine all the ingredients for the glaze and stir. Let it sits for few minutes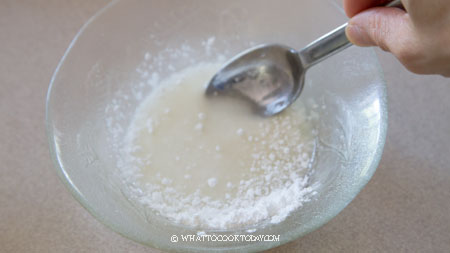 Drizzle it over the cake and decorate with some lemon zest if you like

CAN I BAKE CHIFFON CAKE WITHOUT BAKING POWDER AND CREAM OF TARTAR?
The recipe is adapted from Christine's with some modifications. The original recipe from Christine doesn't use baking powder and cream of tartar. It's true that you don't need baking powder to bake chiffon cake or sponge cake of any kind in general. Baking powder is more of an "insurance" that your cake will rise high. I have baked many chiffon cakes, ogura and castella without baking powder and they rise perfectly. It's up to you if you want to use it or not.
You definitely don't need cream of tartar. Cream of tartar can be easily substituted with an acid like vinegar or lemon juice to help stabilize the meringue.
DIFFERENT CHIFFON TUBE PAN SIZES
This recipe is perfect for 20 cm (8-inch) chiffon tube pan. You can use a 22 cm tube pan too, but the cake will be slightly shorter if you are okay with that.
For 22 cm (9-inch) tube pan: simply multiply the ingredient amount by 1.2 and round it to the nearest 10, for example if it is 48 you round it to 50.
For 26 cm (10-inch) tube pan: simply multiply the ingredient amount by 1.6 and round it to the nearest 10

HOW TO STORE LEMON CHIFFON CAKE
Once cools down completely, freshly-baked chiffon cake can be kept in an air-tight container at room temperature for up to 3 days (ours never made it past 3 days LOL)

DID YOU MAKE THIS SOFT AND FLUFFY LEMON CHIFFON CAKE RECIPE?
I love it when you guys snap a photo and tag to show me what you've made 🙂 Simply tag me @WhatToCookToday #WhatToCookToday on Instagram and I'll be sure to stop by and take a peek for real!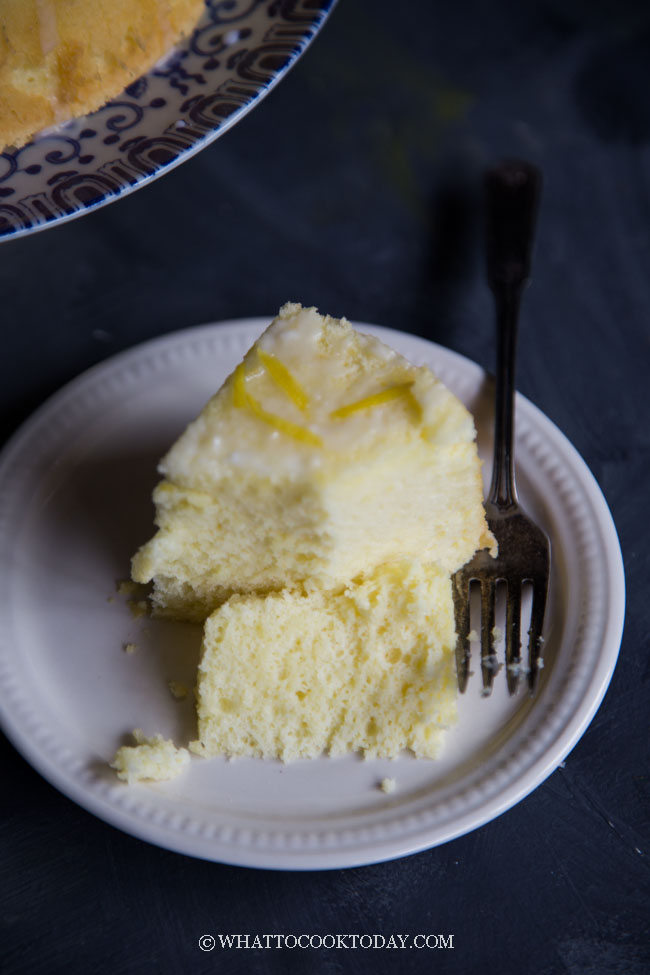 Soft Fluffy Lemon Chiffon Cake (with Quick Lemon Glaze)
Ingredients
Meringue:
5

egg whites

room temperature

2

tsp

lemon juice

or 1/4 tsp of cream of tartar

60

gr

sugar
To decorate:
lemon zest

grated or cut into very thin strips
Instructions
Make sure your chiffon cake pan does not have a non-stick coating or your cake will not rise. The cake needs to cling to the side of the pan to rise tall

Take the eggs out from the fridge to let them come to room temperature. Separate the yolks from the whites. Make sure there is no trace of egg yolks or oil in the egg whites
Prepare cake batter:
Preheat oven to 330 F (165 C). Put egg yolks, sugar, oil and water and stir to combine. Sift in the flour and baking powder and stir to combine. Add the lemon zest and lemon juice and stir to combine. I added the acid last, so it won't interfere with the cake ability to rise later during baking

You may see some lumps, but that's okay because of the lemon zest
Prepare the meringue:
Beat the egg whites with a stand mixer or a handmixer until foamy. Add lemon juice or cream of tartar. Beat for another minute and then add the sugar in 3 batches and beat until you get a stiff peak, meaning, when you lift up the meringue, it will hold its shape for a long time and won't drip. Don't overbeat once you reach the stiff peak
Fold meringue into the cake batter:
Fold in 1/3 of the meringue into the cake batter and use a rubber spatula to swipe down and fold over motion (as shown in the video). Continue until you finish folding in the rest of the meringue
Baking:
Pour the cake batter into the ungreased chiffon tube pan. Make sure your chiffon cake is a non-stick pan or the cake will not rise. It needs to cling to the pan to help it climbs and rises high. Use a rubber spatula to smooth the top if necessary. Lift up the cake pan, about 5-6 inches high and then bang on the counter several times to pop up any large bubbles inside the cake batter. The bubbles will create holes inside your cake later

Place the pan inside the oven, 3rd rack from the top and bake for 50 minutes and then lower temperature to 300 F and bake for another 15 minutes. The cake should be dry to touch and no longer jiggle. You can insert a toothpick into the middle of the cake and it should come out clean
Cooling:
Immediately invert the tube pan over a wine bottle or use a glass jar or bowl or whatever to prop the middle of the tube pan and let it cools down this way. Once it cools down invert it back and use a knife to loosen the side and the middle. Cover the pan with a serving plate and flip it over. Gently push the base of the pan down, it should come out. Use a knife to gently release the base from the top of the cake
Prepare lemon glaze:
Once the cake has cooled down and ready to be served, you can quickly make the lemon glaze. Combine all the ingredients for the glaze and stir. Let it sits for few minutes and then drizzle it over the cake and decorate with some lemon zest if you like
Storing:
Once cools down completely, freshly-baked chiffon cake can be kept in an air-tight container at room temperature for up to 3 days (ours never made it past 3 days LOL)
Notes
Recipe adjustment for different tube size:
 For 6 inch tube: use 2 eggs and multiply 0.4 the rest of the ingredients. Bake for 35-40 minutes , then lower temperature to 300 F (150 C) for 5-10 minutes
For 7 inch tube: use 3 eggs and multiply 0.6 the rest of the ingredients. Bake for 40-45 minutes, then lower temperature to 300 F (150 C) for 5-10 minutes
For 9 inch tube: use the same recipe with 8-inch tube pan recipe (the one I posted on the recipe card)
For 10 inch tube: use 8 eggs and multiply 1.6 the rest of the ingredients. Bake for 50-55 minutes, then lower temperature to 300 F (150 C) for 10-15 minutes