My first Italian meal when I first set feet on Minnesota was linguine frutti di mare or known as seafood pasta at Buca di Beppo and I can tell you it has been my all-time favorite ever since. Every time we go to Buca, that's pretty much what we order 90% of the time. We are seafood enthusiasts and linguine frutti di mare is just so perfect for us. Even now almost 5 years later, with two kids, all of us love this dish…so much.. that I decided I wanted to try making my own. It took me several round to get the sauce to the consistency and taste like the one we had at Buca, and at this last trial, my husband said "I think you've nailed it" And I think I got it, about 90% probably ? It sure tasted good.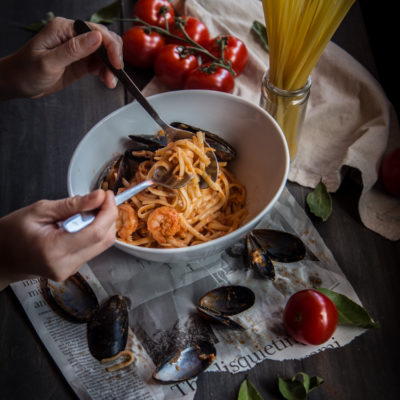 Ingredients
Clam sauce:
12

oz

fresh Roma tomatoes

quartered

2

bulbs garlic

peeled

1

small onion

peeled and quartered

3

Tbsp

of olive oil

2 1/2

Tbsp

tomato paste

6.5

oz

minced clam with its juice

3

Tbsp

sugar

Salt to taste
Other ingredients:
1

lb

linguine

12

oz

of cooked lobster meat

1

lb

of large shrimp

peeled and deveined
Optional:
Some crusty Baguette or bread to dip the sauce

yum!
Instructions
Cook the linguine as directed on package. Reserve about 1 cup of the cooking water and drain off the rest

Place the tomato, garlic and onion in a food processor and blitz into slurry. Preheat a large skillet and add in 3 Tbsp of olive oil and saute the shrimp until they turn opaque and dish them out and set aside. Add in the tomato paste and saute for about 1 minute. Pour in the tomato sauce. Bring to a boil and then add in the minced clam with its juice, sugar and pinch of salt. Bring it back to a boil and have a taste. The sauce should be savory, garlicky with some hint of sweetness but not too sweet

Add in the lobster meat and give it a light stir and add in the cooked linguine and about 1/2 cup of the reserve pasta water to help loosen the pasta a bit and toss to mix everything. You may add more of the reserved pasta water if needed. The clam sauce should be somewhat a bit loose but not runny. Turn off the heat and transfer to a large serving platter and serve family style
The linguine frutti di mare at Buca is served with mussels, clams, calamari, and shrimp. I didn't do calamari, but I got a hold of delicious lobster meat and decided to do lobster and shrimp instead. It was very tasty too. Getting the sauce right is the key of course and I'm excited now that we can have linguine frutti di mare whenever we want at home 😉
This dish will definitely impressed if they enjoy eating seafood. It doesn't take too much time (well…peeling the garlic wasn't my favorite part, but it's not horrible either) and the result is delicious!!!!