Learn how to make the Chinese rice dumplings using long-grain rice instead of glutinous rice/sticky rice.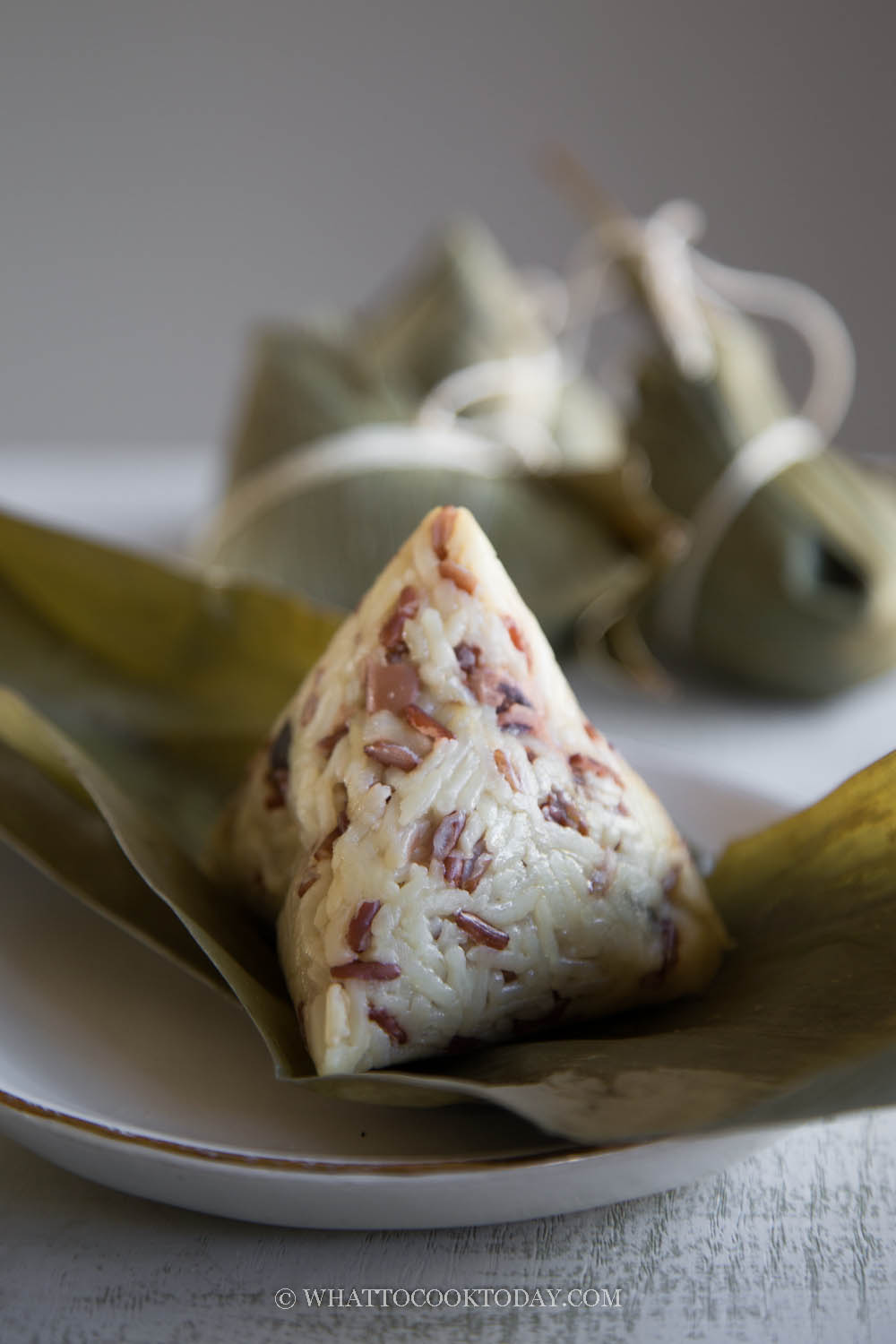 Traditional Chinese sticky rice dumpling (zongzi) is made with glutinous rice or sticky rice/sweet rice. It is not very common to see zongzi made with long-grain rice, if at all. I remember my grandma used to make zongzi using long-grain white rice. When I made these glutinous rice and millet zongzi and multigrain zongzi, I mixed in some glutinous rice so the dumplings won't fall apart. With this long-grain rice zongzi, I didn't use any glutinous rice. The dumplings can hold together but the texture is a bit harder and not as bouncy as if I were to mix in some glutinous rice, which is kinda expected.
What type of long-grain rice to use
I use jasmine rice and a small portion of red rice. It adds a nice visual. You can also use American long-grain white rice, basmati rice, and brown rice.
Do I need to soak the rice?
If you are going to cook the zongzi by boiling on the stove, soak them for at least 1 hour. This helps to soften the grains and they will hold together much better.

How to wrap long-grain rice zongzi
Whether it's long-grain rice or regular zongzi using glutinous rice only, the wrapping part is all the same. You can refer to these step-by-step photos here on how to wrap zongzi. You can also refer to the video pop-up to learn how to wrap zongzi using bamboo leaves.

Did you make this recipe?
I love it when you guys snap a photo and tag to show me what you've made 🙂 Simply tag me @WhatToCookToday #WhatToCookToday on Instagram and I'll be sure to stop by and take a peek for real!

Long-grain Rice Zongzi (Instant Pot or Stove-top)
Ingredients
400

gr

long-grain rice

I use jasmine rice

100

gr

red rice

optional. See notes
To stir fry the rice (for savory filling):
For the filling (sweet or savory):
Instructions
If you are not using a pressure cooker, soak both the white and red rice together for at least 1 hour. Drain off the water after that. Combine and mix the two grains together evenly. If you use a pressure cooker, you can skip the soaking part

Soak the bamboo leaves in water and then discard the water and wipe the leaves dry with a clean cloth the next day when you are ready to use them
For savory zongzi:
After soaking the rice, drain all water. Preheat a large wok or skillet. Add cooking oil. Stir fry garlic until really fragrant. Add the soaked rice followed by all the seasonings. Stir fry the rice until they pick up all the seasonings. Remove from the heat and let them cool down before using them to wrap
For sweet zongzi:
Portion out the filling. I used red bean paste and I use about 40 grams of filling per dumpling. You can go straight to wrapping
Wrapping:
Get the rice and the filling. You will need about 2 leaves, stacking on top of each other. If you have ragged leaves, you can use another leaf to cover by overlapping them so there won't be any leakage. Make sure the smooth side of the leaves are facing you

Fold into a cone shape. Fill it up with about 2 Tbsp of rice mixture and use the back of the spoon to pack it in and slightly create an indentation in the middle for the filling.Then add the filling. Top again with more rice mixture, filling up almost 3/4 of the cone. Make sure you really pack it down so the dumpling will be nice and tight later

Fold one side down. Fold the opposite side down. Most people don't fold the two sides and go straight to folding the top part down (as shown in the next step). But I feel like this helps me to wrap "neater" and shows the triangle shape better

Fold the top part down. Fold in both sides. You'll have this extra piece on top now. Simply fold it down to either one of the side

Tie with a string. Repeat with the rest of the filling and grains
Cooking with Instant Pot pressure cooker:
Fill up the inner pot halfway with water. Press saute and bring water to a boil. For savory zongzi, add 1/2 tsp of salt. Place the zongzi in the inner pot of instant pot. I can cook 12-14 dumplings in my 6-quart instant pot. Top up with more water to make sure it covers the zongzi if necessary

Cover the lid. Turn the steam release valve to seal. Press "pressure cooker" and make sure it's on "high pressure". Set the timer to 50 minutes. If you use brown rice or basmati rice, set the timer to 1 hour. Release pressure immediately after that

Carefully open the lid and use a tong to gently remove the zongzi from the pot to a cooling rack. Let the water drips down. The zongzi will still be soft to touch. I recommend waiting 24 hours before eating them
Boiling on the stove:
Bring a large pot of water to a boil. For savory zongzi, add 1/2 tsp of salt. Place the zongzi in a large pot. Bring it back to a boil and then cover and lower the heat to let it gently boil for the next 2 to 2 1/2 hours. If your zongzi is large in size you may need 3 hours or so. At the end of cooking time, you can take one out to see if it's cooked through. If the rice doesn't stick to the leaves and doesn't fall apart and the rice holds together nicely. It's done. If the rice falls apart, you need to boil them longer

Carefully use a tong to gently remove the zongzi from the pot to a cooling rack to let it cool down for 24 hours before eating them. They will still be soft to touch, but will firm up once they are cooled down completely
How to store and reheat:
If you have leftovers, you can freeze the zongzi in the freezer and it's good for 6 months. When ready to eat them, you don't thaw them. They can go straight from the freezer to the steamer with boiling water and steam for about 10 minutes on high heat or until heated through or you can reheat them in a microwave on high on 1 minute increment until heated through
Notes
If you choose not to use red rice, simply use all 500 grams long-grain white rice
Recommended products: