Super soft Chinese steamed mango cupcakes infused with real mango fruit and made without yeast with that signature smiling top.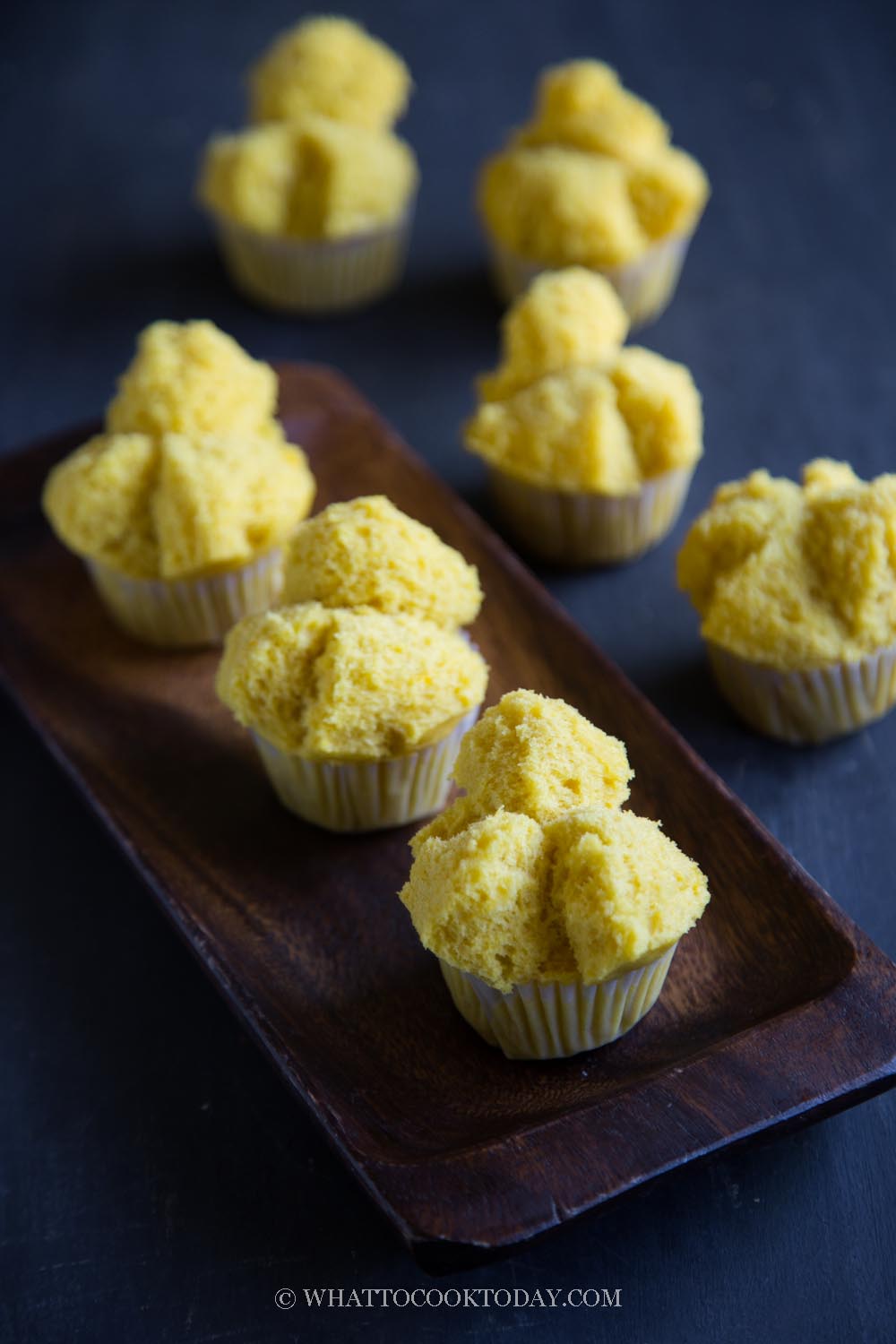 If you are wondering what else you can do with mango, you should give this steamed mango cupcakes a try. The cupcakes bloom or split open and that's why they have been called huat kueh or fatt goh/fa gao. This mango huat kueh is adapted from the Pandan huat kueh recipe that my family and friends really enjoy. They are incredibly soft, fluffy, and they taste like cake with an incredible mango aroma.
Important tips for success
1. Check your baking powder
The cupcakes depend solely on baking powder to make it fluffy and bloom open
2. Fill the cup only 3/4 full
3. If you have a piping bag, I suggest using it to easily fill the cup with the cake batter, it makes the job much easier and neater
4. The water in the steamer needs to be hot boiling when you are ready to steam. The batter can't sit around for too long because the baking powder will lose its potency the longer it sits
5. Steam over high heat to ensure the cupcake will split open into sections
How to make mango huat kueh
1. Puree mango until smooth


2. Bring water in the steamer to a boil. Make sure there's enough water in the steamer. Line individual muffin cups with paper. Mix all dry ingredients in a mixing bowl. Set aside.
3. Crack an egg into a mixing bowl of a mixer. Add sugar and use a whisk attachment to cream until the mixture is pale and creamy with medium speed, about 2 minutes.


4. Add milk and mango puree. Continue to whisk for another 2 minutes


5. Gradually add in the flour mixture, alternating with the cooking oil. Continue to do so until you run out of flour and oil


6. The batter will be thick


7. I transferred the batter into a piping bag as I feel like it's easier to fill up the cup without being messy, but you can use a spoon to scoop the thick batter into the cup with a spoon.


8. Fill it up to about 3/4 full. Smooth the top of the batter to make it neat so it will "split" open neatly


9. If the lid you use to cover the steamer's pot doesn't have a dome shape where there water condensation can drip down on the side, I suggest you wrap the lid with a cloth. If you use a bamboo steamer or if the lid is dome, you don't need to wrap with a cloth. Place the cups inside the steamer and steam over high heat. Make sure the heat is high. Steam for 15 minutes. Do not open the lid throughout the steaming process.


10. After 15 minutes, you can open the lid immediately and remove the cake from the steamer


11. Let them cool down for 1 minute and then transfer out from the muffin tin and let them cool down on a cooling rack

How to store mango huat kueh
1. Let them cool down completely
2. Store in an air-tight container at room temperature for 2-3 days, if it's really humid where you are and you are afraid it might get spoiled, store them in the fridge. They may harden in the fridge
3. They can also be kept frozen. I put them in a double layer of freezer bag, push all the air out and seal. They can be kept frozen for one month
3. If you keep in the fridge or freezer, simply reheat in the microwave for about 10 seconds or so (if not frozen) or about 20 seconds or so or (if frozen) until they are warm and soft again. You can also use a steamer to steam over medium heat for about 5 minutes or so

Did you make this mango huat kueh recipe?
I love it when you guys snap a photo and tag to show me what you've made 🙂 Simply tag me @WhatToCookToday #WhatToCookToday on Instagram and I'll be sure to stop by and take a peek for real!

Mango Huat Kueh / Fatt Goh (Mango Steamed Cupcakes)
Ingredients
Wet ingredients:
1

large

egg

about 58-60 grams with the shell, room temperature

100

gr

sugar

120

gr

mango puree

50

ml

whole milk

80

gr

oil
Instructions
Prepare cake batter:
Mix all dry ingredients in a mixing bowl. Set aside. Bring a water in the steamer to a boil. Make sure there's enough water in the steamer. Line individual muffin cups with paper

Crack an egg into a mixing bowl of a mixer. Add sugar and use a whisk attachment to cream until the mixture is pale and creamy with medium speed, about 2 minutes. Add milk and mango puree.  Continue to whisk another 2 minutes

Gradually add in the flour mixture, alternating with the cooking oil. Continue to do so until you run out of flour and oil. The batter will be thick

I transferred the batter into a piping bag as I feel like it's easier to fill up the cup without being messy, but you can use a spoon to scoop the thick batter into the cup with a spoon. Fill it up to about 3/4 full. Smooth the top of the batter to make it neat so it will "split" open neatly

If the lid you use to cover the steamer's pot doesn't have a dome shape where there water condensation can drip down on the side, I suggest you wrap the lid with a cloth. If you use a bamboo steamer or if the lid is dome, you don't need to wrap with a cloth

Place the cups inside the steamer and steam over high heat. Make sure the heat is high. I use the largest burner on the stove and the knob is set to high. Steam for 15 minutes. Do not open the lid throughout the steaming process. After 15 minutes, you can open the lid immediately and remove the cake from the steamer. Let them cool down for 1 minute and then transfer out from the muffin tin and let them cool down on a  cooling rack
Nutrition
Serving:
1
cupcake
|
Calories:
200
kcal
|
Carbohydrates:
28
g
|
Protein:
3
g
|
Fat:
9
g
|
Saturated Fat:
1
g
|
Polyunsaturated Fat:
2
g
|
Monounsaturated Fat:
5
g
|
Trans Fat:
1
g
|
Cholesterol:
19
mg
|
Sodium:
214
mg
|
Potassium:
57
mg
|
Fiber:
1
g
|
Sugar:
12
g
|
Vitamin A:
165
IU
|
Vitamin C:
4
mg
|
Calcium:
61
mg
|
Iron:
1
mg