Learn how to make traditional Chinese sticky rice dumplings filled with savory vegetarian filling. The zongzi can be cooked in an Instant pot pressure cooker or boiled on the stove.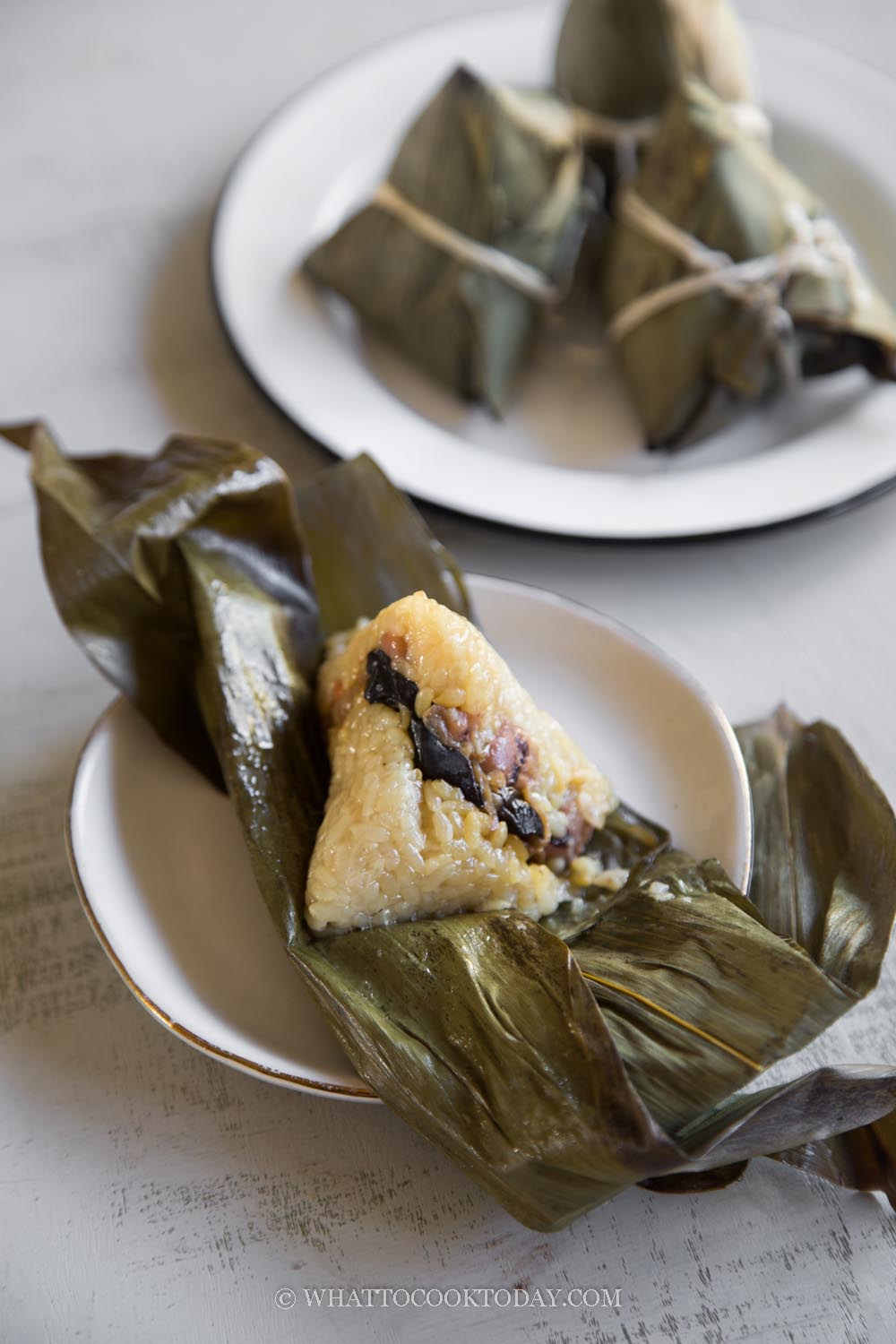 What is vegetarian zongzi?
Vegetarian zongzi does not include any meat and eggs. It also does not use aromatics such as garlic,onion, chives, green onion. The latter is usually religion-based. The aromatics are pungent and can cause some discomfort in some people, and may increase sexual desire. They are avoided by Buddhist monks and those who practice strict Buddhism. So, this vegetarian zongzi recipe does not use any aromatics mentioned above. You are welcome to include them if you want to.
Ingredients for the filling
1. Sweet chye poh (preserved/pickled radish)
Eventhough it's a sweet chye poh, it's still pretty salty. I did not soak them in the water because by the time we are done cooking the zongzi, the saltiness is just nice
2. Black eyed-peas
I used cooked black eyed-peas. You can use canned beans of your choice too
3. Mushrooms
I used dried black fungus. Any dried or fresh mushroom will work here
4. Mushroom sauce
You can use mushroom sauce or vegetarian oyster sauce
5. Soy sauce
This is just a regular light soy sauce. For gluten-free version, you can use coconut aminos or tamari
6. Sugar
A small amount of sugar help enhances the flavor
7. Five-spice powder
I like the aroma of five-spice powder in the vegetarian filling. It helps to flavor the filling since there is no other aromatics here
8. Ground white pepper
Other ingredients you can add to the filling
Peanuts, seitan, chestnuts, extra-firm tofu, chickpeas, red beans, pumpkin or sweet potato cubes, etc. It's really whatever you want to include in the filling.

How to prepare the vegetarian filling for zongzi
1. Preheat a large skillet. Add cooking oil and stir fry the chye poh until fragrant, about 3-4 minutes.


2. Add the mushroom and the seasoning and stir fry for another 2-3 minutes. Off the heat and let it cool down completely and if you prepare a few days before, cover and store it in the fridge

How to wrap vegetarian zongzi
You can refer to this post here or the video on how to wrap the zongzi.

Did you make this recipe?
I love it when you guys snap a photo and tag to show me what you've made 🙂 Simply tag me @WhatToCookToday #WhatToCookToday on Instagram and I'll be sure to stop by and take a peek for real!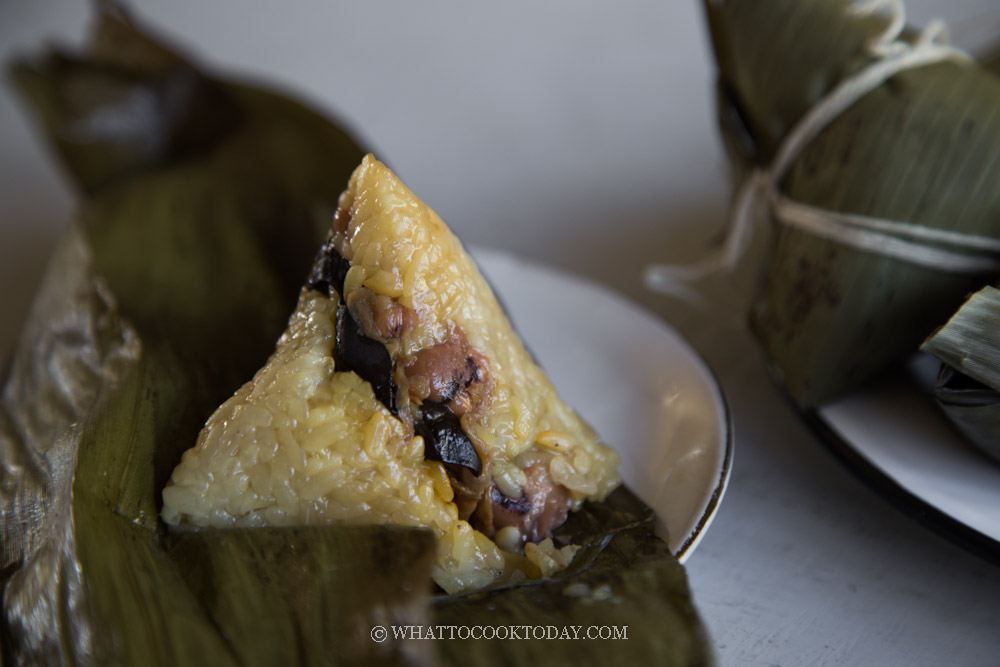 Vegetarian Zongzi/ Sticky Rice Dumplings (Instant Pot or Stove-top)
Ingredients
Vegetarian filling:
1

Tbsp

cooking oil

50

gr

sweet pickled radish (chye poh)

15

gr

dried black fungus

or use dried shiitake mushroom

1

tsp

five-spice powder

1

tsp

sugar

1

tsp

ground white pepper

Salt to taste

100

gr

cooked black-eyed peas

or canned beans of your choice
For wrapping:
30

bamboo leaves

Kitchen twine or hemp strings
Instructions
If you are not using pressure cooker to cook, soak the glutinous rice for at least 4 hours

Soak the black fungus or shiitake mushrooms in warm water. Cut into smaller pieces
Prepare the filling (can be done a few days before):
Preheat a large skillet. Add cooking oil and stir fry the chye poh until fragrant, about 3-4 minutes.

Add the mushroom and the seasoning and stir fry for another 2-3 minutes. Off the heat and let it cool down completely and if you prepare few days before, cover and store it in the fridge
Season the rice:
Preheat a large skillet. Add cooking oil. Add rice and seasonings and stir fry for about 5 minutes over medium heat. Turn off the heat and transfer to a large bowl and let it cool down
Wrapping:
Generally, you will need about 2 leaves, stacked on top of each other. If you have ragged leaves, you can use another leaf to cover by overlapping them so there won't be any leakage. Make sure the smooth side of the leaves is facing you

You can refer to the video on how to wrap zongzi. Fold into a cone shape. Fill it up with about 2 Tbsp of rice and use the back of the spoon to pack it in and slightly create a well in the middle for the filling

Add the filling and beans. Top again with more sticky rice, filling up almost 3/4 of the cone. Make sure you really pack it down so the dumpling will be nice and tight later

Fold one side down. Fold the opposite side down. Most people don't fold the two sides and go straight to folding the top part down (as shown in the next step). But I feel like this helps me to wrap "neater" and shows the triangle shape better

Fold the top part down. Fold in both sides. You'll have this extra piece on top now. Simply fold it down to either one of the side

Tie with a string. Repeat with the rest of the filling and rice
Cooking with a pressure cooker:
Fill up the inner pot halfway with water. Press saute and bring water to a boil. Add 1/2 tsp of salt. Place the zongzi in the inner pot of instant pot. I can cook 12-14 dumplings in my 6-quart instant pot. Top up with more water to make sure it covers the zongzi if necessary

Cover the lid. Turn the steam release valve to seal. Press "pressure cooker" and make sure it's on "high pressure". Set the timer to 1 hour. Release pressure immediately after that

Carefully open the lid and use a tong to gently remove the zongzi from the pot to a cooling rack. Let the water drips down. The zongzi will still be soft to touch. I recommend waiting 24 hours before eating them
Boiling on the stove:
Bring a large pot of water to a boil. Add 1/2 tsp of salt. Place the zongzi in a large pot. Bring it back to a boil and then cover and lower the heat to let them gently boil for the next 2 to 2 1/2 hours. If the zongzi is large in size you may need 3 hours or so. At the end of cooking time, you can take one out to see if it's cooked through. If the rice doesn't stick to the leaves and doesn't fall apart and the rice holds together nicely, it's done. If the rice falls apart, you need to boil them longer

Carefully use a tong to gently remove the zongzi from the pot to a cooling rack to let it cool down for 24 hours before eating them. They will still be soft to touch, but will firm up once they are cooled down completely
Recommended products:
Nutrition
Serving:
1
zongzi
|
Calories:
236
kcal
|
Carbohydrates:
42
g
|
Protein:
5
g
|
Fat:
5
g
|
Saturated Fat:
1
g
|
Polyunsaturated Fat:
1
g
|
Monounsaturated Fat:
3
g
|
Trans Fat:
1
g
|
Sodium:
346
mg
|
Potassium:
142
mg
|
Fiber:
2
g
|
Sugar:
3
g
|
Vitamin A:
11
IU
|
Vitamin C:
1
mg
|
Calcium:
18
mg
|
Iron:
1
mg