Burmese Mohinga (Rice Noodle Fish Soup)-Rice noodles are served in aromatic rich fish-based soup thickened with toasted chickpea and rice flour and topped with boiled eggs and other condiments. It's considered a national dish of Myanmar.
My first exposure to Burmese food was this popular mohinga. The local eats mohinga as breakfast, but of course, also eaten for lunch or dinner. I wasn't familiar with Burmese food (and still so much to learn about it) until I started this food blog back in 2010. To me, Burmese food is very delicious, simple, and you find fusions of Thai, Indian, and Chinese in the cooking.
BURMESE MOHINGA
Mohinga is a rice noodles served in fish-based soup typically made with cat fish and other aromatic spices and herbs. The flesh of the fish is then flaked and the bones and other parts are discarded. The soup is then thickened with toasted chickpea and rice flour. Toppings and garnishes like hard-boiled eggs, crackers, bean sprouts, crispy fried shallots, fresh limes usually accompany mohinga.

This blog post contains affiliate links. I earn a small commission when you made purchase at no extra cost to you. Learn more.
SPECIAL INGREDIENTS YOU NEED TO MAKE GOOD MOHINGA
1. Toasted Chickpea Flour
Chickpea flour
or also known as gram flour or
besan flour
is used in this recipe to slightly thicken the soup. It's pretty common to use chickpea flour in Burmese cooking.
2. Toasted Rice Powder
Don't use the regular rice flour that is already milled into fine flour. You just need a regular
Jasmine rice
and toast the rice on a pan until nutty and then ground them into powder.
Both the toasted chickpea flour and toasted rice powder add a "body" to the soup, which I really love. It adds that extra depth of flavor and make the soup taste "creamy" without any cream or coconut milk. So I don't recommend skipping this. Yes, I know, it's an extra step, though not difficult, having to toast the flour, but I think they are a must in mohinga.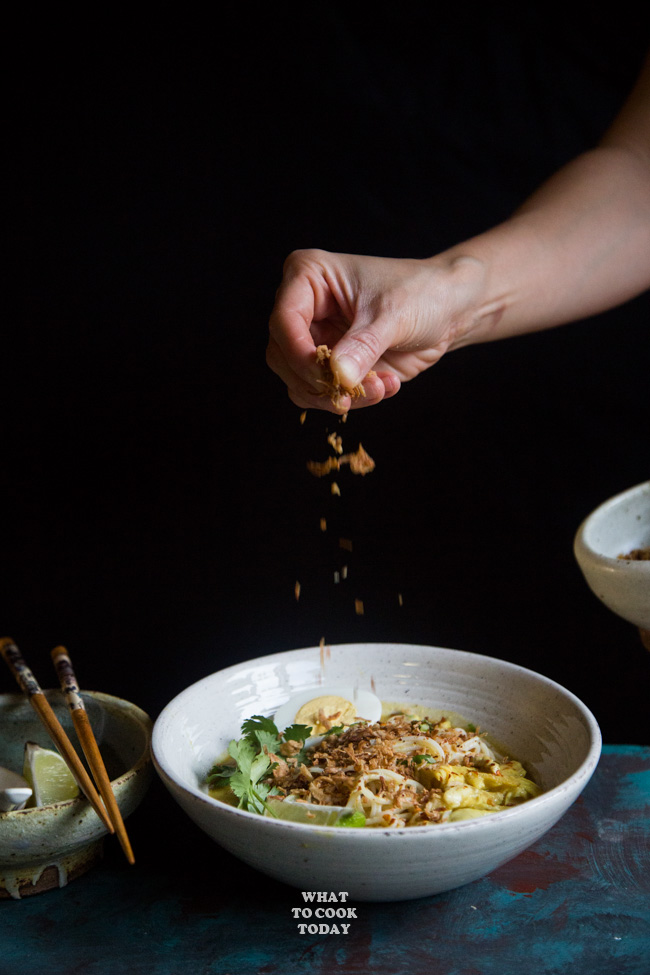 HOW TO MAKE TOASTED CHICKPEA FLOUR
Preheat your pan until hot. Use cast iron if you have one, otherwise, regular skillet will work too. When pan is hot. Add the chickpea flour and continue to stir. Nothing seems to happen the first 10 minutes. After that you will see the color started to change to light brown and it starts to smell nutty. Make sure the heat is under control and not too high that it burns the flour. Continue stir frying for another 5 minutes. Remove from the heat and let it cool down completely before storing in a jar.
HOW TO MAKE TOASTED RICE POWDER
There is no need to soak or wash the rice. Same thing with the chickpea flour, preheat your pan until hot. Add the rice grain and toast them over medium heat for the first 10 minutes. The color will start to change, continue to toast for another 5 minutes. Remove from the heat. You can use mortar and pestle to grind the rice into powder. This method actually preferred by the local, but in this modern day, you can definitely use food processor or blender to grind them into powder. Simple as that.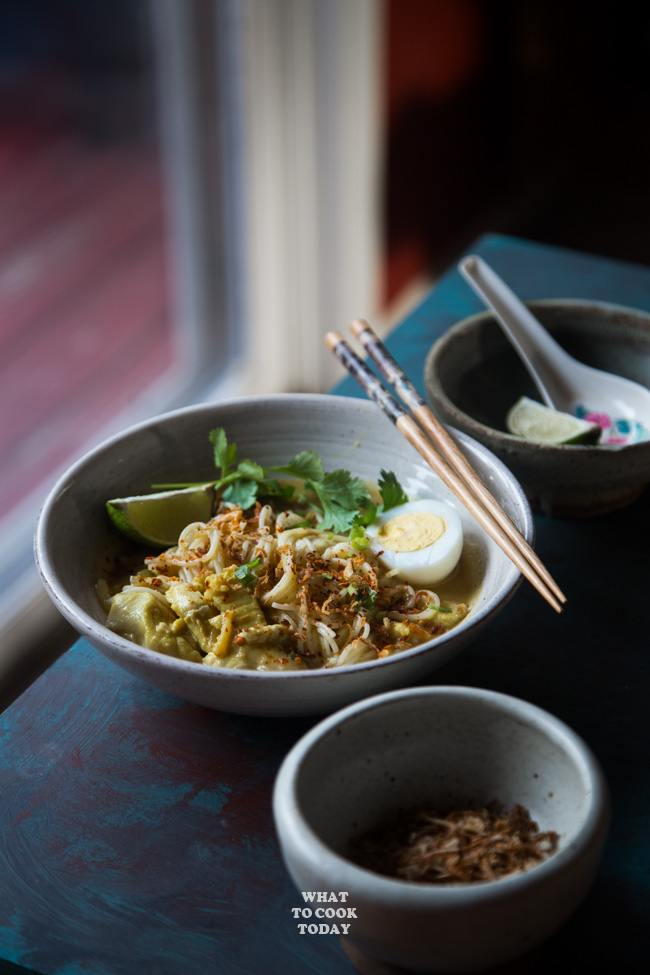 HOW TO MAKE BURMESE MOHINGA WITHOUT FEELING OVERWHELEMED
Coming from Indonesian background, I feel like preparing Indonesian food can be seriously a PITA sometimes! I love Indonesian food, but the list of ingredients can be long and difficult to find. Burmese food though on the other hand, flavorful, but not as daunting if you ask me! Yes, the list in the recipe seems long, but they can all be easily found these days. So, here's the game plan if you want to make mohinga from scratch:
1. Prepare things that can be done ahead
This goes without saying! You can do: hardboiled eggs, toast chickpea flour, rice powder, chop the ingredients ahead
2. You don't have to use whole fish
Ideally, yes, the recipe calls for whole cat fish with bones and head and tail intact. So the fish needs to be scaled and gutted. That part alone may discourage you to try this recipe, BUT, I have made mohinga 3 times so far. The first time, I felt like I need to do it like how the Burmese does it 😉 the last two, I used fillet cat fish, I could barely taste anything different, if at all. So, it's cool to use fish fillet. You won't get punished! I promise!
Now, there's really no reason not to try Burmese mohinga! Unless you don't eat fish 🙂 It's so delicious! I need to make this again very soon.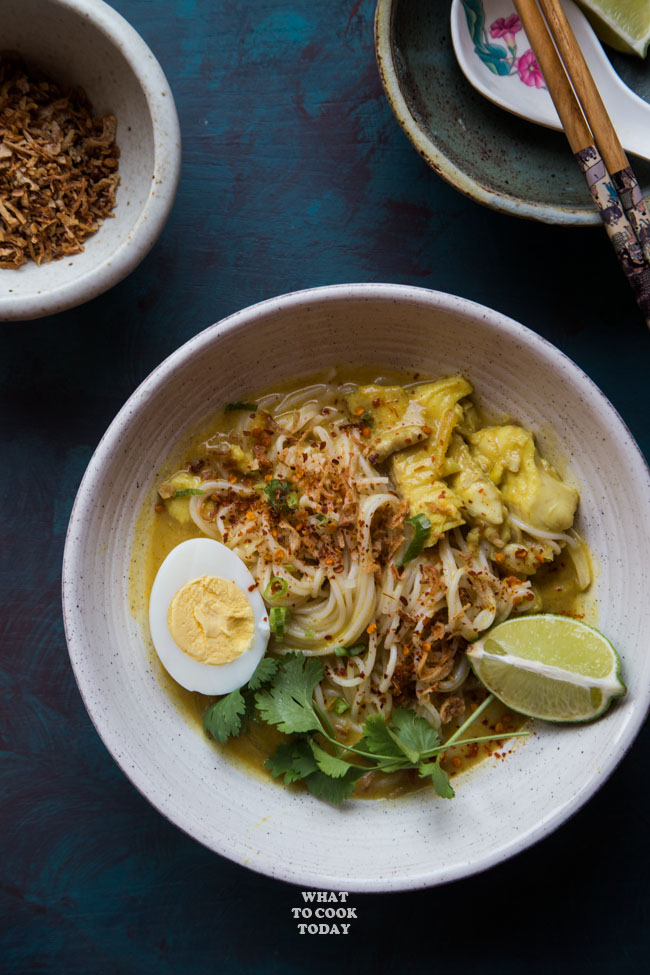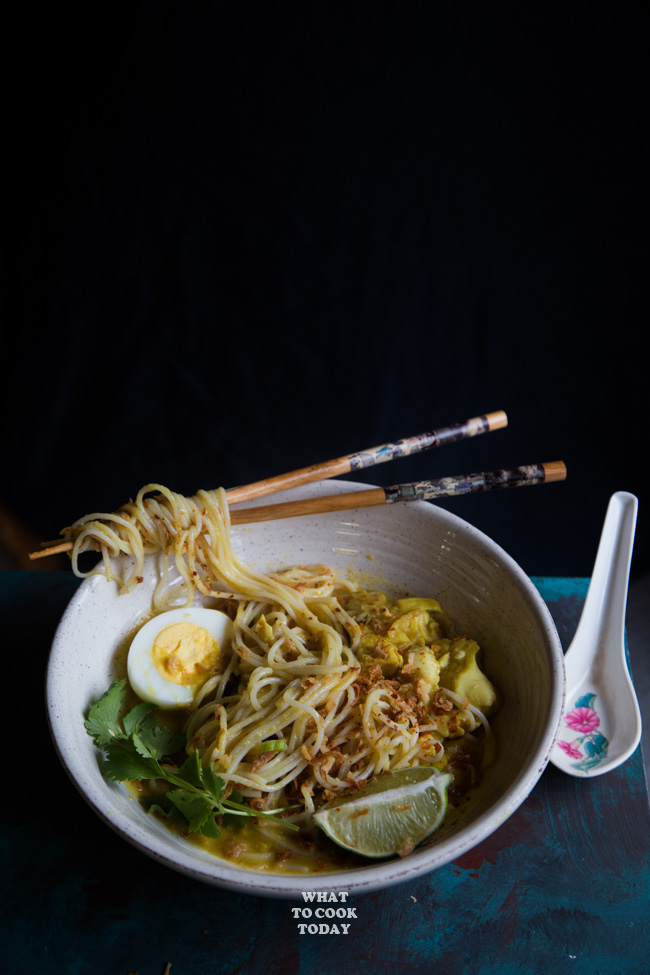 Recipe is adapted from Naomi Duguid's Burma: Rivers of Flavor. Recipe was originally published in 2012 and updated with new photos

Burmese Mohinga (Rice Noodle Fish Soup)
Ingredients
500

gr

dry rice vermicelli noodles
Stock:
About 2 1/2 lbs whole catfish

(scaled and gutted)-see notes

3

stalks lemongrass

, bruised and bent into half

8

cups

water
Ingredients to chop:
1

large

onion

, roughly chopped

3

cloves

garlic

, minced

1

inch

fresh ginger

1

stalk

lemongrass

remove skinny woody part
Seasonings:
4

Tbsp

fish sauce

1 ½

tsp

salt

1

tsp

sugar

1

tsp

ground black pepper
Toppings:
4

hard-boiled eggs

, peeled and quartered

3

stalk

green onions

, finely chopped

½

cup

chopped coriander leaves

4

limes

, quartered

Fried shallot crisp

Split-pea crackers

I don't have this
For toasted chickpea flour and toasted rice powder:
Instructions
Preparing toasted chickpea flour and toasted rice powder:
Preheat your pan until hot. Use cast iron if you have one, otherwise, regular skillet will work too. When pan is hot. Add the chickpea flour and continue to stir. Nothing seems to happen the first 10 minutes. After that you will see the color started to change to light brown and it starts to smell nutty. Make sure the heat is under control and not too high that it burns the flour. Continue stir frying for another 5 minutes. Remove from the heat and let it cool down completely before storing in a jar

There is no need to soak or wash the rice. Same thing with the chickpea flour, preheat your pan until hot. Add the rice grain and toast them over medium heat for the first 10 minutes. The color will start to change, continue to toast for another 5 minutes. Remove from the heat. You can use mortar and pestle to grind the rice into powder. This method actually preferred by the local, but in this modern day, you can definitely use food processor or blender to grind them into powder. Simple as that
Cooking the noodles:
Bring a large pot of water to a boil, add the dry rice vermicelli noodle and cook according to instruction. Do not overcook the noodles. Drain of water and set noodle aside
Preparing the fish soup:
Place all ingredient in large pot and bring to the boil. The water may not cover the fish, that's ok. Carefully use a tong to flip the fish over after 10 minutes. Continue to cook until the fish is cooked through, another 10 minutes. Carefully remove the fish to a large plate. Carefully flake the flesh and set aside. Strain stock and discard solids

Place all ingredients to chop in a food processor and finely chopped them. Preheat a large pot with 1 Tbsp cooking oil. Add the chopped ingredients, turmeric powder, and chili powder, saute for about 5 minutes. Add the flaked fish and stir fry for another 2 minutes

Add this to the fish stock you prepare above. Bring back to a gentle simmer. Mix the chickpea flour and rice flour together in a bowl and then add about 3-4 Tbsp of water to form a paste. Stir this into the soup. If you prefer a thicker consistency for the soup, add more chickpea and rice flour mixture

Add seasonings. Have a taste and add more fish sauce and/or salt to your taste. It should be savory
Serving:
Arrange all garnishes on the table. Portion the rice noodles into individual serving bowl. Ladle the soup generously over the noodles. Let everyone gets his own toppings
Notes
You can use fillet fish too instead of whole fish that comes with bones and everything. Use about 2 lbs of fish fillet