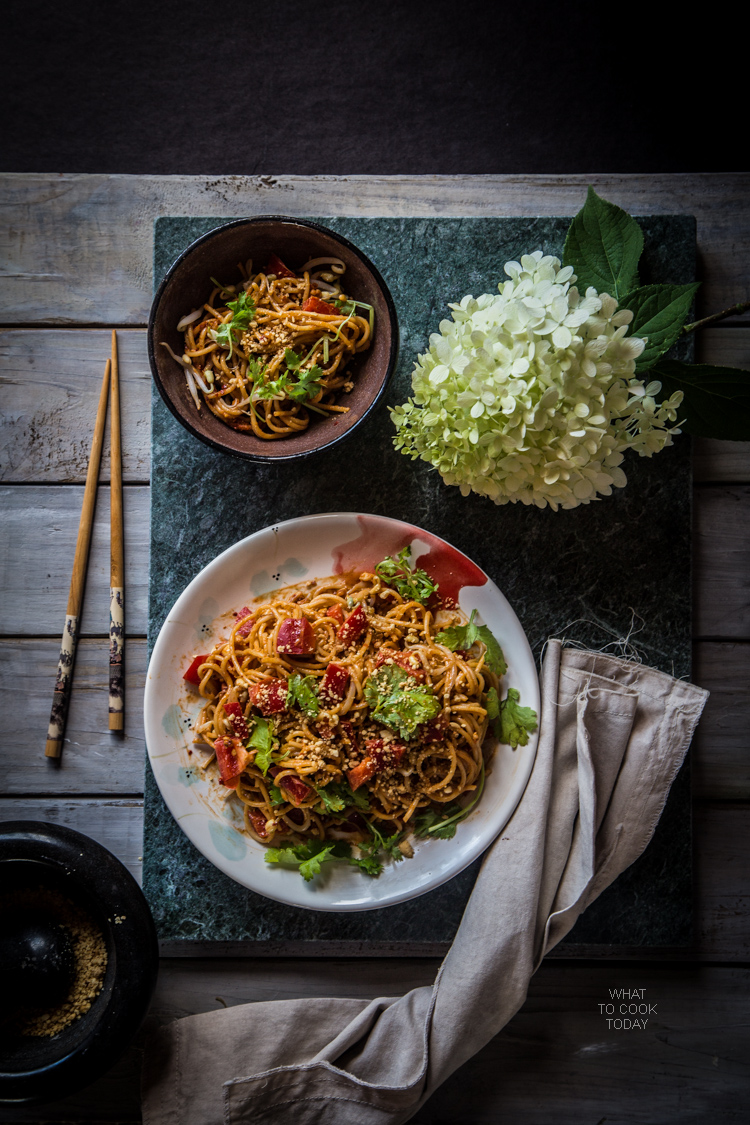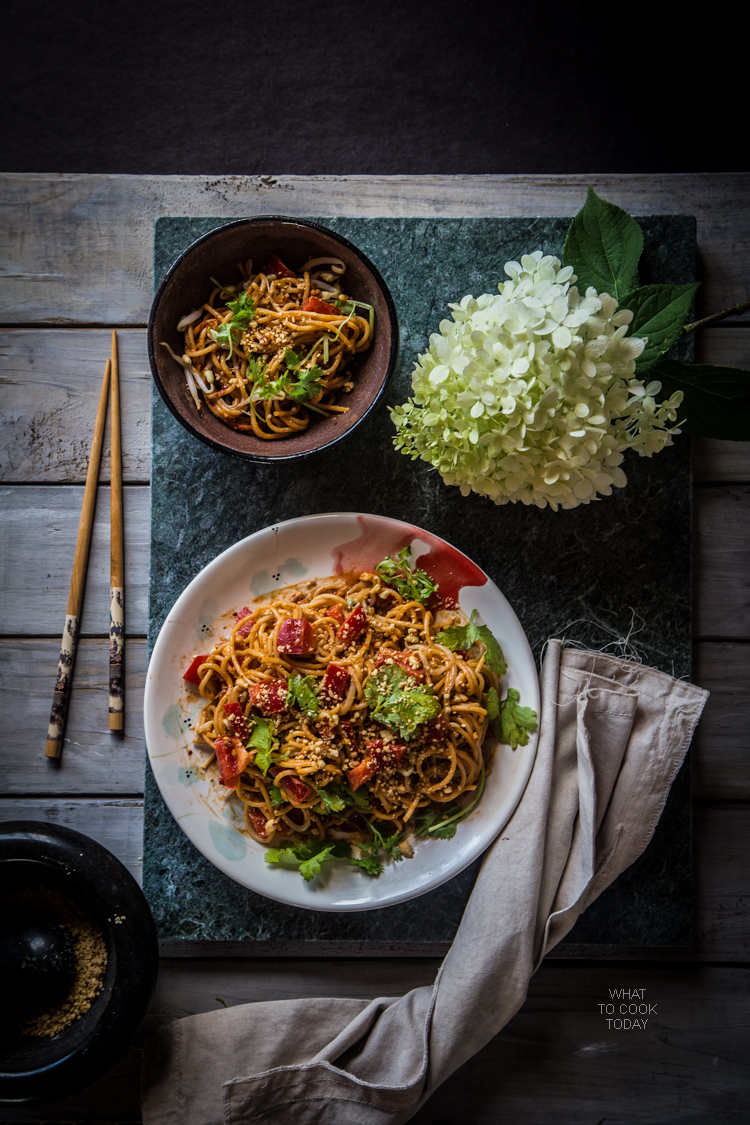 As much as I love to be in the kitchen tinkering with ingredients, brainstorming weekly meal plans, trying out weird recipes, there are certainly days I don't want to have anything to do with cooking! I'm serious! Then I remember what my husband often tells me "Even when you do something that you love doing, some days you just need to have that little break". There are days when I just go absolutely crazy and can't stop cooking/baking and photographing back to back and I hit that saturation point and felt knocked out. So, I definitely try to find that balance between my family, me time, and what I love doing. Not an easy task, but I'm convinced now that it's worth working on. So, here I am presenting you with another easy (I think it's pretty easy) noodle recipe that you can whip up in very little time and not many pots and pans to wash. Noodle with sesame peanut dressing. It is what it is. But I find it satisfying and refreshing when served cold.
I used my all-purpose chili sauce in this recipe, which I didn't make it spicy so my kids can eat it too. The chili sauce is a great base for this noodle. But feel free to use your favorite chili sauce.

Definitely a keeper for busy weeks that's heading upon us when school starts.

Noodle with sesame peanut dressing (4 servings)
Ingredients
1

lb

of pasta/noodles of your choice

I used spaghetti

1

large red bell peppers/capsicum

or any color, seeded and diced

1

cup

of fresh bean sprouts

½

cup

of roasted unsalted peanuts

crushed
Other optional veggies:
Shredded cucumber

Shredded carrots

Shredded zucchini
Sesame peanut dressing
½

cup

of creamy natural peanut butter

2

Tbsp

hoisin sauce

¼

cup

soy sauce

2

Tbsp

chili sauce -optional

I used my all-purpose chili sauce that is not spicy

2

Tbsp

sesame oil
Additional protein options you can toss/serve with the noodle:
Pan-fried extra firm tofu

Shredded chicken meat

Pan-fried egg/ soft-boiled egg
Garnishes:
Fresh chopped scallions

Fresh cilantro leaves

Red chili flakes
Instructions
Cook the noodle or pasta. Avoid overcooking. Rinse with cold water and set aside.

Prepare the dressing by mixing all the ingredients

Place the cooked pasta/noodle in a large serving platter. Add in the bell peppers, bean sprouts and pour in the dressing. Toss the noodles to make sure the sauce are coating the pasta/noodle. Have a taste and add more hoisin sauce and/or soy sauce to your taste. Sprinkle the crushed peanuts followed by the scallion and cilantro leaves if using. Sprinkle those red chili flakes on if you need extra heat. You are all set to go.
Notes
This noodle is best served at room temperature or cold. I love it cold, especially in a warm summer day, it's pretty refreshing. If you like it warm, don't rinse the pasta or noodle after cooking and toss with the sauce and need to be served immediately
This blog post contains affiliate links. I earn a small commission when you made purchase at no extra cost to you. Learn more.