This shop has been compensated by Collective Bias, Inc. and its advertiser. All opinions are mine alone. #AllNaturalPork #CollectiveBias
No-fuss and fool-proof way to cook tender and delicious one-hour miso honey pork ribs that go so well with soba noodle salad.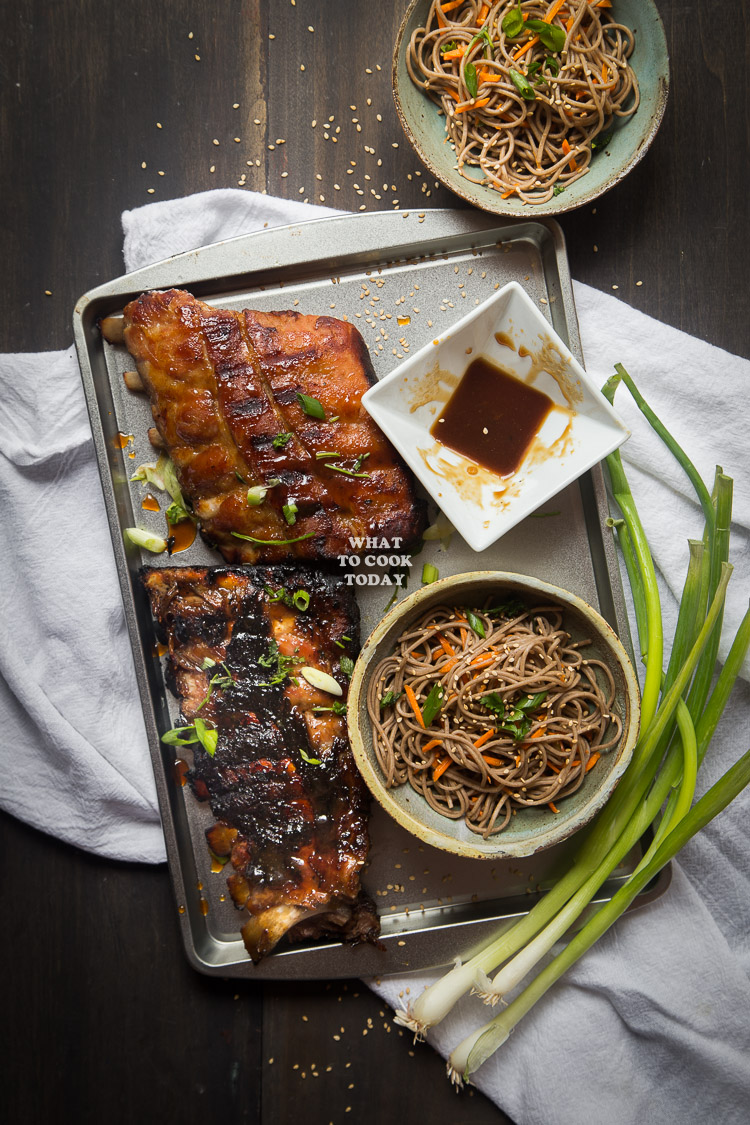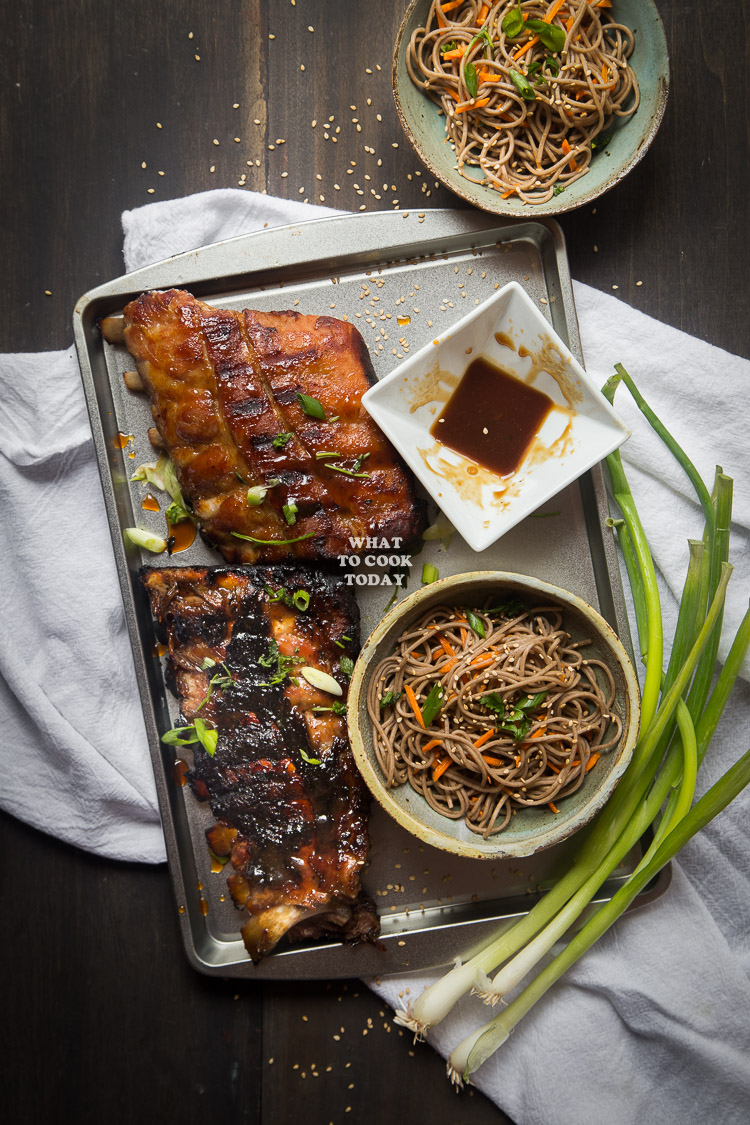 We were without an A/C for the past 3 weeks, which means I tried not to turn on the stove or oven inside the house during that time frame. I never knew how miserable one can be without an A/C especially in a humid sticky weather we have here. Even with the fans blowing at their maximum speed wasn't enough to cool us down.
Last year my husband decided to move the grill that has been sitting in our garage for who knows how long, to our upper deck. I'm so glad he did because I had been cooking on the grill outside at the deck. Sadly to say that it was much cooling out there than inside our house!
I'm so glad those days were behind us now though. The day the guy came to install a new A/C was 93 degrees out and being able to turn on that A/C was just purely JOY! This one-hour honey miso pork ribs and soba noodle salad was one of the meals I made with our gas grill that day.
You will be blown away by how tender the pork ribs can be in just one hour versus the 3-4 hours cooking time. The pork ribs are wrapped in foil and then grill for 1 hour and voilaa….one hour later you get tender ribs. This recipe is really no fuss and not much cleaning up to do.
The miso honey pork ribs is made with Smithfield All Natural Back Ribs. There are no added steroids, hormones or artificial ingredients and the pigs are raised in the USA by Smithfield farm families. So, I'm happy to discover high quality All Natural Fresh Pork from Smithfield® that I can feel good about serving to my family.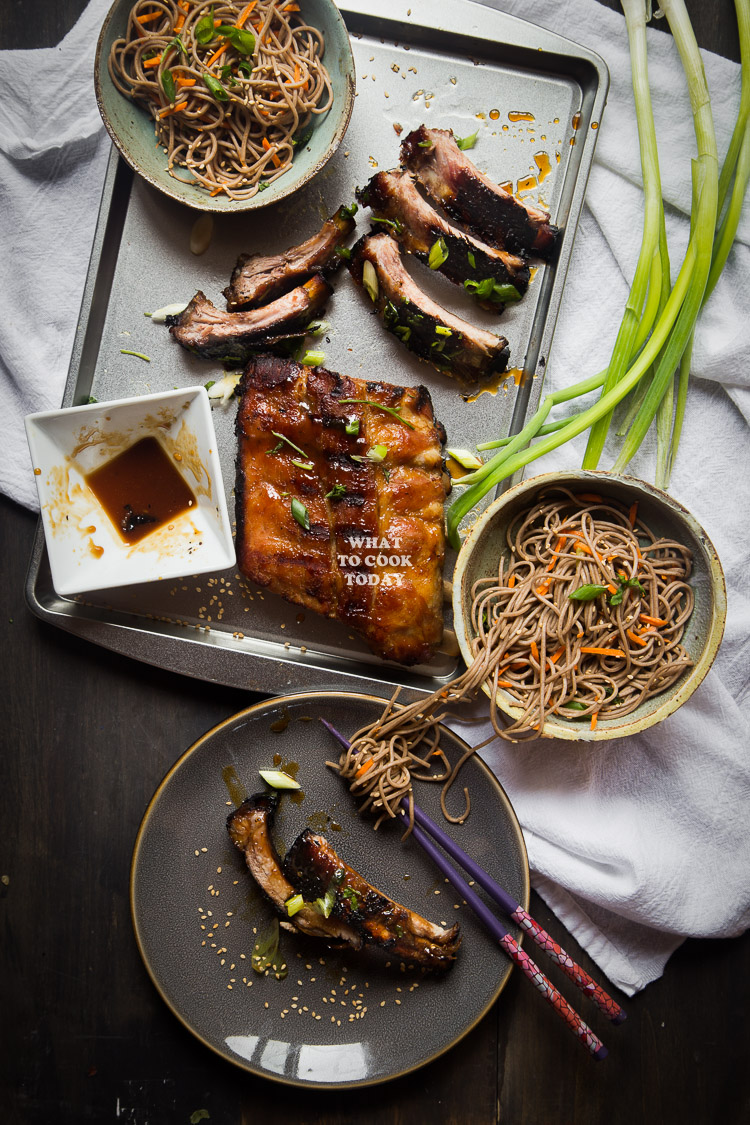 I usually cook some extra so I don't have to worry about lunch the next day. I can use the leftover miso honey pork ribs to make stir-fried rice or noodles, sandwiched between taco with some kimchi, or as savory topping for oatmeal/rice porridge. Seriously, the possibility is limited only by us.
The next time you are at Walmart, swing by the Meat & Poultry aisle and get some Smithfield All Natural Fresh Pork.
One-hour Miso Honey Pork Ribs with Soba Noodle Salad
Ingredients
3

lbs

Smithfield All Natural Back Ribs

2

Tbsp

white miso paste

4

Tbsp

honey
Soba noodle salad:
10

oz

soba noodles

1

Tbsp

white sesame seeds

Small bunch of fresh cilantro leaves

roughly chopped

2

stalks

green onions

thinly sliced
Instructions
Soba noodle salad (can be prepared one day before and served chilled if prefer):
Cook the soba noodle according to the package. Drain and rinse with cold water. Cover and refrigerate the noodle. Prepare the dressing by whisking soy sauce, sesame oil, honey, and rice vinegar. When ready to serve, pour in the dressing, sprinkle in the cilantro leaves, green onions, and white sesame seeds and toss to mix everything.
Cooking the ribs:
Mix the miso and honey in a medium bowl and set aside for later use

Preheat your grill on high. We use a gas grill. Cut the ribs in two large pieces so they will cook faster. Double wrap each large piece in aluminum foil. Lower the heat to medium and place the ribs on the medium heat. Close the lid of the grill and let it cook for 1 hour. Flip the ribs over in 30 minutes so they cook more evenly

After 1 hour. Remove the ribs from the grill and let them rest for 10 minutes. Very carefully unwrap the aluminum foil. There will be some hot steam coming out, so be careful. You will be surprised by how tender the pork ribs are. Discard the juice and fat that is collected in the foil. Brush the ribs with miso honey paste and grill them bone-side down over low to medium heat with the lid close until they are slightly charred, about 5 minutes. Generously baste in more sauce and remove from the grill. Let the ribs rest for another 5 minutes and then cut into individual ribs and served with the soba noodle salad
Check out this cool Maple Chipotle Glazed Pork Chops video too. More recipe inspirations and product information can be found HERE