These crispy crunchy butter cookies infused with peanut butter and ground peanuts are so yummy and shaped like peanuts in shells. No mold is needed to make these peanut-shaped cookies. This is perfect for your Chinese New Year cookies.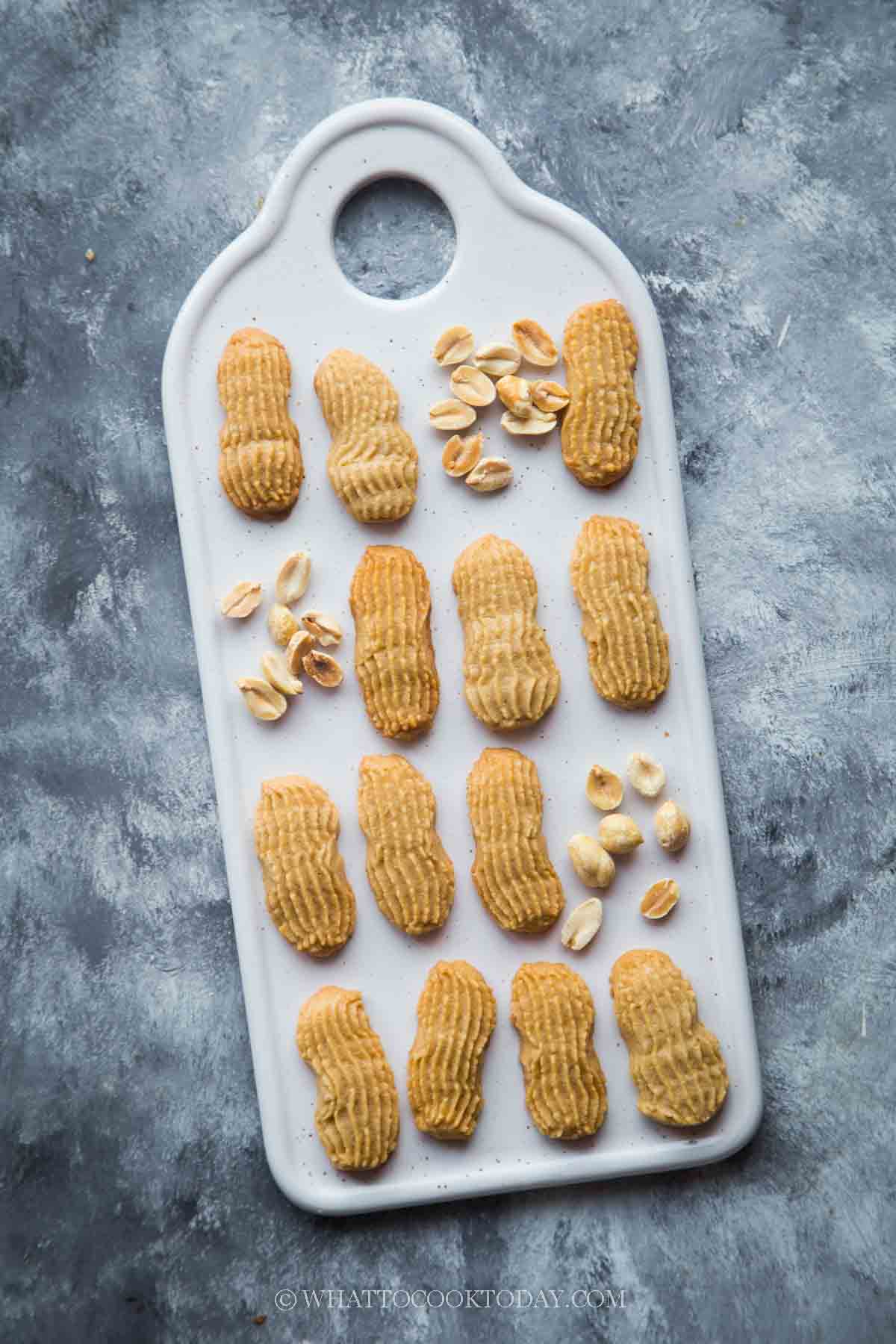 Anything peanuts or tree nuts-related is always welcomed. I'm literally obsessed with them. These crispy crunchy peanut-shaped butter cookies are a nice addition to my Chinese New Year cookies collection. Previously, I have made these Melt-in-the-mouth Chinese Peanut Cookies (Mazola Peanut Cookies), which is one of my favorite peanut cookies. This version is crispy and crunchy and the fun part is, they look like peanuts in shells.
Peanut-shaped butter cookies
I don't want to buy another cookie mold just to make these cookies. So, when I saw Katherine made these cookies on YouTube, immediately, I knew I had to try it out and surely it didn't disappoint. The cookie dough is piped using an open-star tip to mimic the shell of peanuts 🙂 What a clever idea.
Ingredients
1. Butter
I used unsalted butter, but you can use salted butter too and omit the salt in the recipe
2. Creamy peanut butter
I use regular creamy peanut butter. If you use natural creamy peanut butter, make sure to stir it really well because it usually separates. I don't recommend using chunky peanut butter because we need to pipe the dough and the peanut chunks will skew the shape
3. Brown sugar
I use light brown sugar.
4. All-purpose flour
Any flour with medium gluten content (between 8-10%) will work here.
5. Ground peanuts
I used roasted peanuts and grind them up into fine powder consistency. It is important to grind it up finely
6. Salt
As always a small pinch of salt makes a difference. I use fine sea salt. If you use salted butter, you can omit this
Important tips
1. There is no need to use an electric mixer to beat the butter and sugar. You can if you want to for convenience, but take care not to overbeat as it can cause your cookies to crumble easily
2. It's important that the ground peanuts are in fine powder consistency because we will pipe this cookie dough. Chunky peanuts will not pipe well
3. You will also need a sturdy large piping bag. The cookie paste is on a thicker side, so you want to make sure your piping bag is sturdy or it may burst. You will need a large "open star tip". I used Wilton 4B to mimic the texture of peanut shells. Wilton 6B tip or any other equivalent should work too
4. It is important not to fill the piping bag too much. The paste is a bit harder to pipe at first, but the more you pipe, the easier it gets. So if you fill too much, it will be very hard for you to squeeze it out steadily
How to make crispy crunchy peanut-shaped butter cookies
1. I just use a rubber spatula to mash the softened butter. and peanut butter. This shouldn't take much effort since the butter is soft and creamy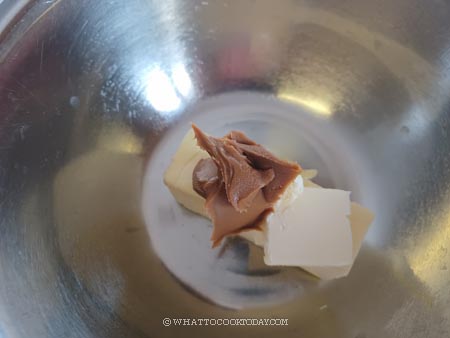 2. Then add the sugar and mash again to combine.

3. Measure out 25 grams of egg and add into the butter mixture and stir to mix again. It may appear separate at first but just keep mixing until just combined.

4. Add ground peanuts and stir to combine

5. Sift in the flour and salt and use a spatula to mix. They will appear very dry at first. But just keep mixing until you no longer see any flour. The consistency will be like a thick paste (even though I said cookie dough, but it shouldn't be a dough, more like a thick paste)


6. Hold the piping bag at an angle (about 45 degrees) and slowly but steadily pipe the cookie paste out, sort of like a tiny motion of forward and backward as you pipe (please refer to the video on the motion of my hand when I pipe). Pipe about 1 inch apart as the cookies won't be spreading too much and maintain their shape and design after baked

7. After piping all of them, I use a chopstick to help me shape them to look more like a peanut shape. One end is a bit more pointy and the middle with a bit of waist and the other end is a bit rounder and slightly bigger. There's no right or wrong here


8. Preheat the oven to 320 F (160 C) for a conventional oven. If you use a convection oven (no fan), lower the temperature by 20 degrees. Place the whole baking sheet in the freezer for 30 minutes. If you use two baking sheets start piping the other tray
9. If you bake only one tray, put the tray on the middle rack and bake for 25 minutes or until golden brown. If you use two trays, put one tray 3rd rack from the top and the second tray 3rd rack from the bottom and rotate front to back and then top to bottom halfway through baking so they bake evenly. Once they are out of the oven, let them cool down on the tray to crisp up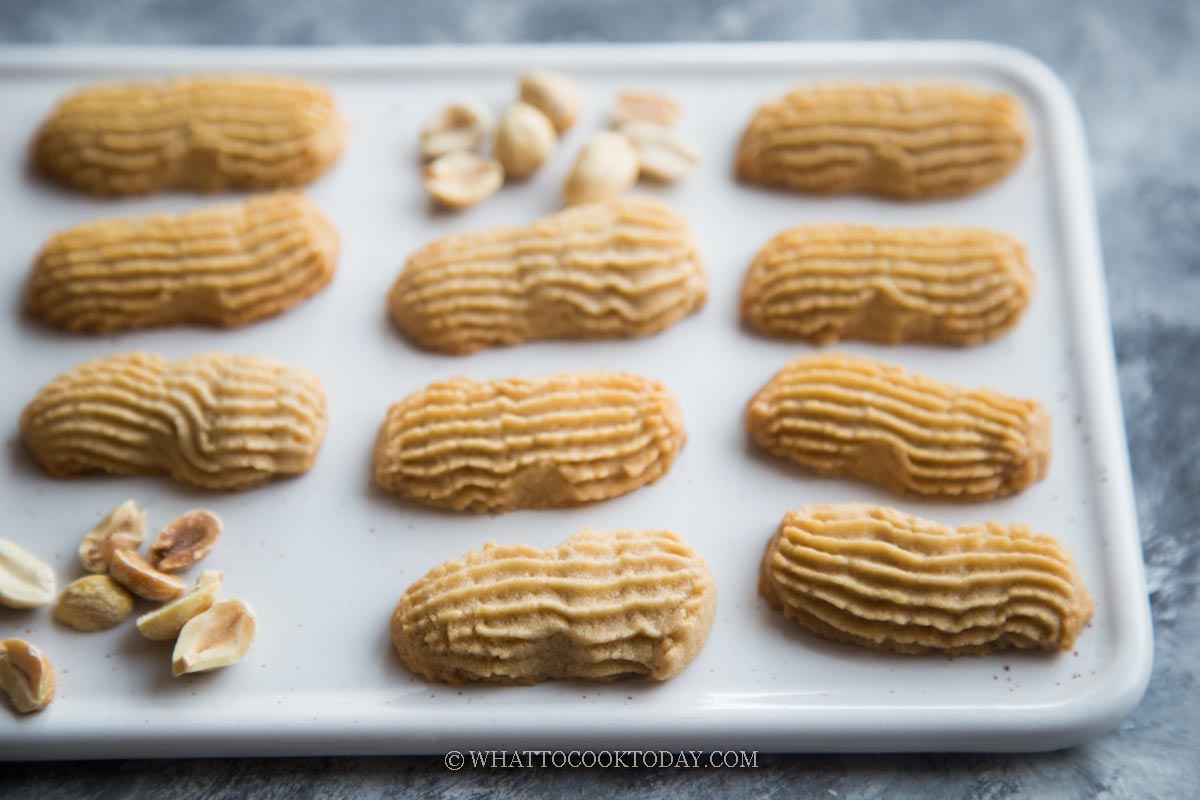 Variations
You can also replace peanut butter with Lotus Biscoff spread, almond butter, cashew butter, or other nut butter of your choice. You can also replace the ground peanuts with finely ground almond (almond flour) or other nut flour.
To make ahead
1. The piped cookie dough can be kept frozen for up to one month. After piping, freeze them for 30 minutes in the freezer. They will harden and transfer to a freezer bag, push all air out and seal tightly
2. You can have freshly baked cookies anytime you want. Do not thaw the cookie dough. They go straight from the freezer to the oven and bake as directed
Did you make this recipe?
I love it when you guys snap a photo and tag to show me what you've made 🙂 Simply tag me @WhatToCookToday #WhatToCookToday on Instagram and I'll be sure to stop by and take a peek for real!

Recipe is adapted from the wonderful Katherine Kwa. I love her recipes.

Crispy Crunchy Peanut-Shaped Butter Cookies
Ingredients
It is important to measure ingredients by weight and not by volume for accuracy
Instructions
Line a large baking sheet or two small ones with parchment paper and set aside

You will also need a sturdy large piping bag. The cookie paste is on a thicker side, so you want to make sure your piping bag is sturdy or it may burst. You will need a large "open star tip". I used Wilton 4B to mimic the texture of peanut shells. Wilton 6B tip or any other equivalent should work too

Butter and egg need to be at room temperature. The butter needs to be soft. You can easily press it with your finger without much resistance but it's not melty. Melty butter will not work for this recipe

Crack one egg in a bowl and whisk and let it come to room temperature. We only need 25 grams for this recipe

Put some peanuts in a food processor or a blender to grind them up into a fine powder. It's important that it's fine powder consistency because we will pipe this cookie dough. Chunky peanuts will not pipe well
Prepare the cookie dough/paste:
There is no need to use an electric mixer to beat the butter and sugar. You can if you want to for convenience, but take care not to overbeat as it can cause your cookies to crumble easily

I just use a rubber spatula to mash the softened butter and peanut butter. This shouldn't take much effort since the butter is soft and creamy. Then add the sugar and mash again to combine. Measure out 25 grams of egg and add into the butter mixture and stir to mix again. It may appear separate at first but just keep mixing until just combined. Add ground peanuts and stir to combine

Sift in the flour and salt and use a spatula to mix. They will appear very dry at first. But just keep mixing until you no longer see any flour. The consistency will be like a thick paste (even though I said cookie dough, but it shouldn't be a dough, more like a thick paste)
Piping:
It is important not to fill the piping bag too much. The paste is a bit harder to pipe at first, but the more you pipe, the easier it gets. So if you fill too much, it will be very hard for you to squeeze it out steadily

Hold the piping bag at an angle (about 45 degrees) and slowly but steadily pipe the cookie paste out, sort of like a tiny motion of forward and backward as you pipe (please refer to the video on the motion of my hand when I pipe)

You can pipe about 1 inch apart as the cookies will not spread out much and maintain their shape and design after baked, if you get the consistency of the cookie dough correctly

After piping all of them, I use a chopstick to help me shape them to look more like a peanut shape. One end is a bit more pointy and the middle with a bit of waist and the other end is a bit rounder and slightly bigger. There's no right or wrong here
Freeze before baking: (DO NOT skip this step)
Preheat oven to 320 F (160 C) for a conventional oven. If you use a convection oven (no fan), lower the temperature by 20 degrees. Place the whole baking sheet in the freezer for 30 minutes. If you use two baking sheets start piping the other tray
Baking:
If you bake only one tray, put the tray on the middle rack and bake for 25 minutes or until golden brown. If you use two trays, put one tray 3rd rack from the top and the second tray 3rd rack from the bottom and rotate front to back and then top to bottom halfway through baking so they bake evenly
Cool down:
Once they are out of the oven, let them cool down on the tray to crisp up
Storing:
Once cookies are cooled down completely, store them in an air-tight container. They can be kept for weeks, but I doubt they will last that long! 😉
Nutrition
Serving:
1
cookie (about 5 grams)
|
Calories:
39
kcal
|
Carbohydrates:
4
g
|
Protein:
1
g
|
Fat:
2
g
|
Saturated Fat:
1
g
|
Polyunsaturated Fat:
1
g
|
Monounsaturated Fat:
1
g
|
Trans Fat:
1
g
|
Cholesterol:
8
mg
|
Sodium:
20
mg
|
Potassium:
11
mg
|
Fiber:
1
g
|
Sugar:
1
g
|
Vitamin A:
66
IU
|
Calcium:
3
mg
|
Iron:
1
mg