Popiah Medan (Fresh Spring Rolls with Jicama) – Fresh spring roll is filled with jicama, carrots, and shrimp mixture. Learn how to make fresh popiah skin easily too.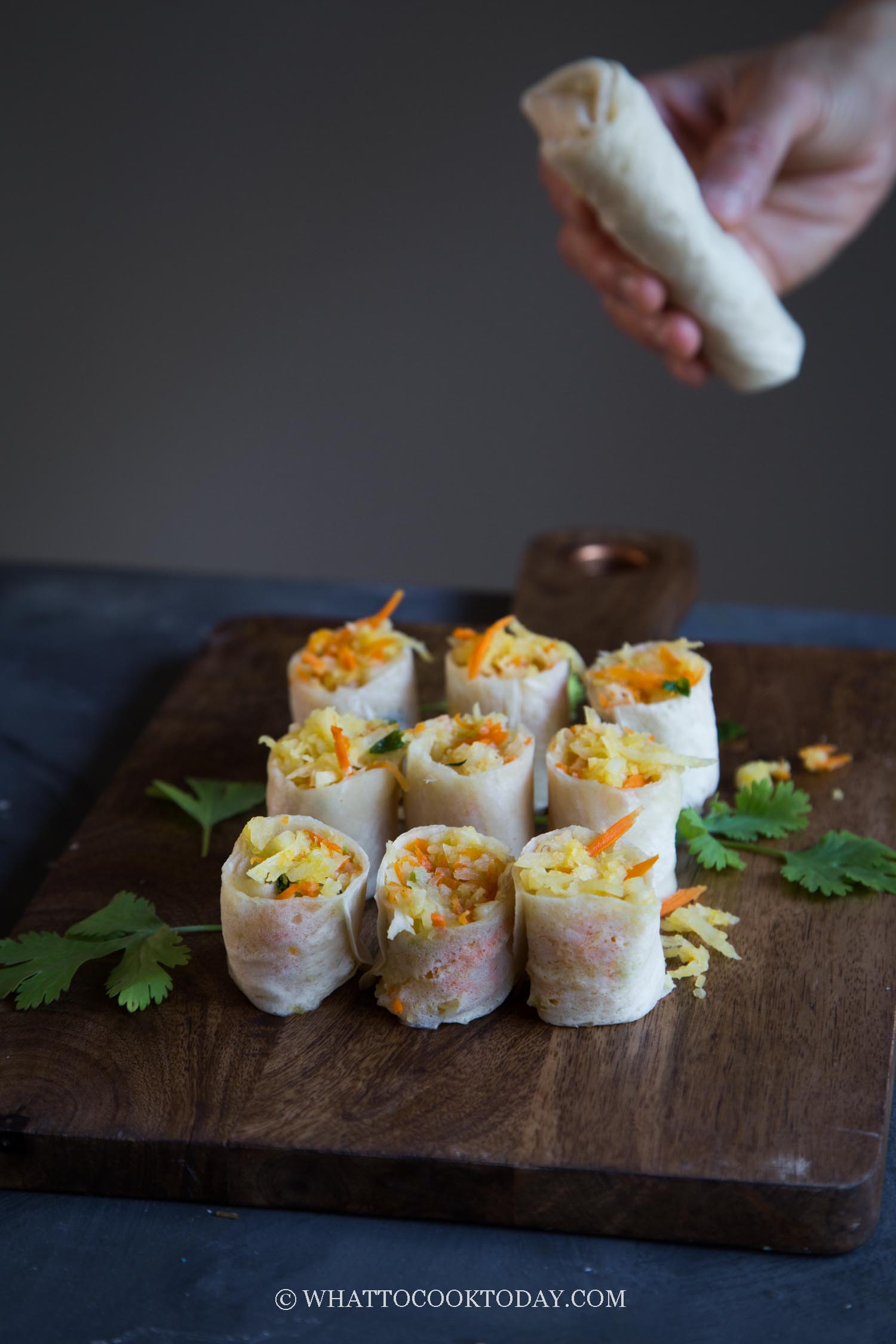 Popiah or loosely translated as fresh spring rolls with jicama are popular street food in Southeast Asia countries like Indonesia, Malaysia, and Singapore. I grew up eating these and love them so much. The main filling in popiah always includes jicama or known as yam bean or bangkuang in a Hokkian dialect. The popiah I made here is more of the one I grew up eating at my hometown, Medan. There is this famous shop at Yose Rizal street that supposingly the best popiah in town. Mine of course, can't even compare, nor do I dare to compare, but it tastes pretty decent and satisfying.
In North America, we call it Jicama (read: hee-kah-ma). The Indonesian version, from the hometown I grew up, Medan, of popiah is a bit different compared to the one I've tasted in Singapore. Not as "fancy" perhaps I should say (not as many ingredients in the filling) and it comes in two versions: the fried and non-fried. I always prefer the non-fried one and they always come with this special red sauce that I'm not sure what they are made of, to be honest, but it's really good.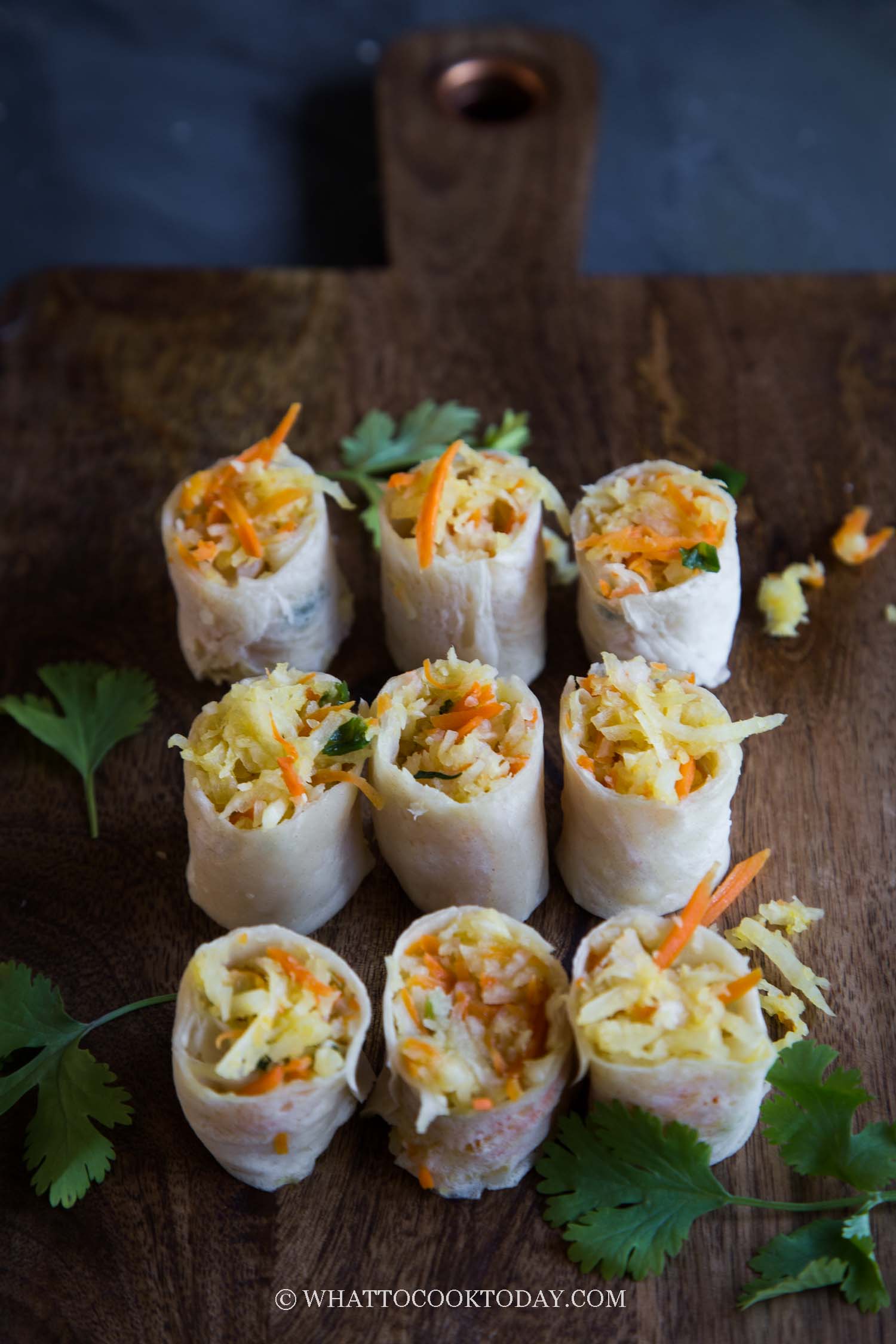 HOW TO MAKE FRESH SPRING ROLL WRAPPERS
The only problem I used to had when it comes to making popiah is the popiah skin (spring roll wrapper). I've tried several recipes that require so much work and to no avail! I failed miserably! I don't like the store-bought spring roll wrapper for this version of unfried spring rolls because the texture is just not the same. Until, of course, I came across how to make popiah wrapper so easily! Like seriously easy that I've made them 3 times in the course of two weeks! Fresh spring roll wrappers are only good for 1-2 days after being made.
HOW TO MAKE POPIAH SKIN FROM SCRATCH
1. Only 3 ingredients
All-purpose flour, water, and salt are all you need to make the batter
2. Strain the batter
This step is to make sure you get a smooth batter and when you cook it, there won't be any lumps
3. Use a brush
The brush idea is seriously a genius idea. This is how the spring roll wrapper is made, by brushing the batter on the non-stick pan several times
4. Control the heat
When brushing the batter on the pan, the heat should be very low. Once you are done brushing, crank up the heat to start cooking the batter
5. Gently peel off the wrapper off the pan and place it on a plate to let it cool down. Repeat with the rest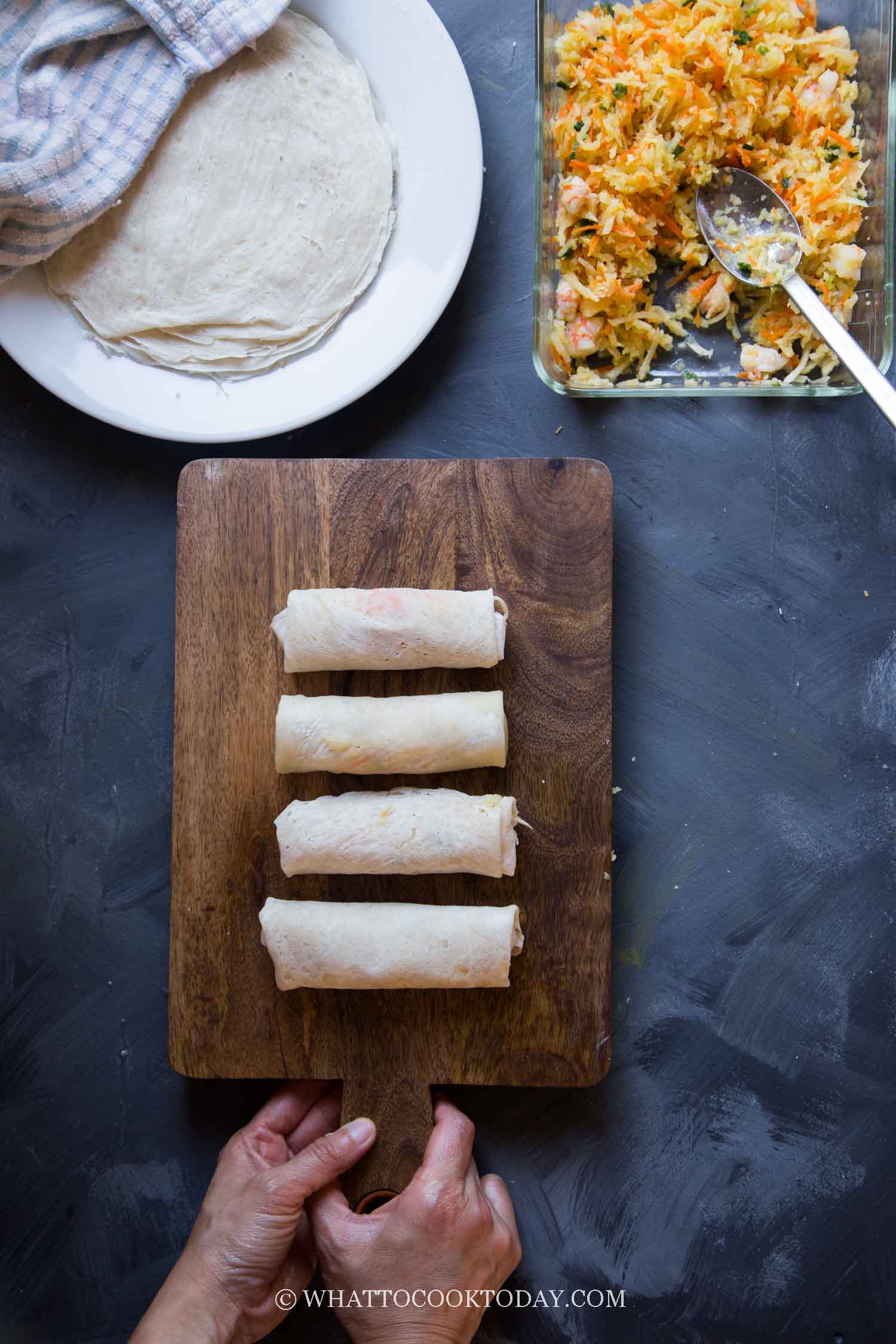 TIPS ON HOW TO EASILY MAKE GOOD POPIAH FILLING
1. Grate the veggies
Majority of the muscle work for making popiah filling is in shredding the jicama and carrots. Peel the jicama and then use a box grater if you have one to shred it into strips
2. Use dried shrimp
Dried shrimp adds that nice umami flavor to the overall popiah taste
3. Use crab meat lump
The crab meat lump adds some sweetness to the filling
4. Lose the juice when wrapping
There will be some juice oozing out when you cook the jicama, it's normal. Just make sure you don't scoop that juice when you wrap the popiah, or you will end up tearing the wrapper and wet popiah
HOW TO WRAP HOMEMADE POPIAH
1. Place 1 piece of popiah skin on a clean working surface or cutting board.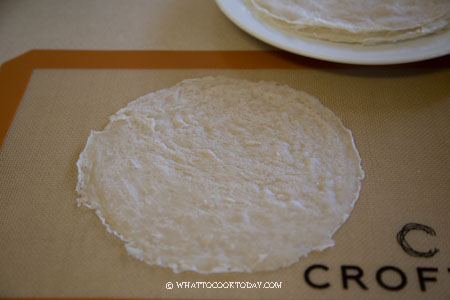 2. Brush the skin with some sweet chili sauce (if you choose to use) and sprinkle with some crushed peanuts (if using, I didn't)
3. Scoop about 2-3 Tbsp of the yam bean mixture on top of the sauce.


4. Add strips of egg omelette, and 1-2 sprigs of fresh coriander leaves if you choose to use.


5. Fold the side near you up and then fold the two sides in firmly tuck and roll up tightly.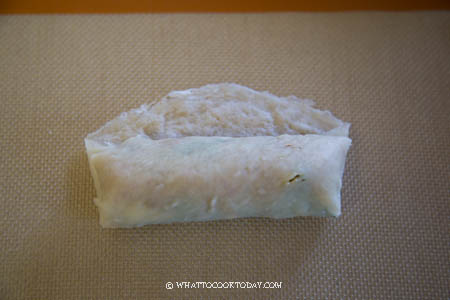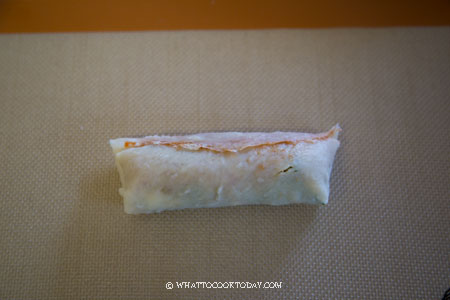 HOW TO STORE POPIAH SKIN
They can be stored in the refrigerator for up to 2 weeks. Reheat them using moist heat like steaming. Just steam over high heat for 1 minute or so until they are softened.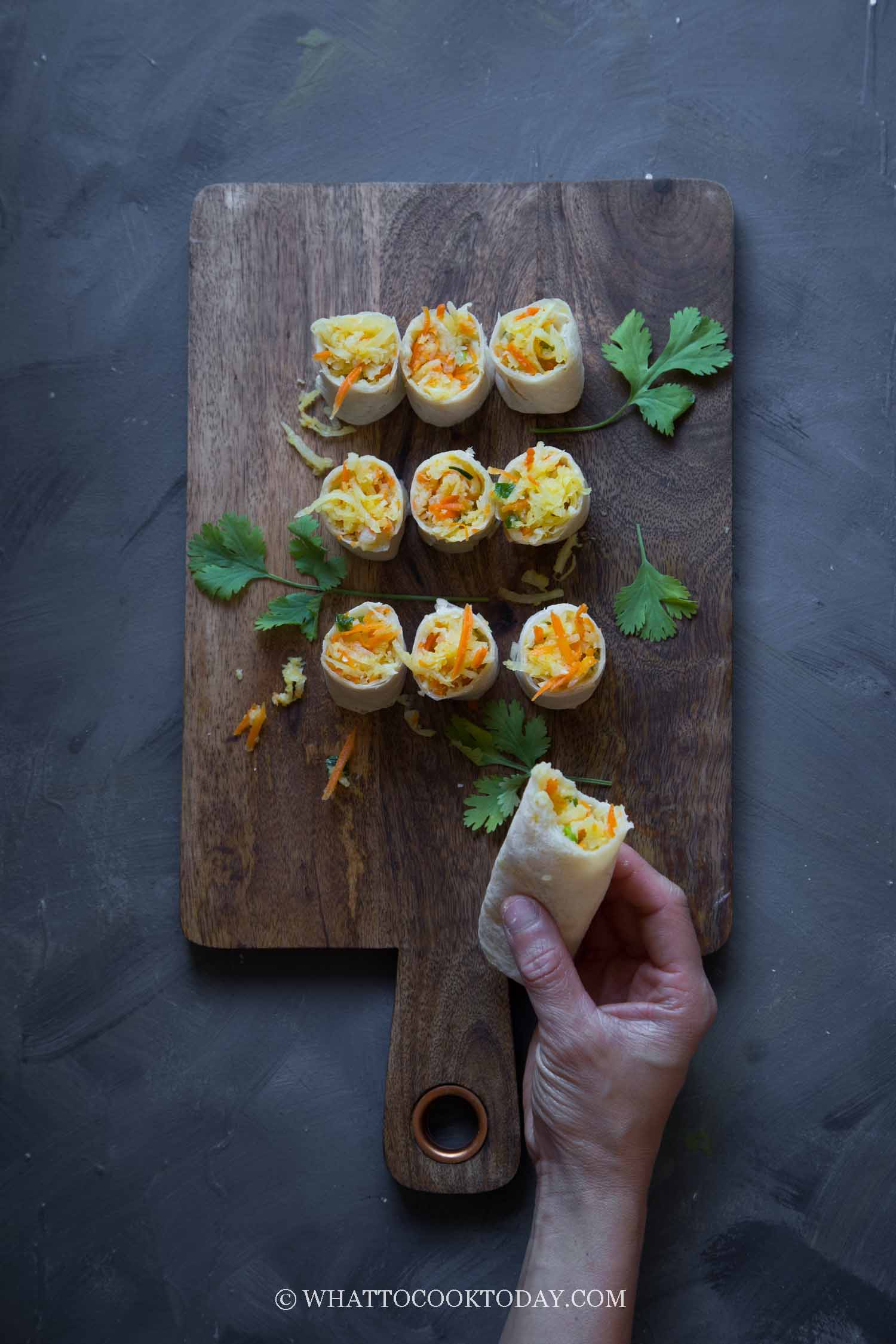 Recipe for the spring roll wrapper is adapted from China Sichuan's. Love the easy recipe!
DID YOU MAKE THIS HOMEMADE POPIAH RECIPE?
I love it when you guys snap a photo and tag to show me what you've made 🙂 Simply tag me @WhatToCookToday #WhatToCookToday on Instagram and I'll be sure to stop by and take a peek for real!

Homemade Popiah Medan (Fresh Spring Rolls with Jicama)
Ingredients
Spring roll wrappers (makes about 20 skins or more):
Fillings:
500

gr

jicama/ yam bean / bang kuang

peeled and shredded

1

large

carrot

peeled and shredded

200

gr

crab meat lump

⅓

cup

dried shrimp

soak in warm water until soft and finely chopped

3

cloves

garlic

peeled and finely minced

4

Tbsp

cooking oil
Seasonings:
½

tsp

Salt

¼

tsp

sugar

¼

tsp

ground black pepper
Other ingredients you can include in the filling (as many or as few as you wish):
2

eggs

(beaten and made into omelette and cut into long strips)

100

gr

ground roasted peanuts
Instructions
Make popiah skin:
Mix the flour salt and water in a large mixing bowl. Strain the mixture through a strainer to make sure you get a smooth batter

Turn on the heat on your stove to the lowest. Place the non-stick pan, about 8-inch size if you have one. Use a large pastry brush to brush the batter on the pan.

Brush several times to make sure you are covering the surface so there won't be any hole on the wrapper

Once you are done brushing, turn the heat up to start cooking the batter. The batter will slowly turn white starting from the edge

Once the bottom has cooked, gently peel it off the pan to a plate. Cover with a cloth.

Wipe the pan clean and repeat the process. Give the batter a stir each time before brushing

Once the wrapper has cooled down, you can stack them up and cover with a cloth until needed. The wrapper can be made one day ahead, covered and keep at room temperature until the next day. Make sure they are completely cool down so no condensation is formed when you wrap them
Prepare the filling:
Preheat oil in a skillet or wok. Add in garlic and stir fry for about 10 seconds and add the dried shrimp and stir fry for another minute. Add the yam bean/ bangkuang, carrots and seasonings. Stir fry until the yam beans started to soften. Add the crab meat lump. Have a taste and add more salt if needed. Sometimes the yam beans may ooze out more water as you stir-frying them, that's normal. Once the yam beans are soft, it's done
Assemble into popiah (only wrap as many as you want to eat):
Place 1 piece of popiah skin on a clean working surface or cutting board. Brush the skin with some sweet chili sauce (if you choose to use) and sprinkle with some crush peanuts if you choose to use. Scoop about 2-3 Tbsp of the yam bean mixture on top of the sauce. Add strips of egg omelette, and 1-2 sprigs of fresh coriander leaves if you choose to use. Fold the two sides in firmly tuck and roll up tightly. Cut into desired pieces and serve immediately. Only prepare as many as you would eat. This is not something to prepare ahead of time as the skin will get soggy and tear
Storage:
Popiah skin usually only good for 1-2 days. If you store them in the refrigerator, they will lose that elasticity and break when you try to wrap. So you need to reheat them with a moist heat like using a steamer. Steam for a minute or until heated through and they can be used again
Recommended products: