Learn how to make this popular Singapore prawn vadai/vada at home. These lentil fritters with prawn fried to crispy perfection on the outside and soft and fluffy on the inside.
What is prawn vadai/vada?
Prawn vadai/vada is a popular street food/snack among Singaporeans. The vadai is made with urad dal (black gram) that has been soaked and then grind into a smooth thick batter and then mixed with aromatic spices and herbs. The batter is then shaped into a mini doughnut with a hole and a piece of prawn is added and then fried. The basic vadai without the prawn is similar to medu vadai or sometimes known as ulundhu vadai.
What type of dal to use for prawn vadai?
Urad dal (black grams) are usually used to prepare prawn vadai. There are split urad dal and also the whole urad gota. When I went to an Indian grocery store, the store owner told me that either one can be used. I bought the urad gota, which is whole but without its skin. The split version will have a shorter soaking time compared to if you use urad gota.
What type of shrimp/prawn to use?
Prawn vadai usually used small-medium size prawn with its head, shell, and tail still attached. The prawn that I use is large size, which is not recommended because the shell is thicker and my family complained that they have to peel the prawn before they can eat. The shell is a bit tough to eat, especially for kids. So I decided to remove the head and the shell and just leave the tail for presentation.
Do I need to let the batter go through fermentation?
There are some vadai recipes that use yeast to ferment the batter. This recipe doesn't use yeast, only a bit of baking powder to help make the batter light and airy.
Tips for Success
Don't make a big batch first
If it's your first time making it, I suggest making half of the recipe first. It took me 3 rounds before I get the hang of it. You can soak more dal, but make 1/2 of the recipe and practice first 😉
Consistency of the batter
The batter for prawn vadai can be tricky and a bit difficult to work with especially if you don't have much experience handling such wet batter. The batter is thick, and smooth but airy and light at the same time. The amount of water added is just a guideline. You have to adjust until you reach the consistency I mentioned. If your batter is too runny, you will have a hell of a time trying to shape it. If it's too thick, the vadai won't be as fluffy
Handle the batter with wet hands
I have to tell you in advance that this is a wet sticky batter. You want to shape them with wet hands. Not overly wet, but wet enough that the batter won't stick to your palms and fingers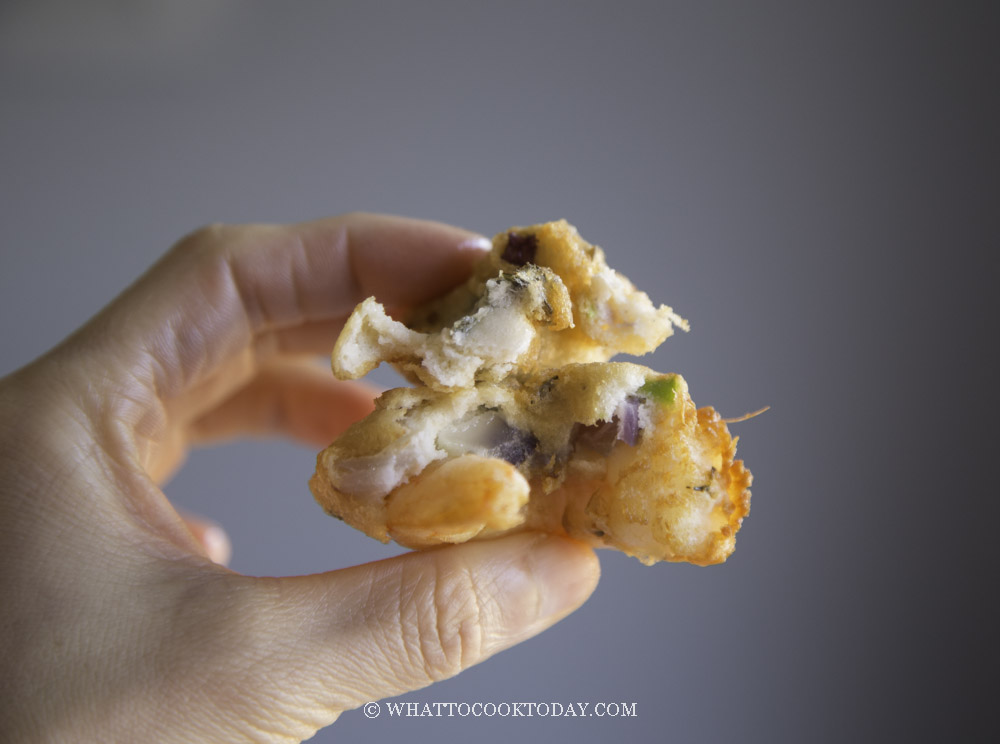 How to make Singapore prawn vadai
I use whole dal (urad gota without the skin). Give the dal few rinses of water and then soak them overnight in the fridge. If you use split dal, soak for 4 hours or overnight in the fridge

I only have large prawn at home and decided not to keep the shell sand heads, only the tails. The shells are too tough to be eaten even after frying. Slit the back open and remove the veins. If you use small or medium size prawns, the shells should be crispy after being deep-fried. Trim off the antennae and legs with scissors if you keep the shells
Toast the fennel seeds and cumin seeds on a dry pan until aromatic, about 2-3 minutes. Remove from the pan and set aside. In the same pan, add 1 Tbsp of cooking oil and stir fry the onion, green chili, and curry leaves for about 2-3 minutes. Remove from the pan and set aside to cool down

Give the dal some rinse of water. Keep some of the water from soaking the dal. This is to wet your palms and fingers later during shaping and also to add some during blending. Put the dal, fennel seeds, and cumin seeds in a blender and put about 2 Tbsp of the liquid from soaking the dal and blend until you can get a smooth batter. The consistency should be thick and can hold its shape

Transfer to a large mixing bowl and add salt and baking powder and use a hand mixer to whip the batter on medium-high speed for about 2 minutes until the batter is fluffy and airy. This is an important step and I do not recommend skipping it. I know it's an extra step, but it helps to aerate the batter

Add the onion mixture to the batter and use a spatula to fold them in

Preheat about 1 inch of oil on a medium size skillet over medium heat. If you put a skewer in, it should bubble. Transfer about 1/3 of the batter into a smaller bowl. It's better to work batch by batch. Since we will be wetting our palms a lot, you don't want too much water to get into the batter, so that's why I suggested portioning out some batter and work with that first

If you have a banana leaf, cut one piece, about 5 x 5 square, wet the leaves with some water. Alternatively if you don't have a banana leaf, wet both palms with the liquid you saved earlier (you can just use water too)

Scoop some of the batter with your finger onto a banana leaf or into the palm of your other hand and make a hole in the middle (like a doughnut) with your finger. Place one prawn on top, not covering the hole

Let this shaped batter gently drop into the oil. Let it fry for about 2 minutes or so and then gently flip to the other side and let it fry until golden brown over medium heat. I suggest frying about 3 at a time. You can still reshape the donut hole using a chopstick after it's been frying for about 30 seconds or so

Remove from the oil to an absorbent paper towel to drain off excess oil. Keep them warm in the oven at 200 F (93 C) . Repeat with the rest of the batter and prawns

Serve while they are still warm and crispy. Great on their own or with some green chili if you like it spicy

How to store
Prawn vadai are best served right after they are prepared. If you have leftovers, store them in the fridge and you can re-crisp in the toaster oven or air fryer at 400 F (205 C) for 5 minutes or until they are warm and crisp again
Did you make this Singapore prawn vadai recipe?
I love it when you guys snap a photo and tag it to show me what you've made 🙂 Simply tag me @WhatToCookToday #WhatToCookToday on Instagram and I'll be sure to stop by and take a peek for real!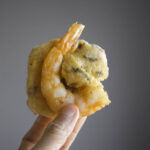 Prawn Vadai/Vada
Ingredients
For the batter:
180

gr

urad dal

split or whole dal

2

Tbsp

water

for blending with the dal

¼

tsp

baking powder

1

tsp

salt

20

small to medium size prawns

with or without the shells

Oil for deep frying
Spices and aromatics:
¼

tsp

fennel seeds

toasted

¼

tsp

cumin seeds

toasted

1

Tbsp

oil

1

small

onion

diced

2

green chilis

seeded and diced

Handful curry leaves

removed from the stems, finely chopped
Instructions
Soak the dal:
I use whole dal (urad gota without the skin). Give the dal few rinses of water and then soak them overnight in the fridge. If you use split dal, soak for 4 hours or overnight in the fridge
Prepare the prawn:
I only have large prawn at home and decided not to keep the shell sand heads, only the tails. The shells are too tough to be eaten even after frying. Slit the back open and remove the veins. If you use small or medium size prawns, the shells should be crispy after being deep-fried. Trim off the antennae and legs with scissors if you keep the shells
Prepare the spices and aromatics:
Toast the fennel seeds and cumin seeds on a dry pan until aromatic, about 2-3 minutes. Remove from the pan and set aside. In the same pan, add 1 Tbsp of cooking oil and stir fry the onion, green chili, and curry leaves for about 2-3 minutes. Remove from the pan and set aside to cool down
Prepare the batter:
Give the dal some rinse of water. Keep some of the water from soaking the dal. This is to wet your palms and fingers later during shaping and also to add some during blending

Put the dal, fennel seeds, and cumin seeds in a blender and put about 2 Tbsp of the liquid from soaking the dal and blend until you can get a smooth batter. The consistency should be thick and can hold its shape

Transfer to a large mixing bowl and add salt and baking powder and use a hand mixer to whip the batter on medium-high speed for about 2 minutes until the batter is fluffy and airy. This is an important step and I do not recommend skipping it. I know it's an extra step, but it helps to aerate the batter

Add the onion mixture to the batter and use a spatula to fold them in
Shaping and cooking:
Preheat about 1 inch of oil on a medium size skillet over medium heat. If you put a skewer in, it should bubble

Transfer about 1/3 of the batter into a smaller bowl. It's better to work batch by batch. Since we will be wetting our palms a lot, you don't want too much water to get into the batter, so that's why I suggested portioning out some batter and work with that first

If you have a banana leaf, cut one piece, about 5 x 5 square, wet the leaves with some water. Alternatively if you don't have a banana leaf, 2et both palms with the liquid you saved earlier (you can just use water too)

Scoop some of the batter with your finger onto a banana leaf or into the palm of your other hand and make a hole in the middle (like a doughnut) with your finger. Place one prawn on top, not covering the hole and let this shaped batter gently drop into the oil. Let it fry for about 2 minutes or so and then gently flip to the other side and let it fry until golden brown over medium heat. I suggest frying about 3 at a time. You can still reshape the donut hole using a chopstick after it's been frying for about 30 seconds or so

Remove from the oil to an absorbent paper towel to drain off excess oil. Keep them warm in the oven at 200 F (93 C) . Repeat with the rest of the batter and prawns
Serve:
Serve while they are still warm and crispy. Great on their own or with some green chili if you like it spicy
Nutrition
Serving:
1
piece
|
Calories:
79
kcal
|
Carbohydrates:
5
g
|
Protein:
2
g
|
Fat:
6
g
|
Saturated Fat:
0.4
g
|
Polyunsaturated Fat:
2
g
|
Monounsaturated Fat:
3
g
|
Trans Fat:
0.02
g
|
Cholesterol:
1
mg
|
Sodium:
145
mg
|
Potassium:
7
mg
|
Fiber:
2
g
|
Sugar:
0.3
g
|
Vitamin A:
3
IU
|
Vitamin C:
1
mg
|
Calcium:
10
mg
|
Iron:
1
mg