Sorry if I bombard you guys with something pumpkin again. I have so much pumpkin puree stash in my freezer and the cravings for these traditional kue gave birth to these pumpkin ang ku kue. Ang means red in Hokkian dialect. Ku means tortoise. Kue means cake (it's a very broad term as it covers from the cream frosted cake to steamed cake like this and anything in between). Traditionally ang ku kue is made red in color (The Chinese loves red). My mom made ang ku kue for both my kids' one-month celebrations. As I mentioned in my previous ang ku kueh post that this cake is often made for celebration such as birthday, baby's one-month celebration, and pretty much other joyous occasions.
My mom brought me one wooden mould and one made of plastic. I prefer the wooden one as it gives a better overall tortoise shape and imprints on the cake. These were the unsteamed cake shown here. Kinda "greenish" in color as you can see because they weren't made with pumpkin, they were made with juice extracted from Pandan leaves (screwpine leaves). I just wanted to show you guys the mould and the uncooked version of the cake and I still have some photos of them.
My mom's recipe is really easy and no fuss. The recipe doesn't call for cooking the dough first or anything like that. And I must say it's pretty fool-proof (or I should say me-proof because I suck at things like this but I did it!). Traditionally also made with mung bean fillings, but I like the peanuts fillings and mom told me her lazy short cut to make the peanut fillings, only 2 ingredients required for the fillings and no cooking either! WINNER!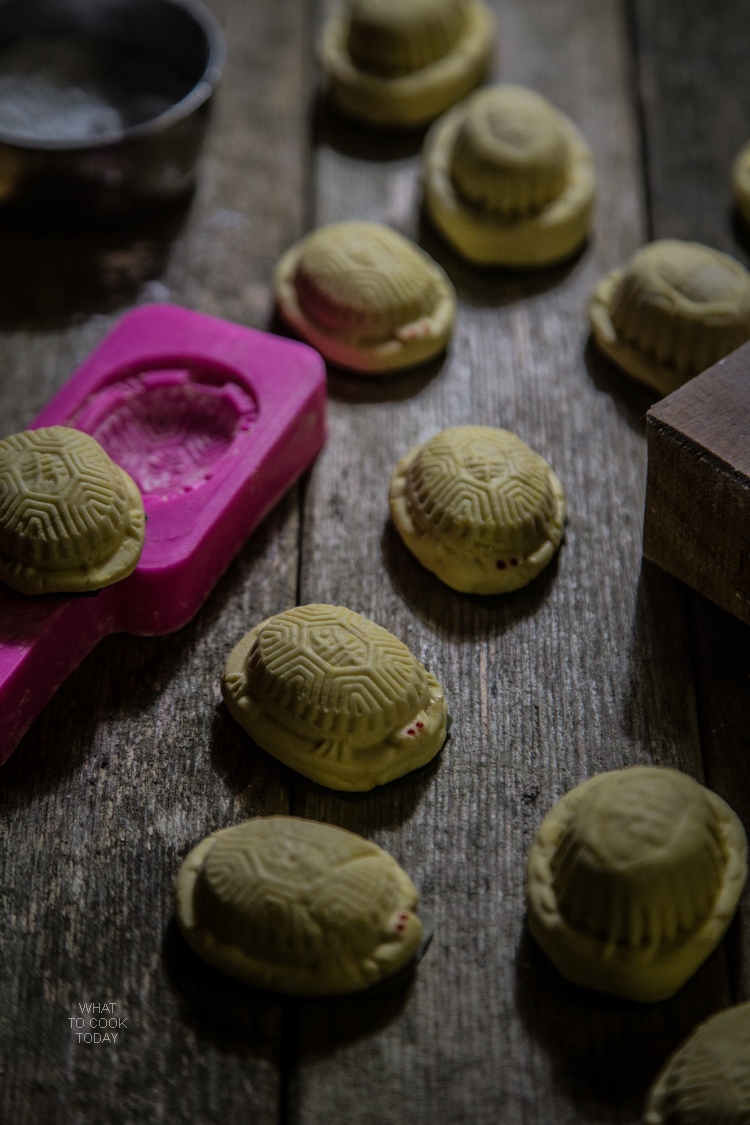 If you don't have the mould, don't sweat! You can just roll it into a ball and steam it as round balls. The Chinese loves anything round too 😉
Pumpkin ang ku kue (Pumpkin tortoise cake) about 15-20 cakes
Ingredients
For the skin:
296

gr

glutinous rice flour

and more for dusting

200

gr

pumpkin puree

2

Tbsp

sugar

5 1/2

Tbsp

of water

Pinch of salt
For the fillings:
150

gr

roasted peanuts

3/4

cup

honey
Others:
Banana leaves

cut into20 pieces of 4x4 inch square

Neutral-tasting cooking oil for brushing
Instructions
Preparing the skin:
Mix the glutinous rice with all the ingredients above and knead until it is not sticky and pliable. Set aside for wrapping
Preparing the fillings:
Place the peanuts in food processor and chopped the peanuts. I like to be able to bite into some of the peanuts, so I roughly chopped them. Mixed the chopped peanuts with honey and set aside
Wrapping:
Portion out the dough about 25 grams each. I could get roughly about 20 pieces. If your mould is smaller, you might need a smaller dough. Flatten them with the palm of your hand. Spoon about 1 Tbsp of the filling and bring all edge together and form them into balls again

Dust the mould with some sticky rice flour to prevent sticking and gently knock off excess flour. Place the dough ball into mould. Slightly pressed it down and you will get the imprint on the ang ku. Knock the mould against the table and the cake will most likely flop out of the mould. Place individual ang ku onto a greased banana leave. Dot with the red color if you like. When the water in the steamer is boiling vigorously, place the ang ku inside the steamer about 1-inch apart and steam with the lid of the steamer slightly ajar (not fully closed) for about 15 minutes, depending on how big your ang ku kue. This is very important as it helps to maintain the shape of the imprints on the cake. If you steam them on high heat with a closed lid, all the imprints will mostly be lost (which happened to me the first round because I forgot to keep the lid slightly ajar.

Remove from the heat onto a plate and let them cool down completely. You can brush with a bit of cooking oil after that if you want to. They can be kept in room temperature (where humidity is low) for about 3 days. If you keep them in the fridge, you just need to reheat them in the steamer, as the skin will toughen. But once reheated, they will be soft again
I got this Wilton Food Writer Edible Color Markers
in various color that I used to make this red dot on top of the ang ku kue before steaming them. Like I said, the Chinese couldn't get enough red 🙂
And I'm just loving this tea pot I got form a thrift shop! Made in Japan too! Such a perfect companion for food styling and that afternoon tea 😉

PIN IT!


*This post contains Amazon affiliate links. Thank you for your support.