Pumpkin ang ku kue (Pumpkin tortoise cake) – Traditional Chinese steamed cake made of glutinous rice dough and pressed into a tortoise-like mold and filled with sweet peanut filling.
I have so much pumpkin puree stash in my freezer and the cravings for these traditional ang kue gave birth to these version of pumpkin ang ku kue.
WHAT IS ANG KU KUE?
Ang means red in Hokkian dialect. Ku means tortoise. Kue means cake (it's a very broad term as it covers from the cream frosted cake to steamed cake like this and anything in between). Traditionally ang ku kue is made red in color (The Chinese loves red). It is named as such because of its shape that resembles tortoise.
SPECIAL INGREDIENTS USED IN PUMPKIN ANG KU KUEH:
Glutinous Rice Flour
The skin of Ang Ku Kueh is made of glutinous rice flour (sticky rice flour/sweet rice flour). Please don't be mistaken with the sticky sushi rice, it's not sticky sushi rice. Glutinous rice is actually very sticky! We are using the flour, which is usually widely available in Asian grocery store. This is the one I usually use for all recipes that call for glutinous rice flour on this blog.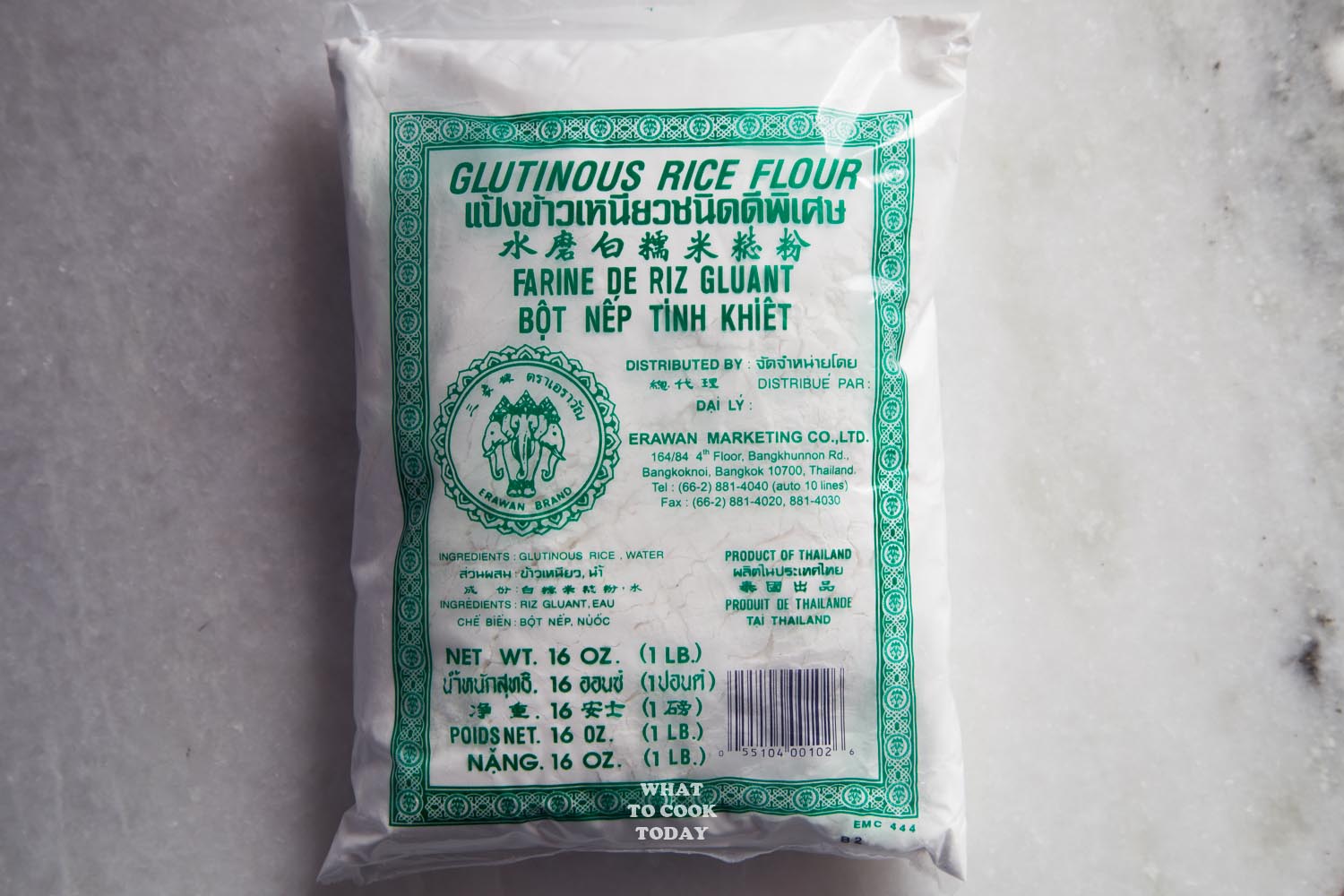 WHY YOU WOULD LIKE THIS ANG KU KUE RECIPE?
My mom's recipe is really easy and no fuss. The recipe doesn't call for sweet potato and cooking the dough first or anything like that. And I must say it's pretty fool-proof (or I should say me-proof because I suck at things like this but I did it!). Traditionally also made with mung bean fillings, but I like the peanuts fillings and mom told me her lazy shortcut to make the peanut fillings, only 2 ingredients required for the fillings and no cooking either! WINNER!
HOW TO CHOOSE MOLD FOR ANG KU KUEH?
1. Wood or Plastic
There are wooden and plastic molds available. My mom brought me one wooden mold and one made of plastic. I prefer the wooden one as it gives a better imprints on the cake.
2. Deep or shallow
Definitely go for deep. I like a deep mold because the ang ku kueh will appear taller. I know some people prefer shallow one because it is easier to get the dough out, but the recipe for this dough is very easy to work with.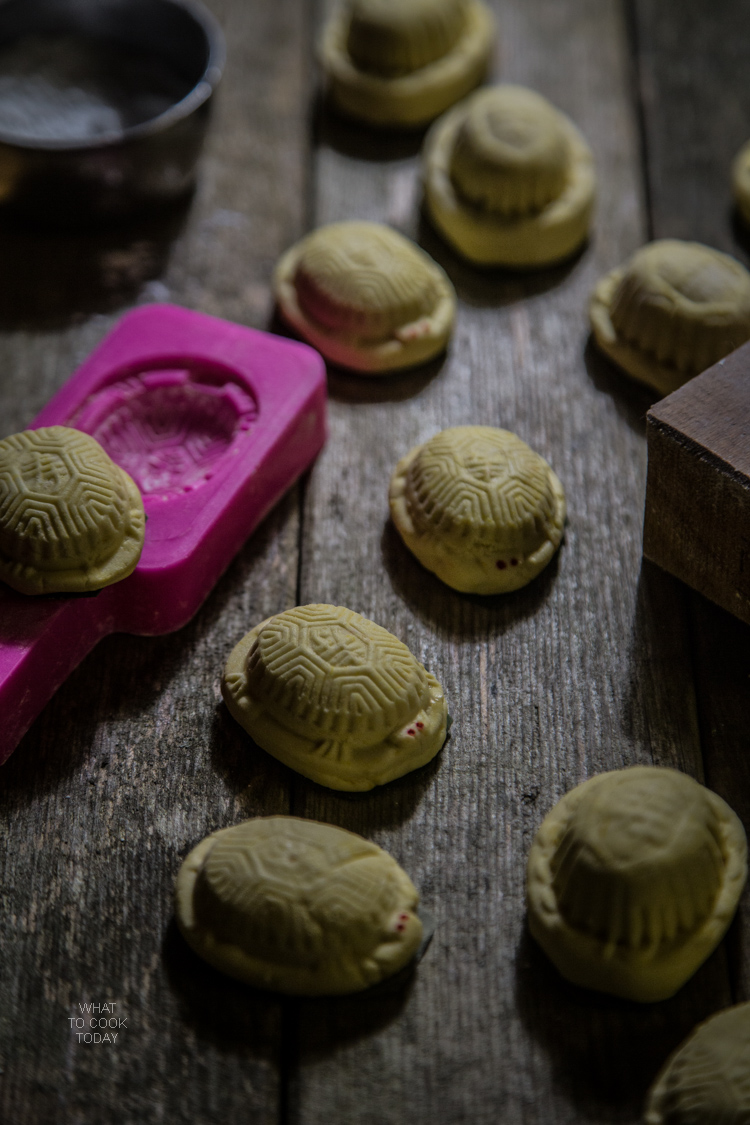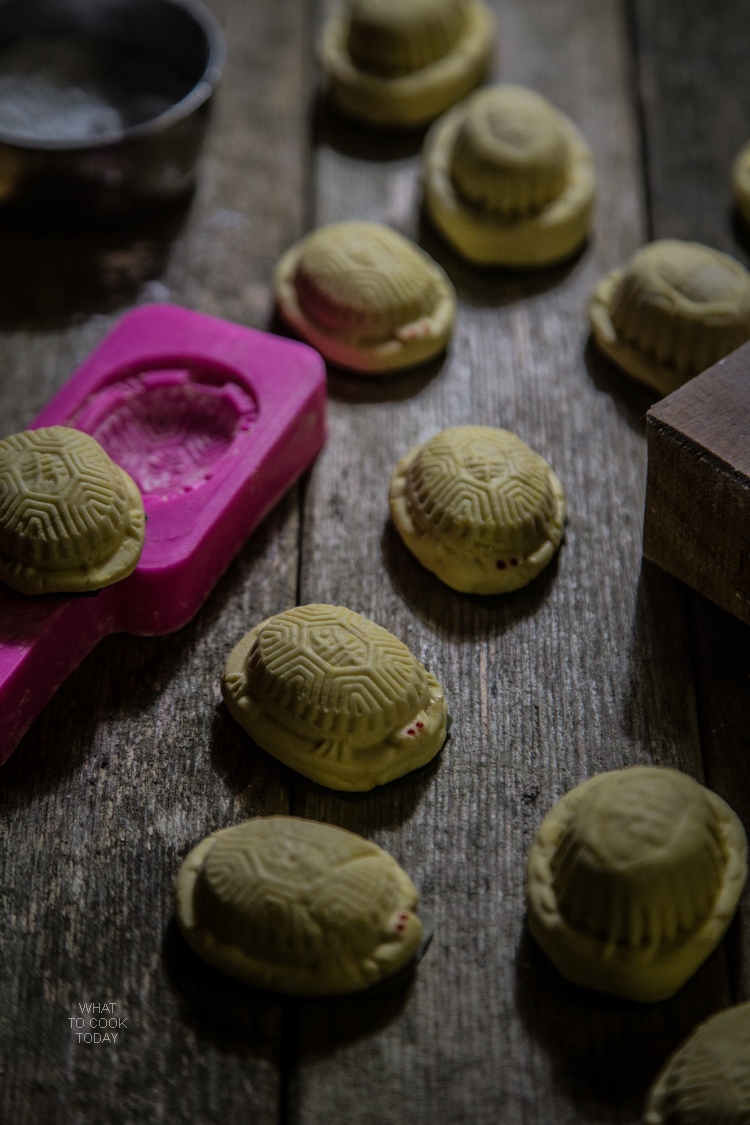 I got this Wilton Food Writer Edible Color Markers
in various color that I used to make this red dot on top of the ang ku kue before steaming them. Like I said, the Chinese couldn't get enough red 🙂
And I'm just loving this tea pot I got form a thrift shop! Made in Japan too! Such a perfect companion for food styling and that afternoon tea 😉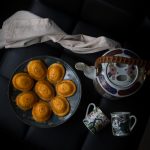 Pumpkin ang ku kue (Pumpkin tortoise cake)
Ingredients
For the fillings:
250

gr

roasted peanuts

100

gr

honey
Others:
Banana leaves

cut into 20 pieces of 4x4 inch square

Neutral-tasting cooking oil for brushing
Instructions
Prepare the dough:
Bring water to a boil. Mix the glutinous rice flour with salt, and sugar. Stir to combine. Make a well in a center and pour in the pumpkin puree. Pour in 100 ml of hot boiling water first and use a rubber spatula to start stirring until it forms a crumbly dough. When it's not too hot anymore you can use your hands to knead and add oil and continue to knead into soft pliable dough. If the dough is too dry you can add a bit more water until it comes together into a soft smooth dough
Prepare the filling:
Place the peanuts in food processor and chopped the peanuts. I like to be able to bite into some of the peanuts, so I roughly chopped them. Mixed the chopped peanuts with honey and set aside
Wrapping:
The amount of the dough and filling depends on the size of your mould. I have 30, 50, and 60 grams mould. For example if I use 50-gram mould, I can portion 30 grams of dough and 20 grams of filling or 25 grams of dough and 25 grams of filling. I believe you get the idea! Portion out the filling and roll them into balls for easier wrapping

Portion out the dough about into the size you want. Flatten them with the palm of your hand. Place the filling on the middle and bring all edge together and roll them into a smooth ball again

Dust the mold with some sticky rice flour to prevent sticking and gently knock off excess flour. I roll the dough ball into the flour thinly too. Place the dough ball into the mold. Slightly pressed it down as you stretch them out to fit the mold. Knock the mold once on a countertop (lined with some cloth to minimize banging sound) and the dough will flop out of the mold. Place individual ang ku kueh on a greased banana leave
Steaming:
When the water in the steamer is boiling vigorously, place the ang ku kueh inside the steamer about 1/2-inch apart. Lower the heat t medium and when you cover the lid, let it crack opens about 1/2-inch and steam for 10-15 minutes, depending on how big your ang ku kue. This is very important as it helps to maintain the imprints on the cake and to make sure you ang ku kueh is not flattened. If you steam them on high heat with all the steam trapped inside ,all the imprints will mostly be blurred and cake will expand to the side and flattened.

Remove from the heat onto a plate and then brush with some cooking oil. Let them cool down completely
Storing:
They can be kept at room temperature (where humidity is low) for about 3 days. If you keep them in the fridge, you just need to reheat them in the steamer for 3-5 minutes, as the skin will toughen. But once reheated, they will be soft again

The cooked ang ku kueh can also be kept frozen in the freezer for up to 3 months and they go from freezer to steamer and steam for 8-10 minutes or until heated through
Recommended products: