Snack-size steamed pudding cake made with rice flour with red beans added is a popular snack in Hong Kong. They are easy to make and naturally gluten-free, vegan, and dairy-free.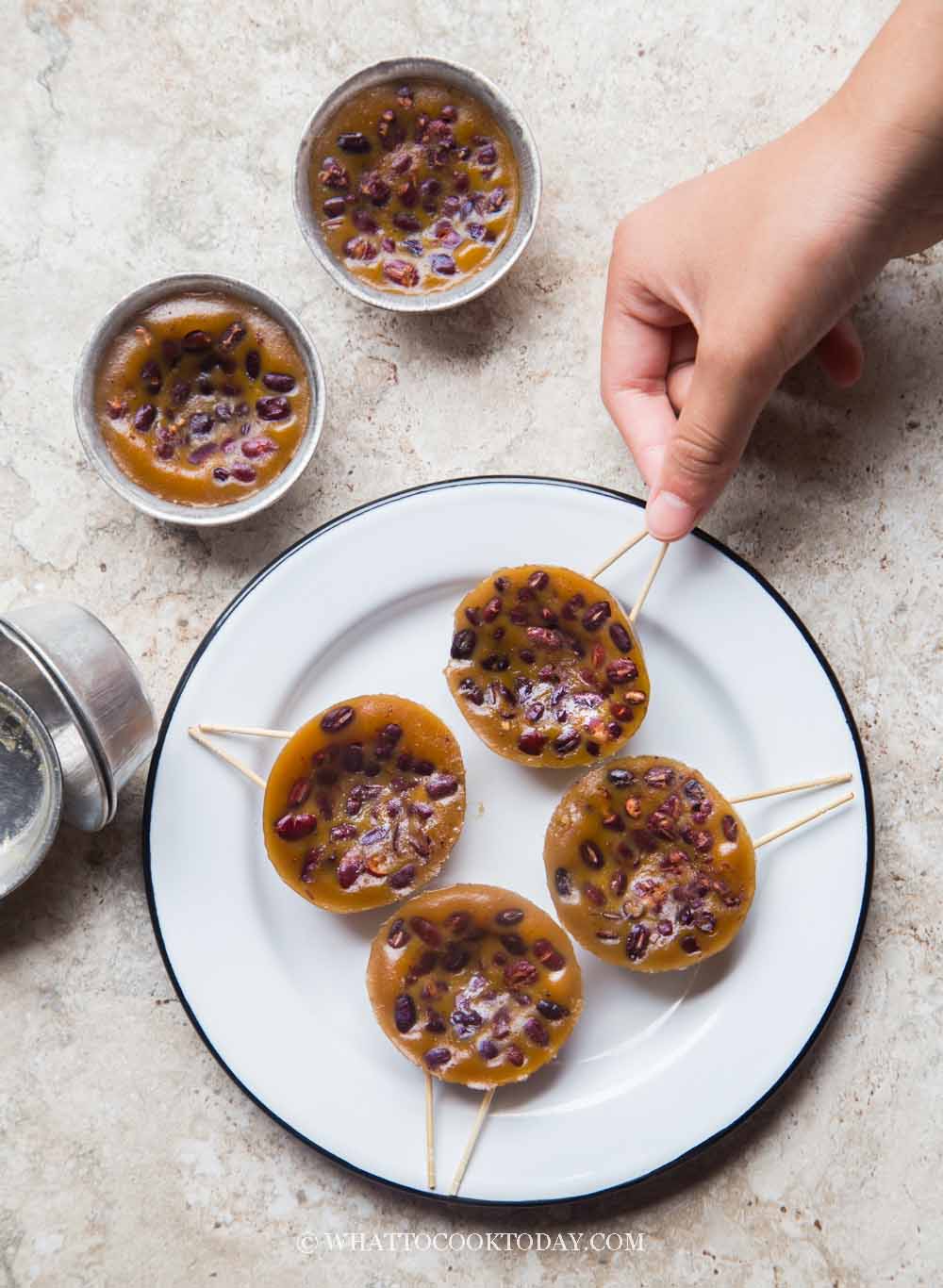 What is Put Chai Ko / Bo Zi Gao (缽仔糕)?
Put Chai Ko is Hong Kong popular snack made with rice flour, sugar and/or brown sugar, and water concoction. Sometimes adzuki beans are added. The batter is steamed in ceramic/earthen bowls, hence the name bo zi gao, which literally means a "bowl cake". The steamed cake has a soft and jiggly texture like pudding but it also firm enough to hold its shape without breaking apart.
The seller usually uses two skewers to get the put chai ko out of the steaming bowl/cup and people just eat it straight from the skewers.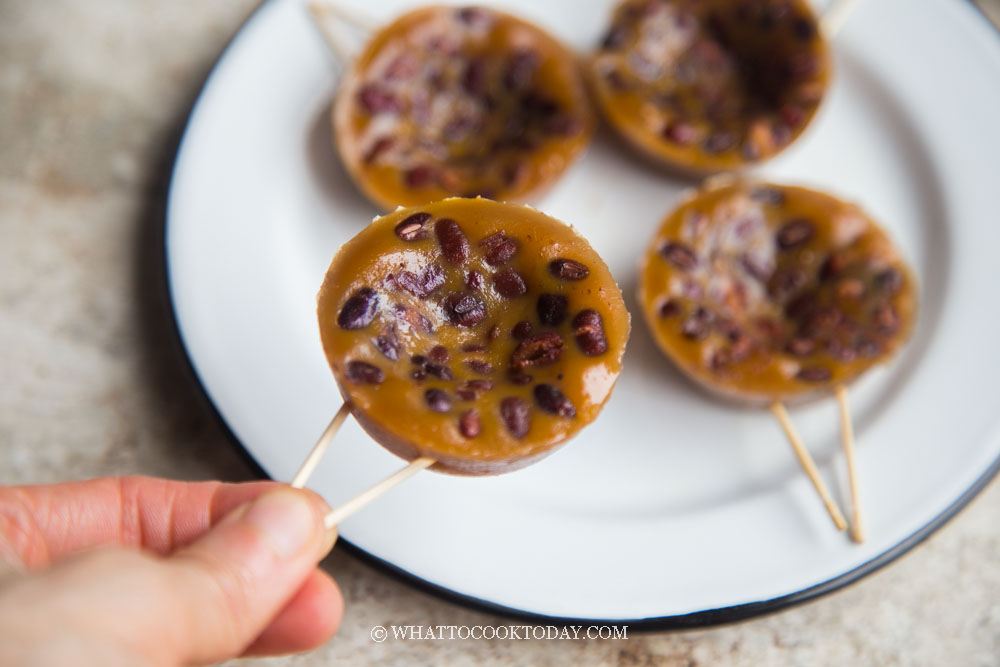 How to make red bean put chai ko
1. Rinse the beans with water. Put them inside the inner pot of Instant Pot pressure cooker. Add about 4 cups of water. Close the lid. Turn the pressure release valve to "sealing". Press "Beans" function and set the timer for 15 minutes and then do a quick release. We want to make sure that the beans aren't overcooked. Soft but maintain their shape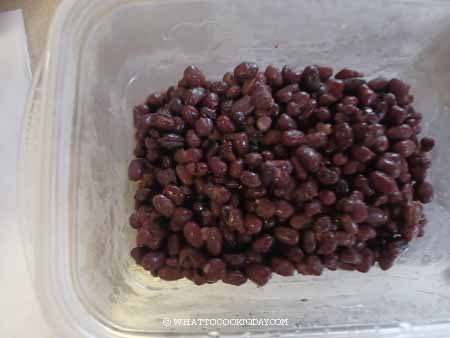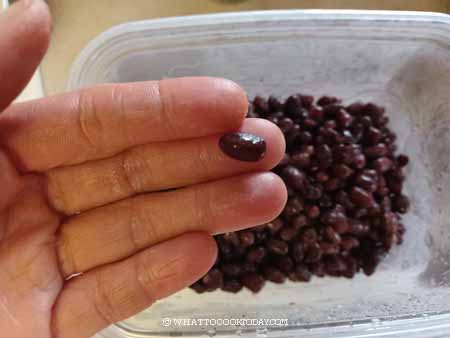 2. Bring the water in the steamer to a boil. Wrap the lid of your steamer with a clean cloth to prevent condensation from dripping onto the cups. If you use a bamboo steamer, then you can skip this part. Brush the cups/bowls with some oil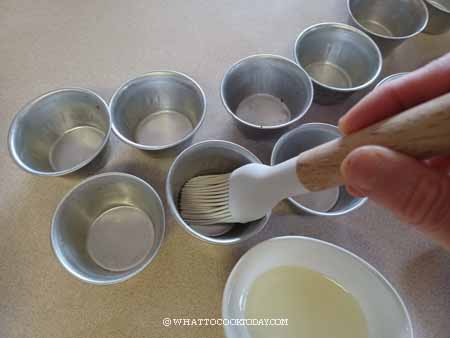 3. Put them inside the steamer to preheat them for at least 5 minutes while you prepare the rest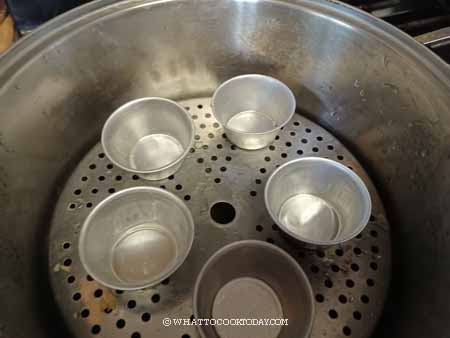 4. Put all ingredients for cake batter in a mixing bowl. Use a whisk to combine and break up any lumps and set aside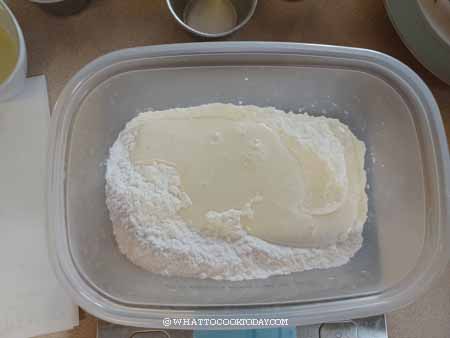 5. Put all ingredients for sugar syrup in a saucepan and bring to a boil and then lower the heat a bit and cook until sugar dissolves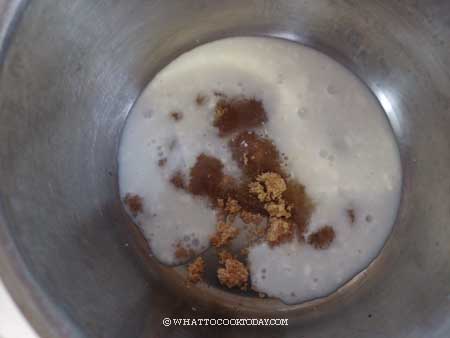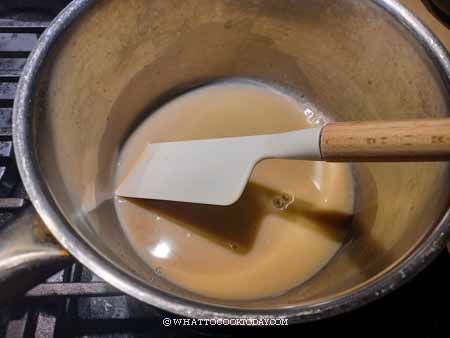 6. Pour this hot sugar syrup all at once into the cake batter while whisking at the same time. Break up any lumps. Strain the batter into a measuring cup with a spout for easier pouring. The batter is very thin. It's normal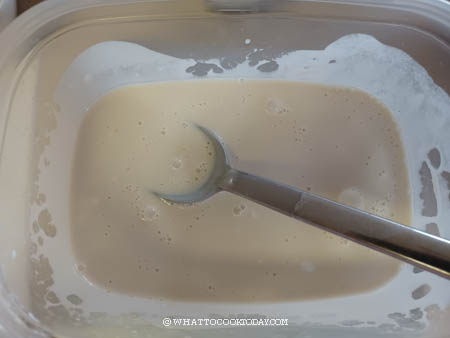 7. The amount of red beans you want to use is really up to you. I just distribute them among the pre-heated cups/bowls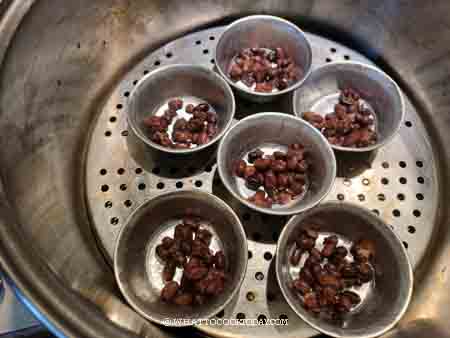 8. Pour the batter into the cups/bowls, about 90% full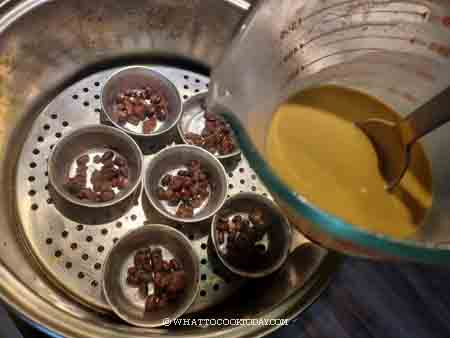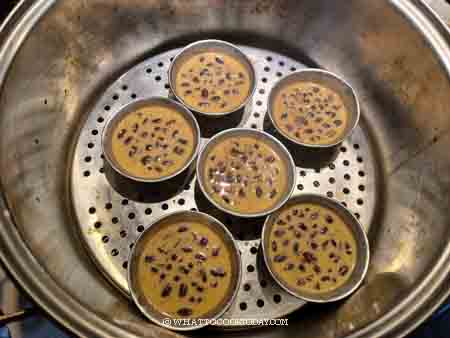 9. Steam over medium-high heat for 12-15 minutes for a small size. For a larger size, you may need 15-18 minutes or longer. The thicker the cake, the longer you need to steam the cake. The cake will have an indentation in the middle. There might be a bit of water pooling in the center, but this will dry up as they cool down. If you poke with a toothpick on the side, it should come out clean. If not, steam a bit longer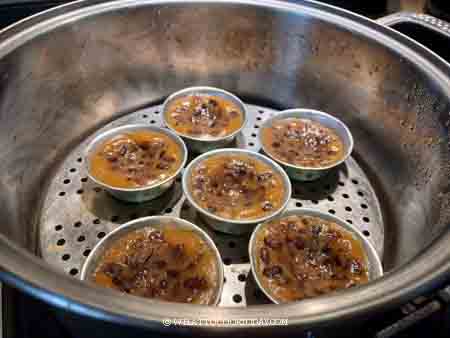 10. Let them cool down completely before unmolding from the cups/bowls. You can run a toothpick all around the edge of the cup/bowl to loosen and then flip over onto a plate. Insert two toothpicks on the side of the put chai ko and serve. If your cakes are larger and thicker, you may need skewers instead of toothpicks to hold the cakes securely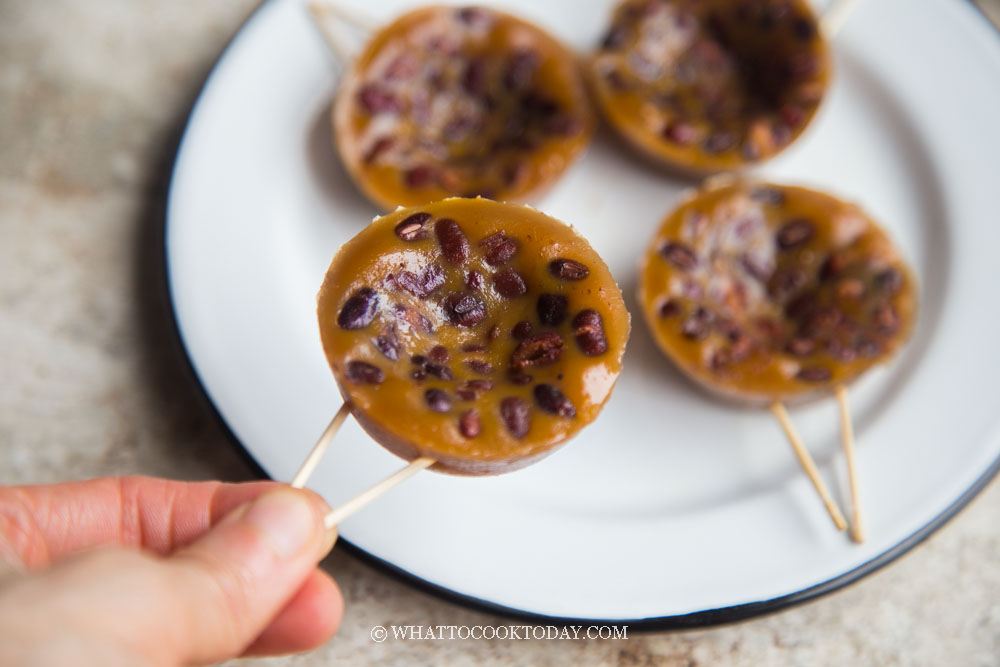 Did you make this red bean put chai ko recipe?
I love it when you guys snap a photo and tag to show me what you've made 🙂 Simply tag me @WhatToCookToday #WhatToCookToday on Instagram and I'll be sure to stop by and take a peek for real!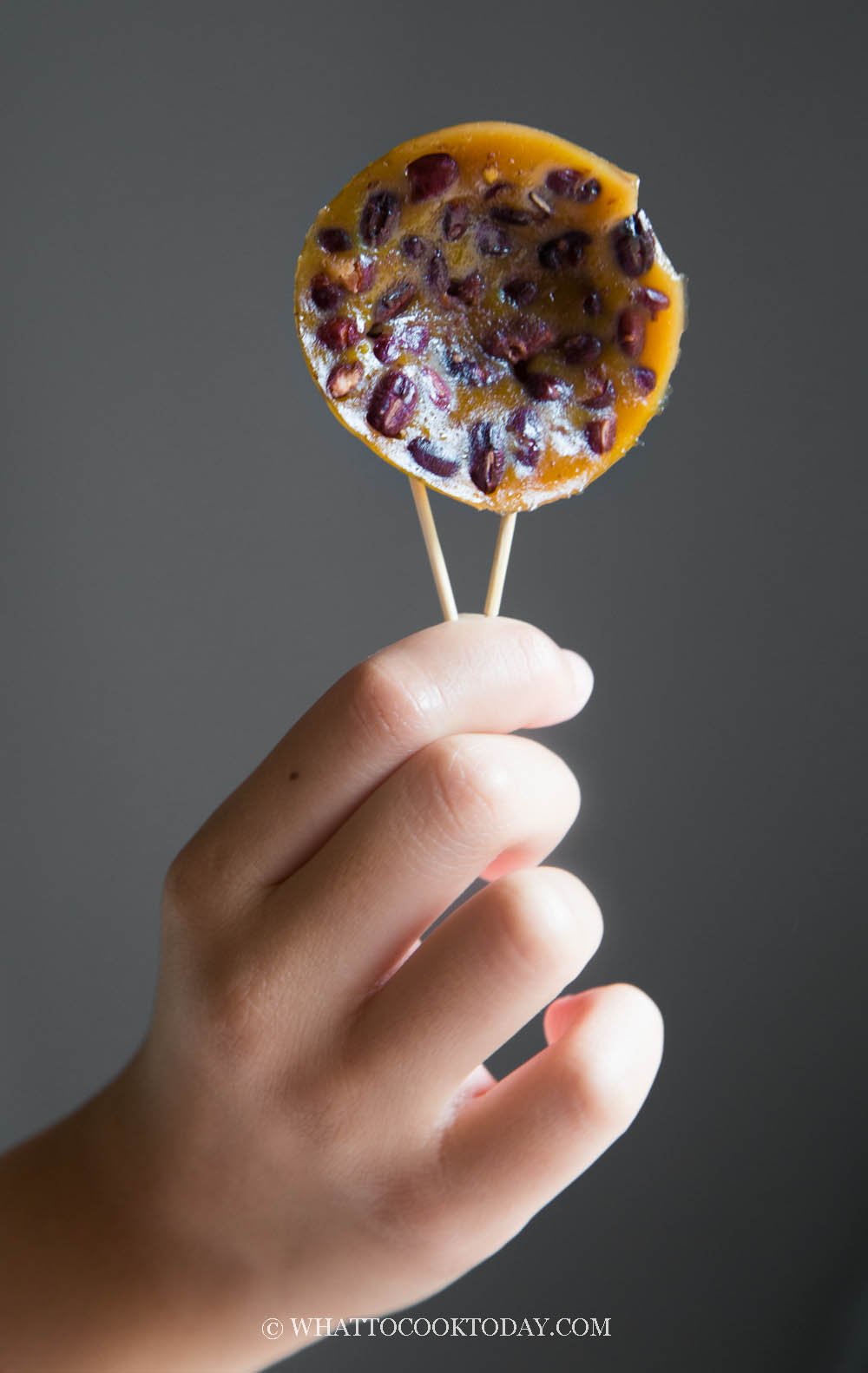 Red Bean Put Chai Ko (Hong Kong Sweet Red Bean Rice Pudding)
Ingredients
For the red beans (you will have leftover):
Batter:
75

gr

rice flour

5

gr

wheat starch

(not wheat flour) or substitute with cornstarch

90

gr

water

⅛

tsp

salt

50

gr

cooked red beans

you can use more if you like more beans
Instructions
Pressure cook the beans:
Rinse the beans with water. Put them inside the inner pot of Instant Pot pressure cooker. Add about 4 cups of water. Close the lid. Turn the pressure release valve to "sealing". Press "Beans" function and set the timer for 15 minutes and then do a quick release. We want to make sure that the beans aren't overcooked. Soft but maintain their shape
Preheat the steamer with the empty cups/bowls:
Bring the water in the steamer to a boil. Wrap the lid of your steamer with a clean cloth to prevent condensation from dripping onto the cups. If you use a bamboo steamer, then you can skip this part. Brush the cups/bowls with some oil. Put them inside the steamer to preheat them for at least 5 minutes while you prepare the rest
Prepare the cake batter:
Put all ingredients for cake batter in a mixing bowl. Use a whisk to combine and break up any lumps and set aside

Put all ingredients for sugar syrup in a saucepan and bring to a boil and then lower the heat a bit and cook until sugar dissolves

Pour this hot sugar syrup all at once into the cake batter while whisking at the same time. Break up any lumps. Strain the batter into a measuring cup with a spout for easier pouring. The batter is very thin. It's normal
Steaming:
The amount of red beans you want to use is really up to you. I just distribute them among the pre-heated cups/bowls. Pour the batter into the cups/bowls, about 90% full

Steam over medium-high heat for 12-15 minutes for a small size. For a larger size, you may need 15-18 minutes. The thicker the cake, the longer you need to steam the cake

The cake will have an indentation in the middle. There might be a bit of water pooling in the center, but this will dry up as they cool down. If you poke with a toothpick on the side, it should come out clean. If not, steam a bit longer
Unmolding:
Let them cool down completely before unmolding from the cups/bowls. You can run a toothpick all around the edge of the cup/bowl to loosen the edge and then flip over onto a plate. Insert two toothpicks on the side of the put chai ko and serve. If your cakes are larger and thicker, you may need skewers instead of toothpicks to hold the cakes securely
How to store:
Once they have cooled down completely, you can store them in an air-tight container at room temperature for a day or two. They are best eaten at room temperature. You can keep them in the fridge too but they will harden and may start to crack, which is typical for a rice-flour based steamed cake like this. Simply reheat in the steamer until warm or you can use a microwave to heat up for a few seconds until it's warm again
Recommended products:
Nutrition
Serving:
1
serving
|
Calories:
55
kcal
|
Carbohydrates:
13
g
|
Protein:
1
g
|
Fat:
1
g
|
Saturated Fat:
1
g
|
Polyunsaturated Fat:
1
g
|
Monounsaturated Fat:
1
g
|
Sodium:
27
mg
|
Potassium:
28
mg
|
Fiber:
1
g
|
Sugar:
7
g
|
Vitamin A:
1
IU
|
Vitamin C:
1
mg
|
Calcium:
5
mg
|
Iron:
1
mg