I got hooked with caramelized onion lately. Well, I've always enjoyed caramelized onion but recently, I'm not sure what it is, I'm craving for certain things (not pregnant! ha!) and this is one of them and trying to sneak it into certain dish and it complements this fluffy rice pilaf very nicely.
Before you proceed with the recipe I posted below though, please know that I use rice cooker to cook the pilaf. So, if you don't own a rice cooker, please don't shoot me, you can still fix this dish stove-top. I just have to admit that when I cook rice dishes on the stove, the texture hardly comes out right..too wet, too dry, too hard, too soft…! But with rice cooker, they always turn out right as long as I don't mess up how much liquid I put in there.
This is such a simple dish to fix and very aromatic with the spices and top with that caramelized onion, I can just eat the rice without anything else. I put in some chicken pieces too, so it can be a semi-complete meal, just need to add a vegetable dish and you have a meal!!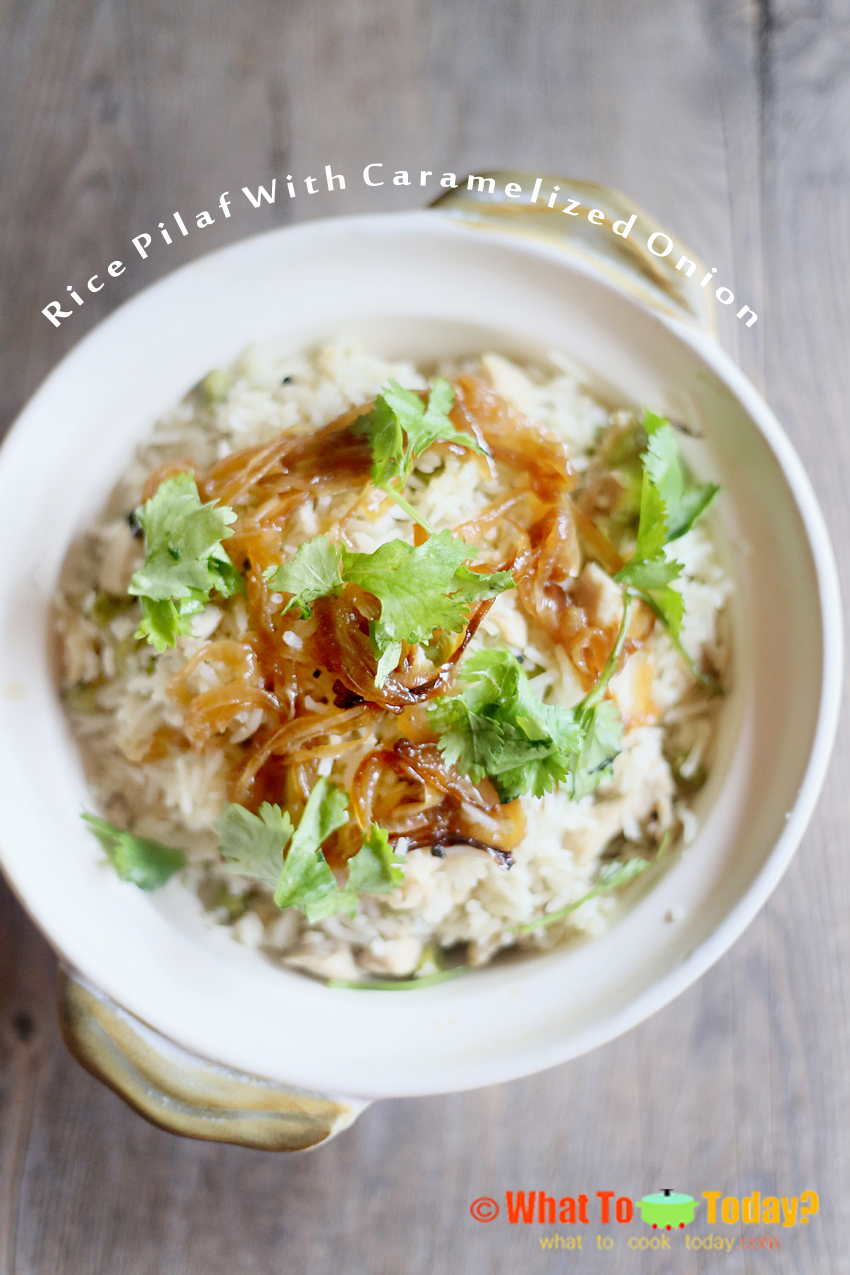 RICE PILAF WITH CARAMELIZED ONION
Ingredients
3

large onions

peeled and thinly sliced

3

Tbsp

cooking oil

1

cinnamon stick

½

tsp

cumin seeds

1

lb

boneless skinless chicken thighs

cut into bite-size pieces

2 ½

cups

basmati rice

washed until the water is rather clear

2 ½

cups

chicken stock if using rice cooker. 3 1/2 cups if cooking on stove top

1

chicken bouillon cubes

mashed and dissolves this in the chicken stock above

Small bunch of fresh cilantro leaves
Instructions
Preheat a large pot and add in 2 Tbsp of cooking oil and cook the onion over low to medium heat and let it slowly caramelized into beautiful dark brown color. Take care not to burn them. Remove it from the pan and set aside. In the same pan add 1 Tbsp of cooking oil, add in cloves, cardamom pods, cinnamon stick, cumin seeds and cook and stir over medium heat until fragrant. Add in the chicken pieces and cook until they turn opaque. Add in the basmati rice and stir to mix everything and cook for another minute. Transfer to the rice cooker. Add in the chicken stock and let the rice cooker do the job. If not using the rice cooker, cover the pot with lid and let it cook on low heat for about 20 minutes. Turn off the heat and let it rest for 15 minutes or longer. Uncover and fluff the rice with fork

Top with the caramelized onion and garnish with some cilantro leaves. Serve with other dishes as part of multi-course meal