Make the best creamy Indian rice kheer pudding using Instant Pot, rice cooker, on the stove. You can make kheer quickly with this recipe. Recipe is vegan and gluten-free.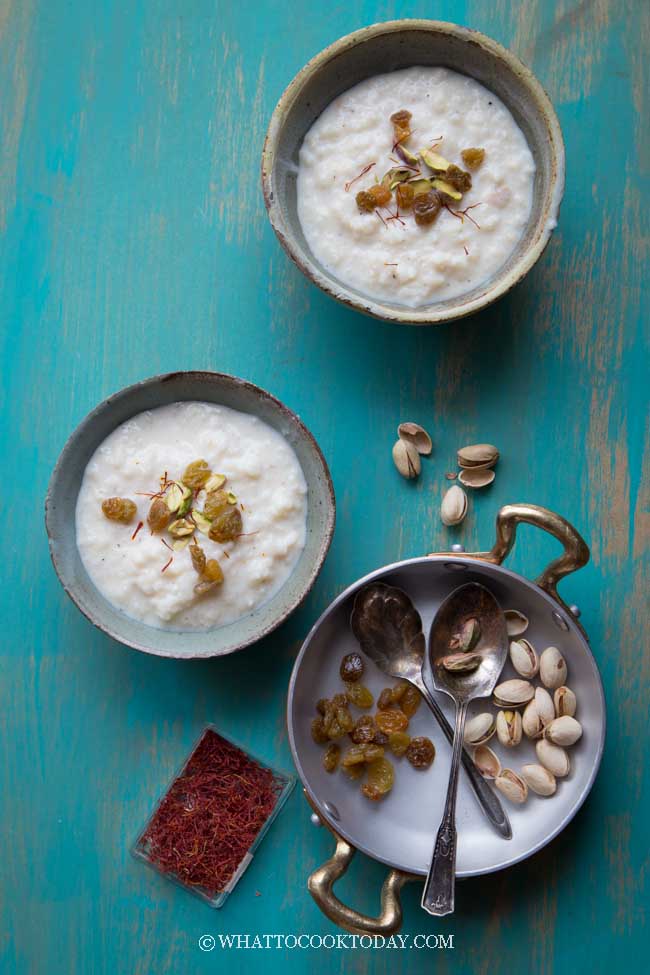 Have you ever tried Kheer? If you have not, you must! This Indian-style rice pudding is so simple to make. It is basically made with milk, basmati rice, and sugar, but don't let simplicity fools you because it is very delicious and aromatic. I first tried it at an Indian restaurant and there's no going back for me after that. I was hooked to this date!
TYPE OF RICE TO USE
Have I told you guys how much we love basmati rice? I love jasmine rice equally too. I highly recommend using basmati rice or jasmine rice. They are both very fragrant and add extra aroma to the kheer.
Alternatively, you can also use regular medium-grain white rice if that's what you have. If you use short-grain rice, the pudding may be "stickier".
TRADITIONAL KHEER ON THE STOVE VS INSTANT POT AND RICE COOKER
The fastest I can cook kheer on the stove takes about 45 minutes. That's also after soaking the rice for 30 minutes. You also need to stir it often. Now that I know kheer can be made with Instant Pot or rice cooker, we can make kheer in a fraction of a time, without much stirring. I can pretty much set and forget!!
I'm pretty obsessed with my Instant Pot and have been using it pretty religiously any way I can. My rice cooker gets the same love too. These two gadgets are my kitchen essentials now. I CANNOT LIVE WITHOUT THEM. Though, technically speaking my rice cooker can be replaced by Instant Pot, but I have really cool rice cooker that I'm not willing to give it up 🙂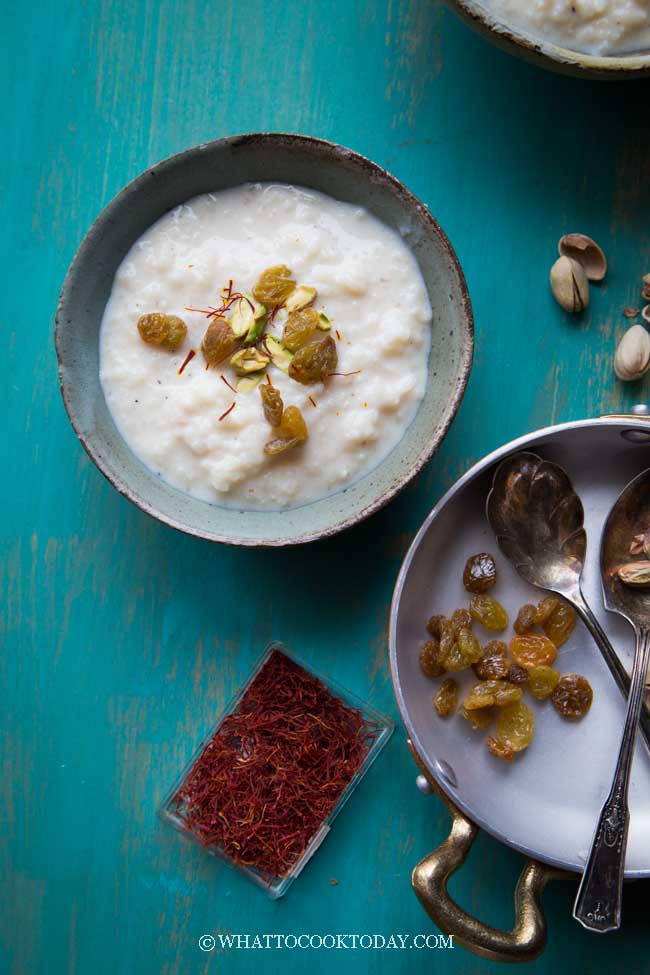 WARMED OR CHILLED?
Kheer can be served warmed or chilled. I like mine chilled and usually they taste the best too after the next day as all the flavors have really absorbed into the pudding and they thicken up nicely too. If it gets too thick, you can always thin it out a bit with coconut milk.
POSSIBLE VARIATIONS
NUTS: I love pistachio nuts with kheer. You can also use almond or cashew. The nuts can be dry roasted or blanched.
MILK: I love coconut milk and it adds incredible aroma and creaminess to the kheer. You can also use other dairy-milk for non vegan version. I highly recommend using whole milk
SUGAR: I use regular white sugar but you can use coconut sugar or brown sugar
SPICE: Cardamom gets my vote when it comes to kheer, but I've tried it with cinnamon powder too and the family loves it as well. I like to add saffron too, but this is optional as I know saffron is so pricey.
HOW TO STORE KHEER
1. Let kheer cools down completely
2. Transfer to a air-tight container and put in the refrigerator. They can be kept for no more than one week. I recommend finishing it in 4-5 days if possible for best taste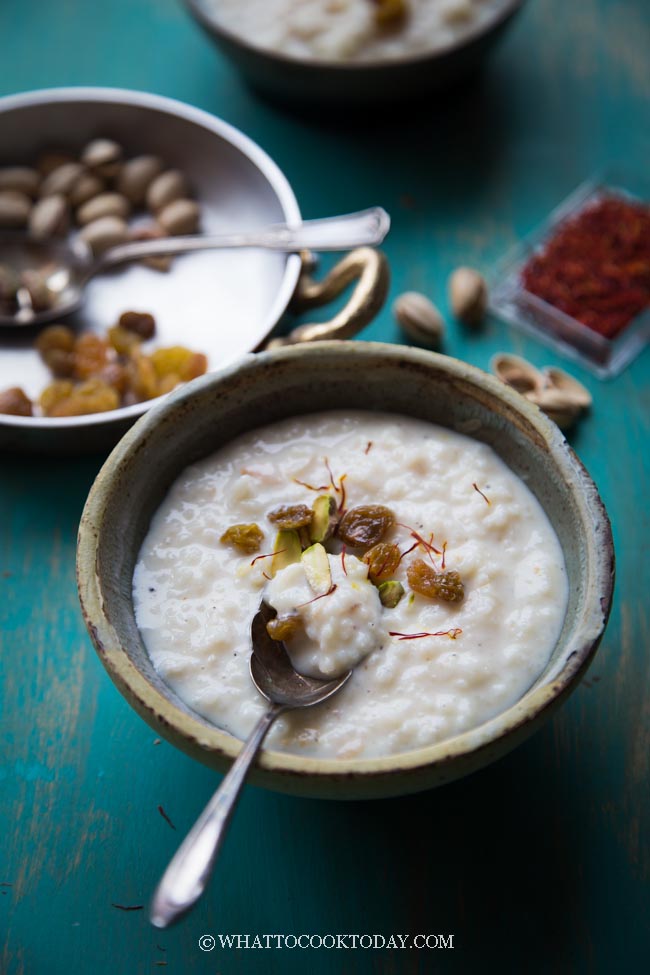 DID YOU MAKE THIS RICE KHEER RECIPE WITH INSTANT POT, RICE COOKER, OR THE STOVE?
I love it when you guys snap a photo and tag to show me what you've made 🙂 Simply tag me @WhatToCookToday #WhatToCookToday on Instagram and I'll be sure to stop by and take a peek for real!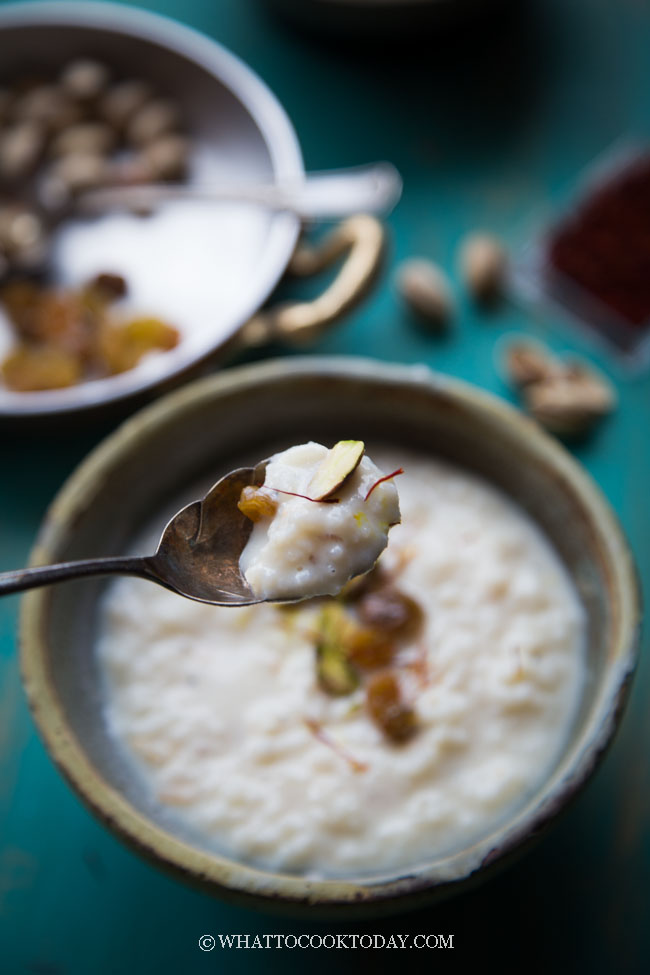 Recipe is adapted from Alton Brown's Kheer Rice Pudding recipe.
How To Make Rice Kheer Pudding (Instant Pot, Rice Cooker, Stove-top)
Ingredients
1

cup

basmati rice

¼

cup

sugar

perfect without being too sweet, add more or less to your taste
If you use rice cooker or cooking on the stove:
2 ½

cups

coconut milk

use Asian canned coconut milk. See notes

1 ½

cup

water
Optional toppings:
⅓

cup

Golden raisins

⅓

cup

Shelled pistachio nuts
Instructions
Rinse the rice:
Rinse basmati rice with several changes of water until it's clear. If you plan to cook on the stove, I recommend soaking the rice for about 30 minutes. It helps to shorten the cooking time. This is not needed if you use rice cooker or Instant Pot to cook
Using Instant Pot:
Place the rice, milk, and sugar in the inner pot of Instant Pot. Stir to mix everything

Close the lid and turn the steam release valve to "sealing". Press "pressure cooker" and it will automatically switch to "high pressure". Set timer to 15 minutes

After 15 minutes let the pressure release naturally. Carefully unlock the lid. Don't panic if you see some "skin" from the milk. Stir them into the pudding. They taste good in it

If the consistency is still too runny for your liking, turn on saute mode and you can cook them further to reduce the liquid. Don't forget to stir to prevent scorching the milk. If it's too thick, you can always thin out with a bit more coconut milk or water

Once you are happy with the consistency, turn off saute mode and stir in ground cardamom, the nuts, and raisins to mix if you like or you can serve the toppings separately
Using rice cooker:
Place the rice, milk, sugar, and water in the inner pot of your rice cooker. Stir to mix everything

Close the lid and choose a setting where you normally will cook rice. I choose the "white rice" setting on mine, it takes roughly about 20 minutes

After 10 minutes of cooking, open the lid and stir once and let it cook until it finishes its cycle on its own. Open the lid. You may see some skin forms after cooking, don't worry, stir them into the pudding. Stir in ground cardamom, the nuts, and raisins to mix if you like or you can serve the toppings separately
If cooking on the stove:
Place the milk, and water in a heavy-bottom pot. Stir to mix everything. Bring to a boil and then add the washed basmati rice. Bring it back to a boil and then reduce the heat to let it gently simmer and stir every now and then to prevent the bottom from scorching

Cook the rice until it's soft and creamy. Stir in sugar and cook until it melts. If you like the kheer thicker, you can cook it longer, if you like it runnier, you can stop when you are happy with the consistency. There will be "skin" forms, don't worry about that, it's from the milk. Stir those in. They taste good in the pudding actually. Stir in ground cardamom, the nuts, and raisins to mix if you like or you can serve the toppings separately
Serving it warmed:
Portion the kheer out into an individual serving bowl. If you haven't added toppings earlier, add them now and serve warm if you like it warm. Top with a few saffron threads just before serving
Serving it chilled:
Once the kheer has cooled down, stored them in the fridge. Honestly, they taste even better the next day. I like my kheer chilled 🙂 Top with a few saffron threads just before serving
Notes
If you use rice cooker or cooking on the stove, you need 3 cups of coconut milk. If you cook with Instant Pot, you only need 2 cups of coconut milk. Not much liquid is lost when you cook with Instant Pot.
You can also replace coconut milk with dairy milk. I recommend using only whole milk for best taste and consistency
Recommended products:
Nutrition
Serving:
1
serving
|
Calories:
814
kcal
|
Carbohydrates:
69
g
|
Protein:
11
g
|
Fat:
59
g
|
Saturated Fat:
49
g
|
Sodium:
45
mg
|
Potassium:
815
mg
|
Fiber:
2
g
|
Sugar:
20
g
|
Vitamin A:
43
IU
|
Vitamin C:
4
mg
|
Calcium:
83
mg
|
Iron:
9
mg
YOU MAY ALSO LIKE THIS EASY LARGE PEARL TAPIOCA PUDDING