This Indonesian version of Rissoles is stuffed with veggies and chicken ragout (ragout ayam) and enclosed in crepe-like wrappers and rolled into bread crumbs and fried. Definitely a crowd-pleaser!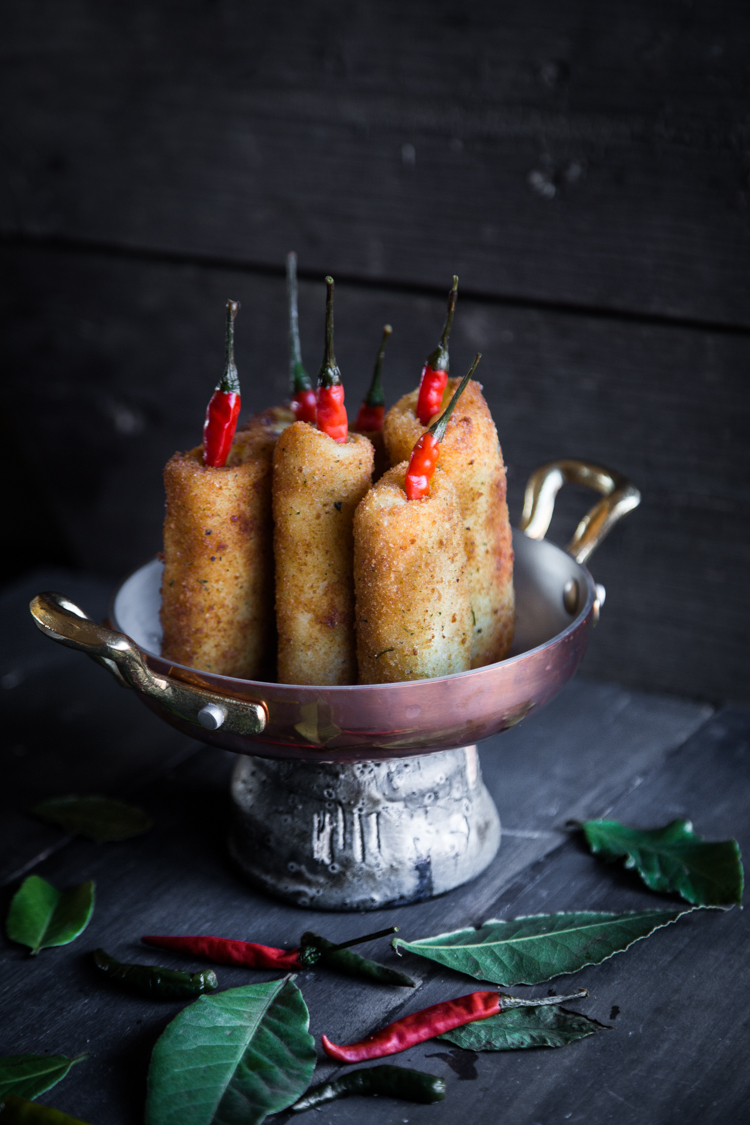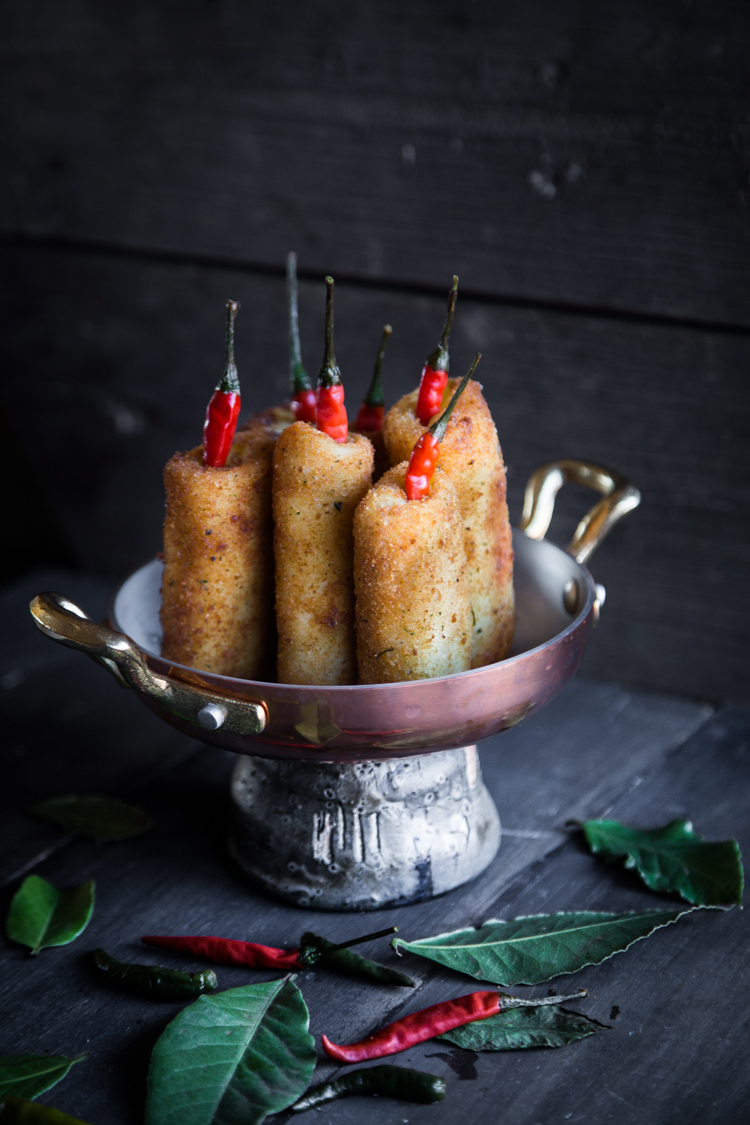 There are many kinds of Rissoles from all over the world. Rissoles are one of the appetizers in Indonesia too. It is almost similar to croquette, filled with meat (we used chicken meat) and some veggies but croquette is wrapped with mashed potato and risol is wrapped in a crepe-like wrapper.
The presentation of Rissoles in Indonesia is unique in a way that a whole chili is tucked into one of the ends of Rissoles. Some people take one bite of the Rissoles and one bite of the chili and so on and so forth. You can totally skip this part if it sounds intimidating 🙂 It does take a bit of an effort to make Rissoles from scratch, but I think it's worth it! My mom made them for Fiorina's 3rd birthday and Iven's one-month celebration many years ago and they were big hits! Thanks mama for the recipe again.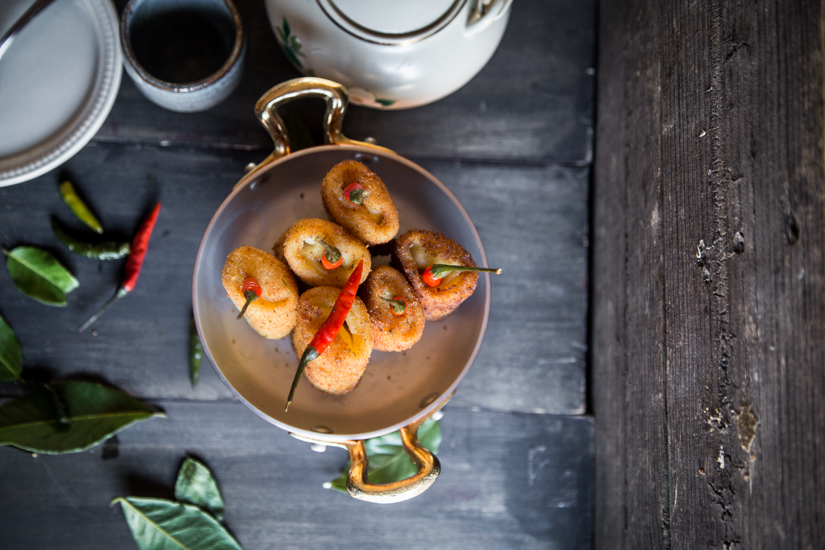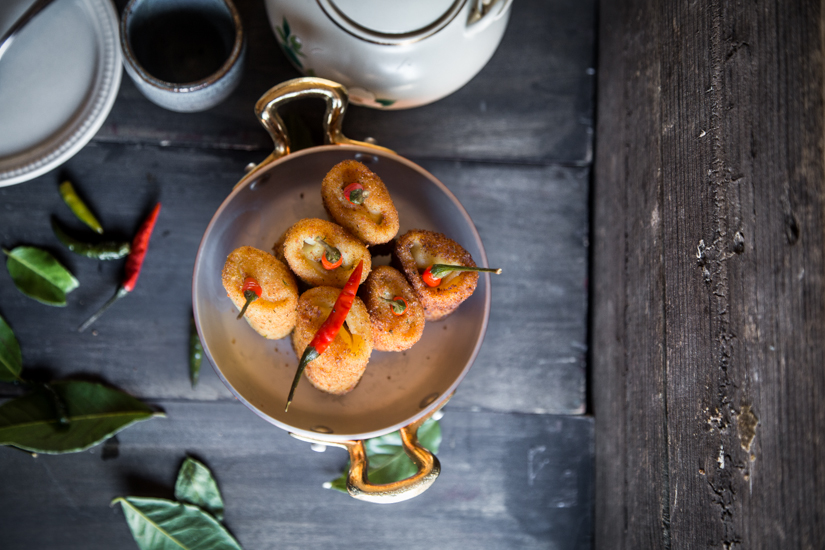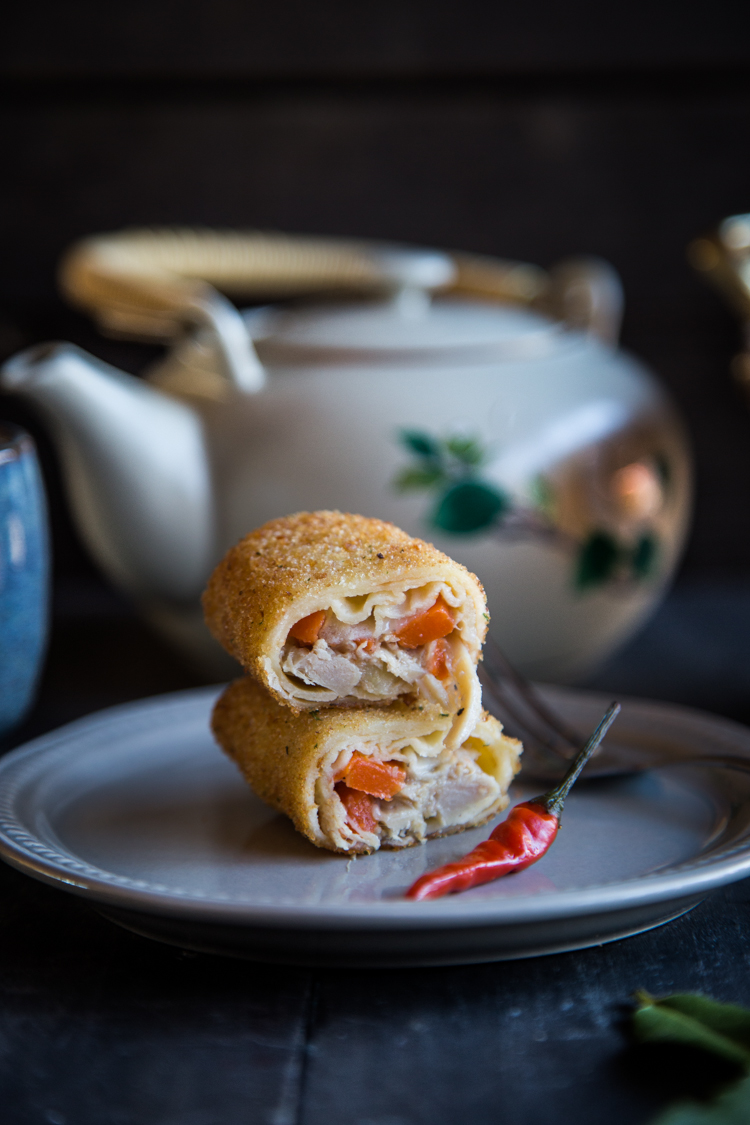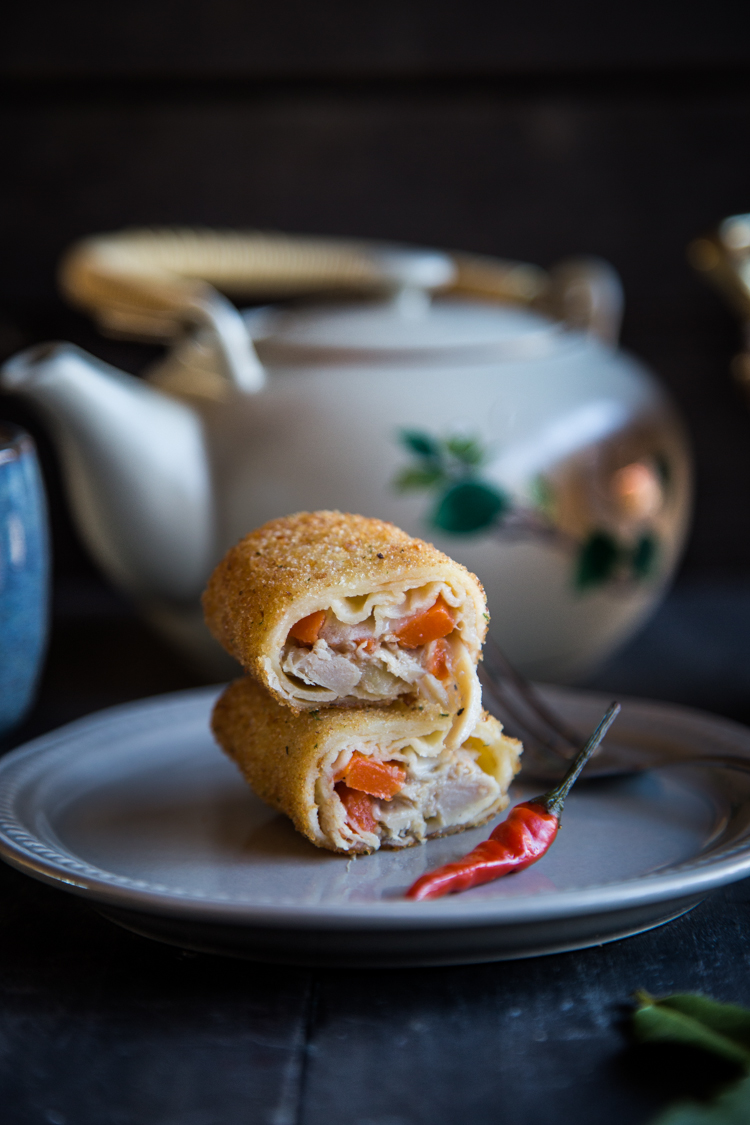 Indonesian Chicken Rissoles (Risol/Risoles Ayam)
Ingredients
For filling:
150

gr

carrots

peeled and diced

300

gr

boneless skinless chicken breasts/thighs

steamed and shred the meat

2

Tbsp

butter

unsalted

1

small onion

diced

3

cloves

garlic

minced

40

gr

milk powder

300

ml

chicken broth

3

Tbsp

sugar

¼

tsp

ground white pepper

Salt

to taste

1

stalk

green onion

finely chopped

1

stalk

celery leaves

finely chopped
Instructions
Preparing the filling:
Steam the chicken meat until cooked through, about 10-15 minutes. I like to steam versus boiling because by steaming, the meat doesn't taste bland. Save the juice for other use (It's good stuff). When it's cool enough to handle, shred the meat. Set aside

Melt butter in a pan and saute onions and garlic until fragrant and soft, about 3 minutes. Add the carrots, shredded chicken, chicken broth, milk powder, sugar, salt, and ground pepper. Stir to combine. Sprinkle in the flour and keep stirring to prevent lumps. Cook until the mixture is thickened. Sprinkle in green onion and celery leaves. Stir to combine. Have a taste and adjust to your preference

Remove from the heat and let it cools down completely before wrapping. Can be prepared one day ahead
Making the skin:
In a large mixing bowl, add in all-purpose flour, salt, sugar, and eggs. Stir to mix everything. Gradually add in the milk and stir to mix thoroughly. Lastly add in the melted butter. Important step: Strain the mixture to get rid of any lumps

You can also put all ingredients in a blender and blend until smooth, which is what I did. Then wait 10 minutes for the bubbles to settle before using the batter

Preheat the non-stick skillet pan on low heat. Make sure you smear the pan with a little bit of oil (just a bit as you don't want to "fry" the skin, just enough so it won't stick to the pan) or if you have a non-stick spray, you can use that

Laddle about 50 ml (about 1/4 cup for 8-inch pan) of the batter onto the pan and immediately swirl it around the pan to make sure it covers the entire surface of the pan. Cook for about 1 minute or a bit longer, you will see the edge start to crisp up a bit and leave the side of the pan. You should be able to flip it to the other side and cook for about 10 seconds. Remove and flip onto a plate

Continue until you finish with the rest of the batter. Important step: you need to stir the batter each time before you ladle it over to the pan. You need to oil the pan/ spray with non-stick sprayer for each skin
Wrapping:
Mix 1 Tbsp of all-purpose flour and water in a bowl. It should be a consistency of a thick paste. Lay one skin on a flat surface and spoon about 1 Tbsp of the filling, spread them in the middle of the skin (more towards your body). Fold the bottom part (the part near your body) and then the two sides and rolled it halfway and smear the paste on the remaining skin and fold over to seal. It will look a bit flatter after it's being wrapped. Continue with the rest of the skins and fillings

Place them on a baking sheet lined with parchment paper. Freeze for about 1 hour. I recommend doing this instead of frying them straight away. The bread crumbs stick better. You can also keep them in air-tight freezer-friendly container and fry them whenever you want too. They can be kept frozen for up to 3 months
Frying:
Prepare the coating by mixing flour, cornstarch, and water. It should be a thin paste consistency, but not too watery. You don't need to thaw the risoles

Heat up about 2-3 inches of oil in a medium deep skillet or fryer. Coat the risoles in the flour paste and then roll into bread crumbs

When you dip a skewer inside the oil, there should be bubbles around it. The oil is ready. It is best not to over crowd your fryer. Fry about 3 at one time or as much as your fryer can accommodate. Fry over medium heat. You don't want the outside to burn and the inside is still cold. Fry until they are golden brown. Remove and put on an absorbent paper towel
Nutrition
Nutrition Facts
Indonesian Chicken Rissoles (Risol/Risoles Ayam)
Amount per Serving
% Daily Value*
* Percent Daily Values are based on a 2000 calorie diet.