Sambal Ijo Padang/ Indonesian Green Sambal is one of the popular spicy condiments, usually rustic in appearance, to accompany many dishes.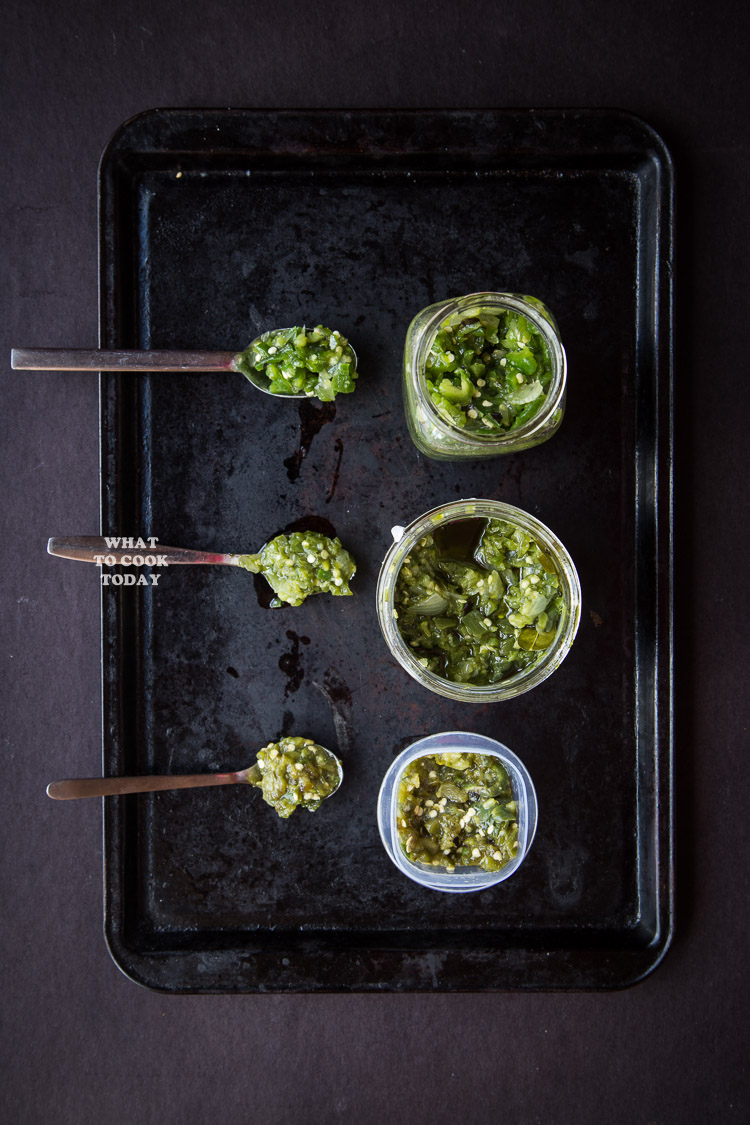 Each time I have this green sambal, I remember my mom. She always brought me some when she came to visit me. If you are not familiar with Indonesian culinary, sambal is one of the must-have to accompany many rice dishes, poultry, meats, seafood..well, lets put it this way….many dishes !!! Like, I've mentioned before in my other sambal post, sambal is a great condiment!! And, it's not always red in color 😉
Recently, a good friend of mine asked me if I knew of a green sambal recipe that usually eaten with Nasi padang. Padang city is a capital of West Sumatra in Indonesia. Nasi Padang is originated from Padang and hence the name nasi padang. Usually serves with many other dishes like Beef rendang, fried/grilled fish with chilli, green sambal, vegetable curry…just to mention a few!!! You can put whatever you want in nasi padang, but to me, without the sambal, it's not a nasi padang 🙂 I asked my mom for her green sambal recipe before but never made it because for the longest time I thought I wouldn't be able to make this sambal without the long chili like the one we usually use in Indonesia. I could find this long chili at Indian grocery store, but Jalapeno works great too. I roasted the jalapeno peppers.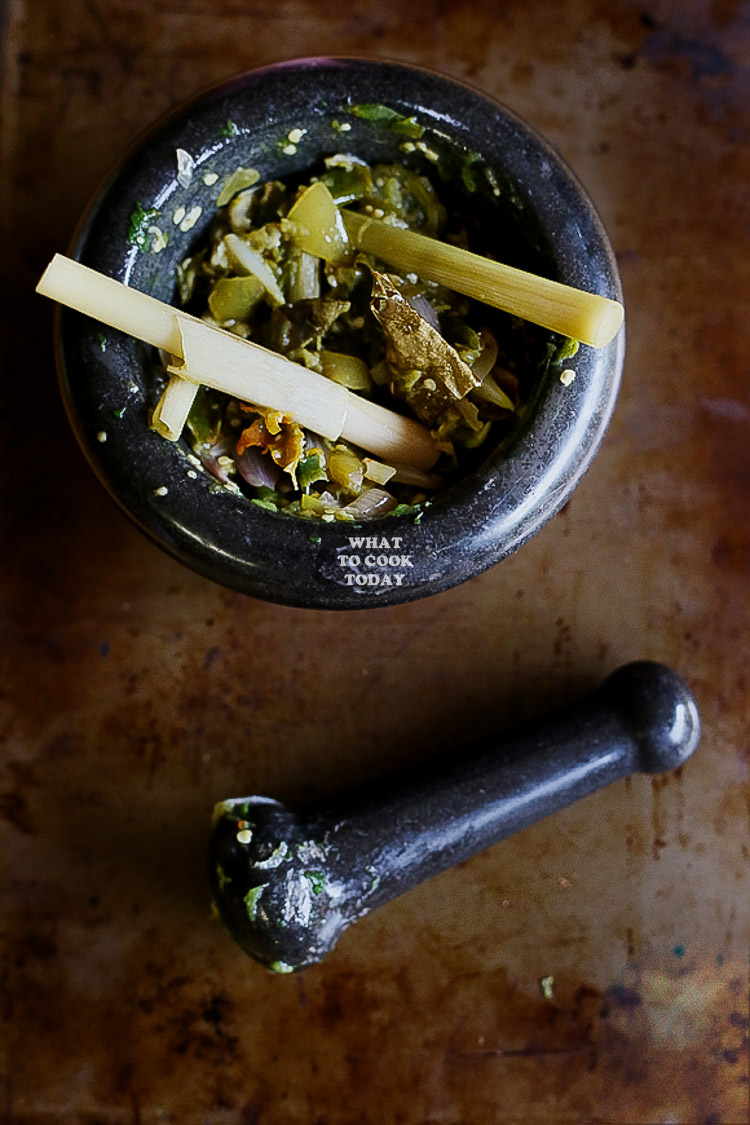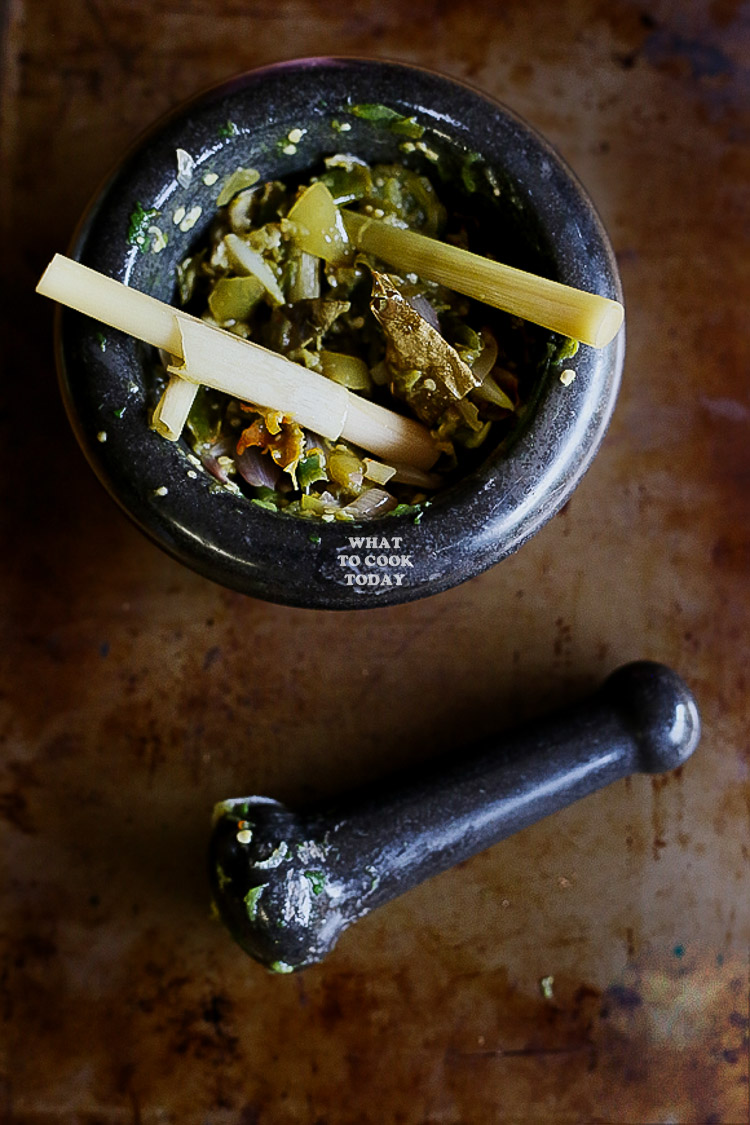 Whenever my mom made this green sambal or we call it sambal cabe ijo in Indonesian slank, I'm in big trouble!!! (read: I'm capable of polishing off HUGE portion of rice!!!!). It's so good to go with plain-o-rice !! What makes this sambal really good is the aromatic kaffir lime leaves and lemon grass. Without these two…don't even bother to make it (I'm serious!). My mom's version of green sambal is not the exact one for nasi padang. The green sambal in nasi padang usually uses green tomatoes and doesn't use lemon grass and kaffir lime leaves. I can't find green tomatoes here, and I used tomatillos and the green sambal still turned out delicious !! If you have been missing sambal ijo for the longest time, try this !! I believe you won't regret it 🙂 Thanks mama for the recipe !!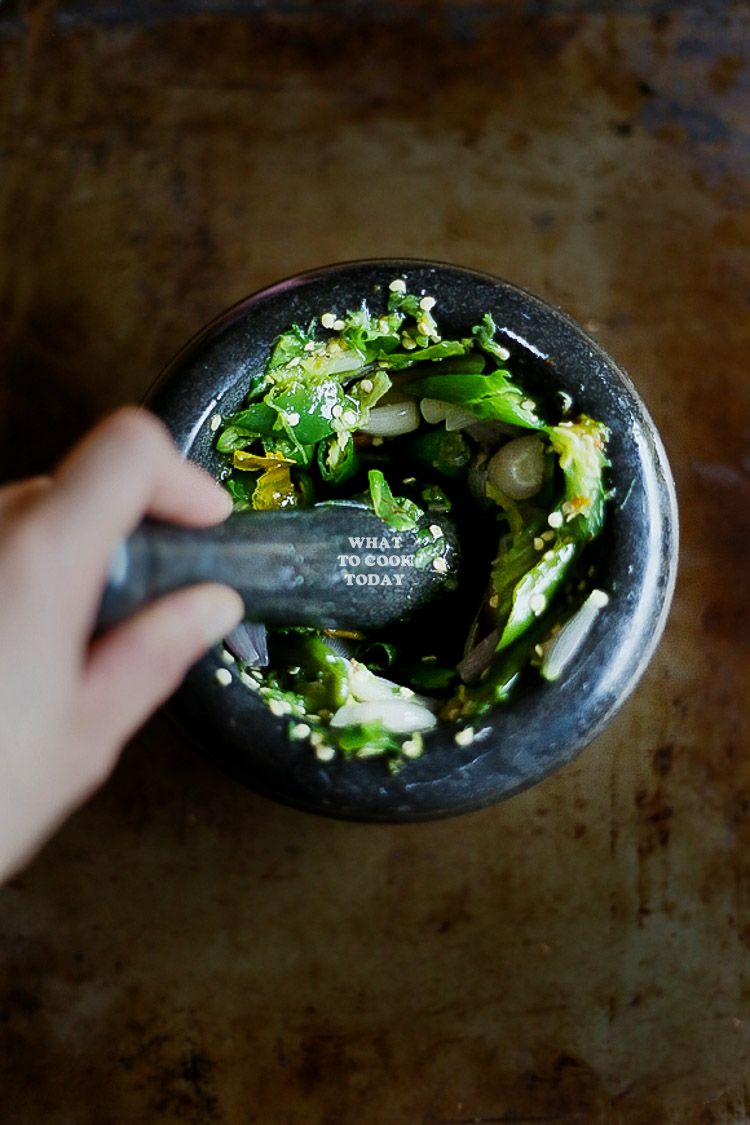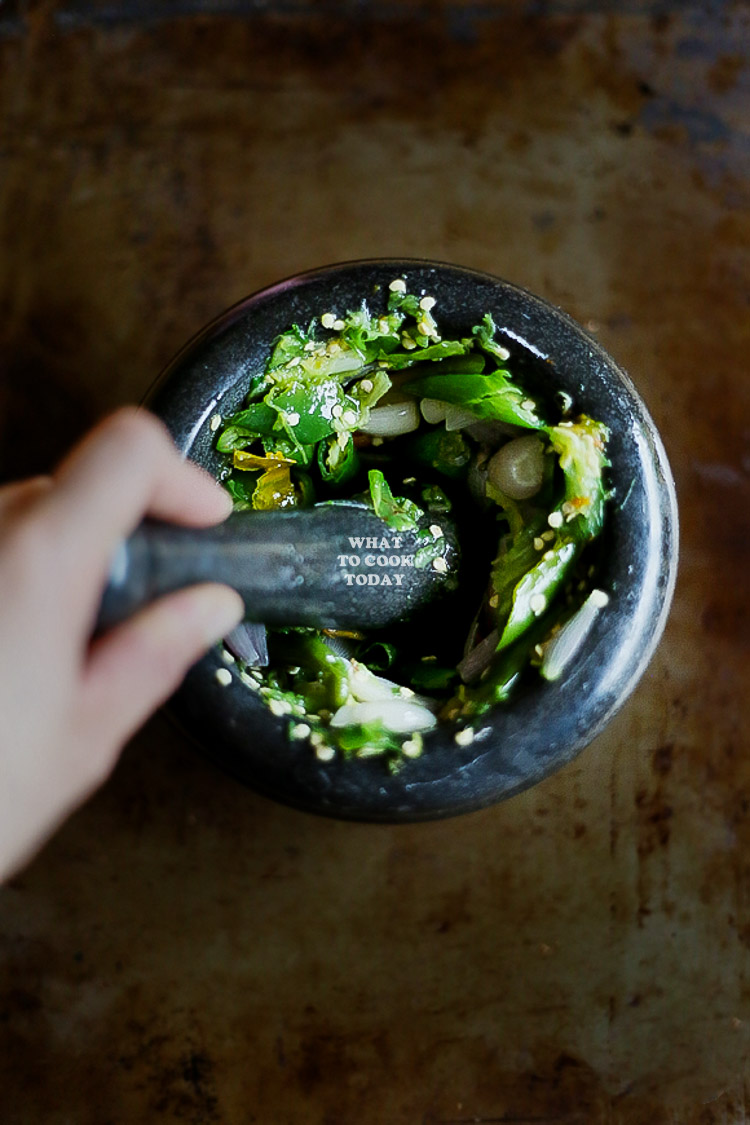 Sambal Ijo Padang/ Indonesian Green Sambal
Ingredients
8

oz

of long green chili

stemmed and roughly cut into 2-3 pieces

8

shallots

peeled and halved

2

tomatillos

halved

3

Tbsp

of cooking oil

1

stalk lemon grass

cut off woody ends and cut into 3 pieces and bruise with heavy objects to release flavor

4

fresh kaffir lime leaves

use more if you use dried version, tear the edges to release flavor

½

tsp

of sugar

Salt to taste
Instructions
You can either steam or roast the peppers. I love roasting the peppers on open fire until they are charred. That extra flavor is nice. Place in a bowl and cover with plastic wrap and let it sit for about 10 minutes. The black char skin can be easily peeled off after that

Place the shallots, tomatillos in a steamer and let them steam until soft. Add this along with the peppers into a food processor. Pulse few times into coarsely chopped mixture.You don't want to process into a paste. They should still be pretty "choppy" (rustic looking!)

Preheat a medium-size pan with cooking oil. Add the chili mixture, lemon grass, lime leaves and stir fry until fragrant about 15 minutes or so. Add in sugar and salt. Have a taste. It should be savory. Add more salt to your taste. You may discard the lemon grass stalks and kaffir lime leaves prior to serving
Recently a friend asks me if there's any ways to make the green color of the sambal looks "brighter" because honestly speaking, the green chili loses its bright green color once it is cooked. So I did a mini experiment and this was what I found: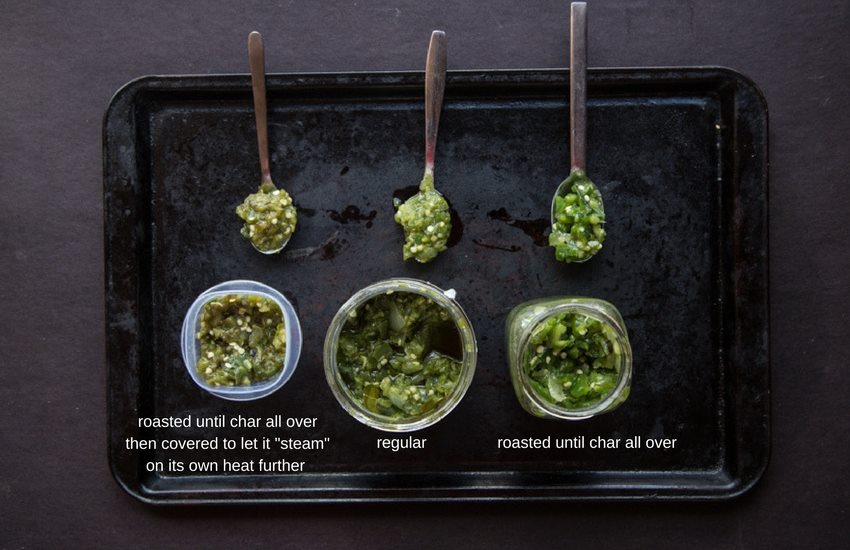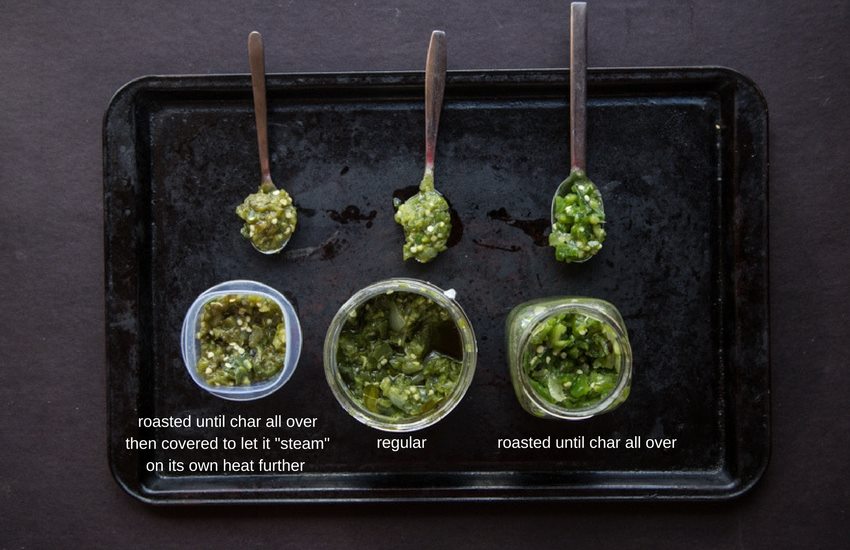 I like the one on the left the best because it's soft and the flavor is the best. So… I guess I still don't know how to make the sambal looks brighter instead of dull green 🙂 This sambal needs to be cooked until it is soft and hence loses that bright green color. But honestly, I don't mind its color. Probably because I grew up with this dull looking sambal. But trust me…it is anything but dull!!!