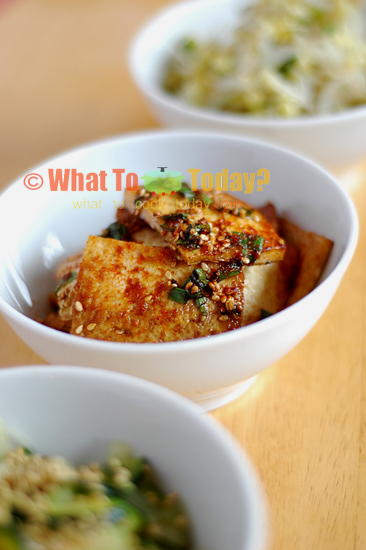 What I like about eating Korean food is all the small side dishes that accompany the meal. They are easy to make and they just make your meal feel oh-so-complete. I made the seasoned tofu from the Quick and Easy Korean cooking cookbook by Cecilia Hae-Jin Lee. Tofu is really such a versatile ingredients in Asian kitchen. Eat it on its own and it doesn't have much taste. Use it in cooking and it absorbs whatever flavor you cook it with. The selection of tofu you can get at the grocery store these days is quite overwhelming. From soft, medium to firm texture, organic, lite, etc. The best thing is, you don't have to go to Asian grocery store to get your tofu these days. They are almost everywhere at any grocery store.
This recipe called for firm tofu as it will hold up better during cooking. The tofu absorbs the flavor of the sesame oil, soy sauce, chili powder, and garlic. Such a simple thing yet so great.
For baking/ kueh making: I highly encourage to weigh ingredients with a digital kitchen scale instead of using measuring cups as they are not very accurate especially when it comes to recipe that requires precision.
GRAMS TO CUPS CONVERSION (UNSIFTED)
INGREDIENTS
18-

oz

package firm tofu

2

green onion

-

chopped

2

cloves

garlic

-

minced

2

Tbsp

soy sauce

1

Tbsp

Asian sesame oil

1

Tbsp

toasted sesame seeds

1

tsp

Korean chili powder

1

Tbsp

vegetable oil
INSTRUCTIONS
Remove the tofu from its package and let it drain in a colander or on its side in a bowl

Combine the green onions and garlic in a small bowl. Add the soy sauce, sesame oil, sesame seeds, and chili powder and mix

Cut the tofu cube lengthwise in half, then cut into 1/2-inch-thick slices

Heat the vegetable oil in a large skillet over high heat. Carefully place the tofu slices in the skillet. Cook until the tofu is slightly browned on the bottom and getting a bit crispy on the edges, 4 to 5 minutes. Turn the slices over and brown the other side

Reduce the heat and spoon the seasoning over the tofu, distributing it somewhat evenly. Cover an let steam for 2 to 3 minutes. Transfer to a plate and serve immediately
Notes
VARIATION: If you like a little kick to the dish, finely chop 1/2 jalapeno (remove the seeds if you want to) and add it to the soy mixture