Thick and spongy Sicilian-style pizza is layered with onion, tomato sauce, anchovies, cheese, and bread crumbs is not your typical pizza. Sfincione is so delicious and usually eaten during Christmas time. The dough can be prepared with the no-knead overnight method or knead method.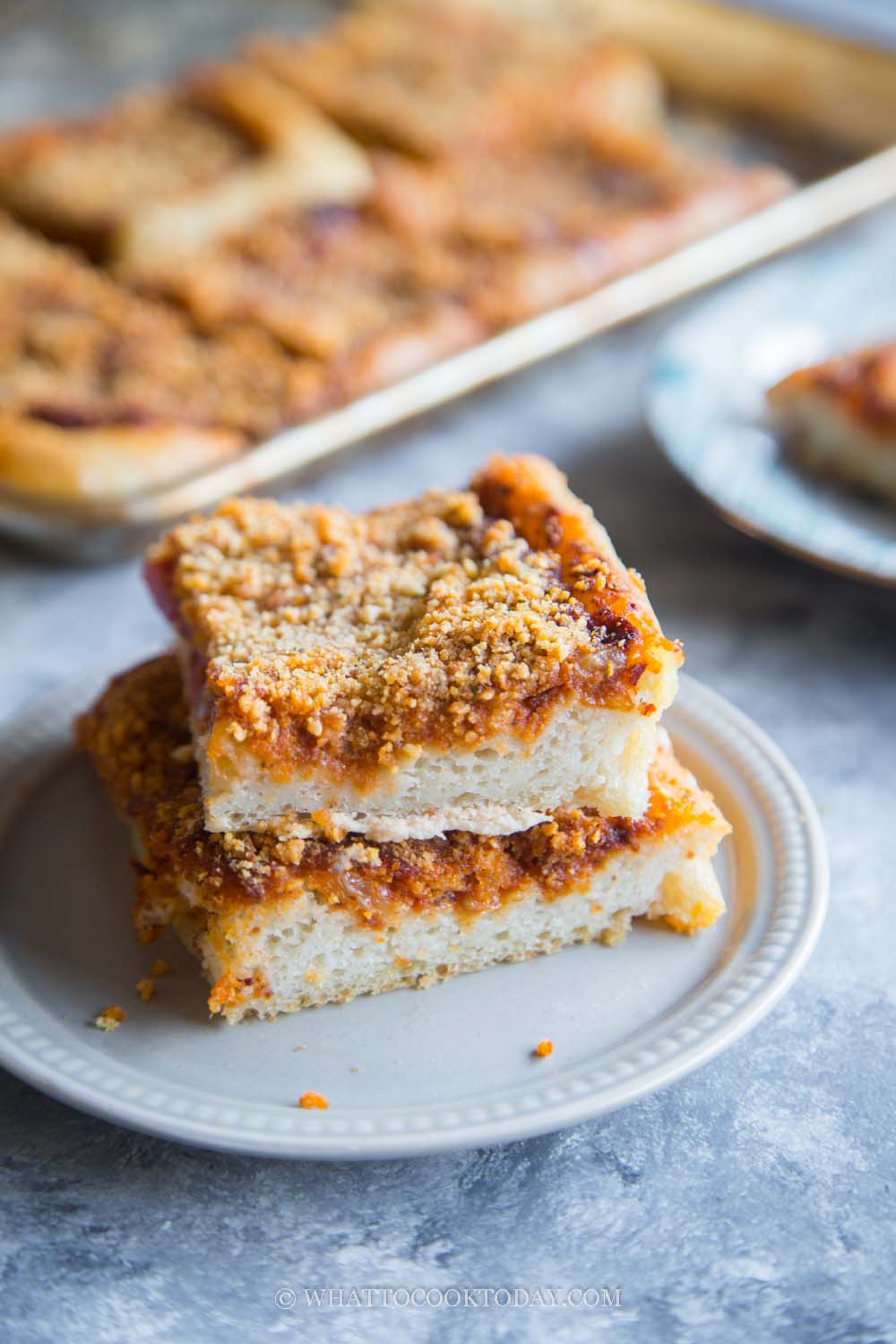 What really draws me to Sicilian sfincione is the anchovies 🙂 I'm a sucker for these umami babies. In Asian cooking, we use dried anchovies pretty often, but hardly ever the anchovy fillet like in most European cooking. I'm happy to be able to easily find the anchovy fillet at Wal-mart (not sponsored).
What is sfincione?
Sfincione comes from the Latin word spongia, which means like a sponge. Sfincione is usually rectangular in shape (following the shape of the baking sheet it is prepared in) and the dough is sponge-like. The tomato sauce is cooked with onions, oregano, and anchovy fillets, spread on the dough, topped with caciocavallo cheese, and bread crumb topping that gives the pizza its nice crisp layer on top. Sfincione used to be prepared for Christmas, but you'll see that this is getting more common and people prepare it for New year celebration too.
Substitution for caciocavallo cheese
I have no luck finding caciocavallo cheese here. Authentic sfincione is made with caciocavallo. Caciocavallo has a gourd-like shape and it is a hard cheese made with sheep's milk or cow's milk. Some said it has that similarity in taste with provolone and stretchy like mozzarella. You can try substitute with a combination of provolone, mozzarella, and pecorino romano cheeses.

No-kneading overnight method vs kneading method
The no-kneading overnight method:
Pros: You only need to stir everything to combine with a spatula. No hand mixing or a machine required
Cons: It requires at least 8 hours of proofing in the fridge since we are not kneading the dough. That amount of time is needed for the yeast to work very slowly so the dough will have good flavor and texture
The kneading method:
Pros: You can use a stand mixer to knead the dough as you don't want to use your hands. NOT recommended to do so
Cons: I can't think of any 🙂
How to make sfincione with or without kneading
1. For kneading method: You do not want to prepare this dough by hand. It is an extremely wet and sticky dough. Put all ingredients in a bowl of a stand mixer fitted with a dough hook attachment

Start kneading at lowest speed for 1-2 minutes so the flour won't be flying all over the place, then increase to speed 4 and knead for about 7 minutes. The dough will be smooth, stretchy, EXTREMELY wet and sticky. It's normal. Remove the hook, cover the bowl and let the dough proof at a warm place until it doubles in size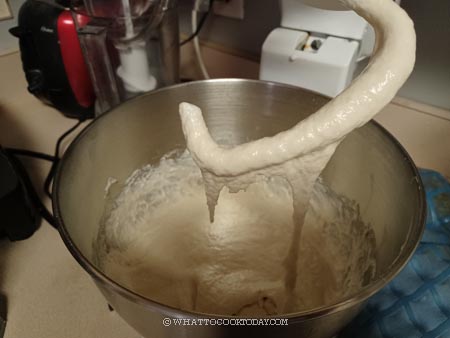 For no-kneading sfincione
Combine all ingredients in a large mixing bowl. Use a spatula to stir everything to combine. The dough is extremely wet and sticky. Cover and let it proof in the fridge for at least 8-12 hours. The next day, simply remove from the fridge and let it stand at room temperature for about 30 minutes and proceed with the second proofing step
3. While the dough is rising, let's prepare the sauce. Preheat oil on a large pan. Saute onion until they are soft and lightly charred, about 4-5 minutes


4. Add red pepper flakes, tomato paste, oregano, and anchovy fillets (leave this out if you want to leave the anchovies in whole pieces). Continue cooking for 2-3 minutes and use your spatula to mash the anchovy fillets at the same time so they are evenly distributed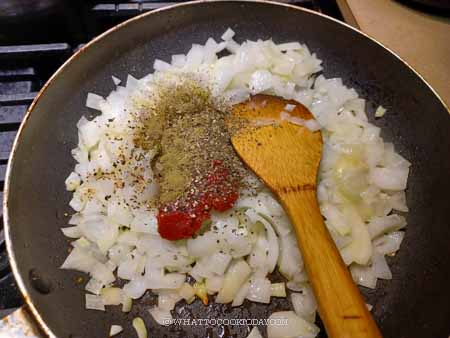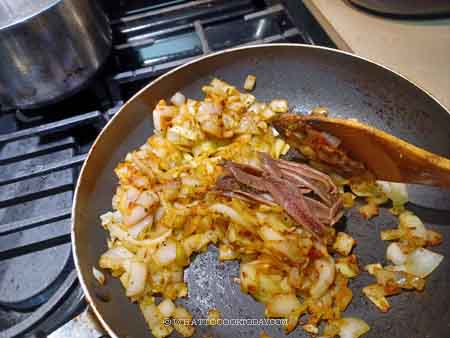 5. Add the marinara sauce and stir to combine


6. Have a taste and adjust by adding salt and pepper if needed. Set aside to let it cools down


7. Mix the fine bread crumbs with pecorino romano and the oil that comes with the anchovy fillets. Stir everything to combine


8. Very generously oil the pan on all sides. I'm using a half-sheet pan (18 x 13 inches). Oiled your hands generously and "pour" the dough out onto the pan. The dough is extremely elastic and smooth now. Start stretching and pulling the dough out to fit the pan. The dough may resist (because of gluten). You can stop for a few minutes and then try to stretch and pull again. So do this a few more times until the dough fits corner to corner of the pan and is evenly distributed


9. Leave it aside for about 1 hour at a warm place to let it puff up again. 15 minutes before the end of proofing time, preheat oven to 450 F (232 C) for a conventional oven. If you use whole anchovy fillets, distribute the fillets on top of the dough, carefully try not to deflate the dough. Gently spoon the tomato sauce all over, leaving about 1/4 inch gap on all sides


10. Top with grated aged provolone and mozzarella


11. Place the pan on the middle rack and let it bake for about 25-30 minutes or until the bottom crust is cooked through and the top is nicely golden brown. The bottom crust should come off easily if it is done cooking, if it doesn't, you need to bake a bit longer. Remove from the oven. To prevent the bottom crust from getting soggy, Transfer the pizza to a cooling rack to let it cool down a bit and then slice and serve
How to store leftover sfincione
1. Let the pizza cool down completely
2. You can store them stacking up in an air-tight container or in a zipper bag. You can also stack them up and wrap in cling wrap and keep in the refrigerator or freezer for longer storage
How to reheat leftover sfincione or any pizza on the stove (my favorite way)
Instead of turning on the oven, heating slices of pizza on the stove is quite a fast business. Of course you can always use a microwave too
1. Put the slice of pizza on a large pan over medium heat
2. Cover with a lid and let it reheat for about 5 minutes and check
3. The bottom should be crisp and the top should be warm. If not, heat a bit longer and check again
Did you make this sfincione recipe?
I love it when you guys snap a photo and tag to show me what you've made 🙂 Simply tag me @WhatToCookToday #WhatToCookToday on Instagram and I'll be sure to stop by and take a peek for real!


Recipe is adapted from Chef John's
Sfincione (Sicilian Christmas Pizza)
Ingredients
For the dough:
520

gr

all-purpose flour

3

Tbsp

oil

plus more for greasing the pan and your hands

1

tsp

sugar

2 ¼

tsp

active dry yeast

470

ml

warm water

¼

tsp

salt
Tomato sauce:
2

Tbsp

oil

2

large

sweet onion

diced

1

tsp

red pepper flakes

1

Tbsp

tomato paste

1

tsp

dried oregano

9

anchovy fillets packed in oil

450

gr

marinara sauce

salt

to taste
Cheese:
85

gr

mozzarella cheese

grated

85

gr

aged provolone cheese

grated
Bread crumb topping:
90

gr

fine bread crumb

100

gr

pecorino romano

finely grated

2

Tbsp

oil from anchovy fillets
Instructions
Prepare the dough with kneading method:
You do not want to prepare this dough by hand. It is an extremely wet and sticky dough. Put all ingredients in a bowl of a stand mixer fitted with a dough hook attachment. Start kneading on lowest speed for 1-2 minutes so the flour won't be flying all over the place, then increase to speed 4 and knead for about 7 minutes. The dough will be smooth, stretchy, EXTREMELY wet and sticky. It's normal

Remove the hook, cover the bowl and let the dough proof at a warm place until it doubles in size
Prepare the dough without kneading and overnight method:
Combine all ingredients in a large mixing bowl. Use a spatula to stir everything to combine. The dough is extremely wet and sticky. Cover and let it proof in the fridge for at least 8-12 hours. The next day, simply remove from the fridge and let it stand at room temperature for about 30 minutes and proceed with the 2nd proofing step
Prepare the tomato sauce:
While the dough is rising, let's prepare the sauce. Preheat oil on a large pan. Saute onion until they are soft and lightly charred, about 4-5 minutes. Add red pepper flakes, tomato paste, oregano, and anchovy fillets (leave this out if you want to leave the anchovies in whole pieces). Continue cooking for 2-3 minutes and use your spatula to mash the anchovy fillets at the same time so they are evenly distributed. Add the marinara sauce and stir to combine. Have a taste and adjust by adding salt and pepper if needed. Set aside to let it cools down
Prepare the bread crumb topping:
Mix the fine bread crumbs with pecorino romano and the oil that comes with the anchovy fillets. Stir everything to combine
2nd proofing:
Very generously oil the pan on all sides. When I say generous, I really mean it or your pizza base will get stuck to the bottom of the pan badly. I'm using a half-sheet pan (18 x 13 inches). Oiled your hands generously and "pour" the dough out onto the pan. The dough is extremely elastic and smooth now. Start stretching and pulling the dough out to fit the pan. The dough may resist (because of gluten). You can stop for a few minutes and then try to stretch and pull again. So do this a few more times until the dough fits corner to corner of the pan and is evenly distributed

Leave it aside for about 1 hour at a warm place to let it puff up again
Assembling:
15 minutes before the end of proofing time, preheat oven to 450 F (232 C) for a conventional oven. If you use whole anchovy fillets, distribute the fillets on top of the dough, carefully try not to deflate the dough. Gently spoon the tomato sauce all over, leaving about 1/4 inch gap on all sides. Top with grated aged provolone and mozzarella. Finely top with bread crumb topping all over. Then drizzle with a generous amount of olive oil on top

Place the pan on the middle rack and let it bake for about 30-35 minutes or until the bottom crust is cooked through and the top is nicely golden brown. The bottom crust should come off easily if it is done cooking, if it doesn't, you need to bake a bit longer

Remove from the oven. To prevent the bottom crust from getting soggy, transfer the pizza to a cooling rack to let it cool down a bit and then slice and serve
Recommended products:
Nutrition
Serving:
1
serving
|
Calories:
761
kcal
|
Carbohydrates:
94
g
|
Protein:
28
g
|
Fat:
31
g
|
Saturated Fat:
9
g
|
Polyunsaturated Fat:
6
g
|
Monounsaturated Fat:
14
g
|
Trans Fat:
1
g
|
Cholesterol:
42
mg
|
Sodium:
1060
mg
|
Potassium:
651
mg
|
Fiber:
7
g
|
Sugar:
11
g
|
Vitamin A:
766
IU
|
Vitamin C:
11
mg
|
Calcium:
446
mg
|
Iron:
7
mg