If you enjoy tender, buttery, yet crisp sugar cookies with a sandy texture, you will really love these old-fashioned sugar cookies. They are so good as is without any icing. Christmas is not the same without these old-fashioned sugar cookies.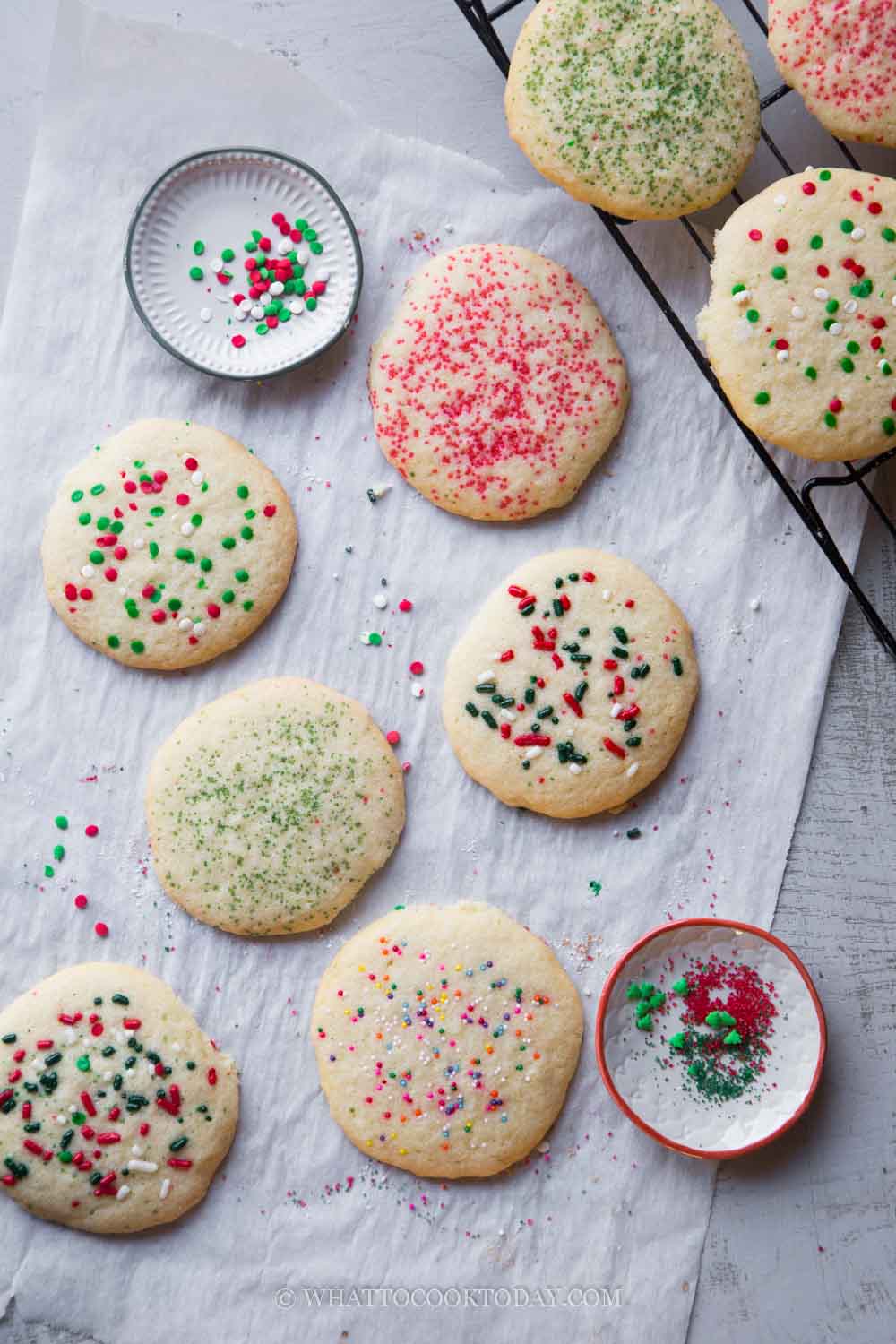 Sugar cookies are a must for Christmas in our family. The kids ask for them. While I have made several sugar cookies such as this colorful unicorn sugar cookies, Christmas maple sugar cookies, and Christmas cookies with rosewater icing, in the end of the day, one of my most favorites is still these old-fashioned sugar cookies.
Ingredients for cookie dough
1. All-purpose flour
I use unbleached all-purpose flour
2. Baking soda
This is one of the leavening agents in this cookie. DO NOT substitute with baking powder.The baking soda contributes to the crisp cookies and spread a bit more. Baking powder will not give the right texture to this particular recipe
3. Cream of tartar
It works with baking soda as a leavening agent here. It also gives the cookies a bit of that chewiness
4. Oil
Use any neutral-tasting oil like vegetable oil. I use grapeseeds oil. The oil also contributes to the crisp texture in this cookies
5. Egg
I use large egg, about 50 grams each without the shell
6. Vanilla extract
7. Butter
I use unsalted butter. If you choose to use salted butter, omit the salt in the recipe
8. Granulated sugar
You can also use caster sugar, which is more commonly used in Asia I believe
9. Icing sugar
Icing sugar is also known as powdered sugar or confectioner sugar

How to make old-fashioned sugar cookies
1. Preheat oven to 350 F (180 C) for a conventional oven. Lower temperature by 20 degrees if you have a convection oven
Line two baking sheets with parchment paper. Position your oven racks, 3rd from the top and another one 3rd from the bottom
2. Whisk all the dry ingredients together in a bowl and set aside. Place butter, granulated sugar, and icing sugar in a mixing bowl or a stand mixer bowl fitted with a paddle attachment. Cream them on medium speed until fluffy and pale. Scrape the side of the bowl as needed

3. Lower the speed by one notch and add the egg a bit at a time until the batter is smooth.

4. Reduce the speed to low and gradually add in the dry ingredients until they are well-combined.

5. You have a very soft and sticky dough at this point

6. This cookie dough requires no chilling. Use a 1-tablespoon scoop to portion out the dough, about 2 inches apart as they will spread. I get about 12 cookies per baking sheet (depending on the size of your baking sheet)


7. Slightly dampen the bottom of a drinking glass or anything flat with water and then dip in granulated sugar to coat it. Flatten each cookie to about 1/4-inch (6mm) thickness. Dip the glass into sugar as needed


8. Top the cookies with some sprinkles or colored sugar if you want


9. Place on the racks you have positioned earlier. Bake for 13 minutes, rotating halfway, front to back, top to bottom so they are evenly baked. The cookies will be pale in color with just some light golden brown on the edge. Remove the baking sheets from the oven and let cookies cool down on the baking sheets for about 2-3 minutes


10. Use an offset spatula to loosen the cookies and transfer to a cooling rack to let them cool down completely

You can make the cookie dough ahead
The cookie dough can be stored in the freezer and bake whenever you want. Here's how:
1. Once you have the cookie dough, transfer them to a large sheet of cling wrap, flatten slightly with a spatula and wrap it with a wrap, put inside a freezer bag, push out all the air and freeze for about a month. Simply let them thaw in the fridge before using
2. You can also prepare up to the shaping part but without the sprinkle and put the whole tray in the freezer to let them freeze for an hour. Then transfer to a freezer bag and push out all the air and seal. When ready to bake, just add sprinkles if you like
Did you make this old-fashioned sugar cookies recipe?
I love it when you guys snap a photo and tag to show me what you've made 🙂 Simply tag me @WhatToCookToday #WhatToCookToday on Instagram and I'll be sure to stop by and take a peek for real!

The recipe is adapted from Shauna Sever's Midwest Made cookbook. I absolutely love this book (not sponsored)!

Old-fashioned Sugar Cookies
Ingredients
Instructions
Prepare the cookie dough:
Preheat oven to 350 F (180 C) for a conventional oven. Lower temperature by 20 degrees if you have a convection oven

Line two baking sheets with parchment paper. Position your oven racks, 3rd from the top and another one 3rd from the bottom

Whisk all the dry ingredients together in a bowl and set aside

Place butter, granulated sugar, and icing sugar in a mixing bowl or a stand mixer bowl fitted with a paddle attachment. Cream them on medium speed until fluffy and pale. Scrape the side of the bowl as needed

Lower the speed by one notch and add the egg a bit at a time until the batter is smooth. Reduce the speed to low and gradually add in the dry ingredients until they are well-combined. You have a very soft and sticky dough at this point
Shaping:
This cookie dough requires no chilling. Use a 1-tablespoon scoop to portion out the dough, about 2 inches apart as they will spread. I get about 12 cookies per baking sheet (depending on the size of your baking sheet)

Slightly dampen the bottom of a drinking glass or anything flat with water and then dip in granulated sugar to coat it

Flatten each cookie to about 1/4-inch (6mm) thickness. Dip the glass into sugar as needed
Baking:
Place on the racks you have positioned earlier. Bake for 13 minutes, rotating halfway, front to back, top to bottom so they are evenly baked

The cookies will be pale in color with just some light golden brown on the edge. Remove the baking sheets from the oven and let cookies cool down on the baking sheets for about 2-3 minutes

Use an offset spatula to loosen the cookies and transfer to a cooling rack to let them cool down completely
Store:
Store the cool-down cookies in an air-tight container for about a week. I have also frozen some by putting them in a freezer bag, push all the air out and they can be kept frozen for about a month
Nutrition
Serving:
1
cookie (without sprinkles)
|
Calories:
100
kcal
|
Carbohydrates:
11
g
|
Protein:
1
g
|
Fat:
6
g
|
Saturated Fat:
2
g
|
Polyunsaturated Fat:
1
g
|
Monounsaturated Fat:
3
g
|
Trans Fat:
1
g
|
Cholesterol:
14
mg
|
Sodium:
74
mg
|
Potassium:
20
mg
|
Fiber:
1
g
|
Sugar:
4
g
|
Vitamin A:
89
IU
|
Calcium:
3
mg
|
Iron:
1
mg