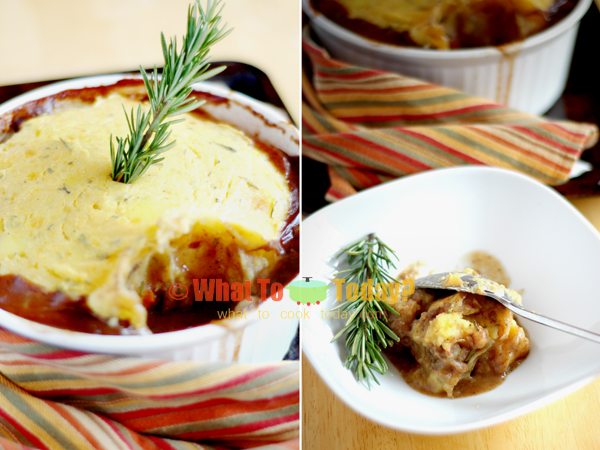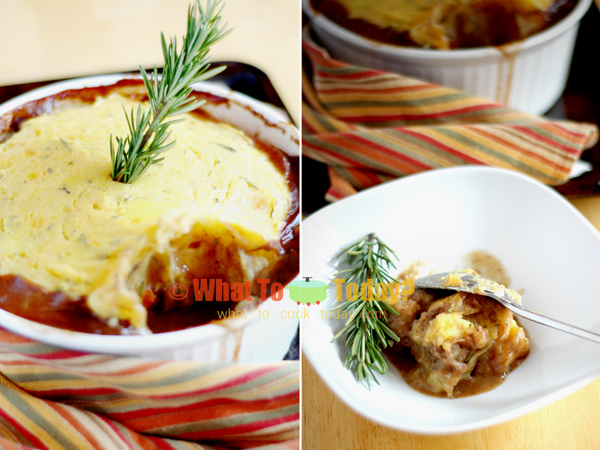 I had always wanted to make my own shepherd's/cottage pie for a long time but never got around to do that. But I finally did. And a mean one too! 😉
This shepherd's/cottage pie with rutabaga topping is from Martha Stewart's Living cookbook. In early cookery books, the dish was a means of using leftover roasted meat of any kind, and the pie dish was lined with mashed potato as well as having a mashed potato crust on top.
The term "shepherd's pie" did not appear until the 1870s, and since then it has been used synonymously with "cottage pie", regardless of whether the principal ingredient was beef or mutton. Reading about the history of shepherd's pie, I then put both shepherd's/cottage on the title of the recipe. Shepherd's pie usually refers to mutton/lamb-based and cottage pie refers to beef. So, depending on which one you use, then you will have your shepherd or cottage pie.
I have had cottage pie with potato topping, but not with rutabaga. If you ask me one thing about this dish that I will brag about, I will say I absolutely love the rutabaga topping. The whole dish is excellent, and top it off with the rutabaga topping, it drives me nuts in a good way. Seriously, this is one mean shepherd's pie recipe folks!!! It's a lot of work, but it's all good. If you plan ahead, make the stew the day before. It tastes even better because the flavor has time to developed even more.
I made mashed potatoes with rutabaga for Fiorina after that. I think they said before that "Apple doesn't fall far from the tree?" Well, like mother like daughter. She polished it off!!!!!
SHEPHERD'S/COTTAGE PIE WITH RUTABAGA TOPPING (8 to 10 servings)
SHEPHERD'S/COTTAGE PIE WITH RUTABAGA TOPPING
Ingredients
1

celery stalk

1

sprig fresh rosemary

plus 1 Tbsp fresh chopped rosemary

1

sprig fresh thyme

2

dried bay leaves

1

garlic clove

1 ½

tsp

unsalted butter plus more for topping

2

lbs

boneless beef/lamb for stew

2

medium onions

chopped

2

Tbsp

all-purpose flour

2

Cups

dry red wine

1

Cup

beef stock

4

carrots

cut into 3-inch length

Kosher salt and freshly ground black pepper

3

lbs

rutabagas

2

lb

Russet or Yukon gold potatoes

½

cup

hot milk or as needed
Instructions
Tie the celery, rosemary, thyme, bay leaves and garlic in a small piece of cheese cloth to make a bouquet garni; set aside. Heat a wide, heavy-bottomed pan over medium heat until hot. Melt the butter and brown the meat in batches. DO NOT OVERCROWD the pan with meat or they will not brown properly and steam instead

Add the onion and cook until softened, about 8 minutes. Sprinkle the flour over the meat and cook until well browned, about 8 minutes, stirring often

Add the wine and bring to a boil, scraping the bottom of the pan to loosen the brown bits. Add the stock and bouquet garni, bring to a boil, cover, and cook on low heat until meat is tender, about 1 1/2 hours. Remove the lid after 1 hour and add in carrots, and cook uncovered for the last 30 minutes. Season with salt and pepper

Meanwhile, peel the rutabagas and potatoes, cut into chunks. Place in separate saucepan and cover with cold salted water. Bring to a boil, and simmer until tender, about 30-40 minutes for the rutabagas and 20 minutes for the potatoes. Drain; return to the saucepan to dry out any moisture from the vegetables for few minutes

Mash the potatoes and rutabagas with masher or food mill fitted with fine disk if you have one. Add enough butter to taste and hot milk to make a creamy puree. Season with salt and pepper. Stir in the chopped rosemary

Preheat oven to 350 F. Remove bouquet garni; transfer stew to a deep 2-quart baking dish. Top with puree and dot with butter. Bake 1 hour or until top is brown and crusty. Serve hot