I haven't had Korean food for quite a while. I think the last great Korean food I ever had was probably..hmm…let's see, 5 or 6 years ago ? Ironically, not in Singapore or South Korea. Not in South Korea because I haven't been there yet lol! I had a Bibimbap (recipe coming up) in Singapore and that wasn't impressed me much though. Whenever I thought of Korean food, I always think of the Korean House restaurant in Del City, Oklahoma. Weird isn't it ? that's because in my humble opinion, they serve the best Korean food I have ever tasted so far.
So, I got a hold of this Quick and Easy Korean Cooking by Cecilia Hae-Jin Lee. It's a beautiful cookbook. I just have to agree with this cookbook that, Korean cooking actually isn't as complicated as I thought. It is actually pretty simple and hearty. When I first saw this rice cake stick snack or ddukbokgi, I immediately remember my sister. She LOVES ddukbokgi. I think we always ordered ddukbokgi whenever we ate at that Korean House restaurant.
Ddukbokgi is one of the popular street foods in South Korea. I must warn you though, if you don't like chewy noodles, then you might not like ddukbokgi. Noodles like egg noodles or bean thread noodles (tang hun) are slightly chewy, but ddukbokgi is different. It is much more chewy. My husband was quite surprised when he had his first bite lol! he thought it was undercooked lol! but it wasn't people. That's ddukbokgi.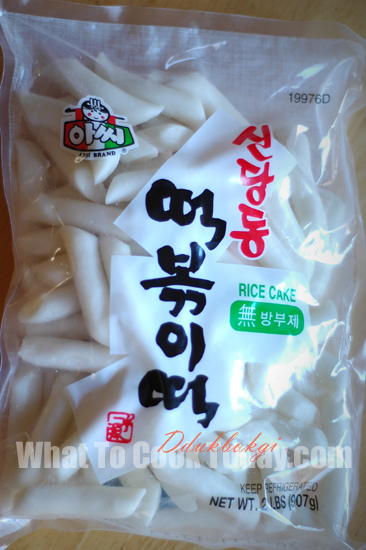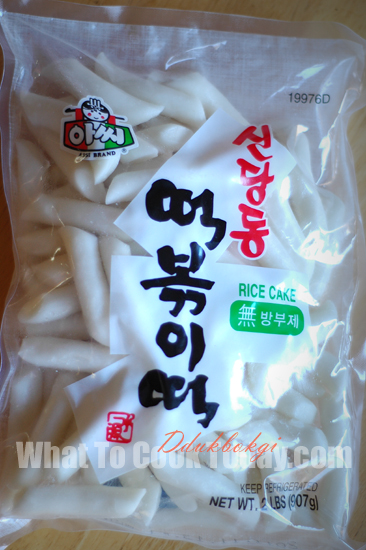 Traditionally, ddukbokgi is prepared with fish cakes or boolgogi/seasoned sliced beef or any type of mushrooms. It is quite difficult for me to find a good quality fish cakes without MSG here. So, I opted out and used jumbo prawns instead.
RICE CAKE STICK SNACK/ DDUKBOKGI
Ingredients
1

Tbsp

olive oil

1

onion

sliced

1

carrot

thinly sliced

2

lbs

rice cake sticks

ddukbokgi dduk

1

Tbsp

Korean chili paste

1

Tbsp

soy sauce

1

Tbsp

sesame oil

1

Tbsp

sugar or Korean malt syrup

mool yut

2

fish cakes

cut into strips or substitute with 1 lb jumbo prawns (shelled and deveined)

2

green onions

cut into 1-inch pieces

Toasted sesame seeds for garnish
Instructions
If using frozen rice sticks (which I did), separate them and soak them in cold water to soften for at least an hour. If using fresh, then you can skip this step

In a large skillet, heat the oil over medium-high heat. Add the onion and carrot and stir-fry for a couple of minutes, until the carrot becomes a bit soft

Add the rice cake sticks (make sure they are separated first), chili paste, soy sauce, sesame oil, sugar (or malt syrup), and fish cakes if using. Continue stir-frying for another 5 minutes or so. If the rice cake sticks are still hard, lower the heat a bit, cover, and let steam for a couple of minutes to soften

Increase the heat (if you've lowered it), add the green onions, prawns (if you substitute), and cook until the prawns are cooked through, which is 2-3 minutes. Sprinkle with toasted sesame seeds, if you wish, and serve immediately