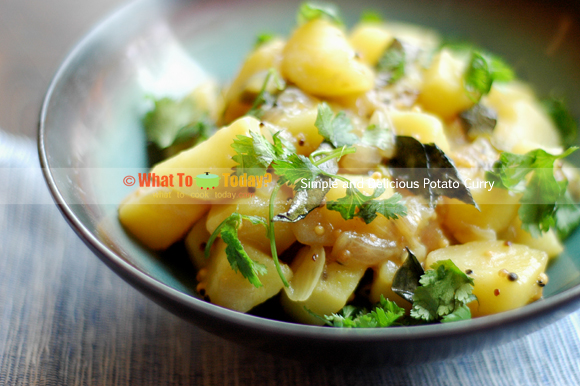 If you never make a curry dishes before, the thought of whipping one up from your own can be a little intimidating, especially when it comes to the spices used in the curry. There are probably over hundreds different varieties of curries around the world. The kinda spices used in each of the curry may be slightly different here and there. For example in Indonesia, we use spices and herbs like turmeric, galangal, kaffir lime leaves, curry leaves, sometimes cardamom, etc. I've seen several different curry recipes from different countries and one ingredient I found in commonly used in mostly all curries is turmeric. Turmeric gives the curry a nice yellowish/orange color and usually a little goes a long way too.
When I made this curry, I kinda fusing Indonesian and Indian curry together and somehow simplify the ingredients so that everyone who want to try this hot potato curry, can. I grew up with "Indonesian taste bud" (if I may say so) and I love Indian curry at the same time. So, here it is 🙂 We love it!
**The recipe is written in Metric and sometimes I include U.S. Measurements**
Please weigh ingredients with a digital kitchen scale instead of using measuring cups as they are not very accurate especially when it comes to recipe that requires precision.
INGREDIENTS
1 1/2

lbs

of potatoes

-

(peeled and cut into large cubes. You can leave the skin on too if you prefer)

1

large onion

-

(diced)

3

cloves

garlic

-

(finely minced)

1

Tbsp

fresh ginger

-

(finely minced)

1/4

tsp

of turmeric powder

5

green chili peppers

-

(leave them whole)

1

tsp

of mustard seeds

1/4

cup

of loosely pack curry leaves

-

(optional)

1/4

cup

of water

-

(more if you like the curry for saucy)

Salt to taste

1/2

cup

of fresh cilantro

-

(finely chopped)

2

Tbsp

of grape seeds oil or oil of your choice
INSTRUCTIONS
Preheat a large skillet, add in oil. Add in the mustard seeds, and fry for about 30 seconds. The mustard seeds will splitter splatter in there, so don't panic. The seeds will turn dark brown. Add in garlic, ginger, and onion. Saute until the onion is really soft, about 3 minutes or so. Add in the green chili peppers and turmeric powder and saute for another 1 minute. Add in the potatoes and stir to mix everything. Add in about 1/4 cup of water (or more if you want it more saucy) and bring to a boil and then cover and lower the heat to let the potatoes cooked for about 30 minutes. The potatoes should be soft but not to the point of too mushy

Uncover, and have a taste, add salt to taste. Add in the curry leaves and stir to mix everything. Turn off the heat. Sprinkle with the chopped fresh cilantro and serve immediately