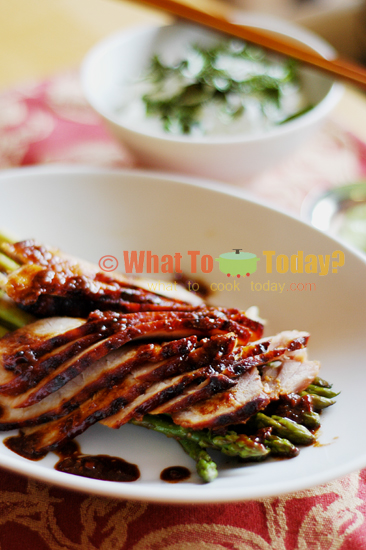 Miso is traditional Japanese seasoning made by fermenting rice, barley, and/or soybeans. The most common kind made though, is with soybeans. To me, miso is almost like our Chinese ingredient called tau cheo (fermented soybean paste) and you can find its usage in several recipe I've posted here. I personally think miso is a little more subtle in flavor and taste compare to tau cheo, which is much saltier too.
The most common flavor of miso can be found are white miso, red miso and mixed miso/awase miso(combination of both white and red). Miso is an important ingredient in the Japanese pantry commonly used for sauces, soup, or marinades. It is the basis for the most famous Japanese soup, miso shiru. As shared by Harumi Kurihara in her Everyday Harumi cookbook, all supermarket in Japan sell miso-marinated meats, but she prefer to make her own miso marinade (which isn't difficult at all). This recipe calls for awase miso, however, if you can't find awase miso, you can use different type of miso paste that suits you. They are pretty much standard in taste.
This wonderful marinade can be used for any type of meat (I actually used pork loin for this recipe), fish, or even vegetables. It is best spread on the fresh ingredient, covered in plastic wrap, and then refrigerated for one or two days to allow the miso marinade to be absorbed. You can keep in a sealed container for up to 3 weeks. This is a fairly easy recipe to make and I enjoy the subtle flavor of miso infused in the meat. Serve it with Japanese sushi rice, dip it in wasabi and I thought I was in Japan.
SIRLOIN STEAK IN MISO MARINADE
Ingredients
4

sirloin steaks

each about 1 inch thick

12

oz

awase miso paste or any miso paste you like

½

cup

sake

1

cup

mirin

⅓

cup

superfine sugar

Wasabi
Instructions
To make the marinade: combine the miso, sake, mirin and sugar in a saucepan and bring to a boil over medium heat

Reduce the heat and continue to stir over a low heat for about 20 minutes, until the sauce thickens, being careful not to let it burn

To prepare the steaks: spread 2 Tbsp of the marinade on each side of the steaks and cover in plastic wrap. Leave the meat in the refrigerator for no less than 12 hours or overnight

When ready to cook, remove the steaks from the refrigerator and allow to come to room temperature. Remove the excess marinade from the steaks using a spatula. Preheat a grill and sear the steaks quickly on both sides. Turn down the heat and cook according to personal preference. The steaks can be pan-fried too, if preferred

Let the steak rest for a minute and then slice the steaks and serve with grilled vegetables and wasabi