I never grew up having Taco. It wasn't until I went to college decades ago and got introduced to Taco. I've mentioned before that I enjoy fusion dishes and this is one of the example, infusing some Chinese, Japanese, and Mexican into one meal. So easy and quick to make, yet the tasty filling rolled in a tortilla is simply out of this world. I like being able to throw things in slow cooker and you get a tender meat the next day which you can pretty much pair it with noodles, rice, taco, salad, etc. My husband got me some morels and porcini mushrooms and we were totally in love with the two, especially the morels.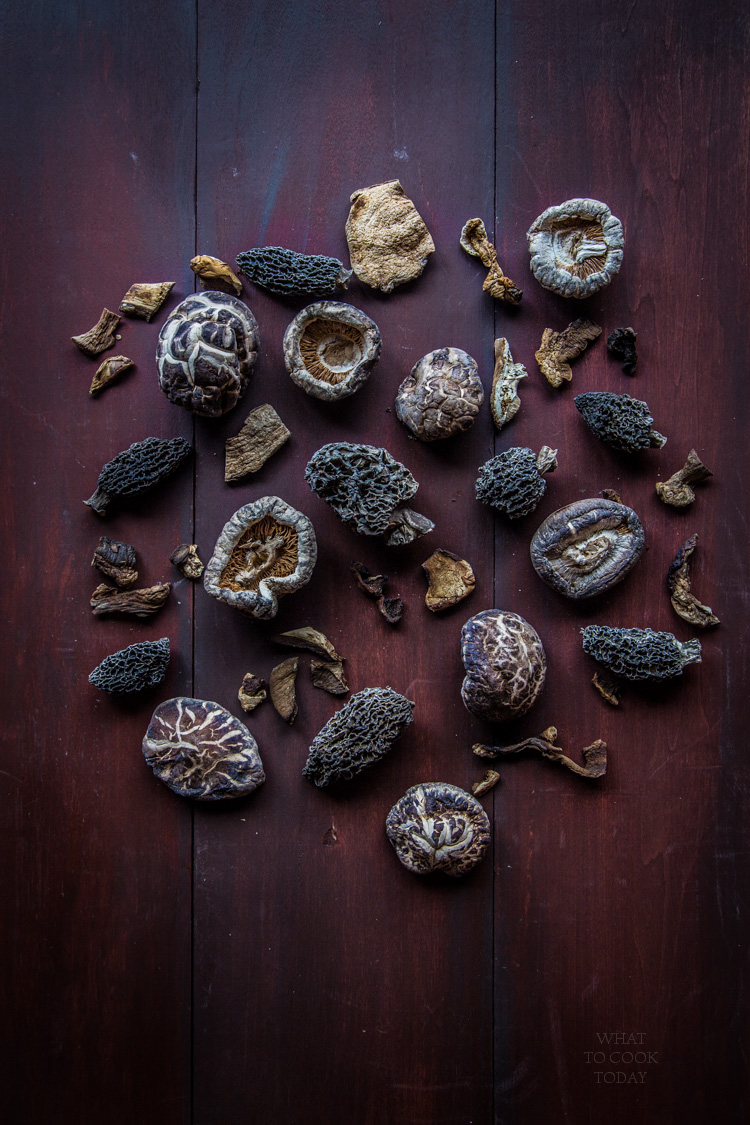 They plumped up beautifully and pretty quickly after you soak them in warm water. The shiitake took the longest to soften.
My husband said this pulled pork and mushroom medleys taco was definitely one of his favorites now.
Slow-cooked miso pulled pork and mushroom medleys taco (4-6 servings)
Ingredients
3

lbs

of boneless pork shoulder

2

Tbsp

miso paste

1

Tbsp

of brown sugar

5

cloves

garlic

peeled and minced
Mushroom medleys:
4-5

large shiitake mushrooms

¼

cup

morel

¼

cup

porcini

5

stalks of green onions

cut into 2-inch pieces

½

cup

julienned carrot

1

Tbsp

of cooking oil

⅓

cup

hoisin sauce

¼

cup

water + juice from cooking the meat

1

Tbsp

cornstarch dissolved in 1 Tbsp water

6

flour tortillas

8-inch, warmed
Instructions
Place the pork shoulder inside the slow cooker. Place miso paste, brown sugar, garlic, in a bowl and stir to combine. Rub this over the pork with your clean hand. Place in about 3/4 cup of water inside the slow cooker and let it cook on slow for the next 8 hours. Remove from the slow cooker into large serving platter. Strain the juice from cooking the pork for cooking the mushrooms later. Pull the pork meat when cool enough to handle. Cover and set aside when ready to serve

Reconstitute the mushrooms by soaking them in a warm water until they are soft and plump up. Discard the stems on shiitake mushrooms and cut into slices. Slice the morel into smaller pieces too

Preheat a large skillet or wok.Add 1 Tbsp of cooking oil, swirling to coat sides. Add mushrooms, green onions, carrot; stir-fry for 2 1/2 minutes. Add in the hoisin sauce and saute for another 30 seconds. Add in water and juice from cooking the meat and bring to a boil. Decrease heat to low and simmer for 1 minute. Add the corn starch solution. Cook, stirring, until mixture boils and thickens. Have a taste and season with salt if needed
When ready to serve:
Place pulled pork and mushrooms in serving platter. To serve, top with some pulled pork followed by the mushrooms and its sauce. Topped with some fresh cilantro leaves. Fold tortilla in half, and eat out of hand. We like some heat and always added some chili to ours 🙂
I didn't even know about Taco Tuesday ! Not that you can only make this on Tuesday 🙂