Learn how to make this delicious Chinese tofu dish shaped like pipa, a Chinese musical instrument. They can be deep-fried, pan-fried, or steamed.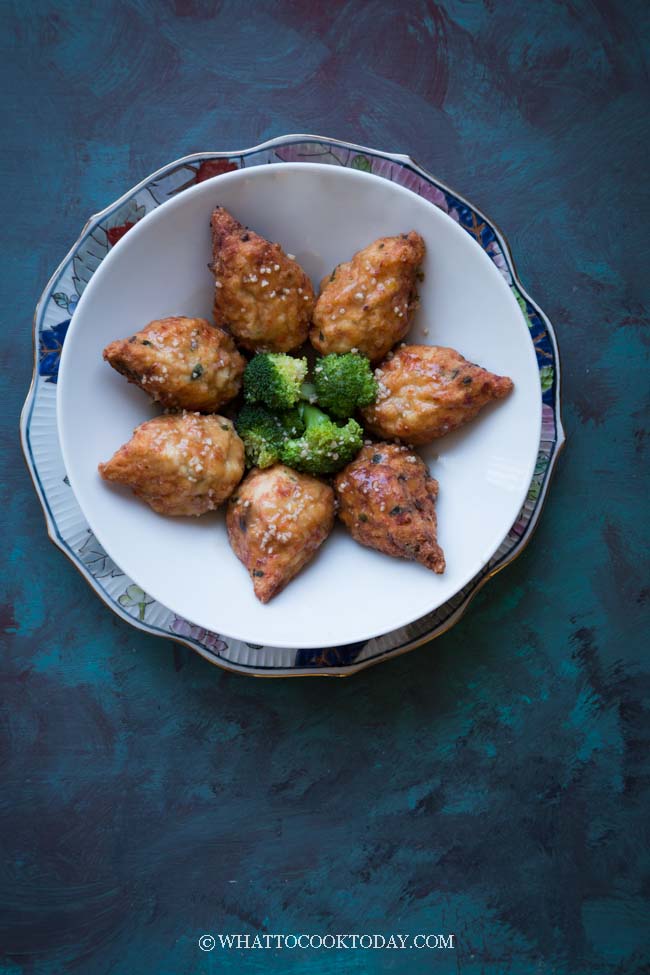 We learned of pipa tofu when we ate at this Chinese restaurant and we love it so much. My 6-year old boy kept asking for more. The restaurant didn't make the tofu balls shaped like pipa, but still, the pipa tofu was really delicious.
It is called pipa tofu because of its shape like pipa 琵琶 (obviously!). If you google pipa Chinese instrument, you will see what it looks like. Some people call it "Chinese lute".
WHAT TO LOVE ABOUT PIPA TOFU
Pipa tofu is made with a mixture of tofu, shrimp, meat, seasonings processed into a paste-like consistency and then shaped into pipa and then steamed, coat in flour and then deep-fried and served with a delicious savory sauce. The slightly crispy tofu after being fried will soften after you pour the sauce on, but it is still really good. The inside is incredibly soft and the whole thing is a real foodgasm if you ask me.
HOW TO MAKE REALLY GOOD PIPA TOFU
1. PREPARE THE TOFU PASTE
Mash the tofu with a fork. I used firm tofu and squeeze out excess liquid


Place the tofu, shrimp, shiitake mushrooms, carrots, egg white in a food processor and process into a paste consistency


Stir in the cornstarch, chopped green onion, cilantro leaves, and the seasonings. Stir to mix everything. If the paste is a bit too soft or watery, you may add a bit more cornstarch


2. SHAPING
Lightly brush the Chinese soup spoon and steaming plate with some oil. Lightly grease your palm with a bit of cooking oil too. Scoop the tofu paste with the spoon and use your fingers to mold the paste into the spoon to shape like a pipa


Gently slide it off the spoon onto a steaming plate you will use for steaming later. Continue to do so until you run out of tofu paste


3. STEAMING
Prepare your steamer by bringing the water to a boil. Place the steaming plate with pipa tofu in the steamer. Steam over high heat for 5-7 minutes. I steamed mine for 7 minutes


Remove from the steamer and you will see some liquid is pooling on the plate. Pour the liquid into a bowl. We will use it to prepare the sauce later


4. DEEP FRY OR PAN FRY THE STEAMED PIPA TOFU
Coat the steamed pipa tofu with the flour mixture


Deep fry or pan fry until golden brown on all sides. Place on an absorbent paper towel and continue to fry the next batch


5. PREPARE THE SAUCE
Preheat about 1 tsp of oil in a pan or skillet. Add garlic and stir fry for about 10 seconds. Pour in the liquid from steaming pipa tofu followed by the rest of the ingredients for sauce. Bring it to a simmer. In a separate bowl, mix cornstarch with water and pour into the simmering sauce and stir until the sauce thickens


6. SERVE
Arrange pipa tofu on a serving platter with some blanched vegetables and then pour the sauce on top and serve immediately with rice

POSSIBLE VARIATIONS
Make it extra "fancy": You can add some finely chopped Chinese sausage, ham, or use scallops instead of shrimp
Make it vegan or vegetarian: Omit the egg white and all the animal protein and add more mushrooms, finely chopped bamboo shoots and use vegetarian oyster sauce
Serve it with different vegetables: You can serve pipa tofu with steamed broccoli, blanched bok choy, or stir fry some bell peppers, baby corns and then add the pipa tofu and pour the sauce on top

PIPA TOFU CAN BE MADE AHEAD
You can prepare pipa tofu in a bigger batch as part of meal prep. Here's how:
1. Place the fried pipa tofu on a baking sheet lined with a parchment paper, not touching each other and put them in a freezer for about 1 hour
2. Transfer to a freezer bag and they can be kept for up to 1 month
3. When ready to serve, thaw them in the refrigerator and reheat in the microwave until heated through or use moist heat like steamer to reheat. Prepare the sauce on the day you want to serve

DID YOU MAKE THIS PIPA TOFU RECIPE?
I love it when you guys snap a photo and tag to show me what you've made 🙂 Simply tag me @WhatToCookToday #WhatToCookToday on Instagram and I'll be sure to stop by and take a peek for real!
Recipe is adapted from Minty's Kitchen with some modifications.

How To Make Pipa Tofu (Chinese Fried Tofu Balls)
Ingredients
450

gr

firm tofu

200

gr

shrimp

shelled, deveined

150

gr

ground pork

50

gr

carrot

3

shiitake mushrooms

finely minced

1

egg white

1

Tbsp

chopped green onion

2

Tbsp

chopped coriander leaves

3

Tbsp

cornstarch

or more as needed

Cooking oil

for brushing the plate and spoon
For deep-frying or pan-frying:
To thicken the sauce:
1

tsp

cornstarch + 1 Tbsp water
Serve with:
Vegetables of your choice: broccoli, bok choy, etc
Instructions
Prepare the tofu paste:
Mash the tofu with a fork. I put this over a strainer and squeeze out any excess water. I don't recommend using soft or silken tofu they have more liquid and will make the tofu balls too soft to handle

Place the tofu, shrimp, shiitake mushrooms, carrots, egg white in a food processor and process into a paste consistency. Stir in the cornstarch, chopped green onion, cilantro leaves, and the seasonings. Stir to mix everything. If the paste is a bit too soft or watery, you may add a bit more cornstarch
Shape into pipa:
Lightly brush the Chinese soup spoon and a steaming plate with some cooking oil. Lightly grease your palm with a bit of cooking oil too. Scoop the tofu paste with the spoon and use your fingers to mold the paste into the spoon to shape like a pipa. Gently slide it off the spoon onto a steaming plate you will use for steaming later. Continue to do so until you run out of tofu paste
Steaming:
Prepare your steamer by bringing the water to a boil. Place the steaming plate with pipa tofu in the steamer. Steam over high heat for 5-7 minutes. I steamed mine for 7 minutes

Remove from the steamer and you will see some liquid is pooling on the plate. Pour the liquid into a bowl. We will use it to prepare the sauce later

If you do not want to pan fry or deep fry, you are done here and proceed to prepare the sauce step. Proceed to next step if you want to deep fry or pan fry the steamed pipa tofu
If you choose to deep fry or pan fry the pipa tofu:
Mix the rice flour, cornstarch, and salt in a bowl. Stir to mix. Preheat about 2 1/2 inches of oil for deep frying. If you choose to pan fry, preheat about 4 Tbsp of cooking oil in a pan

Coat the steamed pipa tofu with the flour mixture and deep fry or pan fry until golden brown on all sides. Place on absorbent paper towel and continue to fry the next batch
Prepare the sauce:
Preheat about 1 tsp of oil in a pan or skillet. Add garlic and stir fry for about 10 seconds. Pour in the liquid from steaming pipa tofu followed by the rest of the ingredients for sauce. Bring it to a simmer. In a separate bowl, mix cornstarch with water and pour into the simmering sauce and stir until the sauce thickens
Serving:
Arrange pipa tofu on a serving platter with some blanched vegetables and then pour the sauce on top and serve immediately with rice
Recommended products: