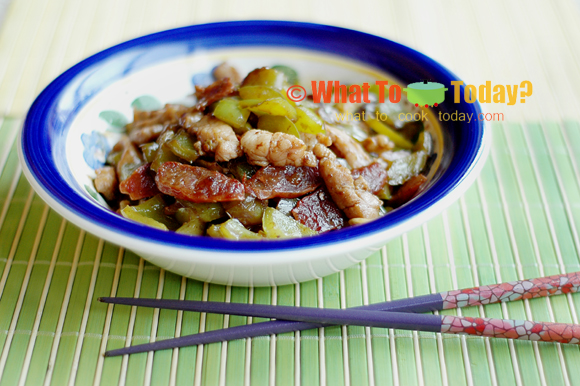 This delicious stir-fried pork with green peppers are very easy to make and you can definitely pull this off in no time. The bell peppers are very flavorful when you stir-fry them, just like when you roast or grill them. It's a good complement to meat dishes I think. I like simple dish like this to go with a bowl of steamed rice. Yum!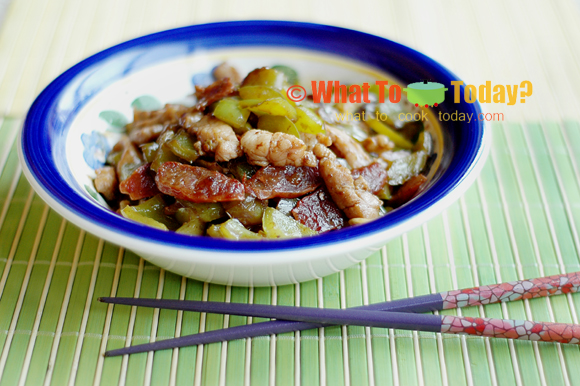 **The recipe is written in Metric and sometimes I include U.S. Measurements**
Please weigh ingredients with a digital kitchen scale instead of using measuring cups as they are not very accurate especially when it comes to recipe that requires precision.
INGREDIENTS
8

oz

lean boneless pork loin

-

(feel free to substitute with other type of meats you like)

1

Chinese sausage -

(remove the casing and cut into thin slices)

1

large green bell pepper

-

(cut into half, take out the seeds and cut into strips)

2

garlic cloves

-

(finely minced)

2

tsp

fermented black beans

1

tsp

corn starch mixed with 1 tsp of water

About 3 Tbsp peanut oil

Salt to taste
INSTRUCTIONS
Cut the the lean pork into thin slices; set aside the pork belly. Add the marinades and let it sit for at least 30 minutes

Preheat your wok until reall hot, add about 1/2 Tbsp of oil and add in the pepper and stir-fry until really fragrant, about 3 minute or so. Remove from the wok and set aside

Reheat the wok over a hot flame until smoke rises, then add 2 Tbsp of the oil and swirl to make sure the oil is evenly spread. Add in the sausage slices and stir-fry for about 10 seconds, Add in garlic and black bean and stir-fry for about 8 seconds, add in the pork slices and stir-fry until the pork is cooked through. Add the bell peppers back into the wok and stir-fry for about 1 minute

Give the corn-starch mixture a stir and pour into the work. Stir everything and the sauce will thicken almost immediately. Turn off the heat and serve immediately with rice as part of multi-course meal