These Sugee or semolina (rava) biscuits have such a great crispy and crumbly texture and simple to make with only 7 ingredients. This recipe doesn't use egg and butter. They are perfect for that afternoon tea and also one of the popular Chinese new year cookies and kuih raya/lebaran.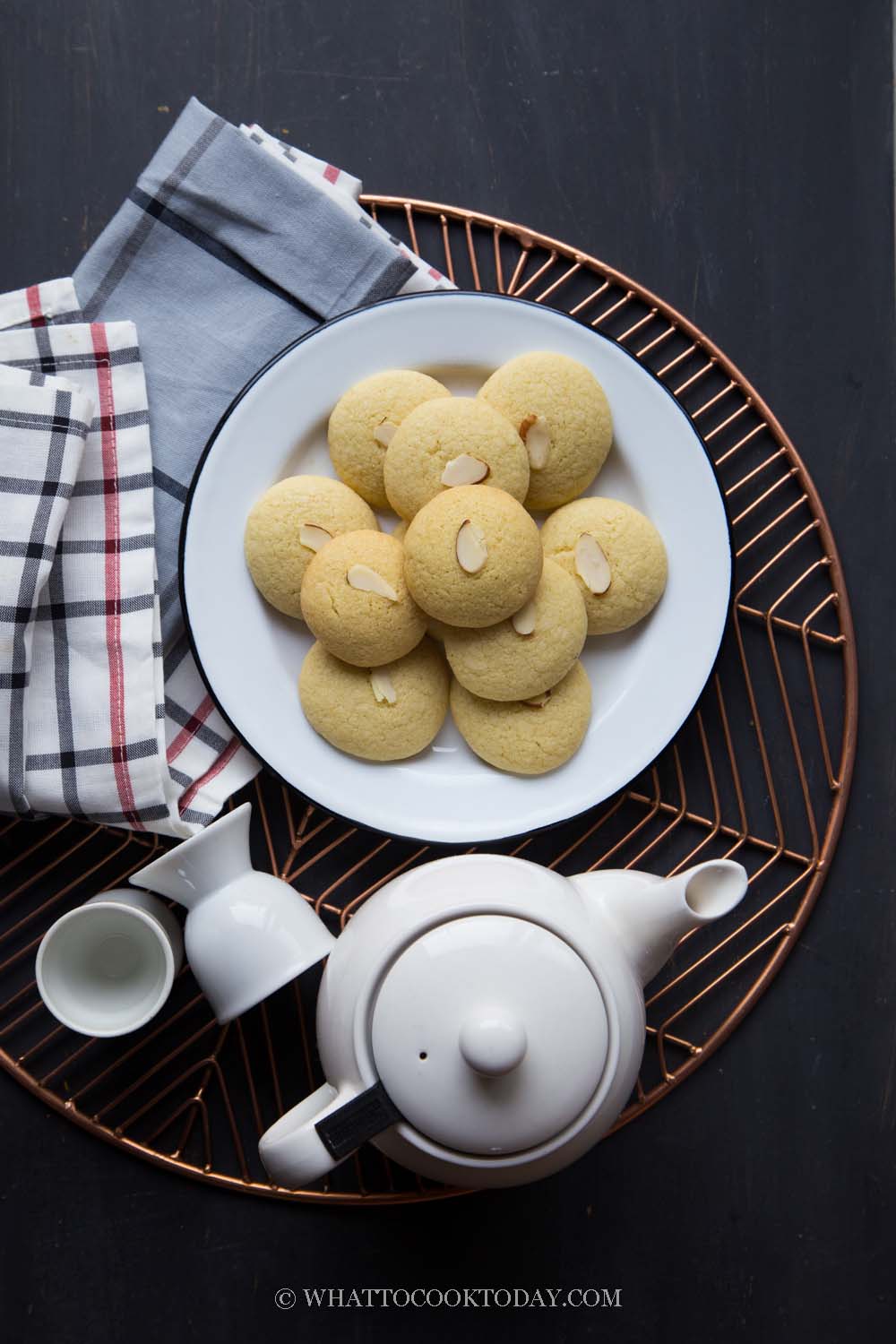 I absolutely love to cook and bake with semolina flour or also known as sugee/suji/rava. I'm not sure if I have mentioned before, I have a thing for "texture". Sugee has that nice hearty texture that just makes your end product so satisfying to eat IMHO. Take these sugee biscuits as an example. The texture of these biscuits makes you keep going back for more. Some call these sugee biscuits, some call these sugee cookies.
The recipe rundown
Taste: Just lightly sweet with nice nutty aroma from the sugee
Texture: slightly coarse texture from the sugee (in a good way). Crispy, crumbly and airy type of biscuits. Quite an addicting little biscuit
Level: Easy. You don't need special kitchen tool either
Ingredients
1. Semolina flour
Use the fine texture semolina flour for the best result
2. All-purpose flour
All-purpose flour has medium gluten content. It may be call different thing in different countries
3. Oil
I use grapeseeds oil. You can use any neutral-tasting cooking oil
4. Icing sugar
Icing sugar is also known as confectioner's sugar or powdered sugar. This is not the same with fine sugar like caster sugar
5. Baking soda
Baking soda helps the cookies to rise and give them that light airy texture
6. Salt
A little bit of salt really rounds up the overall flavor
7. Sliced almonds
You can also use whole almond if you prefer or none at all to keep them nut-free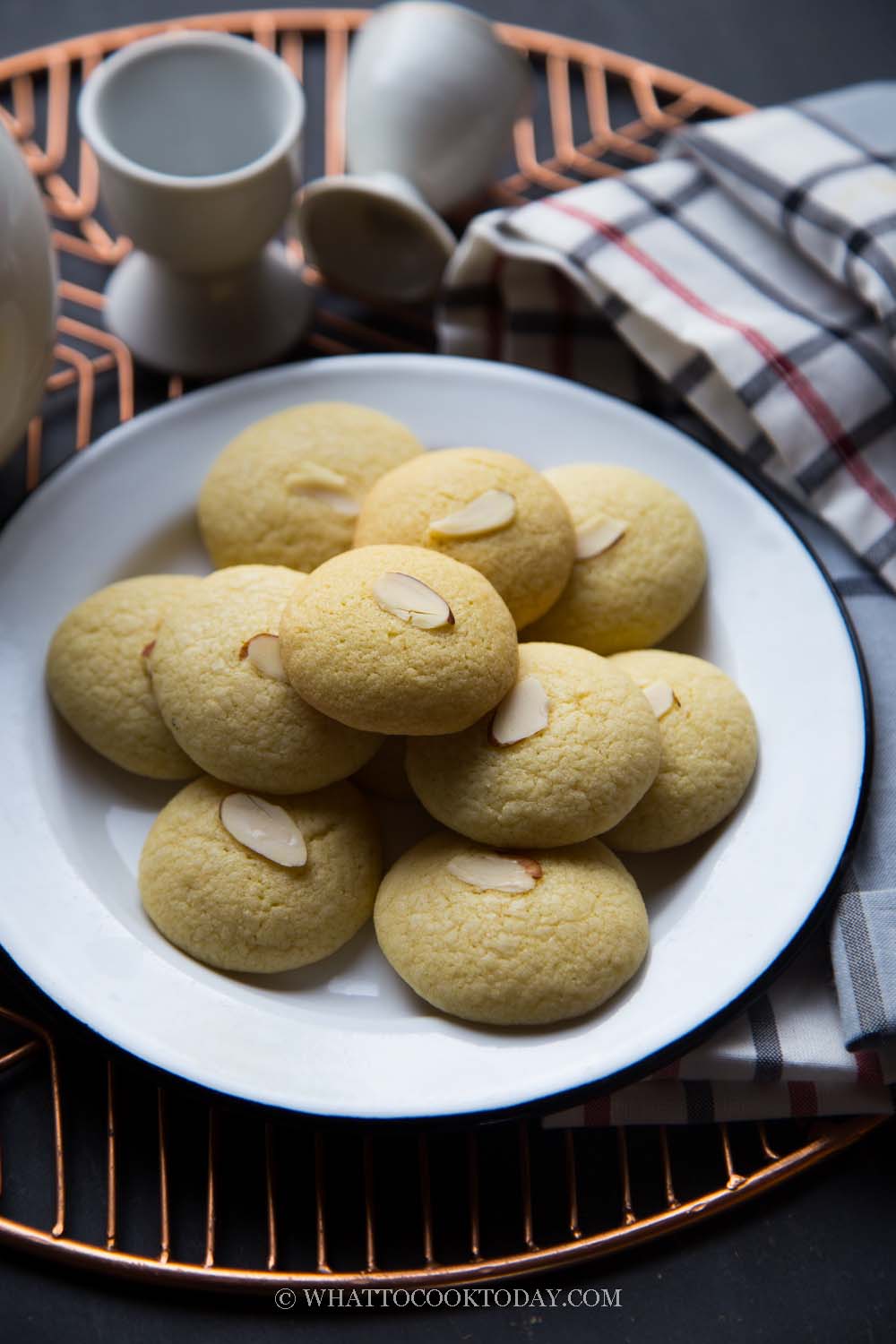 How to make this easy sugee biscuits without eggs and butter
1. Mix all-purpose flour, semolina flour, baking soda, salt, and icing sugar in a mixing bowl. Whisk to combine. Add oil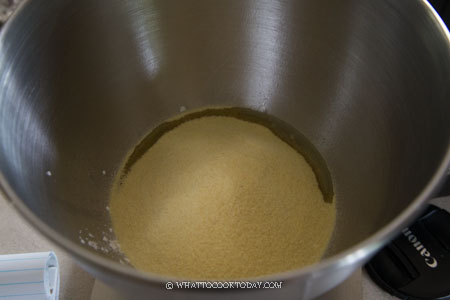 2. Use a rubber spatula to help you combine them into a soft cookie dough


3. Preheat oven at 350 F (180 C). Pinch off about 1 tablespoon of dough and roll into a round ball and place on a baking sheet lined with parchment paper, about 1 inche apart. The cookies will spread a little, but not too much. Put one sliced almond on top


4. Put on a middle rack and baked for 15-20 minutes until they are lightly golden brown. Remove from the oven and let cool on the rack for about 5 minutes and then transfer to a cooling rack to let them cool down completely

These sugee biscuits are probably one of the easiest I have made without having to use a mixer or any special tools and they are perfect to accompany your morning or afternoon coffee/tea.

How to make ahead
You can prepare and shape the cookie dough ahead and all that is left to do is baking them when you want them. Here's how:
1. Prepare as directed in the recipe and shape them into round balls and put on a baking sheet, not touching each other. Don't put the sliced almond on top yet until you are ready to bake them in the future
2. Put the baking sheet in the freezer for one hour. They won't be fully frozen yet. Transfer to a freezer bag or container and seal. They won't stick to each other anymore. They can be kept this way for about 3 months
3. When ready to bake, do not thaw. Bake as directed in the recipe but you may need to add 3-5 minutes or until the cookies are lightly golden brown

How to store
1. Let them cool down completely on the cooling rack
2. Transfer to an air-tight container and they will keep at room temperature for weeks
Did you make this easy eggless sugee biscuits recipe?
I love it when you guys snap a photo and tag to show me what you've made 🙂 Simply tag me @WhatToCookToday #WhatToCookToday on Instagram and I'll be sure to stop by and take a peek for real!

Easy Eggless Sugee Biscuits / Semolina Biscuits (Biskut Suji)
Instructions
Prepare the dough:
Mix all-purpose flour, semolina flour, baking soda, salt, and icing sugar in a mixing bowl. Whisk to combine. Add oil and use a rubber spatula to help you combine them into a soft cookie dough
Shape:
Preheat oven at 350 F (180 C). Pinch off about 1 tablespoon of dough and roll into a round ball and place on a baking sheet lined with parchment paper, about 1 inche apart. The cookies will spread a little, but not too much. Put one sliced almond on top

Put on a middle rack and baked for 15-20 minutes until they are lightly golden brown. Remove from the oven and let cool on the rack for about 5 minutes and then transfer to a cooling rack to let them cool down completely
Recommended products:
Nutrition
Serving:
1
biscuit
|
Calories:
53
kcal
|
Carbohydrates:
7
g
|
Protein:
1
g
|
Fat:
3
g
|
Saturated Fat:
1
g
|
Trans Fat:
1
g
|
Sodium:
29
mg
|
Potassium:
9
mg
|
Fiber:
1
g
|
Sugar:
2
g
|
Calcium:
1
mg
|
Iron:
1
mg