Creamy, smooth, and lightly sweetened Chinese sweet almond dessert soup (tong sui) is a perfect light and nutritious dessert to satisfy that craving for sweet without overdoing it. This is my childhood favorite dessert that mom made on a weekly basis.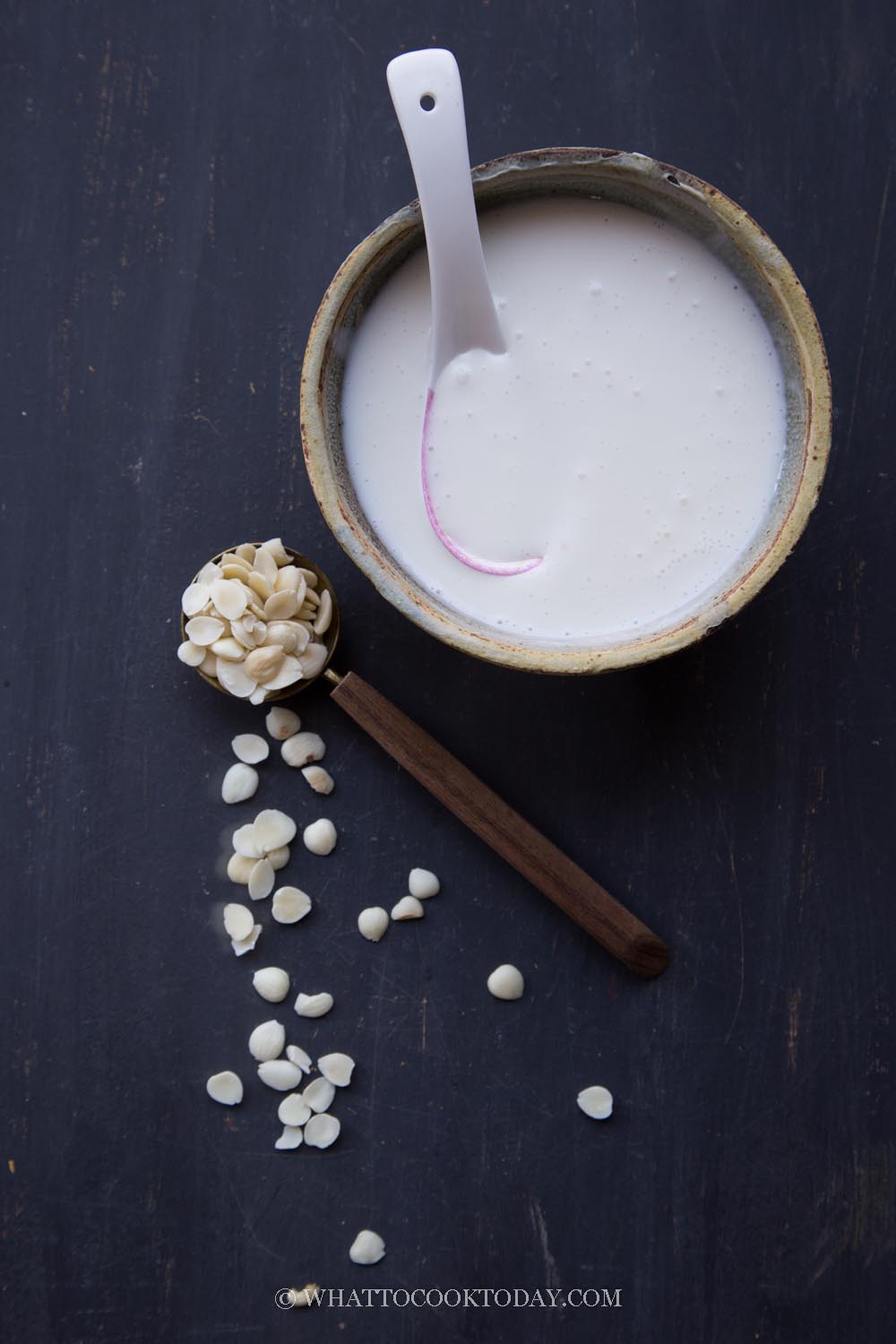 This sweet almond tea dessert (or some people call it sweet almond soup) brought me back straight to childhood. I absolutely love this. I especially enjoy the sweet and floral tone of Chinese almonds, which, surprisingly, quite a few people find too strong. Sweet almond soup is often served at the end of a meal.
Also known as apricot kernels
The Chinese sweet and bitter almonds are actually apricot kernels. There are two kinds. The sweet almond is also known as Chinese Southern almond. The bitter almond is known as Chinese Northern almond. The bitter almond is poisonous when it is in raw form. The bitter almonds are smaller in size too compared to the sweet version.
What contributes to the thick creamy consistency
The small amount of rice added gives that thickness to the dessert. Most people add white rice or jasmine rice, I love using glutinous rice. It makes it thicker and slightly gooey, just slightly, in a good way!
Combination of Southern almonds and American almonds in this recipe
Traditionally, this is prepared by using a combination of sweet almond and a little bit of bitter Chinese almonds. In this recipe, I use a combination of sweet apricot kernel and American almonds. So the aroma is milder and my kids like them better. I personally don't mind the strong sweet and floral aroma of Southern almonds. Love them 🙂
What to do with the pulps?
I keep the pulp and cook it like a porridge. You can add milk to thin it out to the consistency you like. I eat them with a bit of honey and toasted sesame seeds. So good! Depending on the blender you use, the Vitamix did a very good job in blending the nuts and rice very finely, so the porridge is quite smooth and not gritty. If you find it gritty, you can cook them longer and blend them again using a blender or immersion blender to make it smoother.
Variations
If you want to use a combination of sweet and bitter almonds, the weight ratio is 4:1 for the best result.
You can also use just American almond to make this dessert. It won't have that floral sweet scent, but will still have the same creaminess and taste. The more rice you use, the thicker the consistency will be, so you can adjust to your preference.
How to make Chinese sweet almond dessert soup
1. Rinse the glutinous rice in water and discard water. Soak the almonds and rice in water, enough to cover them, for at least 2 hours up to overnight. If you plan to soak overnight, keep them in the fridge especially if the weather is warm where you are


2. Discard the soaking liquid


3.The American almonds I used still have skin-on and they are easily peeled off after soaking. You can leave the skin on (for extra fiber), the end result will be slightly brownish soup, if you are okay with that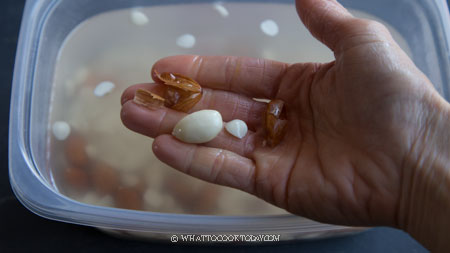 4. Put the almonds and rice in a blender. Pour in 900 ml of water. I use Vitamix, which is a very powerful blender and it blends them really smoothly


5. Transfer this into a cheesecloth


6. Squeeze the milk out


7. You will be left with the pulp. I did not throw them away. I thought it's such a waste. I keep them and cook them into a porridge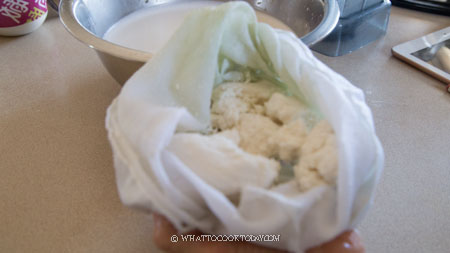 8. Transfer the milk into a heavy-bottom pot


9. Add rock sugar pieces and pinch of salt, and stir over low heat. The milk will thicken (because of the rice). So keep stirring to prevent catching at the bottom. Let it gently simmer for 15 minutes


10. Beat the egg whites until foamy.


11. Gradually, with one hand keep stirring, pour in the egg whites a little bit at a time and keep stirring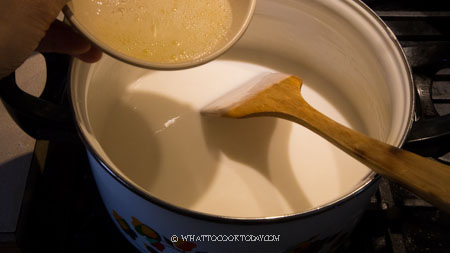 12. It's okay if you see small lumps of egg whites in there, they are supposed to be there, you just don't want huge chunks of egg whites in the soup, unless that's what you want


13. Remember the pulp? I add a bit of milk and cook them into a porridge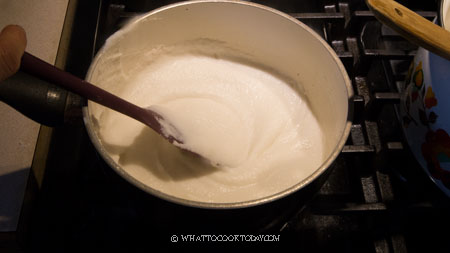 14. Serve them warm or chilled. I love them chilled in the summer and warm in the winter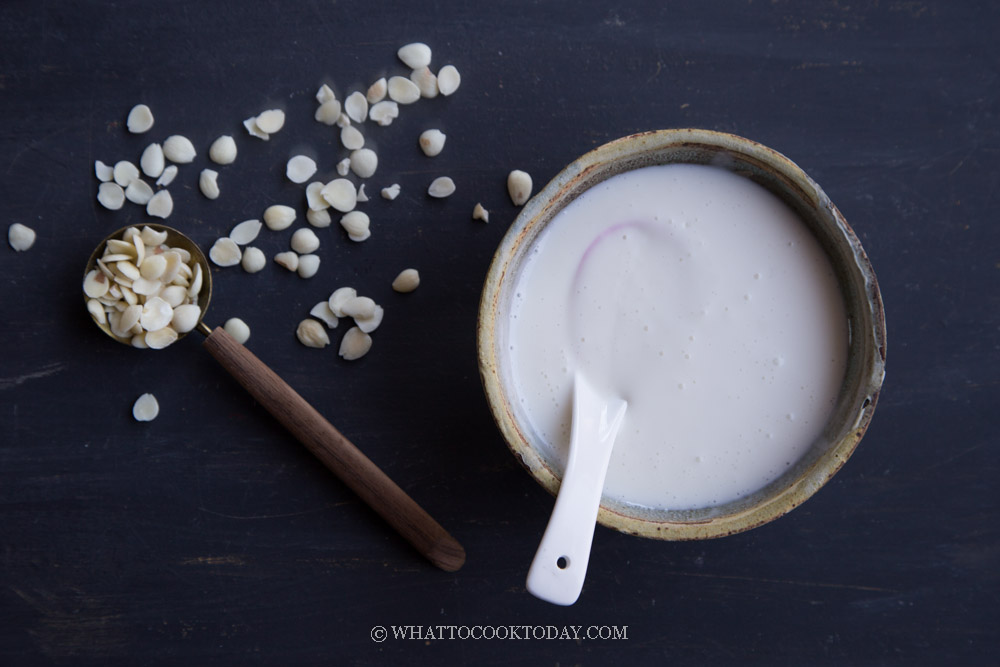 Benefits of consuming this sweet almond dessert soup
It is known to give a beautiful skin complexion and healthy hair, which are big things with the ladies 😉
Did you make this sweet almond dessert soup recipe?
I love it when you guys snap a photo and tag to show me what you've made 🙂 Simply tag me @WhatToCookToday #WhatToCookToday on Instagram and I'll be sure to stop by and take a peek for real!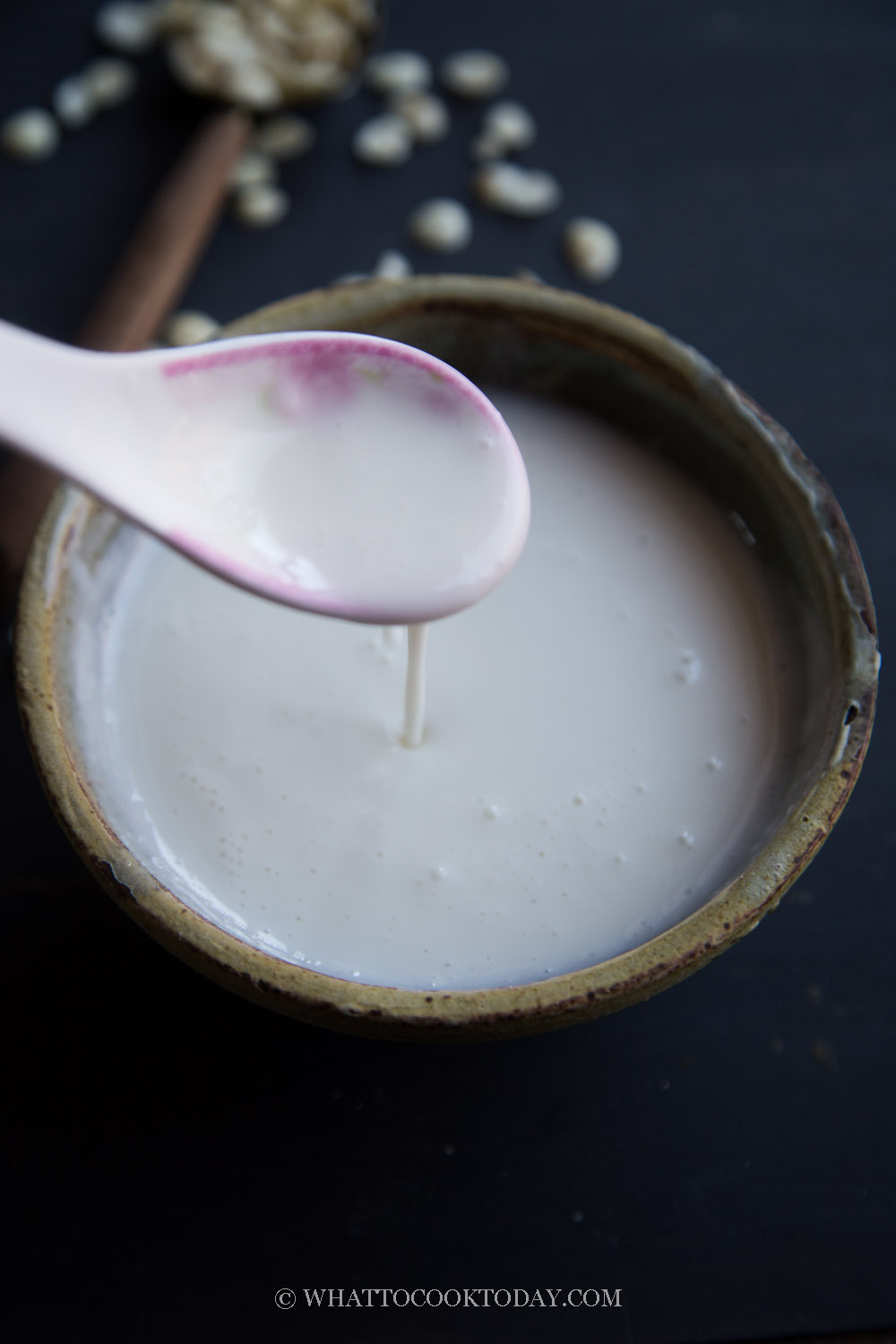 Recipe is adapted from here and here with some modifications.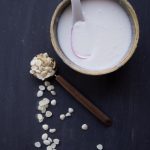 Chinese Sweet Almond Dessert Soup (with Egg White)- 杏仁露
Instructions
Soak:
Rinse the glutinous rice in water and discard water. Soak the almonds and rice in water, enough to cover them, for at least 2 hours up to overnight. If you plan to soak overnight, keep them in the fridge especially if the weather is warm where you are

Discard the soaking liquid. The American almonds I used still have skin-on and they are easily peeled off after soaking. You can leave the skin on (for extra fiber), the end result will be slightly brownish soup, if you are okay with that
Blend:
Put the almonds and rice in a blender. Pour in 900 ml of water. I use Vitamix, which is a very powerful blender and it blends them really smoothly

Transfer this into a cheesecloth and squeeze the milk out. You will be left with the pulp. I did not throw them away. I thought it's such a waste. I keep them and cook them into a porridge 😉
Cook:
Transfer the milk into a heavy-bottom pot. Add rock sugar pieces and pinch of salt, and stir over low heat. The milk will thicken (because of the rice). So keep stirring to prevent catching at the bottom. Let it gently simmer for 15 minutes

Beat the egg whites until foamy. Gradually, with one hand keep stirring, pour in the egg whites a little bit at a time and keep stirring. It's okay if you see small lumps of egg whites in there, they are supposed to be there, you just don't want huge chunks of egg whites in the soup, unless that's what you want 🙂
Serve:
Serve them warm or chilled. I love them chilled in the summer and warm in the winter
Leftovers:
Leftovers can be kept in the fridge for about 3 days
Recommended products:
Nutrition
Serving:
1
serving
|
Calories:
399
kcal
|
Carbohydrates:
36
g
|
Protein:
13
g
|
Fat:
25
g
|
Saturated Fat:
2
g
|
Trans Fat:
1
g
|
Sodium:
38
mg
|
Potassium:
389
mg
|
Fiber:
7
g
|
Sugar:
15
g
|
Vitamin A:
1
IU
|
Calcium:
142
mg
|
Iron:
2
mg