Peach-shaped steamed dumplings are filled with the savory goodness of sticky rice filling are delicious snack and comfort food to many, including myself. The dough is easy to work with and stays soft and has the right amount of chewiness.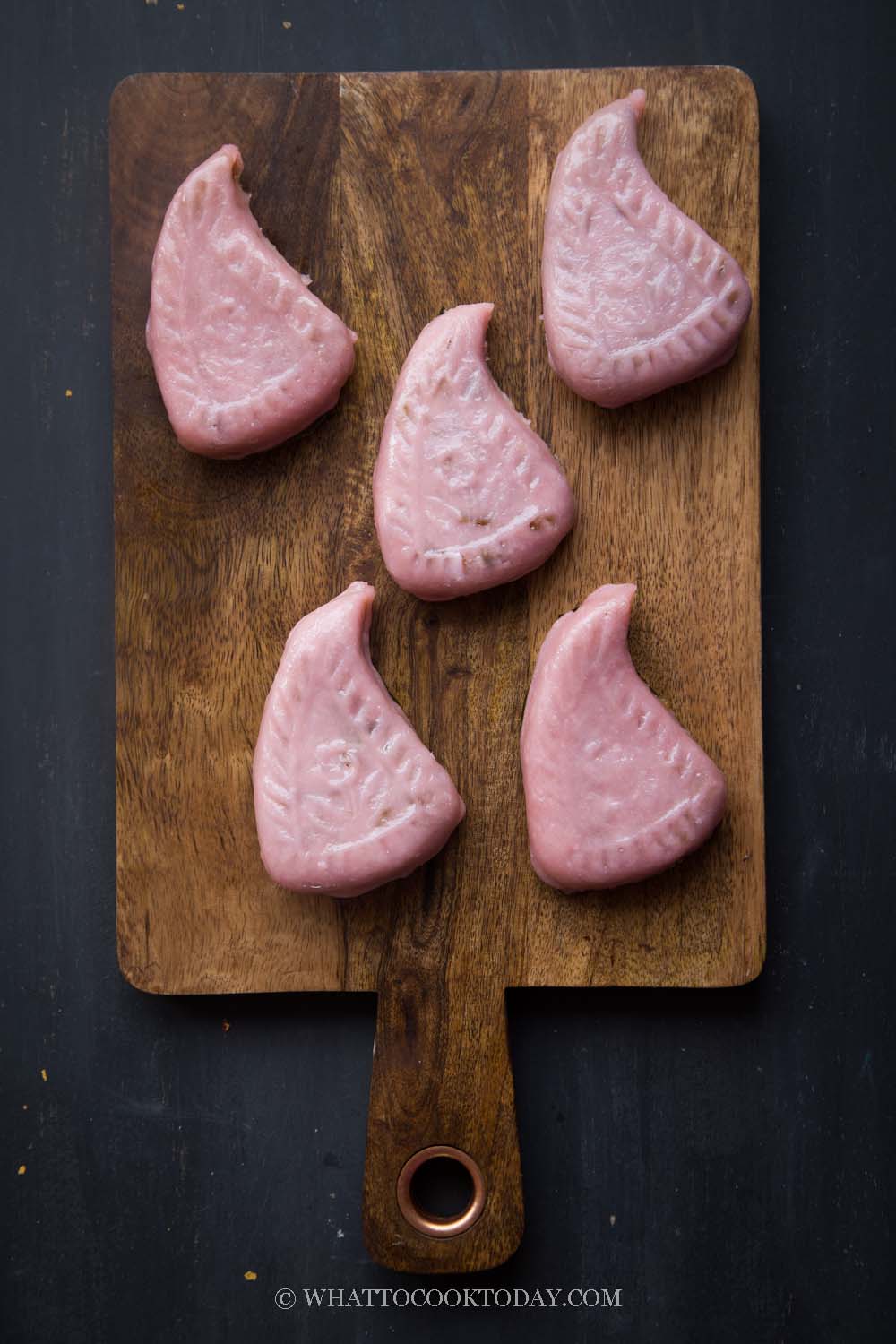 What is Png Kueh/ Peng Kueh?
Png kueh or Poong tor kueh is of Teochew origin and the dumpling or kueh is usually shaped into a peach shape. Similar to this longevity peach steamed buns, peach is an auspicious symbol of longevity in Chinese. Png kueh usually comes in pink and white. The pink ones are more popular I must say, because when I was a kid, the ones I had always seen and eaten were the pink ones. Mom said the white ones are only used as offering for God/Goddess who resides in hell. Okie dokie! That's probably why. Though some folks may make white png kueh and then put a red dot mark on the dumpling.

The recipe rundown
Taste: Savory and umami
Texture: Soft and slightly chewy dough with the moist sticky rice filling on the inside
Level: Intermediate
Pros: The dough is easy to work with. It stays soft and has the right amount of chewiness
Cons: This can be a time-consuming project and you need a special peach-shaped mould
Special png kueh mould
If you want a peach-shape dumpling, you will need the mould. This can be easily obtained if you leave in Asia. My mom got the mould for me from a shop that sells baking supplies in Indonesia. I don't see anyone selling on Amazon. Alternatively, you can just shape into a round ball and slightly flatten the dough into a disc shape if you don't have the mould.

How to make Teochew png kueh
1. I use a pressure cooker to cook the rice and so I didn't soak the rice and peanuts. You will need to soak them for at least 4 hours if you cook the rice on the stove or in a rice cooker
2. Preheat a large wok or skillet. Add cooking oil. Stir fry shallots, garlic, and dried shrimp until fragrant, about 2-3 minutes. Add the mushrooms and stir fry again for another minute


3. Add the rice and peanuts (which have not been soaked, because I use pressure cooker)


4. Make sure you stir well to combine everything. Have a taste on the filling to see if it is salty enough and adjust accordingly. Turn off the heat


5. Add 450 ml of liquid here and stir to combine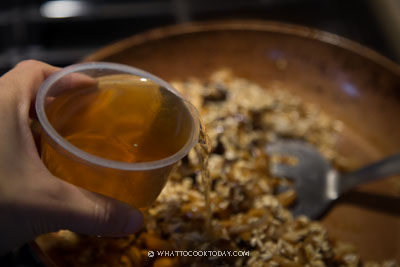 6. Transfer to a round container, preferably aluminum or stainless-steel (anything that transfers heat well). Make sure the liquid is covering the rice so they cook properly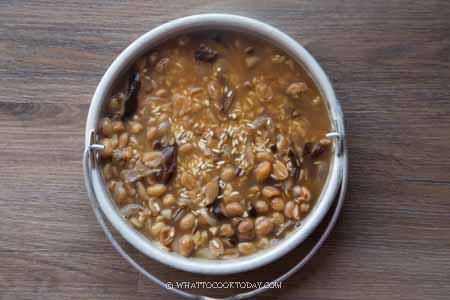 7. Pour 1 cup of water into the inner pot of the Instant Pot. Put a trivet in there. Place the container on top of the trivet. Close the lid and turn the pressure release valve to sealing. Press "pressure cooker" and make sure it's on "high pressure". Set the timer to 30 minutes and then wait 10 minutes before releasing the pressure


8. Fluff the rice with a fork and set aside to let it cools down before wrapping


9. Combine rice flour, tapioca flour, and salt in a large mixing bowl. Pour 400 ml of water into a saucepan. Add a small drop of red food coloring so we get a pink liquid. Bring the water to a rolling boil (make sure it's really boiling). Pour this into the flour mixture


10. Use a spatula to stir into a rough dough


11. When it's cool enough to handle, add 2 Tbsp of oil and knead with your hand until you get a smooth elastic dough.


12. Divide the dough into about 30 grams each (I get 27 pieces). Keep them covered with a damp cloth to prevent drying out


13. Dust the mould liberally with some tapioca starch. Shake out any excess. Lightly dust your work surface and rolling pin with a bit of tapioca starch. Take one dough out and use a rolling pin and roll into a circle, it doesn't have to be perfect, about 4 mm in thickness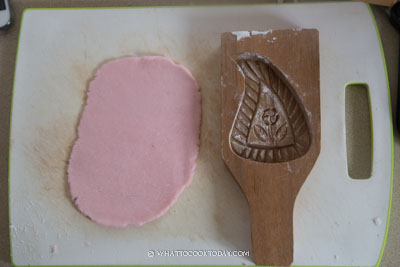 14. Drape this dough over the mould with the sides overhanging and lightly press into the cavity of the mould, to follow the shape.


15. Scoop the filling in and gently press the filling to follow the shape of the mould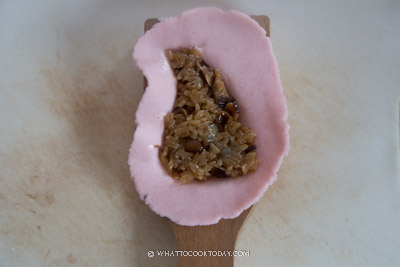 16. Gather the overhanging dough to seal the kueh. You can trim off excess dough with scissors so the bottom won't be too thick. It will not look neat or perfectly smooth, it's ok. This will all smooth out after you steam them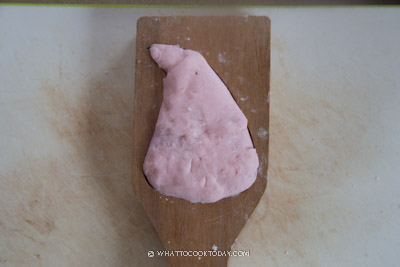 17. Flip the mould over and gently tap on the counter top to release the dumpling


18. Place this on top of a banana leaf that has been brushed with a bit of oil. You can also use parchment paper. Repeat with the rest of the dough and filling. Dusting the mould each time to prevent sticking. Keep them covered with a damp cloth or plastic wrap to prevent the dough from drying out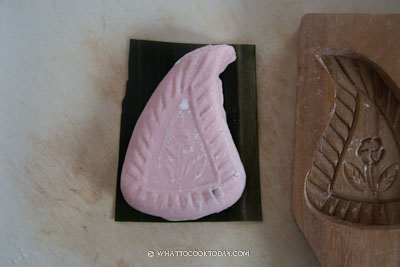 19. Bring the water in a steamer to a boil. Arrange the kueh in a steaming basket or a plate. Place this inside the steamer and steam over medium heat with the lid of the steamer slightly ajar. This is to prevent the imprints on the png kueh from being blurred. Steam them this way for 15 minutes or until the kueh are cooked through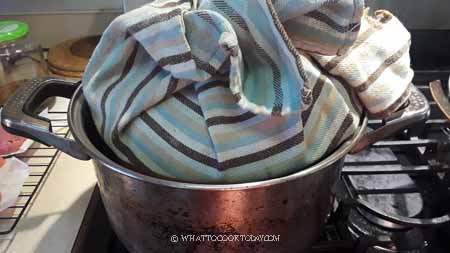 20. Remove from the steamer and brush with some shallots oil (if you have any) or use neutral-tasting oil. They can be served warmed or at room temperature. You can also pan fry them with a bit of oil on the pan until they form a bit of golden-color crust on them

How to store png kueh
Room temperature: them cool down completely and then keep in an air-tight container at room temperature for up to 3 days.
Refrigerator: If it's too humid where you are, keep them in the fridge. The dough will harden once you refrigerate. Simply reheat in the steamer or microwave until they are warm again and they will be as good as new.
Freezer: Once the dumplings have cooled down completely, place them on a baking tray and let them freeze for about one hour and then transfer to a zipper bag or freezer-friendly container. They can be kept this way for no more than one month for the best result. Simply reheat in the steamer until they are warm and soft again.
Did you make this Teochew png kueh recipe?
I love it when you guys snap a photo and tag to show me what you've made 🙂 Simply tag me @WhatToCookToday #WhatToCookToday on Instagram and I'll be sure to stop by and take a peek for real!

Teochew Png Kueh (Teochew Glutinous Peach Shaped Kueh)
Ingredients
Instructions
Things you can prepare the day before:
Rinse the rice in water briefly

If cooking on the stove or rice cooker, soak the glutinous rice and peanuts for at least 4 hours or overnight. You can skip soaking them if you use a pressure cooker
On the day of cooking:
Rinse the mushrooms and dried shrimp with clean water and then soak them in warm water (separately) until they are soft. Save the soaking liquid to cook the rice later. Finely chop the dried shrimp and cut mushrooms into tiny pieces
Cooking the rice using steamer or rice cooker:
Drain off the soaking liquid. Place the rice and peanuts on a steaming dish and add water. Steam on high heat for 25-30 minutes. If using a rice cooker, place the soaked rice and peanuts in the inner pot and add water. Use a sticky rice function if there's one, otherwise, just press cook and cook until they are soft

When the rice is cooked through. Fluff the rice and set it aside to let it cools down before wrapping
Cooking the filling (this is where you add the unsoaked rice and peanuts if you use a pressure cooker):
Preheat a large wok or skillet. Add cooking oil. Stir fry shallots, garlic, and dried shrimp until fragrant, about 2-3 minutes. Add the mushrooms and stir fry again for another minute. Add the cooked glutinous rice and peanuts here followed by 2 Tbsp of liquid from soaking mushrooms and dried shrimp and continue to stir until they are well combined. Break up any lumps from the rice. Have a taste and adjust to your preference

If you are using a pressure cooker to cook the rice, add the rice and peanuts (which have not been soaked) here too. Make sure you stir well to combine everything. Have a taste on the filling to see if it is salty enough and adjust accordingly. Turn off the heat. Add 450 ml of liquid here and stir to combine. Transfer to a round container, preferably aluminum or stainless-steel (anything that transfers heat well). Pour 1 cup of water into the inner pot of the Instant Pot. Put a trivet in there. Place the container on top of the trivet. Close the lid and turn the pressure release valve to sealing. Press "pressure cooker" and make sure it's on "high pressure". Set the timer to 30 minutes and then wait 10 minutes before releasing the pressure

Carefully unlock the lid and fluff the rice with a fork and let it cools down completely before wrapping
Prepare the dough:
Combine rice flour, tapioca flour, and salt in a large mixing bowl. Pour 400 ml of water in a saucepan. Add a small drop of red food coloring so we get a pink liquid. Bring the water to a rolling boil (make sure it's really boiling). Pour this into the flour mixture and use a spatula to stir into a rough dough. When it's cool enough to handle, add 2 Tbsp of oil and knead with your hand until you get a smooth elastic dough. Divide the dough into about 30 grams each (I get 27 pieces). Keep them covered with a damp cloth to prevent drying out
Assembling:
Dust the mould liberally with some tapioca starch. Shake out any excess. Lightly dust your work surface and rolling pin with a bit of tapioca starch. Take one dough out and use a rolling pin and roll into a circle, it doesn't have to be perfect, about 4 mm in thickness

Drape this dough over the mould with the sides overhanging and lightly press into the cavity of the mould, to follow the shape. Scoop the filling in and gently press the filling to follow the shape of the mould and then gather the overhanging dough to seal the kueh. You can trim off excess dough with scissors so the bottom won't be too thick. It will not look neat or perfectly smooth, it's ok. This will all smooth out after you steam them

Flip the mould over and gently tap on the counter top to release the dumpling

Place this on top of a banana leaf that has been brushed with a bit of oil. You can also use parchment paper. Repeat with the rest of the dough and filling. Dusting the mould each time to prevent sticking

Keep the shaped kueh covered with a damp cloth while you are working with the rest
Steaming:
When you are done with wrapping. Bring the water in a steamer to a boil. Arrange the kueh in a steaming basket or a plate. Place this inside the steamer and steam over medium heat with the lid of the steamer slightly ajar. This is to prevent the imprints on the png kueh from being blurred. Steam them this way for 15 minutes or until the kueh are cooked through

Remove from the steamer and brush with some shallots oil (if you have any) or use neutral-tasting oil. They can be served warmed or at room temperature. You can also pan fry them with a bit of oil on the pan until they form a bit of golden-color crust on them
Serving:
Serve them with drizzle of dark soy sauce and some fried shallots and your favorite chili sauce
Nutrition
Serving:
1
kueh
|
Calories:
139
kcal
|
Carbohydrates:
23
g
|
Protein:
3
g
|
Fat:
4
g
|
Saturated Fat:
1
g
|
Trans Fat:
1
g
|
Cholesterol:
17
mg
|
Sodium:
240
mg
|
Potassium:
52
mg
|
Fiber:
1
g
|
Sugar:
1
g
|
Vitamin A:
1
IU
|
Vitamin C:
1
mg
|
Calcium:
14
mg
|
Iron:
1
mg