Rice is cooked in a broth flavored with aromatic lemongrass and galangal with shredded chicken, pork balls and seasonings and toppings like ginger and scallions. Khao Tom is one of my favorite comfort foods.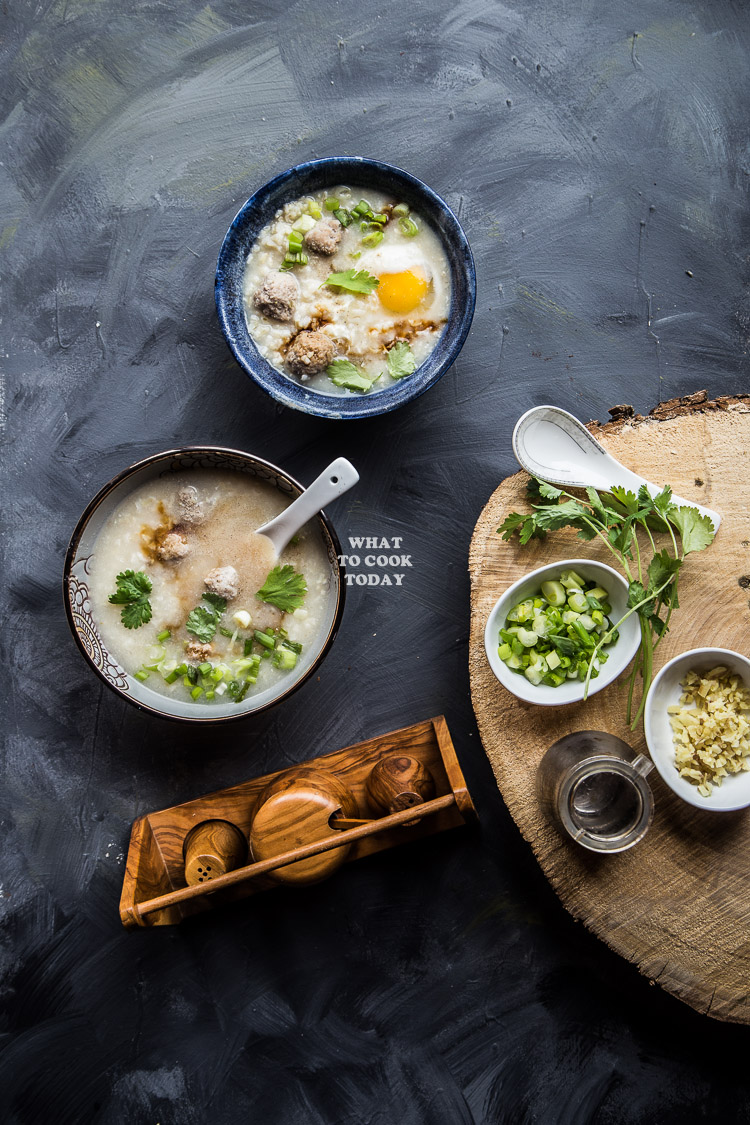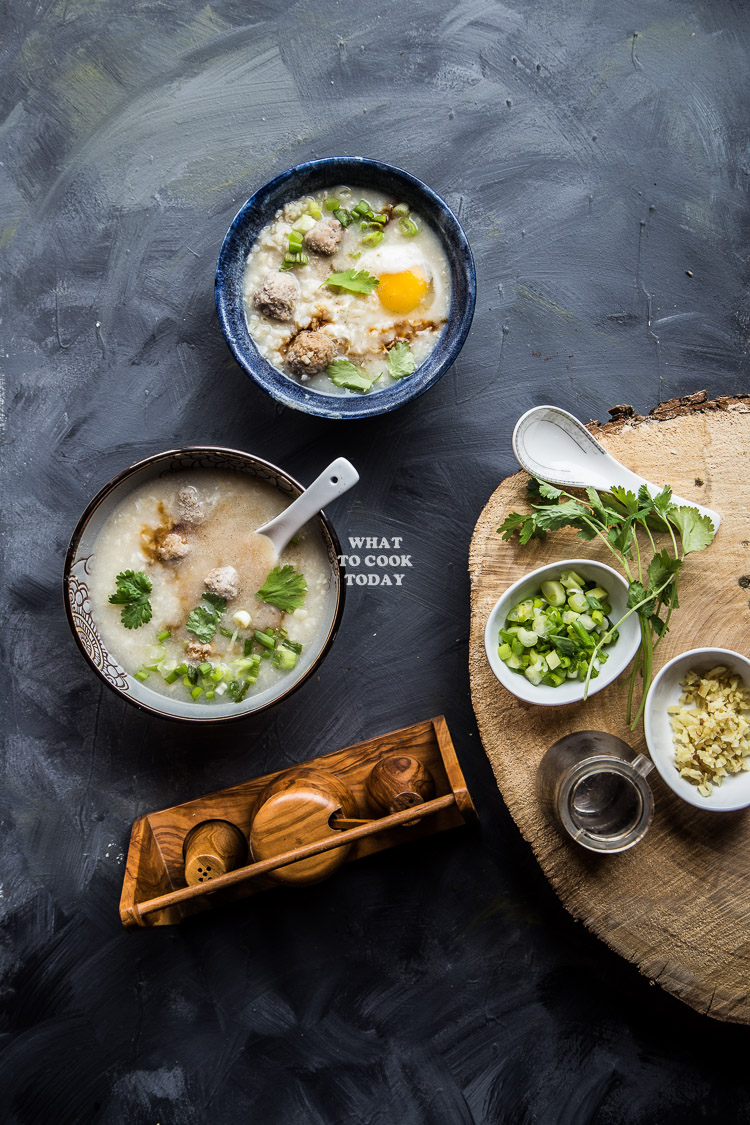 Rice soup or khao tom in Thai language is a very common Thai dish for breakfast or late night snack. This also holds true in other Southeast Asia countries and East Asia for porridge/congee.
I remember back in college time when I was in Jakarta, Indonesia for a very short while, we liked to go to places that served late night porridge buffet. Late night! Buffet! wow! They served several different kinds of porridge along with so many other side dishes to accompany it. Awesome ! We did it again with my mom and sis when we were in Singapore. It is a brunch porridge buffet and I always love it, even to this date! such a great memory and porridge is always my comfort food.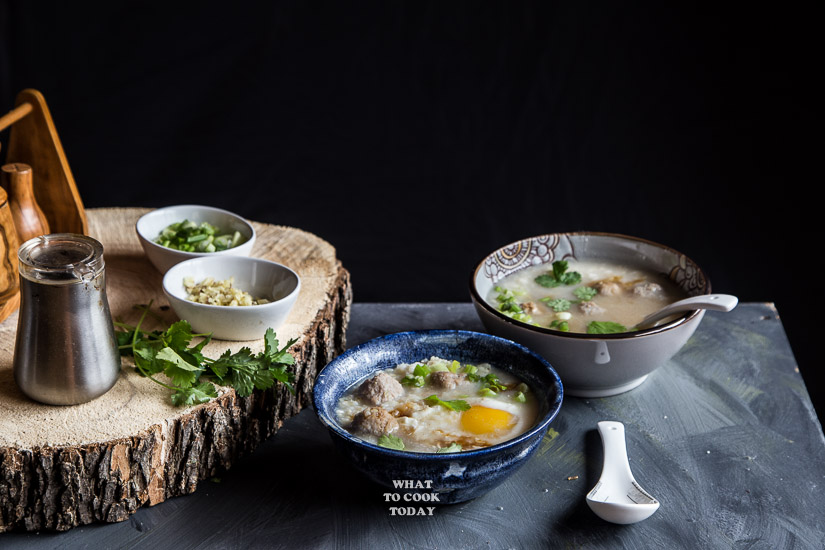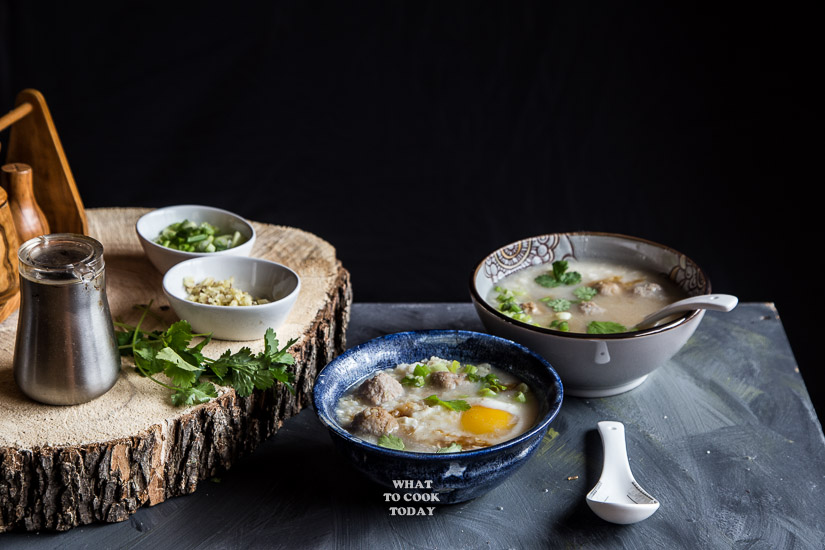 What I like about it is the usage of lemon grass and galangal to flavor the whole dish. This set the difference with all the other porridge I've made before and I absolutely love it because of that. You can make it more soupy or thicker. I don't normally like soupy porridge, however for this, I like it at a soupy side because of the lemon grass and galangal, somehow it feels like there's a hint of tom yum in there 🙂 I love this dish for sure. It makes me feel like I was in Thailand enjoying one of their street foods.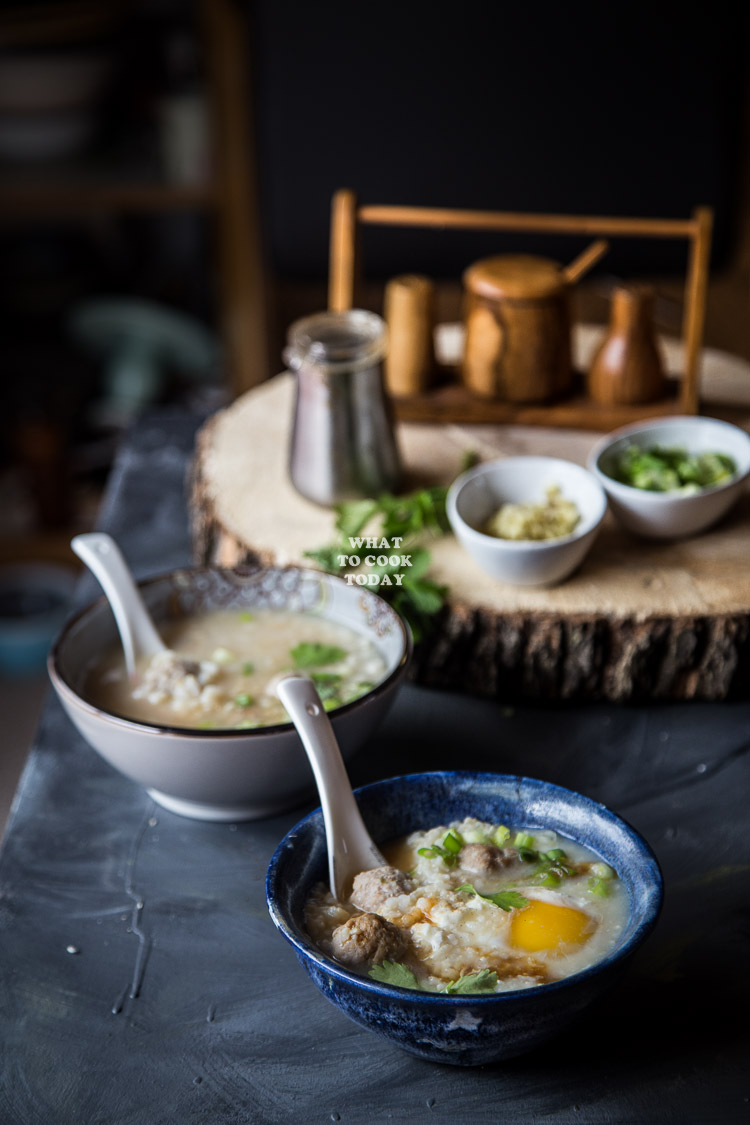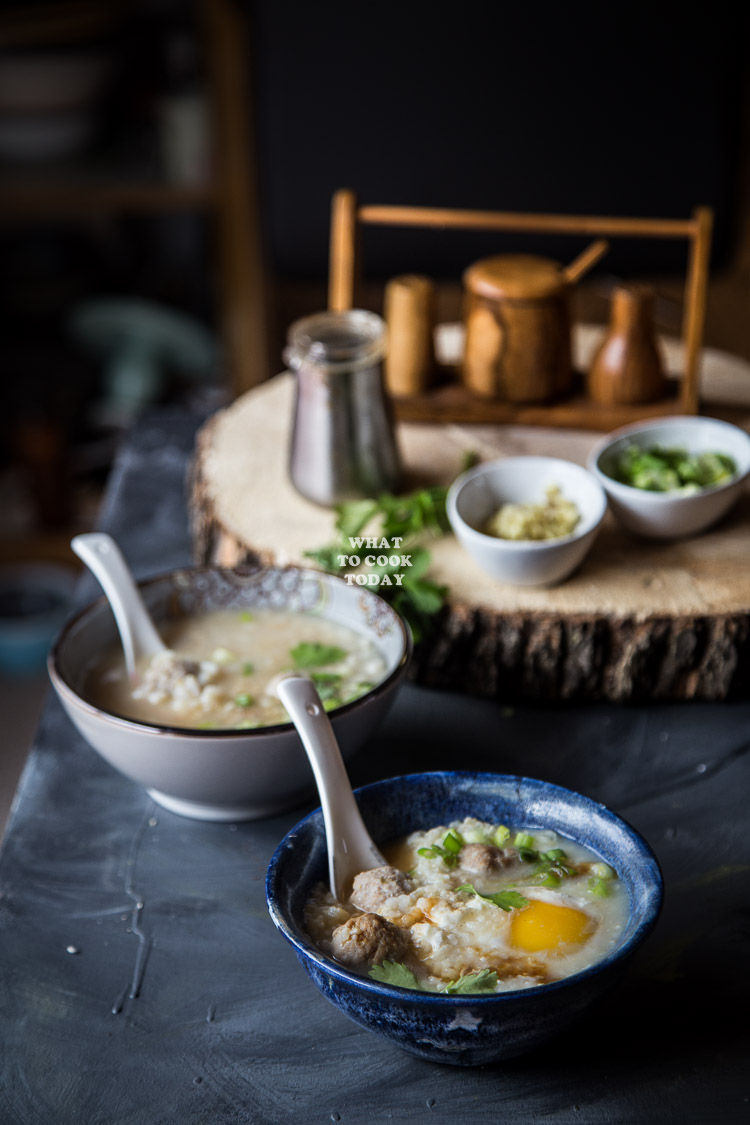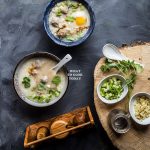 Thai Rice Soup (Khao Tom)
Ingredients
Pork balls (makes about 30 small balls)
8

oz

ground pork

3

cloves

garlic

finely minced

Small bunch of the cilantro stems

finely chopped

½

tsp

salt

½

tsp

freshly ground black pepper

2

Tbsp

fish sauce

1

large

egg

beaten
Garnishes:
1-

inch

fresh ginger

peeled and thinly sliced

2

spring onions

finely chopped

1

handful fresh coriander leaves
Serve with:
3-4

red chilli (finely chopped
Instructions
To prepare the day before:
Cook 2 cups wroth of rice using this recipe. Let it cool and then store in the refrigerator until ready to be used

Prepare the meatballs by placing the pork in a large mixing bowl followed by garlic all the way to fish sauce. Mix with your clean hands and then gradually fold in the beaten egg white and mix again and start picking up the meat and throw it back into the side of the bowl and repeat this for few times. This will make the pork balls rather bouncy. Wet your palms and start rolling the pork into balls. Bring a large pot of water to a boil and then drop the pork balls in there, batch by batch. They will float to the surface when they are cooked. Check to make sure they are no longer pinkish. If you make this the day before, store in air-tight container in the refrigerator
When ready to cook
Place the eggs in a pot and cover with water. Bring water to a rolling boil and then turn off the heat and cover and let them sit for 15 minutes. Discard water and set aside

Bring chicken broth to a boil in a large pot. Add in the lemongrass and galangal and let it simmer for about 10 minutes. Add in the cooked rice and meatballs and simmer briefly. Adjust taste by seasoning with soy sauce, fish sauce, and white pepper

Discard the lemon grass and galangal pieces. Prepare four serving bowls. Gently crack one egg in the bowl and some shredded chicken meat (if using). Laddle the hot rice soup over each bowl. Garnish with coriander leaves, spring onion, and ginger. Serve immediately with a small dish of chilies doused in soy sauce
Btw, a big shout out to my hubby who cut me some woods from the tree that fell down at our front yard when we had a crazy wind gusting this past winter. Now I have a new addition to my prop family 😉 And I painted some new background too. I'm not a good painter but I think this is sort of exactly what I was envisioned 🙂
*This post contains affiliate links. You don't pay extra as a consumer if you choose to click on the link and purchase from there. What To Cook Today just receives a small commission from this. That's all. It helps to pay for some of the cost to have this blog up and running. Thank you so much for your support !