Bubur sum sum is an Indonesian dessert made by cooking rice flour in coconut milk and served with palm sugar syrup. There is also a variety served with sweet potato dumplings (biji salak).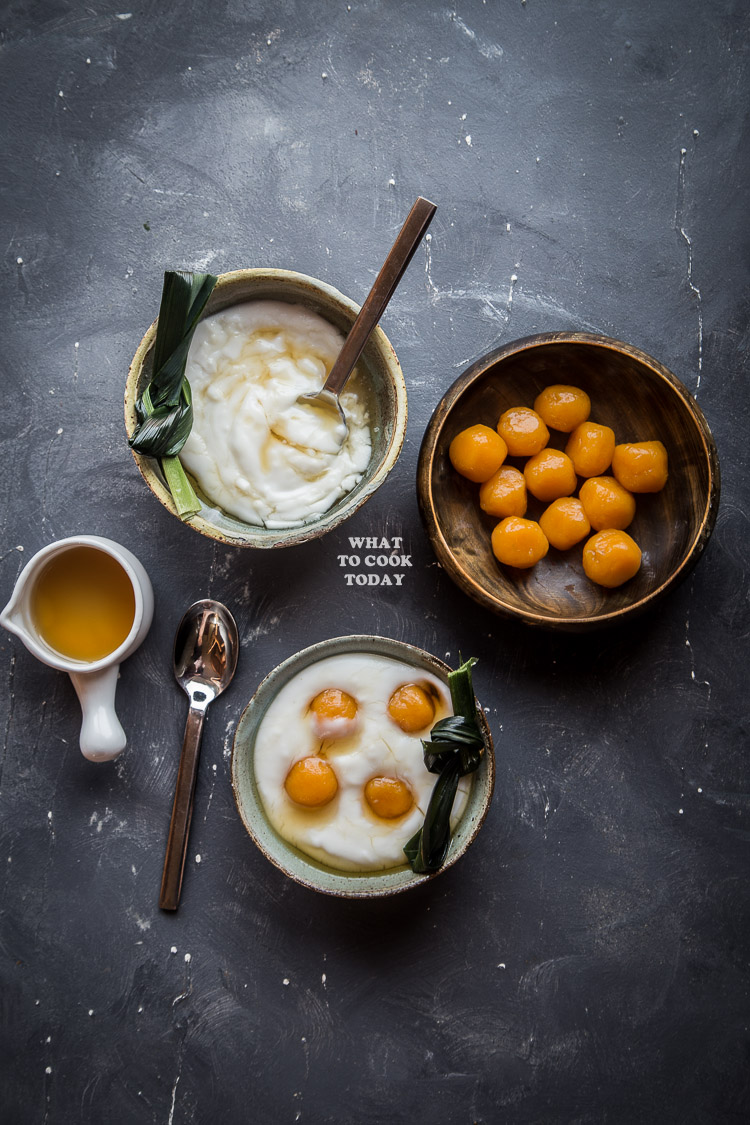 Bubur sumsum or some called it bubur som som, is Indonesian traditional sweet dessert. The dessert is mainly made of coconut milk and rice flour that are being cooked until thickened and then chilled. The bubur itself is a little bit salty, complement by the sweetness from Gula Jawa. Salty and sweet dessert? that's my kind of dessert.
This was my childhood favorite dessert. We were always excited when we heard The lady who sold this bubur sumsum door-to-door calling out "Bubur sumsum…Bubur sumsum". We both would look at our grandma (with our innocent looks trying to convince her to let us have some) and of course, she could not resist her cute granddaughters lol! This dessert is sooooooooo good and so easy to make. It always reminds me of my grandma. I miss her so much.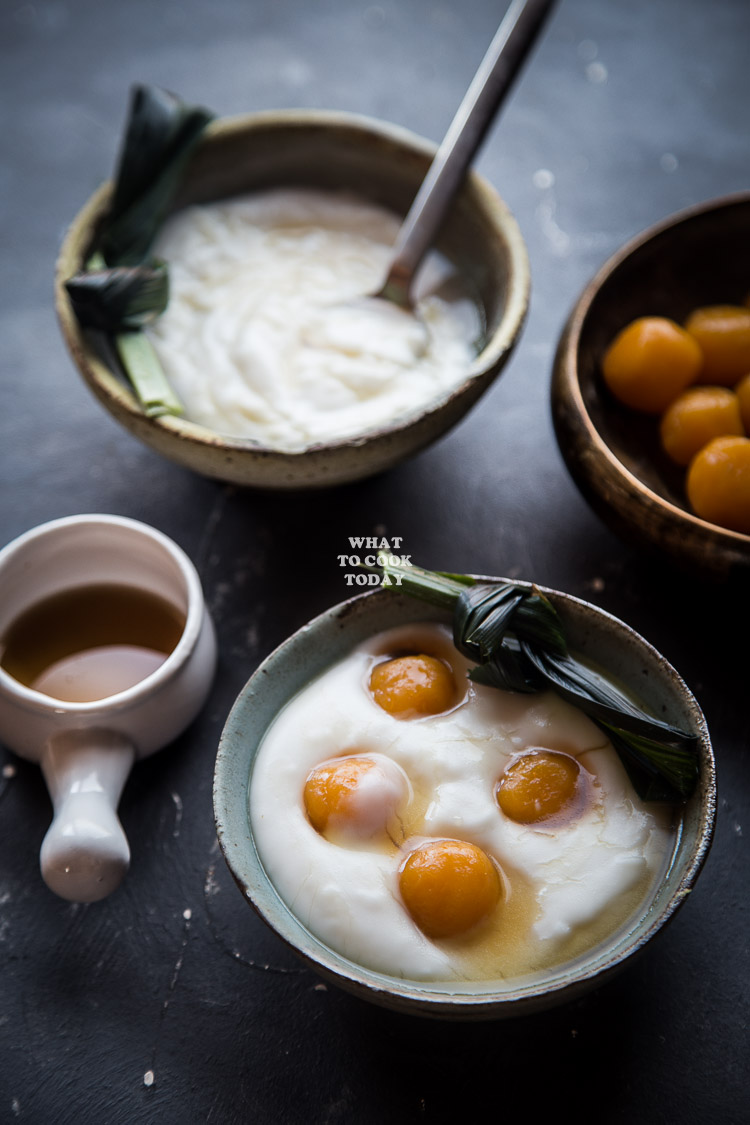 Bubur Sum sum / Indonesian Sweet Coconut Rice Porridge
Ingredients
2 1/2

cups

coconut milk

1/2

cup

rice flour

1/2

tsp

salt

3

pandan leaves

knotted

About 15-20 biji salak

see note
Palm sugar syrup:
1/2

cup

gula jawa/palm sugar

1/4

cup

water
Instructions
In a mixing bowl, combine coconut milk, rice flour, and salt. Stir to mix all ingredient well and make sure there is no lump in the mixture. Pour this into a small or medium size sauce pan, add in the pandan leaves and cook on low heat. Constantly stirring until it started to boil and thickened. This may take about 15-20 minutes. Turn off the heat and pour this into a bowl

Melt the gula jawa with water in a small saucepan and cook on low heat until slightly thickened. Strain and then set aside

Scoop the bubur into a serving bowl by using a spoon and pour the Gula Jawa syrup generously on top of it and forget about all the unhappy things and start counting your blessing 🙂 Best when you serve it warm
If you are adding biji salak to the bubur sum sum:
Once the bubur sum sum is cooked you can add the biji salak in just before serving
Recipe Notes
Recipe for the biji salak is
here
The sweet potato dumplings (biji salak) can be made ahead of time. They can be refrigerated for up to 3 days. They are hard when cold. Once you reheat it by steaming or microawave it briefly, it will go back to its soft chewy texture